You are on: DyeStat Home | U.S.

US News Log - current

| US News Log - 2006 | US News - 2003-2006 | P. 1 Archives - 2001 to 2006 |




Five runners, one goal.

- In The Road to Millrose, five intrepid high schoolers share their thoughts as they qualify for,
and compete in, the 2008 Millrose Games.

Foot Locker - Ashley Brasovan and Mike Fout are surprise winners.

Finding Michael Fout - Dave Devine takes a closer look at 2007 Boys champ Michael Fout.
She Just Had To Get There - SteveU finds what it took for Ashley Brasovan to become the 2007 Girls Champion.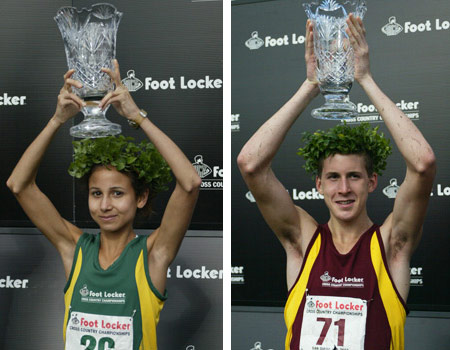 NTN4

Complete coverage of the 4th Nike Team Nationals - regionals in November, finals in Portland OR December 1.

State Meet Index -

one stop shopping for all 50 state cross country meets.





a Stellar Manhattan

- Girls Eastern States lives up to its hype with smash victories by Carly Seymour PA and Fayetteville-Manlius NY. Harrier US#1 Danbury CT wins battle of DyeStat regional #1 boys teams over Oakton VA. Manhattan Invitational coverage



American Rift Valley

- Dave Devine tells about the amazing concentration of running success in Spokane WA.
Part 1 explores the tradition and landscape. Part 2 looks at the running culture, the Tyson factor and the fraternity of coaches.



Foot Locker Favorites

- National

- SteveU analyzes who will be the top boys and girls in San Diego



BorderChallenge Cancelled

- Aron Taylor calls it quits on NTN rival meet in 2007. Taylor's release



Pre-Season US Super 25

- Marc Bloom picks Danbury CT boys and Fayetteville-Manlius NY girls #1 in the country. Super 25 lists



New Faces of 2007

- 155 freshmen or younger who made DyeStat Elite in 2007 outdoor.



DyeStat Athletes of the Year

- Matt Centrowitz and Chanelle Price.



DyeStat Most Outstanding Performers

- Who were the pre-eminent athletes in each category? Sprints, hurdles, distance, jumps, throws and relays. 2007 DyeStat MOP



Magic Moments on DyeStat

- John Dye recalls some of the most memorable performances in the first 10 years of DyeStat. Magic Moments

---
US News Log
Page 1 News Log - links to all recent stories anywhere on DyeStat

2008
2007
12/29/07 RI Brown Invitational - Victoria Flowers smashes Weight Throw USR with 61-00.75
12/27/07 NY Marine Corps Holiday Classic - Warwick Valley NY sweeps championship DMRs
12/24/07 2008 National Track Preview 2 - The Girls Hurdles: Super group, including NIN/NON champ Jackie Coward and NON/World Youth Champ Dalilah Muhammad are back for more.
12/21/07 2008 National Track Preview 1 - The Boys Hurdles: William Wynne and Wayne Davis II lead a super group over the barriers.
12/19/07 Takin' it out to The Barn - Roving Northeast reporter John Nepolitan checks out a unique pole vault training facility in New York state
12/15/07 NY 54th Bishop Loughlin Games - First mega meet of New York Armory indoor season.
12/14/07 She Just Had To Get There - DyeStat News Editor SteveU finds what it took for Ashley Brasovan to become the 2007 Girls Foot Locker National Champion
12/14/07 Finding Michael Fout - DyeStat Assistant Editor Dave Devine takes a closer look at 2007 Boys Foot Locker National Champion Michael Fout
12/13/07 USATF JO Cross Country Championships - Eric Fitzpatrick and Patrick Casey claim national titles in Kansas
12/08/07 -

Foot Locker Nationals

- Click for complete DyeStat coverage
12/01/07 Foot Locker West - Jordan Hasay for the third straight year and German Fernandez over Luke Puskedra
12/01/07 -

NTN 4

- Click for complete DyeStat coverage
11/30/07 The Evolution of NTN - The Dream of NTN is being fulfilled as runners from across the country meet face to face to find out who's truly Number One.
11/30/07 NTN Preview - Rich Gonzalez - Defending champion Manlius NY girls seem unstoppable - Dana Point CA is the pick in a balanced boys field.
11/28/07 Kenyan Pack, Coming Back - Dave Devine previews this year's Kenyan teams, traveling to compete in the boys and girls Open Races for the second year in a row.
11/27/07 NTN Preview - Last Runner Standing - Who has the strength left to win after longest cross country season? Harrier editor Marc Bloom tabs defending champion Fayetteville-Manlius NY girls and Neuqua Valley IL boys as favorites.
11/27/07 How to win NTN - Sean McNamara (York IL '04), Amanda Griggs (Hilton NY '05) and Kyle Dawson (Coatesville PA '06) share the inside scoop on how they won it all
11/24/07 NTN Southeast Girls Championship - SE#4 Collins Hill GA and SE#2 Tatnall DE qualify for NTN Finals in Portland OR December 1.
11/24/07 NTN Southeast Boys Championship - SE#1 Oak Ridge TN and SE#2 Jefferson Alexandria VA qualify for NTN Finals in Portland OR December 1.
11/23/07 2007 DyeStat Regional Rankings Week 11 - 3 new #1 teams - Albuquerque Academy NM boys, Fort Collins CO girls, and Dana Hills CA boys
11/22/07 NTN New York - Girls Preview - Dan Doherty analyzes the NTN New York girls championship race at Bowdoin Park NY November 24.
11/22/07 NTN New York - Boys Preview - DyeStat NY boys regional editor Tom Cuffe sings a little Sinatra and picks the winners - Shen and Warwick.
11/22/07 NTN Northeast - Preview - Our regional editor Matt Soja says four teams stand out -- Danbury and Brookline boys and Hanover and Hunterdon Hawks (Voorhees) girls
11/21/07 NTN Southeast - Preview - Top teams ready to settle it on the course at Nike Team Nationals Southeast regional championships at Hoover AL Saturday November 24.
11/21/07 DyeStat Grads in NCAA Cross-Country - Lots of prep stars had super days, led by boys champion Josh McDougal. Photos by John Nepolitan, text by SteveU
11/20/07 Tough Choices for Top Harriers - With the introduction of NTN Regionals, some of the athletes who would be top Foot Locker contenders are opting for Portland bids ... but there will still be very little dilution at the top in San Diego
11/18/07 NTN Southwest Regional - Complete coverage.
11/18/07 OR BorderClash - Washington takes the boys and girls races again; Unterreiner and Cochran are individual winners.
11/16/07 Foot Locker Favorites - National 11/16 Update - Chris Derrick IL joins Jordan Hasay CA as US#1s.
11/16/07 Foot Locker Favorites Index - Updated 11/16
11/15/07 NTN South Preview - reprise of Nike South and Texas State meet rivalries
11/14/07 NTN Southwest - Preview - Our regional editor Sal Gonzales sees heavy favorites in girls race and a shootout in the boys race.
11/11/07 NTN Regionals - What We Hoped For - DyeStat assistant editor Dave Devine reflects on the impact of regional races
11/11/07 NTN Heartland Regional - Dowling Catholic TC (Des Moines IA), Wayzata XC (Wayzata MN) triumph at Yankton Falls Park. UPDATED with SteveU's lead story, Inertia Sports Media pix
11/10/07 NTN Midwest Regional - Four teams qualify for NTN Championships in regional meet at Terre Haute IN.
11/10/07 NTN Northwest Regional - North Central XC (North Central WA) and Blues XC (St. Mary's OR) big winners at Eagle Island. UPDATED with Dave Devine's lead story and John Dye's photos
11/9/07 NTN South Preview - Analysis of early entries for NTN South regional championships at The Woodlands TX November 17. Top ranked contenders list filled with NTN veterans and runners who raced the course at Nike South Invite.
11/8/07 NTN Midwest Preview - Runners from Ohio, Indiana, and Illinois state championship teams will clash at Terre Haute Saturday for four slots in the 4th Nike Team Nationals cross country championship at Portland OR Dec. 1.
11/8/07 NTN Heartland Preview - "Whoop-Dee-Dos," Hay Bales will challenge 15 top teams in South Dakota; Katie Flood, Emily Sisson add star power
11/8/07 NTN Northwest Preview - Rankings are out - face to face is in. Nearly all the top teams will be on the starting line in Boise Saturday Nov. 10.
11/4/07 Inspiration and Sadness at Marathon - Loss of Ryan Shay at Olympic Trials Marathon saddens us after triumphs of "DyeStat Alums" Ryan Hall and Dathan Ritzenhein, and Brian Sell - SteveU Column/John Nepolitan Pix.
11/2/07 DyeStat XC Regional Rankings - Week 8 - Georgetown TX boys and Dakota Ridge CO girls move up to #1.
10/26/07 10 Nike Elite Athletes will be Nike reps at Nike Team Nationals regional championships in November and regional team captains at NTN finals in Portland Dec. 1.
10/26/07 DyeStat XC Regional Rankings - Week 7 - Murrieta boys teams take over 1-2 in California after Mt. SAC. Rest of country is stable.
10/13/07 Manhattan Invitational - a Stellar Manhattan - Girls Eastern States lives up to its hype with smash victories by Carly Seymour PA and Fayetteville-Manlius NY. Harrier US#1 Danbury CT wins battle of DyeStat regional #1 boys teams over Oakton VA.
9/21/07 DyeStat XC Regional Rankings - Week 2 - Rogers AR (South) and Murrieta Valley (California) ride stunning wins at Missouri Stampede and Woodbridge Invitational to second place in their regions.
9/14/07 DyeStat XC Regional Rankings - Week 1 -- first in-season update has 5 new regional leaders and 48 new teams in regional top 10 lists.
9/4/07 BorderChallenge Cancelled - Aron Taylor calls it quits on NTN rival meet in 2007
9/4/07 Spokane WA - American Rift Valley? -Pt 1 - How to explain the persistent pool of talent from this one mid-sized American city? Part 1 of a two-part story.
9/1/07 Foot Locker Favorites - The Girls National Scene - Jordan Hasay is better than ever and Kathy Kroeger and Aurora Scott will have to overcome adversity and inactivity if they want to be the best.
9/1/07 New Faces of 2007 - 155 freshmen entered the DyeStat Elite top 100 national rankings in the 2007 outdoor season
8/31/07 DyeStat XC Regional Rankings - DyeStat's pre-season picks as the top 10 cross country teams in each region.
8/30/07 Foot Locker Favorites - The Boys National Scene - Johnson, Lowe, Keveren and others have various credentials to back up a top ranking - who are you gonna pick?
8/28/07 Nike Pre-Nationals - Previously the Jim Danner Invite, now the meet where teams can hit the NTN Portland Meadows course 2 months early
8/27/07 DyeStat 2007 Year-End Awards - DyeStat Athletes of the Year and Most Outstanding Performers.
8/26/07 Girls Athlete of the Year - Chanelle Price of Easton Area HS, Pennsylvania
8/24/07 Boys Athlete of the Year - Matthew Centrowitz of Broadneck HS, Maryland
8/21/07 2007 Pre-Season Super 25 - Danbury CT boys and Fayetteville-Manlius girls head Marc Bloom's national cross country team rankings in 32nd year of Harrier Magazine. Half of 50 teams were unranked in the final 2006 Super 25.
8/7/07 NTN Pre Regionals - Pre-regional meets will be held at six of the new Nike Team Nationals regional championship sites
8/5/07 AAU Junior Olympics

7/30/07 USATF Junior Olympics
7/23/07 Alan Webb's 3:46.91 American Record - Stories from Walt Murphy, Rich Gonzalez and more ...
7/20/07 Magic Moments on DyeStat - John Dye recalls some of the most memorable moments in the first 10 years of DyeStat.
7/17/07 World Youth Analysis - The View from The U - SteveU Shares his Highs, Lows and Interesting Notes about Team USA at the World Youths Championships.
7/15/07 IAAF World Youth Championships - Reports on all 5 days from Ostrava, Czech Republic.
7/9/07 USATF Youth Nationals - 6-day meet featuring athletes who would go to Ostrava for the World Youth Champs.
7/8/07 Pan American Junior Championships - .
7/2/07 USATF Jr. Girls 1500 - Jordan's Journey - Feature on Jordan Hasay, by SteveU
6/29/07 NTN Regional Championships - Nike announces format of new regional cross country meets, including selection process for seeded races.
6/29/07 NTN Qualifying Process - Nike announces new qualification process for 2007 Nike Team Nationals cross country meet, including top 2 regional teams and four at large selections
6/27/07 American Milers HP Meet - Youth over Experience as USATF Jr. 1500 runner-up and Broadneck MD sr Matt Centrowitz just misses PR with 4:03.47y in 4th. But Masters star Jim Sorensen gets US record 4:05.27 in 5th
6/26/07 Eastbay Coach of the Week - 2007 Outdoor - Archive of Coaches honored
6/25/07 US Junior Nationals - reports on entire meet, including some senior events.
6/21/07 US Juniors Preview - SteveU

Nike Outdoor Nationals

- annual outdoor championship at Greensboro NC
6/14/07 NON Predictions - Girls - SteveU picks 1-2-3 in every event
6/13/07 NON preview - Boys - by Pete Cava
6/12/07 NON - 10 Best Matchups - SteveU lists the 10 events he is looking forward to the most
6/10/07 Midwest Meet of Champions - Michigan Girls, Ohio Boys Rule the Day
6/9/07 Midwest Distance Gala - Evan Jager IL 4:07.00 full mile, Andrew Perkins Wi 1:50.17 800 (Aaron Stocksdell IA 1:50.18)
6/3/07 Great Southwest Classic - 32nd running of meet in Albuquerque
6/3/07 Golden South Classic - Jasmine Stowers, Jamaal Wilson Win MVPs in Orlando
6/1/07 Interview - Ohio's Samuel Borchers - Doug Speck talks to one of nation's top middle distance stars
5/24/07 Team USA World Youth analysis - Mike Kennedy says US may have trouble threepeating this year.
5/22/07 20 Years Ago Prep T&F May 1987 - Doug Speck Takes a Look at the Fine 1987 late Spring Action in Texas and other States
5/6/07 Don Mitchell Roosevelt Memorial - Jackie Coward 13.40/41.94 100H/300H double, Cleveland Heights boys US#1 7:42.15 4x800.
5/2/07 Emily Pendleton Feature - Defending NON DT champ, with sister pushing her, continues to raise PRs - By Jeff Hollobaugh

Penn Relays

- 113th running of huge carnival in Philadelphia - Details
4/28/07 Darby Distance Twilight - Samuel Borchers Scorches 4:10.83 1600m
4/21/07 NTN Regionals - Announcement of Regional dates and sites for 2007 Nike Team Nationals.
4/18/07 Jimmie Pacifico Feature - Almost at 70', NIN shot champ has big goals for outdoor

Arcadia Invitational - 40th running of the biggest meet of the HS outdoor season. Details

4/9/07 Texas Relays - all the highlights, pix, results, links
4/5/07 21 Seconds - The story of McKay OR sprinter Ryan Bailey
3/25/07 IAAF World Cross Country Championships - US Teams Struggle in Kenya
3/20/07 Nike announces NTN will have regionals - Regional meets will replace rankings to select teams for 2007 Nike Team Nationals in Portland OR December 1.

Preps Win 2 at USATF XC - DyeStat/DyeStatCal coverage with Rich Gonzalez, Marc Davis, and John "The Track Junkie" Nepolitan. Jordan Hasay CA leads from the start for easy win; Aurora Scott VA 4th. Then Elliott Heath MN takes a stunner with Matt Tebo NM 3rd. Meet pages HERE and on DyeStatCal - MSG Board thread - Jr Women's Video - Jr. Men's Video - Review Video

2/17/07 - Simplot Games - Pocatello ID - Bianca Knight sets new national indoor 200 meter record.
2/10/07 - USATF Junior XC Championships - Jordan Hasay CA leads from the start for easy win; Aurora Scott VA 4th. Then Elliott Heath MN takes a stunner with Matt Tebo NM 3rd. Also on DyeStatCal
2/3/07 - New Balance Collegiate - Nine US#1s in 11 events, including Sean Holston's #2 all-time 33.21 300, Eleanor Roosevelt MD 9:01.17 girls 4x800 (#4 a-t) and Axel Mostrag VA 2:26.11 (#9 all-time)
2/2/07 - NY Millrose Games - Danielle Tauro (again) 4:52.81 and Jason Weller 4:15.81 HS Mile
1/27/07 - VA Virginia Tech . - 8 US#1s
1/27/07 - MA Reebok Boston Indoor - Duncan Phillips TX US#1 4:09.20, Matt Centrowitz MD 2nd 4:10.85. Danielle Tauro NJ and soph teammate Jillian Smith go 1-2 4:52.20/4:53.58.
1/21/07 - NY Millrose Selectees - Danielle Tauro and Steve Murdock are top seeds.
1/20/07 - NY 12th New Balance Indoor Games - Webb, Tauro, Moen win miles - Dalilah beats women in 400
1/20/07 - TX Carl Lewis Invitational - Rynell Parson TX just misses US soph 60 mark again.
1/20/07 - CT Yale Classic - Steve Murdock 4:15.21 mile and Hannah Davidson 9:52.83 3k race to US#1s.
1/20/07 - NC Eastern Challenge - Johnny Dutch rips a USR 7.07 55H on his 18th birthday.
1/20/07 - NV Reno PV Summit - US#1s for Maston Wallace TX 17-00 and Tori Anthony CA 14-00.
1/13/07 - NY Molloy Stanner Games - Brittany Sheffey NY US#1 4:54.09 leads 5 US#1s, plus Walter Henning NY 84-10.25 WT (his #4 ever), 61-02 SP.
1/13/07 - AR Arkansas Invite - Bianca Knight MS US#1 23.27 (.01 off PR), Rynell Parson TX US#2 6.77 60/US#1 21.62 (US Soph record). 4 more US#1s.
1/6/07 - NY Hispanic Games - 4 US#1 records, 2 Millrose Mile Qualifiers - On site with John Nepolitan
1/6/07 - NH Dartmouth Relays - Walter Henning NY Sets Another USR 86-02 in 25 lb. Weight Throw
1/6/07 - LA LSU High School Indoor Classic - Dallas Gold/Dunbar HS jr Victoria Jordan 6.93 55m victorious over Knight
2006