2006 Foot Locker South region - Girls
Nov. 25, 2006 McAlpine Park, Charlotte NC
Results - Brandon Miles video -
Aurora Scott and Kathy Kroeger smash meet record
by Brandon Miles
milestat.com
Both Virginia's Aurora Scott and Tennessee's Kathy Kroeger shattered a 20 year old course record Saturday previously held by one of the greatest female distance high school runners to come out of the South Region in Erin Keogh. Keogh was a two-time Foot Locker Nationals champion in 1985 and 1986 with impressive times of 16:43 and 16:55 respectively at Balboa Park in San Diego. Keogh also ran one of the fastest times ever in U.S. prep history with a 10:03 clocking for 3200 meters. Keogh set her 16:45 course record at McAlpine in a 1986 win at the regional meet at McAlpine. Knowing Keogh's stats makes one gain a greater perspective and appreciation of the races by the two South region girls at McAlpine Greenway Park in Charlotte this weekend. Jordan Hasay may be the defending champion and running better than last year's races, but the South region has two girls who will look to give the region their first Footlocker Nationals champion in a long time.
Kroeger (left) and Scott - photo by John Herzog / milestat.com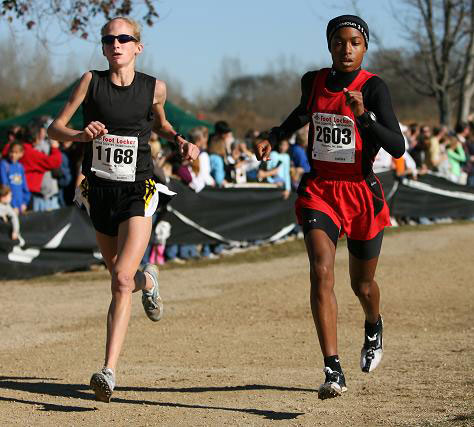 Coming into Saturday's race, Kroeger had received a bit more attention than Scott as her 20 second win at Great American in September gained her national attention in the high profile meet. However, anyone closely tracking Scott's races this fall would not have been surprised by the outcome at Footlocker South or at least predicting a win for the homeschooled junior from Chesapeake, Virginia. Scott's 1:18 half marathon in September and a recent 16:37 road race 5K showcased a great level of fitness from the returning top finisher for South region at Footlocker Nationals. However, being homeschooled and not being allowed to compete in sanctioned high school events, Scott was easily overlooked. Scott did not though let the lack of discussion change her beliefs in what she could at McAlpine. "Well I thought I'd do just what I've been training to do. I know what I've done in practice. Rankings don't mean anything. I just go out there and run my own race. Whatever happens, happens."
Both knew coming in that each would be the others toughest competition and they did not play around at all early on as they gapped the field by blazing a 5:15 first mile and hitting 10:40 at two miles as they were on course record pace. Scott made a move to break away from Kroeger in the last woods section and poured it on as she entered the lake path with several seconds on Kroeger. "I started at about 1200 meters out. I picked up the pace and carried it through and just did what I do in practice. It didn't feel any different to me. I felt very confident." Scott crossed the line in 16:26, six seconds ahead of Kroeger in 16:32 for second place, and 19 seconds under Keogh's old course record.
National championship run ahead?
Having broken the record held by a previous Footlocker Nationals champion in Keogh, who had one of the fastest winning times ever at Balboa in 16:43, and breaking the record by a considerable margin in 19 seconds, one could definitely make the case for Scott to make a national championship run in two weeks in San Diego. However, Scott personally did not need the course record to know what she's capable of running. "I didn't need to break the record to have the confidence that I can do it. I have done my practices and know what I've done in my practices. I know I am at that level or better."
Scott does not beat around the bush or sugarcoat what she wants to do in San Diego. She's not there to soak up the California sun or make lifelong buddies. She is going there for only one reason. "Honestly, I'm going out there to win it. I'm not thinking about anybody else. Just run my own race like I did today."
Despite the loss to Scott, Kroeger is definitely well in the picture as she was also well under Keogh's mark in 16:32. Kroeger was just pleased with getting back to San Diego. "I felt pretty comfortable with my race. I knew I did not have to win it and just be in the top ten to qualify, so there was not as much pressure. I tried to stay with Aurora, but she pulled away in the last mile and I just hung on for second," said Kroeger. Last year, Kroeger finished just off All-American honors at Footlocker Nationals with 16th place finish and is glad to have a return trip back to Balboa to go after All-American honors and better. "Well I'm just really excited to be going back and have a chance to race again. It would be really awesome to improve my time and place from last year."
There is a very good chance after Saturday's performances, the South region could have two runners out in front in two weeks leading the region and the nation at Balboa Park.
With the exception of freshmen Cory McGee of Mississippi in fifth place at 17:19, the rest of the top ten qualifiers turned out to be a tri meet between runners from Florida, Tennessee, and Texas. Both Tennessee and Texas shared the highest total of individual qualifiers with three each. Behind Kroeger, a pair of White Station High School teammates in Rita Jorgensen (17:23) and Virginia Hines (17:24) both earned trips to San Diego with eighth and ninth place finishes respectively. A rare feat with having two runners qualify from the same high school as the two runners from Memphis were second and third at Tennessee State Meet behind Kroeger as Hines improved drastically from her state race as she was 47 seconds behind her teammate Jorgensen three weeks ago.
Team Texas was represented inside the top ten and outside of the top ten as the state not only had three individual qualifiers, but six runners in the top 15 to give the Lonestar state the state team title in the seeded division. Jillian Rosen, a senior from Richardson High School, led the state with a fourth place run of 17:15. Team Texas ran as a team and definitely dressed as a team as all three qualifiers were sporting Metroplex Striders uniforms with Rosen, Samantha Means (7th, 17:21), and Kinsey Hine (10th, 17:28). All three Texas girls are seniors and first-time qualifiers.
Florida's Ashley Brasovan was expected to be the state's top finisher, but for the second year in a row the Wellington High sophomore had an off day at McAlpine in finishing 19th in 18:01. However, junior Emilie Amaro (3rd, 17:15) and sophomore Kayla Hale (6th, 17:19) picked up the slack and came up with strong races to give Florida two qualifiers for the girls' race at Footlocker Nationals. The Cypress Bay junior Amaro did not have the best of races last year at Footlocker South with a 32nd place run, but shook that race off as a distant memory this year as the first finisher after the two amazing talents in Scott and Kroeger.
While all three of the returning FLN qualifiers on the boys' sided survived this year's regional race to make it back to San Diego with Ben Hubers of Georgia and Texas pair of Duncan Phillips and Colby Lowe, the same was not the case for two of the returning Footlocker finalists among the girls. Catherine White of Virginia, an All-American last December in San Diego, dropped out at the two mile. Returning finalist Emily Reese finished well back in 71st place (18:55). Reese is a junior, so she'll have a chance to comeback next year, but White will just have to take out her disappointment on the track as she was a two-time All-American on the oval as a junior including a national runner-up finish in the two mile at Nike Indoro Nationals.
1    Aurora Scott (11)                 Chesapeake, VA           16:26
2    Kathy Kroeger (10)                Franklin, TN             16:32
3    Emilie Amaro (11)                 Cooper City, FL          17:15
4    Jillian Rosen (12)                Dallas, TX               17:15
5    Cory McGee   (9)                  Pass Christian, MS       17:19
6    Kayla Hale (10)                   Indialantic, FL          17:19
7    Samantha Means (12)               Mc Kinney, TX            17:21
8    Rita Jorgensen (12)               Memphis, TN              17:23
9    Virginia Hine (11)                Memphis, TN              17:24
10   Kinsey Farren (12)                Dallas, TX               17:28
11   Catherine Loden (11)              White Oak, TX            17:33
12   Tara Upshaw (10)                  Southlake, TX            17:46
13   Sarrah Hadiji (12)                Annandale, VA            17:47
14   Stephanie Gammon (12)             Central, SC              17:54
15   Michelle Guzman (12)              Giddings, TX             17:54
16   Adrianne Soo (10)                 Chapel Hill, NC          17:56
17   Hailey Neal (12)                  Palm Beach Gardens, FL   17:58
18   Jennifer Dunn (11)                Decatur, AL              17:58
19   Ashley Brasovan (10)              West Palm Beach, FL      18:01
20   Kelsey Johnson (11)               Iowa Park, TX            18:01
21   Jennifer Barbi (12)               Suwanee, GA              18:01
22   Elizabeth Barclay (10)            Charlottesville, VA      18:02
23   Marley Burns (12)                 Weaverville, NC          18:04
24   Tricia Terry (10)                 Mcallen, TX              18:05
25   Brittainy Robertson (11)          Rosharon, TX             18:06
26   Heather Beichner (11)             Cary, NC                 18:10
27   Rachel Rose (12)                  Charlottesville, VA      18:13
28   Kate Borowicz (10)                Greenville, SC           18:13
29   Courtney Whittington (10)         Winston Salem, NC        18:15
30   Amber Zimmerman (9)               Knoxville, TN            18:16
31   Mary Grace Pellegrini (11)        Louisville, KY           18:17
32   Ashley Isham (9)                  Cedar Park, TX           18:20
33   Allison Homer (10)                Blacksburg, VA           18:21
34   Ashley Flores (9)                 Fort Worth, TX           18:22
35   Maggie Traylor (11)               Jacksonville, FL         18:23
36   Kimberly Spano (10)               Huntersville, NC         18:24
37   Katie Traylor (9)                 Jacksonville, FL         18:25
38   Elisabeth Molen (12)              Birmingham, AL           18:26
39   Christina Ferber (12)             Southlake, TX            18:26
40   Andie Cozzarelli (11)             Apex, NC                 18:27
41   Becky Wade (12)                   Dallas, TX               18:29
42   Emily Houston (12)                Jensen Beach, FL         18:30
43   Brittany Copeland (12)            Stafford, VA             18:32
44   Allison Pye (12)                  Houston, TX              18:32
45   Emily Crow (12)                   Belden, MS               18:33
46   Haley Moody (12)                  Morristown, TN           18:36
47   Laura Rapp (11)                   Lynchburg, VA            18:37
48   Amber Riley (12)                  Morgantown, WV           18:39
49   Katlyn Will (10)                  Corinth, MS              18:40
50   Kristen Wolfe (11)                Midlothian, VA           18:41
51   Simone Domingue  (12)             Lafayette, LA            18:41
52   Caroline Kirby (11)               Arden, NC                18:42
53   Laura Steinmetz (12)              Lexington, KY            18:42
54   Elizabeth Heath (11)              Alexandria, VA           18:43
55   Kaylan Comer (11)                 Stafford, VA             18:43
56   Laurel MacMillan (11)             Blacksburg, VA           18:44
57   Annabelle Everitt (12)            College Station, TX      18:44
58   Melanie Wilcox (10)               Dallas, TX               18:45
59   Cate Berenato (12)                Blacksburg, VA           18:46
60   Morgan Turner (10)                Lincolnton, NC           18:49
61   Katherine Carrington (12)         Pompano Beach, FL        18:50
62   Devin Spoerle (11)                Titusville, FL           18:50
63   Madison Stark (11)                Chapel Hill, NC          18:51
64   Amy Guinn (12)                    Lake Charles, LA         18:51
65   Mariah Hagadone (12)              Mount Solon, VA          18:52
66   Mandy Perkins (10)                Ormond Beach, FL         18:52
67   Jessica Stern (12)                Melbourne, FL            18:52
68   Leila Norman (11)                 Marietta, GA             18:53
69   Jenny Hill (12)                   Dripping Springs, TX     18:54
70   Kristie Krueger (11)              Argyle, TX               18:54
71   Emily Reese (11)                  Atlanta, GA              18:55
72   Carolyn Bell (12)                 Mc Kinney, TX            18:55
73   Callan Fike (12)                  Cary, NC                 18:56
74   Emily Webb (12)                   Gloucester, VA           18:56
75   Leslie Blackshear (9)             Ponte Vedra Beach, FL    18:56
76   Emily Carpenter (11)              Cabot, AR                18:57
77   Erika Langhauser (12)             Oviedo, FL               19:02
78   Sullivan Parkes (10)              Winchester, VA           19:03
79   Emily Denny (12)                  Southlake, TX            19:08
80   Lauren Postma (12)                Suwanee, GA              19:09
81   Jillian Pollack (12)              Winchester, VA           19:10
82   Zoe Galbraith (10)                Leander, TX              19:11
83   Felicity Brower (12)              Cary, NC                 19:14
84   Laura Brentnell (12)              Greensboro, NC           19:15
85   Brittany Killough (12)            Wise, VA                 19:17
86   Kathleen Wilson (11)              Marietta, GA             19:17
87   Lindsay Ester (11)                Burlington, NC           19:18
88   Emma Bohman (12)                  Stafford, VA             19:18
89   Jenna Callahan (12)               Fort Mill, SC            19:18
90   Michaeline Nelson (12)            Mc Lean, VA              19:19
91   Mackenzie Howe (12)               Watkinsville, GA         19:19
92   Elise Medley (10)                 Louisville, KY           19:20
93   Hannah Orders (11)                Charlotte, NC            19:21
94   Claire Corban (12)                Tupelo, MS               19:21
95   Jessica Duble (10)                Rising Fawn, GA          19:22
96   Kirsten Brown (12)                Southlake, TX            19:22
97   Lauren Wells (12)                 Charlotte, NC            19:23
98   Rachel Buser (11)                 Berkeley Springs, WV     19:23
99   Juliana Stern (10)                Melbourne, FL            19:24
100  Elizabeth Gilbert (9)             Houston, TX              19:24
101  Susanna Sullivan (11)             Falls Church, VA         19:25
102  Stacey Nobles (10)                Virginia Beach, VA       19:28
103  Hiruni Wijayarathe (10)           Herndon, VA              19:28
104  Caroline Kirk (10)                Kennesaw, GA             19:30
105  Becky Johnson (12)                Chapel Hill, NC          19:32
106  Lindsey Ebert (11)                Lilburn, GA              19:34
107  Erin Stoddard (12)                Mauldin, SC              19:40
108  Kristen Tithof (11)               Friendsville, TN         19:40
109  Lydia Woodward (12)               Lake Charles, LA         19:41
110  Tesha Haggard (12)                Morristown, TN           19:43
111  Emma Bussard (11)                 Carrollton, GA           19:44
112  Haley Kolff (12)                  Atlanta, GA              19:45
113  Heather Lambert (11)              Stafford, VA             19:47
114  Sarah Hart (10)                   Jacksonville, NC         19:47
115  Ocean Colten (12)                 Sarasota, FL             19:48
116  Hannah Varnell (10)               Gloucester, VA           19:50
117  Megan Fitzpatrick (10)            Ashburn, VA              19:51
118  Courtney Bowen (12)               Winston Salem, NC        19:52
119  Ruth-Anne Hadjis (9)              Hattiesburg, MS          19:53
120  Jessica Prendergast (9)           Orlando, FL              19:55
121  Molly Hawkins (12)                Stafford, VA             19:59
122  Alexa Neiling (9)                 Simpsonville, SC         20:00
123  Megan Hirschi (12)                Alpharetta, GA           20:02
124  Clara Densmore (12)               Marietta, GA             20:02
125  Danielle Alfano (12)              Chattanooga, TN          20:05
126  Grace Loba (11)                   Orlean, VA               20:07
127  Megan Roper (11)                  Hillsville, VA           20:08
128  Allie Prendergast (11)            Orlando, FL              20:12
129  Katie Shelley (12)                Ball Ground, GA          20:13
130  Terra Haggard (12)                Morristown, TN           20:14
131  Erika Weidman (10)                Alexandria, VA           20:17
132  Summer Nelson (12)                Cumming, GA              20:20
133  Jessica Ferber (10)               Southlake, TX            20:21
134  Rachel Travitz (12)               Roanoke, VA              20:24
135  Patrice Sweet (9)                 Gainesville, GA          20:26
136  Caitlin Gilbert (10)              Southlake, TX            20:28
137  Dolly Dollars (10)                Sugar Grove, NC          20:30
138  Malory Ammerman (11)              Roanoke, TX              20:33
139  Bridget Draper (12)               Richmond, VA             20:34
140  Alison Hall (12)                  Bishop, GA               20:42
141  Brittney Boucher (12)             San Antonio, TX          20:44
142  Tiyonna Blackmon (11)             Fort Mill, SC            20:46
144  York Woodsmall (12)               Charlottesville, VA      20:47
145  Jill Yandle (12)                  Charlotte, NC            20:48
146  Kelly Karcher (10)                Woodstock, GA            20:59
147  Caroline Handley (11)             Orlando, FL              21:09
148  Sarah Dugan (12)                  Asheville, NC            21:12
149  Morgan Skwira (9)                 Marietta, GA             21:13
150  Kiersten White (10)               Roswell, GA              21:17
151  Quinika Blackmon (10)             Fort Mill, SC            21:41
152  Heather Ekstrom (11)              Cornelius, NC            21:47
153  Elizabeth Laseter (12)            Charlotte, NC            21:52
154  Meagan Whitson (9)                Southlake, TX            21:54
155  Maria Saunders (12)               West Union, WV           22:48
156  Katriona Gregory (11)             Murfreesboro, TN         22:56