RESULTS:
Boys - Girls -Saturday
VIDEO:
-Marc Davis
-Doug Speck

PHOTOS:
Donna On The Side
Vic's Pix
Boys - Girls

INFO:
WINNERS TABLE - results, stories and John Dye action photos of each event.
En Route Times - Boys - Girls -

This weekend's efforts stand on their own, but for some a stepping stone to more greatness
By Steve Underwood
(photos of Jackie Coward, boys 800, by Vic Sailer, photorun.net)

They rewrote the record books this weekend in Landover, Maryland. Over and over and over again.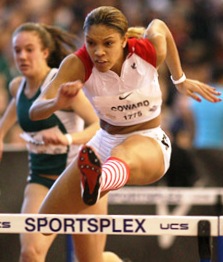 While the 9th Annual Nike Indoor Nationals didn't have any national marks, meet standards were achieved in 15 events. Some of those were pretty much expected, such as the performances of Jackie Coward TN (60 – 8.28, #3 performance all-time) and Chanelle Price PA (2:07.43 800). But others were not necessarily in the forecast, such as Sean Holston VA's 47.12 400 explosion and Alex Kosinski CA's upset mile win (4:45.18). In still other cases, there were athletes who may not have beaten records, but still put out stunning, hi-caliber marks, like Trevor Kraychir CA (81-04.75 hammer), Austin Davis (50-01.25 TJ), and Johnny Dutch NC (7.73 60H), Kamorean Hayes NC (52-06.25 SP), Aurora Scott VA (16:53.55 5k) and Ashley Brasovan FL (10:25.41 2-mile).

But the meet was also about the breathtaking competition, in some events, and the overwhelming dominance in others. You had both, for example, in Sunday's 800s. No finish was any tighter and more thrilling than the boys 800, where Axel Mostrag VA made a stunning closing run on Chris Bilbrew AL for a 1:51.63-1:51.65 victory. But in the girls 800, Price was the epitome of dominance as she hammered the 800 seemingly oblivious of the competition, her supreme effort a virtual time-trial.

A number of athletes were double medalists. Most significant was probably Holston, who dominated the high-powered 400 field, then won pretty easily and quickly in the 200 (21.53), as well. Maybe one's commitment to excellence is magnified when traveling long distances, since the other doubles came from Californians Jamesha Youngblood (19-08.25 LJ and 42-02.50 TJ) and Terry Prentice (3966 pentathlon and 23-10.75 LJ), and Texan Victoria Jordan (7.33 60 and 24.26 200). Prentice, in fact, wasn't far off a triple as he was 4th in the 60H.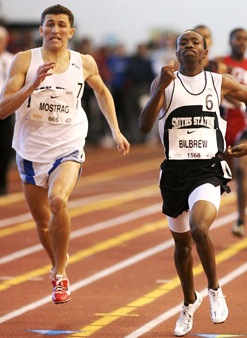 There were instances of top athletes re-establishing dominance. Team USA junior team member and defending champ Hayes battled for the US shot put lead with Karen Shump PA all year, languishing below 50 feet, then exploded today with her 52-06.50. Ohioans Jessica Beard (NON champ, Team USA for Juniors in 400) and Sam Borchers (top 1500 returnee) had been living quiet lives indoors this winter, but rose to the top in the girls 400 and boys mile. Team USA member Patience Coleman NC and Louisiana 13-foot vault star Rachel Laurent had been losing and well below par much of the year, but both won today.

But there were also cases of high expectations denied, with Danielle Tauro taking 2nd in the mile (and her team 2nd in the DMR), and aspiring record-setter Bianca Knight taking 4th in the 400 behind Beard and two others.

The meet wasn't without some controversy. Exchanges between three second- and third-leg runners in the girls 4x1 Mile relay were made a lap early, causing initial disqualifications (some of teams that did nothing wrong), then finally two sets of awards. The next day, some dramatic non-calls of false starts in the boys 60 hurdle semifinals led to cries of protests and an eventual 2-section final with 12 runners.

But overall, the drama of great competition and outstanding performances won the day before another packed house at the PG Sportsplex as Sunday came to an end. The final three events saw perhaps the best performances of them all – and some purposefulness that went beyond the meet and the indoor season in general. The excellence of the Blazin Raiders (Eleanor Roosevelt HS MD) relays is almost taken for granted now, but Sunday, they outdid even themselves by winding up the action with a sweep of the final three girls relays – the 4x200, 4x400, and 4x800 – and two with meet records (3:45.02 4x4 and 9:07.31 4x8). That added to titles in the girls DMR from Saturday and the boys 4x200 Sunday for the school.

Rather than savor their victory, though, the girls of ER were already looking toward what this meant for their outdoor season, the true national proving ground in the sport. As these girls have also been dominant in Nike Outdoor Nationals, they feel the Penn Relays and the opportunities to race the Jamaicans is their best chance for excellence, and that a trip out to the Arcadia Invitational and Mt. SAC next month is the perfect stepping stone along the way. Many more athletes and teams already have similar paths laid out, with other champions like Coward, Mostrag, and 2M runner-up Matt Centrowitz also planning Arcadia trips. Embracing the big picture is what it's all about and both the architects of NIN and its greatest champions have done just that.

4 Relay Titles for Blazin' Raiders girls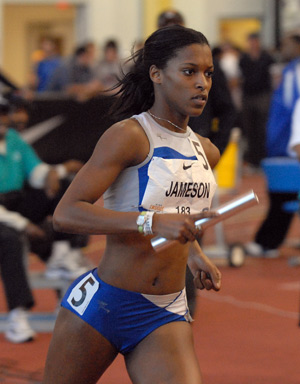 Blazin' Raiders girls (Eleanor Roosevelt MD), left, swept the 4x200 (1:39.86), 4x400 (3:45.02 MR), and 4x800 (9:07.31 MR) relays today to go with their DMR victory Saturday. They were also second in the sprint medley Saturday, falling only because of Chanelle Price's come from behind 2:05 anchor split for Easton PA.
B-800 - Axel Mostrag VA 1:51.63, catching Chris Bilbrew AL 1:51.65 at the finish as both runners sprawled to the surface. Bilbrew held off a mid-race surge by Cory Primm CA before giving way to Mostrag.
G-60H - National record holder Jackie Coward TN 8.28, a meet record and US#3 all time, giving Coward the three fastest times ever this season (8.17 and 8.20 earlier).

B-60H - Johnny Dutch NC 7.73 wins from lane1 of the "slow" section of a 2-section final. The extra section was added in a "fairness ruling" after an apparent false start was not called in Dutch's semi final heat. Wayne Davis NC broke Dutch's national sophomore record (7.90) with a 7.86 semifinal time and improved on that in the final with a third place 7.83.
G-2 Mile - Ashley Brasovan FL 10:25.41, surprising 5k winner Aurora Scott with a big surge on lap 11 and pulling out the rest of the way.

B-2 Mile - Craig Forys NJ 9:01.57 wins a race full of lead changes, outkicking Matt Centrowicz on the last lap after Luke Puskedra UT led through a mile in 4:37.
B-400 - Sean Holston VA 47.12 MR.

G-400 - 2006 national outdoor champion Jessica Beard OH 55.24. 200-meter record holder Bianca Knight trailed all the way in her attempt to stretch her speed to two laps.
Chanelle Price PA 2:07.43 800m MR
Axel Mostrag VA 800m 1:51.63 MR
Alex Kosinski CA 4:45.18 Mile MR, outkicking 2006 national champion Danielle Tauro.

Sean Holston FL doubles 47.12 400m (Junior Class record)and 21.53 200m
Victoria Jordan TX doubles 60m /200m 7.33 /24.26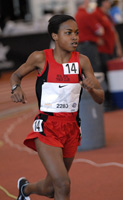 Day 1 - Saturday - Complete Saturday Results

6 Meet Records:

Maston Wallace 17-05 PV
Eleanor Roosevelt Girls 11:48.68 DMR
Jamesha Youngblood 42-02.75 TJ
Ryann Krais 3715 Pentathlon
Track Eastern Carolina 3:28.39 B-SMR
Eastern TC 3:56.46 G-SMR

Boys SMR Track Eastern Carolina 3:28.39 gave anchor Anthony Hendrix the lead and he held it to the end in a 1:52 split
Girls SMR Chanelle Price comes from behind with a blazing 2:05 anchor to beat Blazin' Raiders (Eleanor Roosevelt MD)
PV - Maston Wallace TX and Spencer McCorkel AR duel in the 17-foot range with Wallace winning when McCorkel lost a gamble by passing at 17-05. "I didn't care about 17-05.00," McCorkel said. "I wanted the national record." McCorkel watched as Wallace made meet record 17-05.00 and both jumpers missed three times at 17-07, which would have been a new national record.

G-DMR - Eleanor Roosevelt (Blazin Raiders) MD, running within five minutes of their school, took an early lead and held off national mile champion Danielle Tauro.
G-TJ - Jamesha Youngblood 42-02.75.
Penta - Ryann Krais sets meet record with 3715 points
5K - Virginia Juniors Rule - Chesapeake VA's Aurora Scott 16:53.55 (left) and Midlothian VA's Jason Witt 15:05.29
Sophomore Thomas Porter, 3rd in 5K in 15:12.82, ran 2 seconds off the national soph. record (NJ's Brandon Jarrett 15:10.38)
Racewalk - Christie Bernier wins in under 8 min (7:58.93)


Winners Table

2007 Nike Indoor Nationals Winners Table


Click on event for story, photos and results

BOYS

Event

GIRLS

Jeremy Rankin 09 CO 6.71
qual: Shane Crawford 07 IN 6.75
steveu pick: Rynell Parson 09 TX

Victoria Jordan 08 TX 7.33
qual: Victoria Jordan 08 TX 7.34
steveu pick: Victoria Jordan 08 TX

Sean Holston 07 VA 21.53
qual: Sean Holston 07 VA 21.68
steveu pick: Sean Holston 07 VA

Victoria Jordan 08 TX 24.26
qual: Victoria Jordan 08 TX 2.38
steveu pick: DeAngela McDougald 07 KS
Sean Holston 07 VA 47.12
qual: Sean Holston 07 VA 48.48
steveu pick: Chris Ward 07 FL

Jessica Beard 07 OH 55.24
qual: Jessica Beard 07 OH 55.22
steveu pick: Bianca Knight 07 MS
Axel Mostrag 07 VA 1:51.63
steveu pick: Axel Mostrag 07 VA

Chanelle Price 08 PA 2:07.43
steveu pick: Chanelle Price 08 PA
Samuel Borchers 07 OH 4:14.19
steveu pick: Axel Mostrag 07 VA

Alex Kosinski 07 CA 4:45.18
steveu pick: Danielle Tauro 07 NJ
John Harwell NC 4:35.02

Brianne Bellon NY 5:07.61

Craig Forys 07 NJ 9:01.57
steveu pick: Matt Centrowicz 07 MD
Ashley Brasovan 09 FL 10:25.41
steveu pick: Aurora Scott 08 VA
Jason Witt 08 VA 15:05.29
steveu pick: Adam Lenz 07 CO

Aurora Scott 08 VA 16:53.55
steveu pick: Aurora Scott 08 VA

Johnny Dutch 07 NC 7.73
qual: Wayne Davis II 09 NC 7.86
steveu pick: Josh Hembrough 07 MI
Jackie Coward 08 TN 8.28
qual: Jacquelyn Coward 08 TN 8.36
steveu pick: Jacquelyn Coward 08 TN
Bethel HS 1:29.90
steveu pick: Westlake MD

Blazin Raiders (Eleanor Roosevelt) 1:39.86
steveu pick: Uniondale NY
Bethel HS 3:21.76
steveu pick: Newburgh NY

Blazin Raiders (Eleanor Roosevelt) 3:45.02
steveu pick: Eleanor Roosevelt MD
Blazin Raiders (Eleanor Roosevelt) 7:55.66
steveu pick: Smiths Station AL

Blazin Raiders (Eleanor Roosevelt) 9:07.31
steveu pick: Eleanor Roosevelt MD
Track Eastern Carolina 3:28.39
steveu pick: Smiths Station AL
Easton TC 3:56.46
steveu pick: Eleanor Roosevelt MD
Warrior TC (Henderson) PA 10:16.57
steveu pick: Fork Union VA

Blazin Raiders (Eleanor Roosevelt) MD 11:48.68
steveu pick: Southern Regional NJ
Kellenberg Memorial NY 18:13.71
steveu pick: Xavier CT

Midlothian RC VA 21:00.56
steveu pick: Midlothian RC VA
Wayne HS 30.47
steveu pick: Wayne Huber Heights OH

New Rochelle TC NY 34:07
steveu pick: New Rochelle NY
Devon Bond 07 NJ 6-10.75
steveu pick: Devon Bond 07 NJ

Patience Coleman 07 NC 5-08.75
steveu pick: Patience Coleman 07 NC
Terry Prentice 07 CA 23-10.75
steveu pick: Terry Prentice 07 CA

Jamesha Youngblood 07 CA 19-08.25
steveu pick: Arantxa King 07 MA
Austin Davis 07 NC 50-01.25
steveu pick: Devon Bond 07 NJ
Jamesha Youngblood 07 CA 42-02.75
steveu pick: Arantxa King 07 MA
Maston Wallace 07 TX 17-05.00
steveu pick: Maston Wallace 07 TX

Rachel Laurent 08 LA 13-02.50
steveu pick: Shade Weygandt 09 TX
Jimmie Pacifico 07 OH 65-00.00
steveu pick: Jimmie Pacifico 07 OH

Kamorean Hayes 07 NC 52-06.50
steveu pick: Kamorean Hayes 07 NC
Trevor Kraychir 07 CA 81-04.75
steveu pick: Trevor Kraychir 07 CA

Cynthia Lloyd 07 NY 54-03.75
steveu pick: Casey Kraychir 10 CA
Terry Prentice 07 CA 3966
steveu pick: Terry Prentice 07 CA

Ryann Krais 08 PA 3715
steveu pick: Ryann Krais 08 PA
Roberto Vergera 08 TX 6:32.62
steveu pick: Ricardo Vergara 08 TX

Christie Bernier 10 ME 7:58.93
steveu pick: Leah Buletti 09 NY

steveu's previews
Hurdlers + Half Milers
= Highlights

steveu's overall preview - Our Steve Underwood expects hurdlers and half milers to produce the biggest highlights at Landover. But don't forget the girls 400, where Bianca Knight takes aim on fantastic Francena's one year old national record.

SteveU looks into his crystal ball and predicts the top 3 finishers in every event.

steveu Boys preview - Axel Mostrag VA (right) and Terry Prentice CA are favored in two events, although Mostrag will have to favor the 800 or the mile as the finals are just over an hour apart. The boys 60H features the top 7 hurdlers in the country (left, Johnny Dutch and Terry Prentice in near dead heat at Simplot)
steveu Girls preview - Potential record-breakers Jackie Coward TN, Bianca Knight MS and Aurora Scott VA, will battle for headlines with Danielle Tauro NJ, Arantxa King MA, and Chanelle Price PA


Pete Cava
Elliott Denman

FREE CLINICS - Speed, endurance, technique (sprints, hurdles, jumps, shot put), injury prevention, and injury treatment - elite coaches and athletes.



Which national record falls next?
Two electrifying national records are the bookends of this meet. Casey Combest's shot-out-of-a gun 60m at Columbus OH in 1999 and Francena McCorory's dazzling 400m last year at Landover (left) frame a multitude of brilliant performances by the best high school athletes in the land. There have been national records set for four straight years at Landover. Which record is next?