New May 27 - Full Results - Photo Page
New! May 26 -- Start Lists -- Meet Preview: Trey Charles, Tim Grier, Jordan Scott Lead the Way
Athletes battle in the 100 meter hurdles at the DeKalb International Prep Classic. Photo Walter Pinion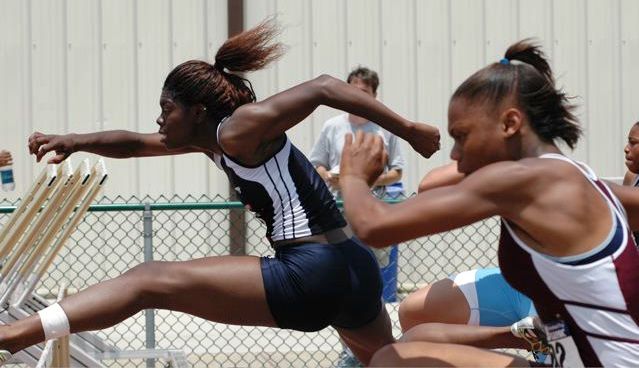 Highlights
100H Thriller! Pendleton SC fr Jasmine Stowers nips Therrell GA sr Quaneshia Clekely, both in 14.01 (0.4w)
800 Thriller! McEachern GA jr Ben Hubers edges Smiths Station AL jr Chris Bilbrew, 1:54.09-1:54.12
Oconee Co. GA sr Jordan Scott 16-6 PV (missed at PR 17-2)
Atlantic Beach FL jr Daisy Glasser 12-6 PV
Westlake GA sr Tim Grier rolls to 52.49 400H (but no Trey Charles matchup)
Villa Rica GA so Wesley Wright 60-11.75 SP over Dacula GA sr Israel Machovec 60-05.25 (Machovec wins DT with 189-03)
400 Hurdles winner Tim Grier (left) and 400 winner Curtis Kock (right). Photos Walter Pinion
International Wins!
Chantel Malone (British Virgin Isles) over Saskia Kalmeijer (Belgium), 38-06-5 to 38-04.
Curtis Kock (Netherlands Antilles) over Phenix City AL jr Bernard Spivey, 48.43-48.47.
Julian Reid (Jamaica) over Marietta GA so Trey Charles, 22-10.25 to 22-09
Daisy Glasser (left) cleared a winning 12-6 in the PV, while Emily Reese was dominating the 800 (right). Photos Walter Pinion
Also...
Chamblee GA so Emily Reese sticks with 800, wins easily in 2:15.18
Therrell GA so Brittany Long 11.71 100 (1.3w)
Whitefield Academy GA sr Callie Pottinger 55.32 400
The 2006 edition of the "DeKalb Classic" will again offer quality competition for both women and men high school athletes.
The 2005 meet at Georgia Tech produced national rankings in a number of events. The limited number of entries per event, few heats or trials, start late-finish early schedule, online entry for US citizen and online entry for non US citizen, no entry fee, no team scoring all contribute in providing a "go for it" atmosphere of friendly competition for athletes, coaches and fans.
37 Athletics Federations Invited from: Africa, Europe, Caribbean, and the Americas
Countries that confirmed their participation in 2006: Dominican Republic, Guatemala, Ivory Coast, Netherlands Antilles,Tunisia, Egypt, Guatemala, Somalia, Sudan.
States represented: Alabama, Florida, Kentucky, Georgia, Maryland, New York, North Carolina, South Carolina, Tennessee.
Meet sanctioned by USA Track & Field & Approved by the NFHS