32nd Great Southwest Classic


Albuquerque NM, May 31-June 2, 2007 - DyeStat on-site coverage



Showdown Saturday




Outstanding performance awards go to 300H winners


Robert Griffin TX 35.47 -- misses hoped for national record (35.32) but still places 6th on all-time list.
Jacquelyn Coward TN 40.83 -- 8th best all time in the US - completes a hurdles double (13.31 +0.9 100H).
Check Saturday page for details and complete results.

Donna on the Side -- 50 photos of sideline scenes at the multi events
Donna on the Side - Saturday - 212 photos at the finals.
Mel's last race - Marc Davis video of Nevada star Marie Lawrence


RESULTS
Thursday - Friday - Saturday
Marc Davis Video

Preview
Entries
Schedule
Prior Years
Top 10 All Time lists

the meet's own web site


Other outstanding performers:


Tiffany Townsend TX - sprint double into the wind - 11.62 -2.5 and 23.42 -0.7.
Brittany Borman MO - throws double - 155-1 javelin and 44-9.5 SP.
Omar Craddick TX - 49-9 triple jump.
Mychal Dungey TX - 20.87 -0.7 200m.
Shade Weygandt TX - 13-5.25 PV meet record reversing the Texas Relays loss to Rachel Laurent LA, who cleared the same height but had more misses.
Erica Alexander TX - 53.74 400m.
Candace Eddy UT - 4:34.00 1500m.

Go to Winners Table for links to event by event results, stories, action pix and videos.


Saturday
| | | |
| --- | --- | --- |
| Robert Griffin | Jacquelyn Coward | |
| | | |
Friday
Come from behind wins for
Curtis Beach, Jessica Flax in Multis

Decathlon - There were lead changes in each of the last three events. Local favorite Curtis Beach (left), a sophomore at Albuquerque Academy, took the lead in event 8 (pole vault), lost it to javelin star Chase Dalton OR in event 9, and grabbed it back with a wire to wire 4:14.08 victory in the closing 1500.

Heptathlon - After leading at the end of Day 1, Pearland TX jr Jessica Flax (right) was 152 points behind Mesa AZ soph Samantha Collins before the final event, the 800. She needed to beat Collins by 12 seconds to win and she did it by 32 seconds with a time of 2:29.27.


Thursday


Andre McDonald opens with a bang




Kansas City junior scores 3967 points, breaking the Day 1 decathlon meet record held by meet and national record holder Donovan Kilmartin. Heptathlon leader is Jessica Flax AZ 2790.

Thursday page

left, Andre McDonald - photo by John Dye


Meet records threatened by galaxy of national stars - 9 events have the 2007 US#1 performer.
Preview
Winners Table
Great Southwest Classic Winners Table

Click on event for results, photos and video.

BOYS
Event
GIRLS
Ryan Bailey OR 10.74 -2.8

100
Tiffany Townsend TX 11.62 -2.5

Mychal Dungey TX 20.87 -0.7

200
Tiffany Townsend TX 22.84 -0.7

Danzell Fortson TX 46.92

400
Erica Alexander TX 53.74

Charles White CO 1:52.64

800
Lacey Cramer 2:12.48

Bobby Nicolls CO 4:02.00

1500
Candace Eddy UT 4:34.00

Kevin Williams CO 9:10.97

3200
Marie Lawrence NV 10:42.56

Spencer Carter CO 6:23.08

Steeple

Emma Coburn CO 7:15.43

Oscar Spurlock TX 14.09 -1.2

100/110H
Jacquelyn Coward TN 13.31 +0.9

Robert Griffin TX 35.47

300H
Jacquelyn Coward TN 40.83

Texas 40.03

4x100
Texas 46.18

Texas 3:06.73

4x400
Utah 3:41.20

Nevada 7:51.46

4x800
Utah 8:56.04

Philip Feinberg AZ 6-11

HJ
Kelsey Lloyd TX 5-8

Derrick Locke OK 24-11 -1.1

LJ
A'Lexus Brannon TX 29-2 -1.8

Omar Craddick TX 49-9 +1.2

TJ
Gabby Gioia TN 39-4

Parker Smith CO 16-5.25

PV
Shade Weygandt TX 13-5.25

Cameron Tabor OK 61-5

SP
Brittany Borman MO 44-9.5

Luke Bryant KS 197-8

DT
Kylie Spurgeon OK 157-4

Chase Dalton OR 199-0

JT
Brittany Borman MO 155-1

Curtis Beach NM 7185

Multi
Jessica Flax TX 4476





GSW regularly crashes all time US lists

-

14 marks in last 5 years

- Prior Year coverage on DyeStat since 1998



GSW is one of top meets in US

- Formerly a regional championship meet, the Great Southwest has blossomed into of the elite meets in the US in recent years with the addition of national elite athletes to challenge top athletes from the Southwest (Nevada, Utah, Colorado, Arizona, New Mexico, Oklahoma and Texas).



GSW Meet Records are Impressive

- Some of the best performers in the US have appeared in the 31 Great Southwest Classic meets. Top 10 All Time Lists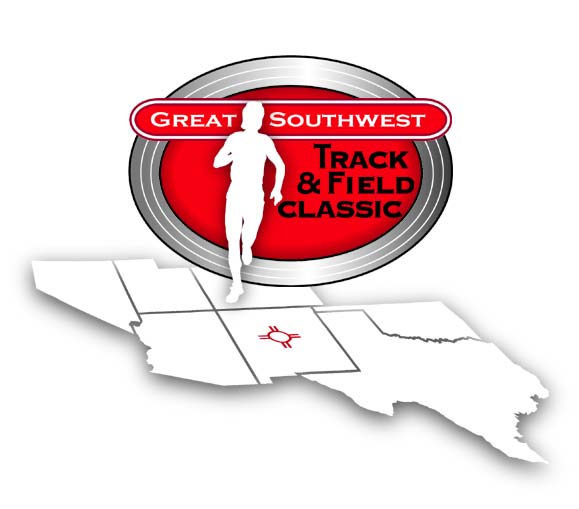 US News home page