Emily Reese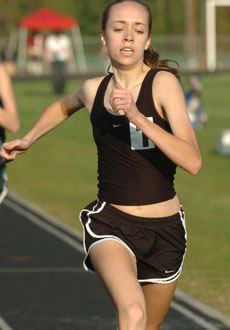 Girls Mile - Chamblee GA soph Emily Reese, a Foot Locker cross country national finalist in December, seesawed throughout with White Station TN jr Rita Jorgensen before coming from behind on the last turn to win in 4:57.50 (Jorgensen 4:59.18).
Donte Nall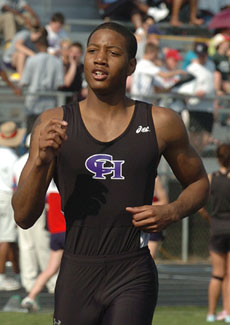 Boys HJ - Chapel Hill Douglasville GA sr Donte Nall, a member of Team USA at the World Youth Games in Morocco last summer, got a PR and meet record with his 7-0 clearance. He was perfect through that point, but then went out at 7-2.
Boys Discus - Opelika AL sr Zach Clayton AL 190-3 improved by 6 feet on his own meet record set last year. He doubled in the shot put at 58-9.
Boys Pole Vault - Oconee County GA sr Jordan Scott, headed for Kansas next year, cleared 16-6 in the dark to beat Ponchitoula LA sr Joshua Dominguez 16-0. The event started at twilight and by the time Scott entered the competition at 16-0, it was totally dark at the pole vault pit outside the track oval on the first turn as the stadium lights are turned toward the football field. Scott's father held a flash light on the box so the vaulters could see where to plant their poles. Scott had to go to his third attempt to survive at 16-0 and then cleared 16-6 cleanly on his first attempt. Scott raised the bar to 17-2 but missed three times.