14th Hispanic Games



The New Balance Track and Field Center at The Armory, New York NY
January 5-6, 2008

DyeStat on-site with SteveU and The Track Junkie

Half Hollow Hills West NY senior

Kyle Merber

takes the boys Invitational Mile in US#1 4:15.13, closing in 58.8 to secure an automatic bid to the Millrose Games HS mile. Merber kicked hard with just over 300 meters to go, dropping Wille Ahern of Danbury CT to second in 4:18.60 and Brad Akerman of Warwick Valley, NY 3rd in 4:18.86.

Emily Lipari

(Roslyn HS soph) punches her own ticket to Millrose with a US#1 4:56.71 winner in the girls Invitational Mile. Lipari came from behind to catch Lillian Greibesland (Warwick Valley NY), second in 4:57.01.
Male Outstanding Field Performer: Leading leaper

Steve Crouse

(Colonie Central NY) won his third major meet of the year (1/2" short of meet record) with his 48-05.50 TJ (3" off his best).
Male Outstanding Running Performer: Trenton Central sr

Devon Hill

blazes to a 7.39 55H, 2nd in the U.S. only to today's 7.29 by Wayne Davis NC.
Female Outstanding Running Performer: Bay Shore NY's

Sarah McCurdy

, rounding into the form that won her the 2007 NSIC 800, takes that event in US#1 2:12.40 over Charlene Lipsey (Hempstead NY), winner of the Marine Corps 800 in the exact same time, and second here in 2:13.60.
Female Outstanding Field Performer: Suffern NY soph

Jenn Clayton

comes through with a winning 18-06 on her final long jump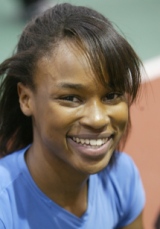 Devon Hill and Jenn Clayton. Photos John Nepolitan



New Bern: 3 Firsts from NC
New Bern NC got its second winner of the day as Andrew Hendrix takes the 800 in a swift 1:56.40, then added a 3rd by taking the boys 4 x 400 in 3:24.02. Earlier they had Faquan Greene winning a razor-close 55m, 6.47 to two 6.48s.
Swenson PA's Shanae Bailey blazes to a US#1 24.44 in the 200
Brian Leung (West Windsor Plainsboro South NJ), a 2007 Footlocker Finalist, takes over early in the boys 2 – mile and pulls away to win in 9:22.92.
IAAF World Youth hurdles champion Dalilah Muhammad (Cardoza NY) goes wire-to-wire to take the Girls Invitational 400 in a US#1 55.93, ahead of Elizabeth Mott (New Rochelle NY) 56.48. She also anchored Cardoza's US#1 9:25.07 4x800 winner.
Once again running from the unseeded section, Dennis Scruggs (Bellport NY) takes a title at the Armory. Just as he did to win the Loughlin Games 600 meters, Scruggs took command of the 2nd heat of the Boys Invitational 400 meters, and ran the fastest time of the day - a US#1 48.56.
Meghan Lutz (Nazareth Academy, Pa) pulled away over the last 6 laps to win the Girls Invitational 3000 meters in 10:23.06.
Sprint relays are always a highlight at the Armory and the 4 x 200 finals got the crowd jumping as Camden NJ girls take 1st in US#1 1:42.21 while fellow Garden Staters Winslow Township took the boys race in 1:30.38.
Mt. St. Michael NY sr Brian McGovern rebounds from a NH at Brown to top his PV PR with a 15-6 winner
Woodrow Wilson NJ sr Samantha Sharper nips Medgar Evers' Janice Jackson in the 55H, 8.27-8.28
Eastern NJ soph English Gardner zips to 7.08 55m victory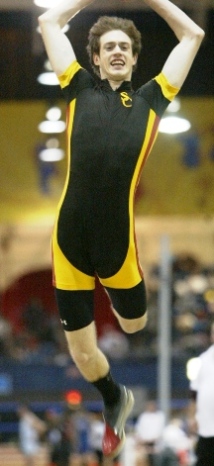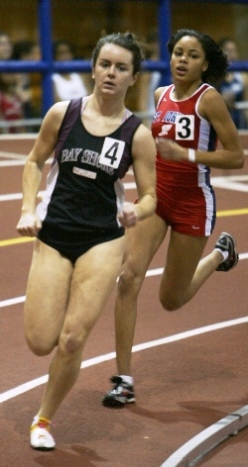 Steve Crouse wins the TJ; Sarah McCurdy the 800. Photos John Nepolitan




The anticipated and the unanticipated merge on a day of #1s



by SteveU

Kyle Merber had a plan to win and executed it to perfection. Emily Lipari had no such aspirations, but found herself on top at the end. Four Most Valuable Performers had reactions to their performances ranging from surprise (Devon Hill), to vindication of sorts (Jenn Clayton, Sarah McCurdy), and even mild disappointment (Steve Crouse).

Such were the stories of the biggest winners at the 14th Hispanic Games Saturday at The Armory in New York, where a total of nine early-season national leaders were created by the end of the night.

Merber and Lipari, a pair of Long Islanders, had different approaches coming into their Invitational Mile races, but the result was the same. Each garnered automatic bids to the Millrose Mile with their victories. Merber, a Half Hollow Hills West NY senior, sat on a solid, but manageable pace from Danbury CT sr Willie Ahearn in the boys race and produced a ferocious 58.8 last quarter for an easy win in a US#1 4:15.13. In the girls race, the early leaders were unable to sustain a moderately fast pace and a spirited battle emerged in the last two laps between Lipari, the Roslyn NY soph, and Warwick Valley NY soph Lillian Greibesland. Lipari took the lead with a lap left, lost it seemingly for good, then rallied in the final stretch in a way that resembled her Foot Locker Finals kick to triumph in 4:56.71.

Despite not having such motivation as Millrose bids on the line, each of the four meet MVPs produced performances that impressed in their own way. Hill, a Trenton Central NJ sr and namesake of graduated and highly decorated teammate Devon Bond, blasted his 55H PR down to 7.39, thought to be a US#1 until it was learned that defending NON 110H champ Wayne Davis NC had run 7.29 Saturday in North Carolina. McCurdy, a Bayshore NY sr, showed strong signs of returning to the form that netted her the NSIC 800 victory on this track a year ago. She covered four laps in 2:12.40 to equal the national leader of Hempstead NY jr Charlene Lipsey, whom she relegated to 2nd here.

On the field, the Colonie Central NY sr Crouse captured a major invitational for the 3rd time this year, easily winning the triple jump with a 48-05.50. While he didn't quite match his US-leading PR (three inches further), and missed the meet record by half-an-inch, he still won by nearly two feet. On the girls side, it was the Suffern soph Clayton who produced the top field effort, spanning 18-06 on her final leap in the long jump, showing evidence of the talent that got her out to 18-10 at season's end last spring.

There were six other US-leading performances Saturday. For the girls, World Youth 400H champ and Benjamin Cardozo NY sr Dalilah Muhammad was in on two of them, a solo 55.93 400 and an anchor on her team's 9:25.07 4x800. There was also the 24.44 200 by Swenson PA soph Shanae Bailey, and the 1:42.21 4x200 of Camden NJ.

For the boys, the 1- and 2-lap performances of St. Benedicts NJ sr Brian Bucknor (22.01) and Bellport NY sr Dennis Scruggs (48.56) are new standards for the rest of the country to shoot for.

Also significant were the showings by the contingent that traveled up to New York from North Carolina to get a taste of The Armory and show the Northeast what they could do. Nick Sparks-coached New Bern NC got victories in the 55 from soph Faquan Greene (6.47) and in the 800 from junior Andrew Hendrix (1:56.40), a 4th in the 400 from Andrew's twin brother Anthony (49.23), and a 4x400 victory from a quartet comprised of those three and Miles Sparks (3:24.02).



The Miles/Distances



As the Boys Invitational Mile wore into its middle and late laps, two things became very clear: The 4:20 pace that Willie Ahearn was setting was not going to be challenged by any mid-race moves and Kyle Merber looked both relaxed and ready to pounce. There was plenty of movement behind Ahearn and Merber, but it was mostly runners looking like they were swimming against the current. Everyone was fighting for position except the two leaders.



Doing It for The 'Stat



Kyle Merber admitted he had a little extra motivation in his performance Saturday.

On top of training to be an elite distance runner, Kyle spends more than his share of time on the DyeStat message boards, including "The Playground." When told The Playground might explode when news of his victory came out, he said with all sincerity, "I didn't want to let them down."


With 300 to go, Merber sprang. It wasn't one of the prettier kicks you've ever seen, but when the final numbers were given, there were plenty of wide eyes and knowing nods: This guy has a kick, even if he looks like he's just acquired a big engine and doesn't quite know how to drive it yet. Although Merber looks more like a long distance runner, he's developing into a miler that could hit 4:10 not terribly far down the road.

After finishing, Merber looked pleased, but not stunned. He knew he had a good chance to win the race and it went the way he wanted. "My coach and I had talked it over and that's what I wanted to do, sit and kick the last 400," he said.

"I was pretty relaxed … although the pace is always a shock when you're not training that fast," he added, noting that he had mostly been doing base training with some tempo running mixed in.

With Ahearn almost unintentionally becoming a rabbit, Merber could hardly help showing gratitude toward him. "Willie really ran a good race." And it wasn't like Ahearn didn't get any reward out of it; he hung on for a runner-up 4:18.60, with Warwick Valley's Brad Ackerman 3rd in 4:18.86.

The winner added that with making the Millrose field out of the way, he wanted to concentrate on his team in upcoming meets with some relay duty.

While the Boys Invitational Mile was predictable in many ways, the girls race was the opposite. With a deeper field that included a wide variety of talents, there were at least five good candidates for victory along with a lot of question marks.

The race unfolded with Ward Melville sr Suejin Ahn setting the pace and Carmel NY sr Kristin Reese running on her outside shoulder. Both are better known for their indoor miles than anything else on their distance-running resume and the early pace they set – 76 at 400 – suggested they could control the race and still be able to finish strong.

Meanwhile, the diminutive figure of Emily Lipari was tucking in behind the leaders, and Lillian Greibesland and Seton Catholic NY sr Mary Kate Champagne, a Foot Locker Finalist, were right there, too. The drama continued to build with a 74 and 2:30 at 880, with the leaders remaining the same.

By three-quarters, though, things were changing. Reese, who'd been fighting an illness, dropped off completely to finish 8th, more than 20 seconds back, while Ahn hung on longer, but suffered a similar fate. Youngsters Greibesland and Lipari, neither having been in this position in a major mile, emerged to the front.

With 220 to go, Lipari shot into the lead, but the last-lap fireworks were only beginning. Greibesland would retake the lead into the backstretch, but it was too soon for her, as well. She flagged in the home stretch and Lipari summoned up one last move to move back ahead for the win, 4:56.71-4:57.01.

Given all that's happened with and around Lipari, it's probably shouldn't be a surprise that she pulled this off. Her notoriety began to soar with her victories in the NY Class AA XC meet (fastest overall) and NY Feds, and her Foot Locker NE 6th, then grew a bit when it was learned the soccer-playing dynamo had traveled to NC for a tourney during the post-season, as well as running sprints at some compulsory early indoor meets.

Then on top of that, a fuss was raised when she accidentally appeared on the start list for the Boys Invitational Mile. Lately, though, no matter what happens, Lipari seems to exceed expectations.

"I'm really excited," she said afterward, noting that she'd never broken 5:00 before. "I wasn't expecting this at all. I'm very excited I'm going to get to race Millrose.

"I thought I'd lost," she added, regarding the move Greibesland made on the back stretch. "But then I saw her head start to move a little and I thought I still had a chance."

She also had a sense of humor about what has gone on. No, she won't be racing any more 55s or 300s indoors ("I get enough sprints in soccer") and yes, it was funny that she was on the wrong race list ("Everyone was saying to me, 'So, now you're the fastest boy?!'")

It's always interesting to see how distance runners bounce back from a cross-country season to the early indoor action. Merber, whose last meet was FL Northeast, seems to have found his niche. Lipari, despite racing XC all the way through Foot Locker, is clearly on a steep improvement curve.

In West-Windsor Plainsboro-South NJ sr Brian Leung, though, you get a sense of someone who's fighting to make the transition – and who can blame him? Many distance runners are ready to back off after a long harrier campaign and get in a winter base before working their way back into intense racing.

But Leung is nothing if not tough, and he is motivated to chase the sub-9s that were in abundance for the nation's top 3200/2-mile runners by the end of outdoor last spring. He wanted a 4:35 first mile Saturday during the Invitational 2-Mile and when the pace he was following was 71 at 440, he took over to try and push things. He picked it up to 69, but that was what his legs would give him in this early effort and he had to then settle for a string of 70s and a few 71s to finish in 9:22.92.

"It was humbling for me," he said. "(The pace I wanted) didn't happen and I wanted to go fast. I thought (fellow NJ Foot Locker Finalist) Brandon Jarrett was going to be there, and that didn't happen, so I pushed the pace myself."

While he admitted he'd really started training in earnest just a week ago, he was definitely "not satisfied." His goal this winter is nothing less than breaking 9:00, then 8:50 outdoors.

The girls 3000 didn't feature such lofty ambition, but there was a very nice finish by Nazareth PA sr Meghan Lutz, who pulled away from Warwick Valley's Tori Pennings to win in 10:23.06.

"I was kind of nervous because I rolled my ankle a couple of days ago," she said. "I was really not expecting to win."

The 800s featured rather decisive, front-running moves to victory. For the boys, New Bern's Andrew Hendrix clearly had the best time coming in and there wasn't really anyone to challenge the pace he was putting up. His 1:56.40 was more than a second in the clear.

"He ran perfect splits," said Coach Nick Sparks. "He's where he needs to be right now."

But on the girls side, you had 800 newcomer and Hempstead jr Charlene Lipsey; Sarah McCurdy, the Bayshore NY sr and NSIC defending champ on this track; and Brianna Welch, the North Shore NY soph who is a 2:09 runner (2:11 indoors).

St. John's Prep's Century Williams made sure the pace was quick by taking it out in 31, but McCurdy was feeling her oats and burst into the lead shortly thereafter. Given Lipsey's speed, it looked like a dicey move … but … it worked because it was a faster pace than the Hempstead runner was used to and she also had a rough time getting out of the pack. By the time she gave earnest chase to McCurdy, it was too little and too late.

And … it was a very good day for McCurdy anyway. Looking much like the runner who won big here last March, she rolled through in 65 and 1:38, her form steady throughout. "It was not my plan to take the lead like that, but I just felt really good," she said. "My legs went before my mind … but I felt strong. I have so many good memories here. It's my favorite place to race."

In the 1500-meter racewalk, Leah Buletti, the Westhampton sr who broke records and won national titles in 2006, showed she's gradually returning to form with a 7:09.41 victory.



Sprints/Hurdles/Relays



In the 55 hurdles, Trenton Central sr Devon Hill wanted to come in and run well, but he was a bit taken aback when he heard his time, and that it put him in a position, at the least, to make a national final by year's end. "Really?" he said. He let it digest a second. "That's great … I was just focusing on (getting over) the hurdles and trying to run as fast as I could."

The effort earned him the meet's MVP award on the track. It was thought to be the best US time of the early season, until it was learned that Wayne Davis had run 7.29 down in North Carolina. When Hill was asked a little about his track background, like previous outdoor performances, he smiled. "I don't run outdoors. I'm a pitcher."

You mean … in baseball? "Yes." Does he plan to pitch again this spring? "I don't know." Pause. "I mean, I'm not national class in baseball."

On the other hand, Samantha Shaper came into The Armory looking for big things. She was #6 on the list of US returnees with an 8.10 PR, and was in shape. But her start … it wasn't, well, quite sharp enough. "It was pretty bad," she said. "I just had to pick it up."

"My goal was sub-8," the Woodrow Wilson NJ sr added. "It was supposed to be today."

Still, she came back strong at the end for an 8.27, just enough to nip Medgar Evers NY's Janice Jackson by .01.

In the dashes, both winners got their first half of what they hoped would be double victories. New Bern NC soph Faquan Greene, already the owner of a 6.44 55 this winter, leaned to a 6.47, nipping Digital Harbor MD's Anthony Drumgoole and Bishop Loughlin NY's Nickolei Malalung (both 6.48) in the day's closest finish. Talented Eastern NJ soph English Gardner pushed hard through the line on the girls' side to pull away from Deptford's Audrey Wilson, 7.08-7.13.

One of the tricky things about track early in the season is smooth relay exchanges. The drama of dropped batons that change relay races on a dime can happen any time of year, but it naturally follows that the less time teams have had to work together, the rougher their stick passing is. In the girls 4x200, traditional powerhouse Boys and Girls NY had the low point of what was kind of a rough day with a mid-race drop. Camden NJ, meanwhile, was smooth and fast enough to get the job done in 1:42.21, US#1 so far.

"It was excellent," said Coach Avis Satterfield of the foursome that included Assante Johnson, Jamie Jones, Miriam Boyd, and Kamice Smalls. "At Bishop Loughlin, we ran 1:45.7 in the trials, then we ran slower in the finals. So I was pleased to come here and do 1:43 in the trials and improve on it in the finals this time."

A few events later, during the boys 4x200 final, the same thing happened to Trenton Central NJ, this time on the first pass. Winslow Township NJ held on, got the lead before the last pass, and ran to a 1:30.38 win.

There were signs that it's still early in the 2008 campaign while watching a pair of fast Invitational 400s, too. Like Brian Leung, Dalilah Muhammad looked a bit like someone who was having to run a little faster than she wanted to, yet. The World Youth 400H champ has raced a few 600s and done some high jumping. She looked strong in winning at a US#1 55.93, but still just like someone whose legs were having to turn over faster than she was ready for. "I felt a little nervous out there and didn't really know what to expect," said the defending NSIC 400 champ on this track. "Honestly, I just wasn't too into it today."

Dalilah also said she didn't run cross-country this past fall, as she apparently has done in the past, and started her training later than usual. "I'm looking toward the summer, to the World Juniors," she said.

On the other hand, the long sprint specialist isn't a huge fan of the 800, either. But she may find herself running a healthy handful of 4x8s this year … because Benjamin Cardozo has a heck of a team. Muhammad took the stick for the anchor in front by eight seconds and run just 2:22, and Cardozo still ran a US#1 9:25.07. The lineup also didn't include sub-2:20 runner Claudia Francis, who raced the Colgate series the night before. Muhammad can certainly run close to 2:10 and it's not unreasonable to think that three of the school's other four 2:18-2:21 types can eventually average 2:17 between them – meaning a 9-flat-type time could be in the future.

Sometimes runners find themselves a little under-seeded early in the season as well; in the case of Dennis Scruggs, it was a matter of using previous early-season efforts in his entry instead of last year or a projected time. The result was that a guy ready to run mid-48 was not in the "fast" heat of the Invitational. That race saw Father Judge PA sr Jermaine Lowery come from behind to run 49.03 and nab Simon Gratz PA sr Khaliff Featherstone (49.11) and New Bern NC jr Anthony Hendrix (49.23).

But moments later, Scruggs got out by himself and rolled a 48.56. The same thing happened in the Bishop Loughlin 600, where the he got the top mark outside the fastest section.

The Bellport NY sr said the biggest difference for him now is confidence. "I've never really believed in myself before," he said, referring mostly to his speed in the shorter races. "I've been listening to my coaches more and today when they said, get out, get out – I got out." His 48.56 was, in fact, an indoor-outdoor PR.

In the 200 finals, both winners came out of lane six with aggression and determination. On the girls side, English Gardner was coming off her 55 victory, but Shanae Bailey was much too strong on this day. She was pushed from lane five by Nadonnia Rodriques, the Boys and Girls standout running at the shorter end of her range, but came out on top with a 24.44, best in the US this year and almost half-a-second clear of Catonsville MD jr Kellie Christian (24.90) and Rodriques (24.91). Gardner was 4th in 25.75.

For the boys, Lowery and Featherstone – with his impressive 200-800 range – were back and Cumberland Valley PA sr Juan Steward was, too. But it was Brian Bucknor, the St. Benedict NJ sr in lane six, who rumbled down the straight to hold off the pack in 22.01, almost becoming the year's first under 22. Steward (22.11) and Featherstone (22.18) were close behind.



Field Events



A big part of the early season for field-event athletes is always getting the technique smooth, and ironing out the kinks as the fitness level improves. Take Suffern NY soph Jenn Clayton. She long-jumped 18-10 by the end of last year and has aspirations for a foot longer in 2007, which would put her in the country's upper echelon. But Saturday, she was trying to get her steps down just to get into the finals. "My run-throughs were not good," she said.

It wasn't until the final jump of the competition that things turned around. "I made the adjustments, got up high and really extended my legs." The result was the winning 18-06, which was good enough to cop the meet's best field event performer award for girls.

Clayton added that she's working on a better, more consistent training pattern, improving her eating habits, and "getting everyone more involved around me."

For Brian McGovern, it's been (almost) all about the equipment and the technical stuff as he's been trying to raise the bar for himself this winter. As the leading vaulter in the Northeast so far, he has had a strong season, but a no-height at Brown was a downer.

Turned out, McGovern had left his 15-foot pole back at The Armory the day before, where he had cleared a winning 15-00, then stopped with the next day's competition ahead. He tried to use a pole a half-foot shorter, while also adjusting to a runway that didn't work well for him.

Saturday, the Mount St. Michael NY sr had the pole he needed … but wound up using his 14-6 pole while improving his PR to 15-06. "I've been shooting over 15-06 in practice," he said. "At a meet it can be harder because there's way more adrenaline. Today was a great day overall."

It wasn't quite as great a day for Steve Crouse, the Colonie Central NY triple jumper. In fact, when asked over the P.A. system how it felt to miss the meet record by half-an-inch, he said "It kind of sucked," for everyone to hear. But Crouse has set a high enough standard that even a jump that wasn't quite his best – 48-05.50 being 3 inches off his PR – was still enough to win by nearly two feet.

"I warmed up a little too early because I was told I was in the third flight and I was really in the fifth," he said. "I was kind of off on the early jumps, but got it together pretty well in the finals. It was the best I could do today."




Preview

--

What will be the top events to look for at Saturday's Hispanic Games?



by SteveU

Well, how about the …

Invitational Boys Mile,

featuring 4:15-miler Kyle Merber NY, Bishop Loughlin champ Willie Ahearn CT, 4:15 1600 man Justin Sheinbaum NY,

Invitational Girls Mile

, featuring 4:47 1600 veteran and defending Hispanic Games champ Kristen Reese NY, NSIC 800 champ Sarah McCurdy NY, Foot Locker Finalist Mary Kate Champagne NY, NJ MOC champ Melanie Thompson NJ, Suejin Ahn NY, and versatile standout Lillian Greibesland NY
(winners of both miles get automatic Millrose bids)

Girls 400

, featuring defending NSIC champ (and World Youth 400H champ) Dalilah Muhammad NY, Kellie Christian MD, Megan Gillespie NY, and Elizabeth Mott NY. Christian is a defending MD state champ and Mott was 6th in the NIN 400 last year.

Boys 400

, with 48-second performers Bernard Goodwyn DE, Anthony Hendrix NC, Jermaine Lowery PA, and Khaliff Featherstone NY, who won the 800 at Marine Corps

Boys 2M

with New Jersey's Foot Locker Finalists Brandon Jarrett and Brian Leung.

Boys TJ

with high 48-footer Steve Crouse of Colonie, with 2 major wins under his belt

Girls 800

, with Marine Corps winner Charlene Lipsey (2:12.40), 2:09 performer Brianna Welch NY, and Sarah McCurdy doubling

Boys 800

, with Anthony Hendrix NC 1:53i)

Girls 2M

, with Mary Kate Champagne starting off her double
Thanks to Chris Hunt for contributing info in his "Armory Alert"



Schedule



Running events (inside the oval)

9:00 Boys 55 Meter Hurdles Trials - TOP EIGHT TIMES TO THE FINAL
9:40 Girls 55 Meter Hurdles Trials - TOP EIGHT TIMES TO THE FINAL
10:10 Boys 55 Meter Dash Trials - TOP EIGHT TIMES TO THE FINAL
10:40 Girls 55 Meter Dash Trials - TOP EIGHT TIMES TO THE FINAL
11:30 Girls 55 Meter Hurdle Final
11:40 Boys 55 Meter Hurdle Final
11:50 Girls 55 Meter Dash Final
12:00 Boys 55 Meter Dash Final

Running events (oval track)

8:45 Girls 1500 Meter Walk
9:20 Boys Mile Run
11:10 Girls Mile Run
12:40 Boys 800 Meter Relay - Trials
1:25 Girls 800 Meter Relay – Trials

2:10 National Anthem and Presentation

2:25 Boys Two Mile Run
2:40 Girls Two Mile Run
2:55 Girls 800 Meter Relay Final
3:05 Invitational Boys One Mile Run
3:15 Invitational Girls 400 Meter Dash Final
3:25 Invitational Boys 400 Meter Dash Final
3:35 Invitational Girls One Mile Run
3:45 Boys 800 Meter Relay Final

3:55 Boys 400 Meter Dash - Final on Time
4:30 Girls 400 Meter Dash - Final on Time
5:05 Boys 200 Meter Dash - Trials
5:55 Girls 200 Meter Dash - Trials
6:25 Boys 800 Meter Run
7:10 Girls 800 Meter Run

7:50 Boys 200 Meter Dash - Final
7:55 Girls 200 Meter Dash - Final
8:00 Boys 1600 Meter Relay - Final on Time
8:30 Girls 1600 Meter Relay - Final on Time
9:00 Boys 3200 Meter Relay - Final
9:30 Girls 3200 Meter Relay - Final

Field Events

9:00 Boys Pole Vault, Boys Shot Put, Boys Long Jump, Girls Long Jump

2:00 Boys and Girls High Jump (2 High Jump areas), Boys and Girls Triple Jump, Girls Pole Vault

2:00 Girls Shot Put