NTN Finals
Portland Meadows Race Track, Portland OR
December 1, 2007


Marc Bloom Preview







Last Runner Standing




Who's got the strength to win after longest of seasons? Can anyone stop defending champion Fayetteville-Manlius from making it four straight NTN titles for New York girls? Chris Derrick-led Neuqua Valley IL is boys favorite.





By Marc Bloom, editor of The Harrier



With another layer of fierce competition based on the new regional qualifying system, Nike Team Nationals IV might come down to this: Last Runner Standing.

For most of the 44 elite teams in the boys and girls championship races, this longest of all cross-country seasons began in June or July with summer training and reached its apex in recent weeks with state and regional championship meets leading to this Saturday's grand finale on the heavy-duty 5k course at Portland Meadows. Mud or no mud, this course favors the heartiness of strength runners, leading to the question: After all these months and go-to-the-mat races, who's got the strength in reserve to push to the limit one more time?



NY girls have won all three NTN titles, and defending Fayetteville-Manlius is back



Even the defending champion, undefeated and obviously favored Fayetteville-Manlius girls of New York cannot be anything less than game-face ready after dominating three major meets the last three weeks: the state public schools, state federation and NTN NY regional qualifier. At each meet, Fayetteville faced several top squads led by Saratoga Springs, the school that won the first NTN in 2004 and with all its titles helped generate the Empire State depth that led event officials to declare New York its own region starting this season.

For its part, Saratoga has had not just three big meets in a row but five, when you add its Suburban Council and state sectional qualifier with teams like Burnt Hills in the mix. If you go back to the Manhattan meet in mid-October (as well as the SS-Burnt Hills dual meet), that's seven killer races in eight weeks for 'Toga.

Does that make a team like Saratoga tired or race-ready? The Blue Streaks—or, Kinetic Club—train year-around with virtually no breaks in order to sustain such a peak. Strength begets strength. Other teams watch Saratoga. If on cold days they grease with Vaseline, it must be a good idea. If they win NTN, it must be a good idea. After the Saratoga girls triumphed in '04, Hilton girls of New York won in '05 and then the Fayetteville Stotans succeeded them in '06.

Will the New York girls' streak continue? And what about Northeast dominance overall? Joe Newton's famous York boys team of Illinois won in '04 (with Fayetteville 2nd), then it was Saratoga boys in '05 and Coatesville of Pennsylvania last year. That's five out of six NTN titles for the NY-NE Axis of Power.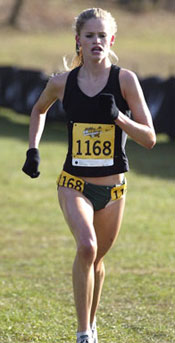 Girls Field: deep Fayetteville-Manlius has interchangeable parts

So, can any team other than one from New York win it all?

Fayetteville is so deep—think the 'Toga Dream Team of '04—that it has achieved all its success despite its presumed top runner, Kathryn Buchan, who placed 5th at NTN, slowed by injury. After Buchan twisted an ankle in September, coach Bill Aris kept her out of meets, giving her cross-training and modest workouts. Once the ankle got better and Buchan was getting back to form, she twisted it again. Thus, she skipped more races until last Saturday's regional where she was a non-scoring 6th runner 58 seconds behind team leader Mackenzie Carter (left, photo by John Nepolitan), 4th at NTN last year.

This fall, with Aris' magic act of priming every varsity scorer to be a team leader, almost every meet has seen a different Stotan as the top gun. Whether Buchan is in good form or not, Fayetteville has five girls who have run close to previous Foot Locker finalists this season.

If you want more evidence chew on this: last Saturday, with the New York and Northeast Regionals at the same Bowdoin Park site in NY (very tough and hilly with bad footing), Fayetteville averaged 30 seconds per girl faster than Northeast winner Lincoln-Sudbury, which defeated two state record-breaking teams—Voorhees (NJ) and Hanover (NH)—in close scoring.



What about Saugus, which ran rough shod over California?



On paper, the leading threat to Fayetteville and the New York reign should come from runaway California state Div I titlist Saugus, whose team time records this season include the hilly layout at Mt. SAC. With two girls up front (a seeming minimal requirement at NTN) and 41-second 5k spread at state, Saugus has the legs to make a run for it. But the Centurians do not have history on their side. They were 18th at NTN last year. And California girls in general have not run their best in the Portland conditions. Highly regarded Corona del Mar placed 6th in '07 for the second straight year; in three NTNs, no other California girls team has made the top ten.

Indeed even California mud has been a showcase for New Yorkers. At the rain-sogged Pepperdine meet in September, Warwick Valley (which would take 4th in the NY Regional, earning an at-large selection) won by 36 points over California bubble team Carlmont as would-be Northwest Regional winner St. Mary's of Portland ran 3rd.



Portland Meadows shuffles favorites and long shots



Every year, NTN proves that it can be hard to distinguish sure bets from longshots. Is it the fun-filled Portland Meadows course (deep down, who doesn't love mud?), the camaraderie of national fields, coaching dictates or inspirational advice from Nike athletes that lifts some teams to the stratosphere? Southlake Carroll TX, for example, has seemed to come out of nowhere the last two years to place 3rd each time (after an 8th in '04). If you're looking for the Dragons' secret, they like to train hard the day before big meets. This fall, coach Rob Ondrasek returned top girl Tara Upshaw, who took 6th last year, but after that only his number 5 and 7 girls came back from the podium. Carroll was ranked number-1 in the South in pre-season, then had weak results and dropped out of the regional ranking, only to return to form when it counted most, winning the state and South regional titles. Carroll's NTN number-7 girl from '06, who placed 138th (3rd from last), was its 5th scorer at regionals. That's got to be worth some kind of anchor award right there.



Boys: 38-point win over fabled York stamps Neuqua Valley IL as the favorite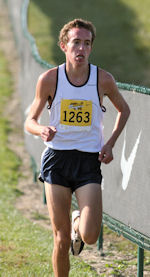 When's the last time any team defeated a national-caliber York squad by as many as 38 points? That's what Neuqua Valley achieved in the Midwest Regional. While York is not quite the powerhouse it was in the Dukes' 2004 NTN victory, they are York-like nonetheless, and Neuqua ran away with it. With record-breaking state titlist and Foot Locker Midwest runner-up Chris Derrick (left) leading the way, Neuqua has a sensational front four with a 30-second gap to number-5.

It remains to be seen if that gap hurts them on Saturday. The other leading challengers come in pairs: Albuquerque Academy and Los Alamos of New Mexico from the Southwest (separated by a tiebreaker), Brookline of the Boston area and Danbury of Connecticut in the Northeast (separated by 1 point) and North Central of the Spokane running mecca and hometown favorite Central Catholic of Portland in the Northwest (separated by 8 points).

Academy, 7th last year and led by the runner-up Ben Johnson, looked like a solid NTN favorite until Los Alamos mobilized its usual state meet barrage and edged the Chargers by 4 points—prior to their regional tie. Well, it now looks like both New Mexico teams are serious contenders. And they have seasoned coaches who have been there before and are not so super-serious that they shrink from sharing the wealth. Just read Academy coach Adam Kedge's latest DyeStat blog, where he gives away all his trade secrets on running the Portland Meadows course. And if you can ever make it up to 7,300-foot Los Alamos in the Sangre de Cristos range, Hilltoppers coaches Rob and Kathy Hipwood will show you the 9,000-foot mountain trails their athletes run in the summer. See, it's easy.

Brookline has a team patterned like Neuqua. They are led by undefeated regional winner Rob Gibson, and had its front four finish within 41 seconds with a big gap to number-5. If the last guy gets caught in the mud-sucking turf, that'll kill the Warriors' chances. Brookline got a taste of NTN at regionals, where on a muddy downhill their 6th and 7th guys slipped and went flying through flags marking the course. They got up and had a story to tell, or maybe a warning, for Portland. Danbury returns everyone from the team that placed 18th last year and probably has yet to run the complete race it hoped to this season. Now's the time.

North Central and Central Catholic carry on Spokane and Portland traditions as running fountains of the Northwest. Carrying the boys banner from California will be Dana Hills, state Div I champion by 70 points with a 32-second spread and, perhaps more impressive, a 42-second spread to the 7th man, probably the tightest of the boys field. Considering the typically mixed results in Portland where conditions can cause big intra-team pecking order reversals, Dana Hill's close ranks could be a factor, especially if there's another spill like last year where some dozens of runners went down in the slosh.

Remember: staying on your feet is the first rule of running.




NTN Finals news index