USATF Cross Country
Junior Nationals

Mission Bay Park, San Diego CA -- Saturday, February 16th, 2008

DyeStat on site with John Nepolitan
RESULTS


Doug Speck Previews

Meet's Own Site

Schedule

Entries

Prior Years on DyeStat:
2007 - Boulder
2006 - NYC
2005 - Vancouver
2004 - Indianapolis
2003 - Houston
2002 - Vancouver
2001 - Vancouver
2000 - Greensboro



Fernandez and Hasay: Cali Prep Sweep!!


Riverbank CA sr

German Fernandez

takes the men's title in 24:18 for 8k, outkicking former NY prep Ryan Sheridan! D'Evelyn CO sr

Kevin Williams

(5th, 24:39) and Albuquerque Academy NM sr

Ben Johnson

(6th, 24:41) give Team USA three preps
Mission Prep CA jr

Jordan Hasay

repeats on the women's side in 20:32 for 6k, with

Emily Reese

GA 3rd (21:26) behind Stanford's Alex Gits (former MN prep).





German Fernandez outkicks Ryan Sheridan (left), while (right) Jordan Hasay enjoyed a 13-second margin. Photos John Nepolitan




Top Tens

(high schoolers in bold)




Women



1. Jordan Hasay, Mission Prep HS, CA -- 20:32
2. Alex Gits, Stanford U. -- 20:45
3. Emily Reese, Chamblee HS, GA -- 21:26
4. Marissa Treece, U of Notre Dame -- 21:33
5. Emily Schwitzer, Duke U. -- 21:34
6. Lauren Saylor, U of Washington -- 21:36
7. Laurynne Chetelat, Davis HS, CA -- 21:51
8. Jacque Taylor, Casa Grande HS, CA -- 21:53
9. Colleen Wetherbee, NC State U. -- 21:53
10. Megan Burrell, U of Colorado -- 21:58


Men



1. German Fernandez, Riverbank HS, CA -- 24:18
2. Ryan Sheridan, Iona U. -- 24:19
3. Emil Heineking, U of Virginia -- 24:34
4. Bobby Moldovan, NC State U. -- 24:38
5. Kevin Williams, D'Evelyn CO -- 24:39
6. Ben Johnson, Albuquerque Academy NM -- 24:41
7. Brendan Gregg, Stanford U. -- 24:41
8. Ryan Little, Oklahoma State U. -- 24:50
9. Josh Mathis, Oklahoma State U - 24:56
10. Matt Tebo, U of Colorado -- 24:58




National qualifiers find redemption after late-season disappointments
Story and Pix by John Nepolitan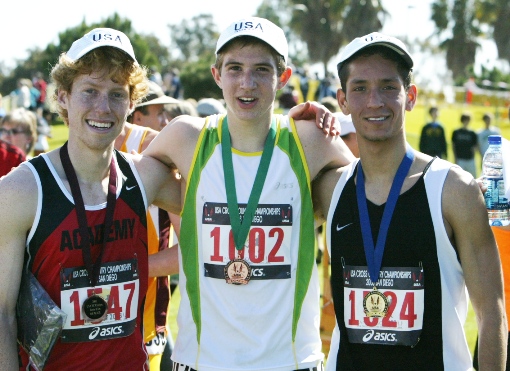 Team USA high school qualifiers Ben Johnson, Kevin Williams, German Fernandez


Each year December rolls around and, with the completion of NTN and the Foot Locker National Championships, we put cross country behind us and turn our attention to indoor track. For some, however, cross country continues with the USATF Cross Country Championships and, for a select elite few, a chance to qualify and run at the World Championship coming up in March in Scotland.

Besides an opportunity to run one, maybe two, more cross-country races, it's also the first time many of the high school runners have the opportunity to race over a distance they will face on the collegiate level. Also, for some, it will be the first time competing against those not in high school, as the junior races can include college athletes as long as they will not become 20 years of age during 2008.

Running over multiple 2000 meter loops, the races reflected what most of the world knows as cross country – repeating spectator-friendly loops that are mostly flat, but sometimes can include a few rhythm breaking barriers. Very few international courses have the huge signature hills that are a feature of many USA high school courses. The San Diego course at Mission Bay Park could definitely be described, by USA standards, as flat and fast – which made for tight pack racing. The few rolling "hills" that were all packed into the last half of each loop along. There were also warm temperatures, which would take their toll on the runners, but not after treating those in attendance to a great day of racing

The five high school runners making the two US National teams all enjoyed, in their own way, a bit of redemption for certain levels of disappointment at the end of this past cross country season. For women's champion Jordan Hasay CA, who won the Foot Locker title as a 9th grader only to fade the last two years in the December race, it would be a return to the winners circle in San Diego – as well as her 2nd straight USATF Juniors win. She ran a more measured race and pulled away from Stanford freshman Alex Gits in the final 2k to win by 13 seconds at 20:32 for 6k.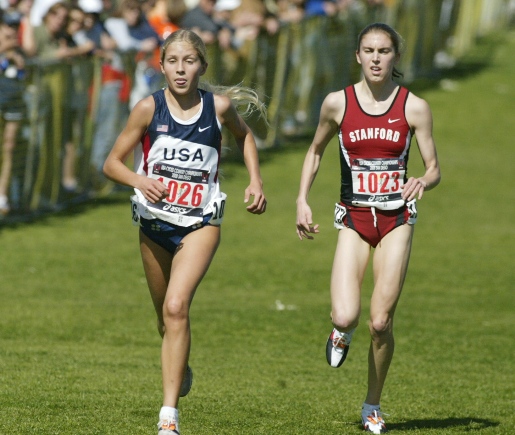 Jordan Hasay and Alex Gits together mid-race


Riverbank CA sr German Fernandez, considered by many the favorite to win 2+ months ago at Balboa, only to get third, showed the same type of form in winning that he had in setting the California State Meet record. His kick at the end beat Iona College's Ryan Sheridan, 24:18-24:19 for 8k, and made it a prep sweep for the 2nd straight year.

D'Evelyn CO sr Kevin Williams and Albuquerque Academy NM sr Ben Johnson each saw their seasons end on slightly down notes – Williams with a 26th at Foot Locker after hopes of a top-ten, and Johnson with a 3rd at NTN after 2nd the year before. Each ran superbly in taking 5th (24:39) and 6th (24:41), making it three preps on the men's 6-member team. Meanwhile, the 2nd and final high schooler to make the women's team – Chamblee GA sr Emily Reese in 3rd at 21:26 – missed Foot Locker the last two years after making it as a soph. This was her best big meet since, helping to wipe away that disappointment.

Reese, Williams, Johnson and Fernandez will each be competing on their first US team while Hasay has already run with U-S-A across her chest.



Jr Women (6000 meters)


At the 2007 USATF XC Championships in Boulder, Colorado, Hasay jumped right to the front looked to be blowing away a top field. She would go on to win that 2007 race, but the altitude took its effect and she struggled home over the final 1000 meters. In San Diego, the race unfolded much differently, with a huge pack of all the pre race national team contenders still in contact through the opening 2000 meter loop.

As the race neared the 3000 meter point, reached by the leaders in 10:15, Hasay and Gits had created a slight gap back to Reese, who in turn had started to gap the rest of the field. For the next 1000 meters, Hasay and Gits would run side by side and slowly extend their lead over Reese. Behind Reese, the trio of Davis CA sr Laurynne Chetelat, U. of Washington freshman Lauren Saylor, and Notre Dame freshmanb Marissa Treece looked to have hold of the last three national team spots.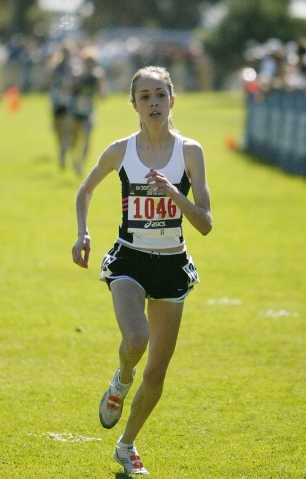 Emily Reese comes home 3rd


At 4000 meters, reached in 13:54, Hasay began to put pressure of Gits and begin her drive to repeat as national champion. By 5000 meters, the step that Hasay had over Gits had grown to 50 meters and there would be no struggling coming home this year. Over the final 1000 meters, Hasay continued to power to the title, while Gits and Reese held onto their race positions and national team spots.

Behind the top three, Chetelat felt the effects of the rolling hills, warm weather and 6000 meter distance, and start to slip back. Saylor, Treece and Duke freshman Emily Schwitzer moved up and nailed down the last three national team births and a chance to represent the USA at the IAAF World Cross Country Championships in Scotland at the end of March.

Post race comments:

Jordan Hasay – "I can actually breathe this year…At Foot Locker, I went out really fast, so today I just wanted to stay in the pack for two laps and then give it all I had the last 2k…I was planning on going anywhere from 1 lap to go to ½ lap to go, so I was ok if she (Gits) was still with me with a 1/2 lap to go…I still have to make a decision if I am going to World XC or not, cause I really like track, but we will think about it. I felt really relaxed; the 2nd lap I was starting to feel it a little bit, but I knew I had something left. On the last lap the hills got to me a little bit."

Emily Reese – "I felt really good today. I was not sure what to expect, because it is 6k and I am so used to running 5k and it is a little bit hotter than I am used to. I felt really good from the start today…there were so many girls in the one pack; there was a lot of bumping, but it was really a good environment…by halfway I think it had spread out enough and I was confident in how I was running and I felt OK. I started to get tired with, like, 800 meters to go. But I felt I could hold on (to her national team spot) from that point."




Jr Men (8000 meters)


Just like the women's race, the men's event started out at a conservative pace, keeping a large group in contact through the early stages. Through those early stages, there was no definitive leader with all the pre-race favorites in or near the front.

Sitting right behind whoever wanted to lead was Sheridan, who had last raced in San Diego as a sophomore in high school. After showing great promise that sophomore year, Sheridan had to deal with a series of injuries that kept him off the radar. Now healthy and looking to make a big splash back into the nation's young elite, the New York native was just waiting. Also in the front group, 1 row behind the leaders, was Johnson. At the back of the lead pack, starting to work his way through the field, was Fernandez.


Ben Johnson outkicks Brendan Gregg

Coming up to the end of the 2nd lap, 4000 meters, Sheridan had put himself in the front row of leaders along with Fernandez, while Johnson and Williams sat the 2nd row of the lead pack. From 4000 meters to 5000 meters, Sheridan moved to the front alone and started applying pressure to the field. Passing 5000 meters in 15:24, Sheridan had started to open a slight lead over Fernandez. Johnson and Williams were in the chase pack, still having a chance to earn national team births, but there were still 8 in the chase pack looking to be part of the 6-man team in Edinburgh.

At 6000 meters, reached in 18:26, Sheridan had a step on Fernandez, while the chase pack started to thin out. Emil Heineking moved into 3rd alone with one lap to go, and a small group of 4 – Johnson, Williams, Stanford freshman Brendan Gregg and North Carolina State freshman Bobby Moldovan – had started to break away from the others. One of that group, though would not be going to Scotland.

Over the final loop, 2000 meters, Fernandez and Sheridan ran side-by-side before dipping down the last hill and making the turn for home. Fernandez then attacked and fought all the way to the line for the 1-second win. Behind Fernandez and Sheridan, Heineking drew away for the other chasers to lock down his national team spot. While Johnson had been among the top 6 throughout the race, over the final 1000 meters he found himself as the possible odd man out. Williams and Moldovan had pulled away, leaving Johnson to battle Gregg for the final ticket to Scotland. Gregg tried to get by down the final straight, but Johnson refused to give up his national team position. Johnson and Gregg would be given the same time, but Johnson got the nod for the final team place.

German Fernandez – "I did not think about it; I just ran. You don't win the race by just looking to qualify. It's good to win, so that is what I did…I was thinking about letting him (Sheridan) go, but something in the back of my head said 'you have to go after it, you just have to push it to your limit'…I was scared; I was like 'I don't wanna race.' But once the gun went off, it is just me and the clock. This makes up for Foot Locker. I was not ready for that race. I like the 8k distance more than 5k…I have been training for this hard and everything worked out for me today."

Ben Johnson – "I knew it was the 6th spot. He had a few steps on me on the last hills. I knew that I would hate living with the moment after if I didn't do something, so I just gave it all I had."

Kevin Willams – "I psyched with my race. I going to Scotland; this is going to be really cool. We went out really slow, and there was this huge group, and then it started to trickle down. I think it was with about 1-1/2 laps to go, were really battling it out for those last spots."




Schedule




Saturday, February 16, 2008
9:00 a.m.
Road Runner Sports Community 4 km
9:45
Masters Women's 8 km
10:45
Masters Men's 8 km
11:45
Junior Women's 6 km
12:30 p.m.
Junior Men's 8 km
1:15
Open Women's 8 km
2:00
Open Men's 12 km
US Home Page