The View from The U





DyeStat's SteveU Talking Track






World Youths: The Highs, The Lows and The ... Interesting





By SteveU



Photos by Joy Kamani, nationalscholastic.org

I write this not without a little bit of envy toward my friends from the NSSF, or anyone else who was fortunate to be in Ostrava, Czech Republic for the last week or so. As most of you know, the 5th IAAF World Youth Championships wrapped up Sunday, which was "covered" from afar by yours truly, Dave Devine, and Mike Kennedy.

But we also received reports from Jim Spier and wonderful photos from Joy Kamani, as well as Vic Sailer, forwarding from another member of the photorun.net team. It was exciting enough getting on the live IAAF site each day and seeing the results as they unfolded. I can only imagine what it would have been like to have been there.

Sunday was the best of all, with Jim sending us reports after every event, and Joy frequently sending us her work, as well. I think the highlight for me was seeing the photo of William Wynne, the image that was on our main page Sunday and Monday. The moment she captured, shortly after he crossed the line – see the top right photo, here http://dyestat.com/?pg=us2007OutdoorTrackWorldYouthPhotoPageDay5 – to me epitomizes the energy of the meet and the US triumphs.

There were a lot of questions coming into the meet about the selection format, if we were really sending our best kids, and why some kids would be at home. But let there be no question about this: The kids that WERE there gave everything they had and, in some cases, produced the very best performances of their young lives. That led to a collective performance where the US again led in medals (14) and golds (7).

And, on Sunday, with those live reports and photos, it almost felt like I WAS there, and it was very, very exciting.

So, with the championships over now, what WERE the best moments, the biggest surprises, and the highlights and lowlights? Let's review (and have a little fun with this, too).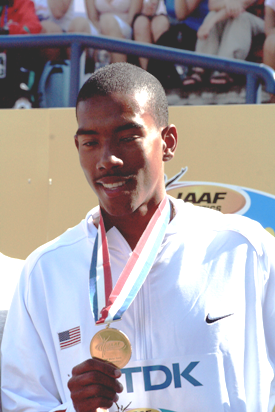 Christian Taylor


Biggest Breakthrough

– Christian Taylor, hands down. If you hadn't even heard of the Tyrone GA (Sandy Creek HS) junior before the meet, don't worry, you're not alone. Sure, he had jumped almost 50 feet in the TJ, but in a season of half a dozen 50 footers, he was not truly on the national radar. He only raised eyebrows a bit when he qualified near the back of the LJ field, but he did raise his PR there to 23-10.25.

It was only the beginning. The next morning, Taylor crushed his triple jump PR with a 51-08.50 in the qualifying, then later that day he spanned 23-11 in the LJ for a Team USA bronze. Could he do even better in the TJ final? He could. Christian Taylor was The Man, scoring 5 of the 9 jumps at 15.50 or better (50-10.25), and with the best one, a monstrous US#1 52-05.50.



Best Sister Act

– Julian and Ashton Purvis. Ok, so they were the only nominations, but what a week they had! Ashton, a freshman at St. Elizabeth in Oakland CA, made it through 3 rounds of the 100, then finished 7th in the final. That had to be something of a disappointment, but she put it aside and ran impressively through 3 rounds of the 200, finally taking a 5th. Ashton would later run a leg on the winning relay. This girl could have a long, great career ahead of her.

Julian, meanwhile, "only" won the 100 hurdles! That gave Team USA golds in both girls hurdles races. Purvis, a junior, had hurdled somewhat in the shadow of Vashti Thomas in the Golden State this year, but this week she firmly grabbed the spotlight, running the second-best time in the heats and semis, before winning the final.



Best Comebacks From Big Disappointments

– If you'd thought you'd heard the last in this meet from Erica Alexander when she was DQ'd in the 100 final, or from Danzell Fortson when he was 7th in the 400 final and then didn't start the 200 semi, think again. The Texas standouts weren't going to let those outcomes be their lasting memories of Ostrava.

In a matter of minutes, Erica and Danzell each created some sterling lasting impressions from the meet. The Friendswood (Clear Brook HS) junior took the baton from Ryann Krais second in the girls Swedish Medley Relay, and burned a 52.1 split to catch the Jamaicans and win the day. Maybe that inspired Fortson. The young Keller TX (Central HS) sr. was in third when he got the stick for his anchor, and he blazed a 46.0 to catch Japan and Jamaica for the narrow .08 victory. Each had gone from the lowest of lows, to the highest of highs. Way to go, kids.



Best Performance Despite Finishing Last

– It's an accomplishment just making a final at the World Championships, at least in events where the US is not considered "dominant." Sometimes you give all you've got to make it there and don't have much left in the final, which can result in an ultimate result that you'd rather forget. But sometimes you have to look at the stopwatch, too, and it might wind up being not bad after all.

Kernersville NC (East Forsyth HS) jr Dylan Ferris made the 800 final with a winning 1:55.09 in his heat and a pretty darn good 1:50.38 in the semi. He may have been last in the final, but his 1:51.91 was hardly a bomb. He was just .01 out of 6th and less than 2 seconds behind the winner. His was a "mark for place" and never has a WYC 800 been so close from 1st to 8th. He should still be proud of what he did in Ostrava.


Reggie Wyatt and William Wynne

Best Performances in "Secondary" Events

– Blake Shaw is a 1:51.58 800 runner and had run the 1,600 infrequently. He had one sub-4:20 to his credit (4:14). But Team USA picked him, as well as fellow half-milers Howard Shepard and Dylan Ferris. Shaw apparently picked the short straw for the 1,500. But boy, did he make the best of it. The Houston (Cypress Falls HS) jr ripped a 3:52.57 (2nd in heat, 5th overall) to make the final, then really gave it a go on Sunday. In way over his head with runners with low-3:40s talent, he pushed close to the lead pack as long as he could before taking 9th in a respectable 3:53.36.

Becky O'Brien is a great shot putter who also happens to be solid in the discus. Picked to represent Team USA in both events, though, she pushed into the DT final and took 8th, before moving on to her specialty, where she threw a PR 49-00.25 and missed the bronze by a centimeter. It's a long way from Greely HS in Cumberland, Maine to Ostrava, but O'Brien let the world know who she is.



Best Performances by True "Youngsters"

– A lot of super sophs and freshmen were in this meet that will shine for at least two more years at the prep level. They include World Champ Wayne Davis II, Silver Medalists Chalonda Goodman, Reggie Wyatt and Jordan Hasay, three-time finalist and all-around sprinter and relay medalist Ashton Purvis, and near-medalists Conor McCullough, Jasmin Stowers, and Cameron Tabor, just to name the finalists here. To say the future is in good hands would be an understatement.



Most Popular Performance

– For better or worse, the majority of DyeStat visitors are distance runners or fans. That's true of many, if not most of running-related web sites. So when someone like Jordan Hasay, one of the nation's most-recognizable names since her freshman Foot Locker triumph, beats most of the Africans and takes an impressive 1,500 silver, the DyeStatters really take notice. Taking nothing away from the many other great performances at worlds, but the distance runners haven't done much at Worlds in the past. The Mission Prep CA soph proving she can run with the big girls internationally probably hit closest to the heart of the DyeStat community.



Most Heartbreaking Event

– If you've watched Chanelle Price the past two years, dominating the 800 in the USA, you're impressed. If you've had a chance to talk with the Easton PA jr, you're doubly impressed. She's truly a class act and someone who will hopefully be a shining beacon of our sport for a long time to come. So a lot of hearts ached when they saw the unbelievable 800 final result (6th) for the World Youth leader.

It would come out in reports that a Kenyan runner has possibly bumped or impeded Chanelle in trying to push to the lead during the last 200, and that runner was disqualified. But it would be surprising if Chanelle herself laid any blame on anyone else; that's not her style. She will likely take it as a tough lesson learned, knowing as someone who usually runs wire-to-wire by herself, she has some things to learn about pack running. We hope to see you back, better than ever, Chanelle, when track gets rolling again.



Best Performance by Someone We Wish Was An American

– Nico Weiler came from Germany as an exchange student this spring to Los Gatos (CA) HS and fit right in to the ultra-competitive California vault scene, jumping 17-02. Unfortunately for fans around the USA, he couldn't stick around for Nike Outdoor; he was already back home preparing for this meet. The gold he won in absolutely dominating the event, winning with a 17-3 and not even getting into the competition before everyone else was out, may belong to Germany, but the fans he made this spring probably feel a little like it belongs to them.



Best Chance to Break More Records of a True Legend

– You figure when you watch someone like the already legendary Walter Henning, you've seen the type of performer who comes along no better than once a decade. But even Walter will acknowledge most or all of his records will be toast by the time Conor McCullough is through.

The majestic man-child, just finishing his soph year at Chaminade HS (West Hills CA), had already made a lasting impression when he finished second to Henning at NON. Here, he whirled a 249-03 to lead qualifying and to give hope that he could take the gold. He wound up struggling a bit in the final, but was still 4th, the best-ever US finish in this event (an equally young Henning was 8th two years ago). Keep an eye on this young man, he will keep this event in the spotlight the next two years. Walter's shoes are big to fill, not just as a performer, but an ambassador for his event and the sport. Conor looks to have what it takes, though.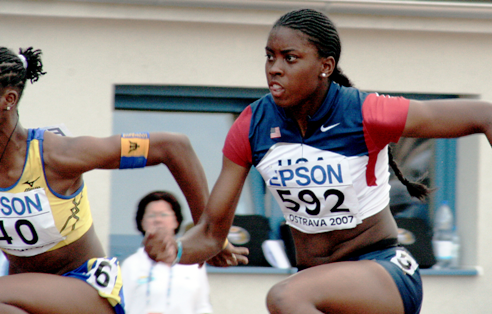 Julian Purvis


Best Chance to Become the Next Bruce Jenner or Dan O'Brien

– Curtis Beach, despite an amazing few years of performances in a stunning variety of events, has still kind of been off the national radar, being from way out in Albuquerque (Albuquerque Academy) New Mexico and not quite being the top in any one event.

Maybe that will start to change faster now. The sophomore was a very impressive fourth in Ostrava and should excite a lot of this site's fans in that he's that most rarest of multi-eventers – he's a fine distance runner. So fine, in fact, that he destroyed the field in the 1,000, the final event of that odd bird, the Octathlon. Dan O'Brien always strugged in the 1,500, but those who remember Jenner recall he was pretty good (4:12 in his '76 triumph). Anyway, keep an eye on this amazing young man.

The "Are We Glad We Picked Her!" Award – When Chalonda Goodman was picked for the World Youth team in May, she was a fine soph sprinter who had started to move up the national lists, and also had a brother who had won silver in the 400 here 4 years earlier. But who could have known then that, despite the great class of 2007 that included Gabby Mayo and Bianca Knight, that Goodman would be a double gold medalist at Nike Outdoor Nationals?

The coaches stuck with Erica Alexander and Ashton Purvis in the century, but then put Chalonda in the 200 and the relay. The Newnan GA soph came through with flying colors, picking up the 200 silver and helping Team USA to the relay gold. Another who will be fun to watch for two more years.



The "If Only She Could Have Run This Two Months Ago" Award

– Give Meshawn Graham a lot of credit for getting to Ostrava and taking 6th in the 400, after the injury she suffered during her state meet. But don't blame her if she wishes that the World Final had been back in early June. The blazing 52.51 she ran behind Jessica Beard in the Ohio State Meet would have dominated the field and won by more than a second. In fact, only one runner broke 54.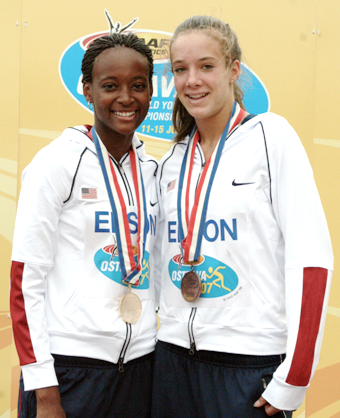 Dalilah Muhammad and Ryann Krais

Most Disappointing Omission from Roster

– If there's a poster boy for some fine tuning in the World Youth selection process, it's undoubtedly Rynell Parson this year. The San Antonio TX soph claimed the World Youth record with his winning 10.23 100 at the USATF Junior meet, but had not run the required meets the year before to gain consideration. This subject has been explored more than once on this site, but it still deserves a brief mention here – and no knock on Ken Gilstrap and Isaiah Sweeney, who represented Team USA well.

Most Disappointing Lack of Entrants in Events – But then there were the events where we didn't even enter anyone; apparently the selectors felt there was no one who met the qualifications who could compete on this level. The events where absences were felt the most were probably the pole vaults, where 17-footer Corey Shank could have joined Weiler atop the medal stand, or where Shade Weygandt or Stephanie Foreman could have perhaps fought for bronze. But none of these kids (Shank was injured) were active on the circuit last summer.

"Wish She Could Have Done Both" Award – It's rare to be at a meet where Ryann Krais doesn't seem to be "everywhere," but the World Youth meet was one of those rare occasions. How fun it would have been to see the 400H bronze medalist hook up with the best in the Heptathlon, where she is the USATF Junior runner-up and US soph record-holder? But the schedule made it awfully tough. So the Methacton PA junior had to content herself with the 400H and a leg on the winning relay. She probably didn't mind much (!) and we'll hopefully have many more chances to see one of the sport's nicest kids work her way towards Jackie Joyner Kersee territory.



Boys Co-MVP Award

– Finally, it's time to recognize the best of the best. It has to be William Wynne and Christian Taylor on the boys side. With two golds (one relay) and a silver, the Powder Springs GA junior (McEachern HS) was the most decorated athlete of the meet. He destroyed the World Record in his signature event, the 400H, won silver in the 110H and contributed the 300 leg on the winning relay.

But Taylor deserves props here, too. Team USA's medal hopes in the TJ and LJ were slim at best, forecasting the meet, but Taylor improved more than two feet in the TJ and in the LJ as well to take a bronze and gold.



Girls Co-MVP Award

– The choices aren't hard here, either. You have to go with the girls who won the golds, and that was Julian Purvis and Oakland Gardens NY jr Dalilah Muhammad (Benjamin Cardozo HS). Both proved they were the best of big-meet athletes.

World Youth Index