Meet's Own Site
Schedule
Overall Entries
Flash Results -
Preview by SteveU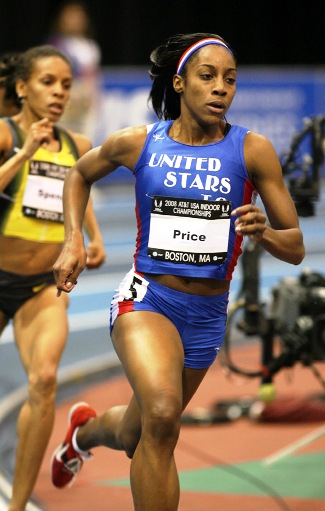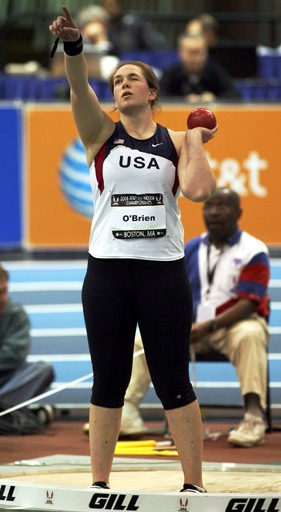 Chanelle Price and Becky O'Brien. Photos by Vic Sailer
Flash Results
Women Shot Put
==========================================================================
 Top 8 advance to final
       World: W 22.50m  2/19/1977   Helena Fibingerova, CZE
    American: A 19.83m  2/20/1987   Ramona Pagel, Mazda TC
        Meet: M 20.23m  2/27/1987   Ilona Briesnick, E. Germany
    Name                    Year Team                    Finals
==========================================================================
Finals
  1 Jillian Camarena             New York Ath            18.11m   59-05.00
      17.80m  17.90m  17.42m  17.39m  17.46m  18.11m
  2 Abigail Ruston               unattached              18.03m   59-02.00
      17.80m  17.31m  17.67m  FOUL  17.79m  18.03m
  3 Elizabeth Wanless            New York Ath            18.01m   59-01.25
      17.38m  17.16m  18.01m  16.82m  17.26m  17.26m
  4 Kristin Heaston              Nike                    17.78m   58-04.00
      17.35m  FOUL  17.78m  17.29m  17.44m  FOUL
  5 Chandra Brewer               unattached              16.51m   54-02.00
      15.99m  FOUL  16.19m  16.51m  16.44m  15.51m
  6 Becky O'Brien                unattached              15.52m   50-11.00
      15.08m  15.19m  15.52m  14.90m  14.51m  15.32m
  7 Billie-Jo Grant              Virginia                15.50m   50-10.25
      15.02m  15.48m  14.80m  15.50m  FOUL  15.44m
  8 Sarah Vance                  unattached              15.07m   49-05.50
      14.59m  14.18m  15.07m  14.89m  14.23m  14.15m
  9 Kenitra Woods                unattached              14.81m   48-07.25
      14.58m  14.81m  FOUL
 -- Gail Lee                     unattached                 DNS
 -- Adriane Blewitt              unattached                 DNS
 -- Susan King                   unattached                 DNS

Women 800 Meter Run
================================================================
 Advance 6 to final; heat winner + next 3 fastest
 1 turn stagger
       World: W 1:55.82  3/3/2002    Jolanda Ceplak, SLO
    American: A 1:58.71  3/2/2002    Nicole Teter, Nike Farm Tea
        Meet: M 1:58.41  3/4/1995    Maria Mutola, Mozambique
    Name                    Year Team                   Prelims
================================================================
Preliminaries
  1 Nicole Cook                  Reebok                 2:04.03Q
  2 Tiffany McWilliams           adidas                 2:04.91Q
  3 Nicole Teter                 Oregon TC Elite        2:06.68Q
  4 Morgan Uceny                 Reebok                 2:04.19q
  5 Miesha Marzell               unattached             2:05.14q
  6 Alisa Harvey                 Pacers/Brooks          2:06.08q
  7 Lindsey Schnell              Arizona Elite          2:06.57
  8 Laura Hermanson              N. Dakota St.          2:06.99
  9 Sasha Spencer                Nike                   2:07.35
 10 Joan Bohlke                  New Balance Boston     2:07.65
 11 Jennie Castle                unattached             2:07.68
 12 Chanelle Price               unattached             2:08.39
 13 Georganne Way                Team Indiana Elite     2:08.47
 14 Julian Clay                  Nike                   2:08.73
 15 Caryn Waterson Gehrke        Nike Central           2:10.86
 16 Tasha Stanley                unattached             2:11.34
 17 Jennifer Metz                unattached             2:14.45




SteveU Preview



Five preps will be among the professionals and collegians competing at the USA Indoor Track and Field Championships this weekend, Feb. 23-24, at the Reg in Boston. They include prep track and field's top athlete, one of its greatest relay performers, two rising sprint stars, and a young shot putter who shone on the world stage last summer.

Easton PA sr

Chanelle Price

, women's 800: DyeStat's 2007 Athlete of the Year is the biggest star in our sport right now. Her foray into the USATF 800 will be nothing new, as she did the same in impressive fashion last summer at the outdoor senior nationals, placing 7th in the final with a PR 2:02.38. Chanelle has the top five prep 800 times in the country this year, including a 2:07.3, despite not running the event on a banked track or against any competition to push her.
A clearer picture of Chanelle's fitness level was the 1:10.30 500m US prep record she ran in January at The Armory. Another record attempt, at the 1000m, fell short due to the overly blazing pace she set at the beginning, but the 2:45.76 she finished with is still fast enough to lead the entire US in the infrequently-run event.
It's fair to say Chanelle's at least in shape to smack down her indoor PR of 2:04.96, and maybe even chase her outdoor PR. The best listed entry mark in the field is 2:03.17 and it's not outlandish to say she could be competing in the top half of the field in the final, if she runs well and smart. It will also be excellent preparation for her planned participation in the Olympic Trials this summer.
Eleanor Roosevelt sr

Tasha Stanley

, women's 800: This will be a new experience for Tasha, but she knows how to handle the heat. There will never be any more pressure than there was when she powered to the tape last spring ahead of her Jamaican foe to give her team the Penn Relays 4x800 title, one of the year's most thrilling moments. Tasha's outdoor PR of 2:09.17 puts her near the back of the field, but it's not unreasonable to think she could lower that. Making the final will be a tall order, but a great accomplishment. Earlier this week, Tasha blazed a flat-track 1:13.66 500m at the PG Sportsplex (she has run US#2 1:12.81 on a banked track). She's ready.
(ED. NOTE: Qualified but did not declare) Overland CO jr

Jeremy Rankin

, men's 60: While Jeremy is not as heralded as Chanelle, the fact is that he has a great chance to make the final and do some damage. Jeremy ranks 10th in the US, overall, for the year and is seeded 7th in the field. His US#1 6.64A PR is just .07 behind the US professional leader of 6.57 (Michael Rodgers).
Jeremy benefits from the fact that this isn't exactly a banner year for US pro sprinters; there are no Maurice Greenes (6.39 world record) this year and no one has approached the all-time US top ten. Meanwhile, Rankin is the 4th-best prep ever with his PR. It also helps that Jeremy got to run under the bright spotlight earlier this month at the Millrose Games, where he won a Junior 60 in 6.68 against Texas prep star Rynell Parson and two top Jamaicans.

(ED. NOTE: Qualified but did not declare) Golden CO sr

Joe Morris

, men's 60 – Most of what has been said about Jeremy Rankin applies to his in-state rival Joe Morris. While Joe is 17th-ranked in the US (9th among entries), the disparity between him and Rankin is misleading since their PRs are just .01 apart. Yes, there is a logjam of US runners in the 6.64/6.65 slots. But they're not all in Boston this weekend and Joe has a great chance to make the final, too. He also owns an early-season win over Jeremy up in Colorado and his recent 6.65 makes him US#2 and #6 all-time among high schoolers.
Greely ME sr

Becky O'Brien

, women's SP – With her 50-06 PR last week, #10 all-time for preps and US#2 this year by less than 2 inches, Becky elevated her game up to this level. While she hasn't competed in a USATF senior event yet, her experience last summer at the World Youth Championships should prove valuable. There she was 4th in the shot and 8th in the discus. In the shot, in fact, her best throw tied for 3rd, but she lost the bronze on the 2nd throw tiebreaker.