Finishing Fastest
One of the enduring images of spring 2006 will be that of Gabby Mayo after she won the 100 at Nike Outdoor Nationals. After upsetting favored Bianca Knight MS, who had been unbeatable all year from 60 to 200, Mayo didn't leap or dance for joy. But as she walked over to a water tent, and hung around to get ready to watch her brother, Brandon Banks, in the boys 100, it seemed to dawn on her what she had just done. A huge smile grew on her face until it seemed like a beacon shining all over the track.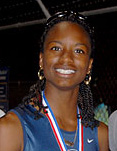 To the observer, that broad smile made her look like (sorry, cliché time) the proverbial cat who ate the canary. Oh my, it seemed to say, what did I just DO???
But what Gabby Mayo had just done was really a confirmation of what she knew she could do. She believed she wasn't just someone with a fast time (11.14) with a big "W" (wind-aided) after it. And there wasn't just one sprinter in the USA that everyone else had to reckon with in the short dashes after all. Gabby knew she could win the big one and she had done it.
"Every time out I was getting faster and faster," she said. "Then that 11.14 at state, I guess that was the turning point. I knew I could do that (without the wind).
"But then at Nike Outdoor, that just blew it open," she added. "I like doing what people don't expect."
The time, 11.42, wasn't super fast, but it was into an 0.7 wind and a very solid 0.21 ahead of Knight.
The rest of the weekend, with a crash in the 100H and a 3rd in the 200 (with Knight winning big), was kind of a bummer. But one had the sense there were bigger things to come, and there were. The following weekend at USATF Junior Nationals, Mayo had the meet that won her this award. First, she was runner-up in a super 100 field, but she was the first prep and this time the super US#1 11.16 on the clock was legal, making her #5 all-time.
memorable 200 at USA Junior Nationals
Then she made a memory that will last many observers a lifetime. In one of the best prep 200s ever (ok, there was one collegian in the race, too), she outran a 22.94 PR by Knight and several other great performance to clock a 22.88, = #6 all-time. In the press box, it could be heard, "There's your athlete of the year." And they were right.
Now the season was far from over for Mayo; she had extended it nearly two months by making the world team. There were more highlights, though nothing quite matched what she had done in Indy.
In late July, there were the USATF JOs, where she faced the best fields of the meet. She claimed the 200 again, but suffered the disappointment of 3rd in the 100. Then at a pre-worlds warmup in Eugene, the year's magic prep sprinters – in this case, she and Knight, Elizabeth Olear CA, and Jeneba Tarmoh CA – combined for a 43.29 world junior record in the 4x100.
2nd in 100 at World Juniors in Beijing
Finally, in the role of one of the favorites in each event at worlds, Gabby began with a very solid 2nd in the 100, an event where she was seeded 2nd and out of lane 8 (11.42). In the 200, where she had the only sub-23 coming in, she was a less savory 5th in 23.88. Finally, there was the expected Team USA glory in the 4x100, with a 43.49. Mayo felt that if the team had its original lineup (Knight was injured in the Eugene race), they would have reset the WJR again.
Overall, the trip was quite an experience, she said. "One of the best parts was the way they treated all of us (on Team USA). It was like they loved us to death. Everywhere we went they wanted to take our picture."
She added that the trip to The Great Wall was a little fatiguing on her legs. "It definitely affected my legs. Overall, I felt like I did 'okay' in the meet, considering everything. It was a very good experience."
Gabby's aunt is her coach
Gabby felt that the biggest thing that helped her improve in 2006 was all the technique work her aunt and coach Coach Treshell Herndon – who works with her both on the HS team and at Track Eastern – had her do. It was working those arms and legs, arms and legs, arms and legs – all year, up and down the track, walking around at home and just about anywhere else she happened to be.
Working with "family" on the track can be difficult for some, but Mayo definitely felt it was a benefit for her. "I definitely think we have a better relationship than I would have with another coach. I felt like I could tell her things it would be hard to tell someone else."
the goal for 2007 -- 11.11
Looking ahead to 2007, with the beginning of her training just a few weeks away, it's easy for Gabby to pinpoint goals, find areas to improve, and stay motivated. "I want to break the high school record in the 100," she said. That mark of 11.11 by Angela Williams is just 0.05 off her PR (the 200 mark of 22.11 is a bit more daunting).
She also still wants to "see what I can do" in the 100H, but says it won't be a major area of focus since she doesn't have a hurdle coach. "I know I'm going to do them in college, though." And, by the way, Mayo has "no idea" where she wants to go to college yet.
Training-wise, a virtually untapped area for Gabby is the weight room, which she plans to really tackle in earnest for the first time this fall.
With the long season, Mayo didn't exactly have a long summer off. Recently, she's had a bit of a break. "Outside of school, I've been going shopping, going to movies – all that kind of stuff I don't normally get to do during the season," she said. Soon, it will all start again, though. And with the number of great seniors back this coming spring, it should be another great, challenging year for her and the rest of her rivals.
Keep Hammering Away
One of the biggest highlights of Walter Henning's trip to Beijing to compete in the IAAF World Junior Championships had nothing to do with the formidable competition or the dramatic cultural experience.
It had to do with he and some of his fellow Team USA implement-hurling behemoths going into a Beijing pizza joint (yes, you read that right) and placing a huge order that made the locals stare at them in disbelief. But it wasn't about the food, it was about the camaraderie. "It was kind of a thrower thing," he said. "We just had a lot of good chemistry between us."
Perhaps the pursuit of the kind of excellence that Walter Henning strives for in the hammer and weight throws, events where he has ruled the US and Jr. prep scene for years, it seems, doesn't allow for much in terms of typical teenage guy bonding experience. If Henning was a lineman on a football team, he'd probably have all sorts of chances to get together with his line mates for such gastronomical fun.
But Henning is a hammer thrower in a world that doesn't know much about hammer throwing. And he's dedicated to the pursuit of Olympic-level excellence. Not necessarily the life of a typical teen athlete, so he relishes the chances to hang out with those who share his passion and have some fun.
19 records in 2006
And the pursuit is one with rewards – and there were plenty of those in 2006 – and the promise of more. A blizzard of records were the results of Henning's labor his junior year. They seemingly came everywhere. If we're counting right, there were 13 outdoors, with three different weight hammers, and six indoors with two different weights. Most of them were junior class marks, but he also pounded into submission the national mark for the relatively new "junior" hammer (used now at national and international junior competitions), hitting 235-00 at USATF Jrs and 238-2 in the Road to Eugene meet.
Indoors, of course, he did it all, destroying the USR with the 25-pound weight in a stunning weekend exhibition at NIN (83-02.50) and NSIC (85-06).
9 inches to go for the big record
But the record he wants most is still out there, just 9 inches away. Bishop Hendricken RI legend Jacob Freeman whirled the 12-pound ball and chain a USR 253-03 in 1999, and owned the top ten performances all-time before this spring. Walter has broken up that domination considerably and with his 252-06 at the Empire State Games Trials in June, Freeman's record throw itself is the only mark that stands ahead of him.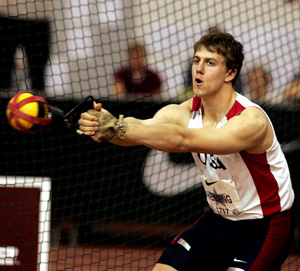 So it was a great junior year, but one that definitely leaves Henning wanting more. His indoor peak was timed perfectly and those who saw one or both of the performances will never forget them. In Maryland, he had not only his rivals to compete against, but the highly-touted pole vault as well. Traditionally, that high-flying event rivets the crowd's attention, and that was definitely the case on that NIN Saturday with several vaulters challenging 17 feet and more. But as if to say, "We're here, too," some of the weight throwers' attempts kept crashing dangerously close to the pole vault officials.
Not Henning's throws, though. His attention was earned by the length of those throws, as well as the startling down-the-middle of the sector nature of the efforts.
memorable day at his "home" -- the New York Armory
A day later at the facility that is basically his indoor throwing home, Walter made his previous day's efforts history as he completed the incredible two-day exhibition at NSIC in the New York Armory. "That was awesome," he said. "I didn't think I could come back to the Armory and throw that much further.
"That's my stomping grounds," he added, "especially with the way they moved things around to make room for the event. I really appreciate how the Armory's accommodated me."
Outdoors, somehow Henning's peak came between NON and USATF. He had no big plans at the Empire State Games Trials, but everything just felt right and the 252-06 performance of the year was the result. "I had the peak the right week, but not the right meet," he said. "I really don't know why I threw so well there, but they have a really good circle at Farmingdale HS and I was relaxed. I didn't go in with any sense of urgency; it was just like a practice meet. But those kind of moments make me happy."
For the year, Henning improved 26 feet with the HS implement from his sophomore class mark the spring before. "I took a lot more rest time this past season than the one before," he noted. "My sophomore year it was throw, throw, throw and lift, lift, lift. Indoor started great, but by NIN I could barely throw. Outdoors, I peaked in May. I knew we had to fix something."
coaches include two former Olympians -- USA's Marty Engle and Russia's Anatoly Bo
Walter gives a lot of credit for his improvement to his coach, former Olympian Marty Engle, as well as his high school coach John McCree, and Dr. Anatoly Bondarchuk, the 1972 Olympic hammer-throw champion from the Soviet Union with whom he studied during a mid-summer trip to Canada. There's also his dad, Walter, who he calls his "training buddy" and provides a lot of guidance, and the rest of his family and support group. "I really want to thank everyone," he said.
After USATF Jrs, there was the long summer leadup to Worlds. Henning hit the 238-2 in Eugene, then a very commendable 235-11 at Worlds for 8th, as one of the youngest throwers there. "I beat every kid who beat me in Morocco (at 2005 World Youth), so I can't be unhappy with that.
"It was also a lot of fun meeting kids I'd heard about all year long (both Team USA teammates and international competitors)," he added.
Since Worlds, Henning admitted there's been some major withdrawal. "Oh man," he laughed. But he's been doing some normal teenager things and working after school at a local eatery. But October, and the start of indoor training, is just around the corner … and 253-03 is still out there. He hopes to improve his "winds and entry" and "tweak whatever I need to do to get bigger, stronger, and faster."
Is he motivated for his senior year? "I already have all my training planned out for indoor," he said.
That would be a "yes."