| | |
| --- | --- |
| Elite Athletes will be at NTN | |
Ten Nike elite athletes will participate in Nike Team Nationals regional meets in November and NTN finals in Portland OR December 1. They will act as Nike representatives at the regionals and as regional team captains at the finals. All 10 athletes are world class runners, and most were previously high school stars in the US.




at right

,

Bernard Lagat

at Osaka 2007

- new American citizen

and double world champion.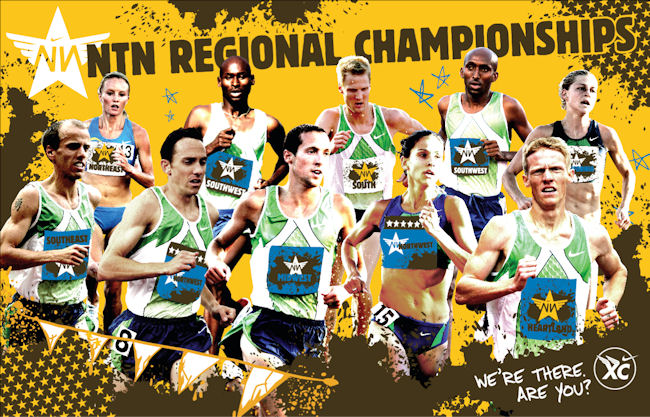 The regional representatives and captains (alphabetical order):



HS: Tucson AZ
(played soccer)
Abdi is one of the most versatile distance runners in the US with significant accomplishments on the track, road and cross country. Abdi did not begin running until college and has made the most of his competitive years. Abdi is a 3-time US 10000m champion, 2000 and 2004 Olympian, and 5-times has represented the US in the World Cross Country Championships. He was 4th in last years Chicago Marathon and is currently preparing for US Olympic Trials Marathon in November. He's run 13:13 for 5000m, 27:22 for 10000m and 2:08 for the marathon.


HS: Marblehead MA
HS PR: Mile 4:46.91i, 2 Mile 10:23.82
Shalane is in the process of re-writing US distance records. In the last year she has become the fastest American ever at 3000 (indoors) and 5000m, running 8:35.34 for 3000m and 14:44.80 for 5000m. She was an outstanding collegian winning 2 NCAA XC championships and earning 15 All-America honors at North Carolina. She is a two-time US cross country champion and 2-time US 5000m champion, represented the US at the Olympics in 2004 and was a member of this year's World Championship team in Osaka.





HS: Canyon, Canyon Country CA
2-time Foot Locker finalist (2nd, 1998)
HS PR: 10:18.81 3200
Lauren has represented the US in many international competitions. She was a key member of the bronze medal winning US Cross Country team at the 2003 World Cross Country Championships. She was the 2006 US 5000m champion and one of the greatest collegiate runners of all time, setting the collegiate record at 5000m while winning her 3rd straight NCAA 5000 title. She earned All-America honors an amazing 15 times while running for the Stanford Cardinal. She's run 4:05 for 1500m, 8:43 for 3000m, and 15:02 for 5000m.





HS: Doherty, Colorado Springs CO
3-time Foot Locker finalist (1st, 1993)
Adam is one of the most accomplished distance runners ever in the US. After earning 4 NCAA titles and 11 All-America honors at the University of Colorado, Adam has gone on to win 4 US XC titles, 2 US 5k championships and was an Olympic finalist in 2000. This summer Adam was also a finalist at the World Championships in Osaka. He's run 13:10 for 5000m and 7:34 for 3000m.


Heartland captain, NW rep




HS: Duluth East MN
2-time Foot Locker finalist
(as Kara Wheeler)
In 2007, Kara had a season of a lifetime. She shocked the world in Osaka earning the bronze medal in the 10000m, becoming the first US women ever to win a medal in a 10000m world championship. She followed up this victory with a win in the Great North Run Half Marathon, covering the distance faster than any American women ever had before. Kara has amazing range having run 4:05 for 1500m, 8:34 for 3000m, 14:55 for 5000m, and 31:17 for 10000m.





HS: Jomo Kenyatta University, Kenya
Bernard (Kip) is one of the most accomplished distance runners of all time. He is the first athlete ever to win gold in both the 1500m/5000m at a World Championships, doing so this summer in Osaka. He is the 2000 Olympic 1500m bronze medalist, 2004 Olympic 1500m silver medalist and 2004 Indoor 3000m world champion. He is the second fastest 1500m runner of all time having run 3:26.34. He has also run 12:59 for 5000m. Kip, a native of Kenyan, became a US citizen in 2005.





HS: Arkansas School for Math & Science, Fayetteville AR
HS PR: 4:17.14 1600, 9:35.40 3200
After an amazing collegiate career at Arkansas, winning 3 NCAA steeplechase championships and earning 12 All-America honors, Dan has become the fastest US steeplechaser of all time. Dan set the American Record in the steeplechase in 2006 running 8:08.62. He is a three-time US steeple champion, and represented the US at the Olympics in 2004 and World Championships in 2005.





HS: Rockford MI
3-time Foot Locker finalist (1st in 1999 & 2000) - HS PR: 4:05.9 1600, 8:41.1 3200
Dathan has been a star on the US distance scene since he was a junior in high school, winning both the high school national 2-mile championships and cross country championships. He defended these titles as a senior, was a bronze medalist in the World Junior Cross Country Championships in 2000 and went on to win the NCAA cross championships as a Colorado Buffalo. He was a 2004 Olympian at 10000m and just returned from Osaka where he represented the US at the World Championships. Dathan has run 7:39 for 3000m, 13:16 for 5000m and 27:35 for 10000m.


HS: Lee's Summit MO
5th, Foot Locker 1999
HS PR: 8:53.79 3200
Matt hit the world distance running scene back in 2001 when he placed 5th at the World Junior Cross Country Championships. He reemerged on the world stage again in 2006 becoming the second fastest American-born 5000m runner of all time running 13:04.98. He followed up his outstanding 2006 campaign in 2007 by setting an American Record in the 2-mile and achieving 4th place at the Osaka World Championships, just 3 hundredths of a second from the bronze medal. Matt has run 3:34 for 1500m, 7:34 for 3000m and 8:07 for 2-miles.





HS: South Lakes, Reston VA
2-time Foot Locker finalist (2nd, 2000)
HS PR: 800 1:47.74, Mile 3:53.43,
2 Mile 8:41.19i
Alan Webb is possibly the most legendary US high school runner ever after breaking Jim Ryun's 34-year-old US high school mile record in 2001 at the Prefontaine Classic. This year, he added the US men's mile record and was World Championships1500m finalist at Osaka. Alan has run 1:43.84 for 800m, 3:30.54 for 1500m, 3:46.91 (AR) for the mile, 13:10 for 5000m and 27:34 for 10000m.



NTN meet home page | DyeStat NTN News index