IAAF World Junior Championships
Aug 15-20, 2006 at Beijing, China
DyeStat on-site coverage
with Doug Speck, Jim Spier, Mike Kennedy and Mike Byrnes

Day 1 - Tuesday Aug 15
Americans advance across the board
Complete Day 1 Results - Doug Speck's Day 1 Photos -
Mike Kennedy's Report - Jim Spier's Report - Mike Byrnes' Musings on the Races
W400H - Nicole Leach wins H3 57.27, Ebony Collins 2nd in H4 US#1 57.35, move to semis
W100 - Gabby Mayo 11.43, Alexandria Anderson 11.35 win heats, advance to semis
W400 - Jessica Beard wins H2 53.61, Brandi Cross 2nd in H5 53.69, move to semis
M400 - Justin Oliver 46.86, Quentin Summers 47.24 win heats, advance to semis
M-DT, W-SP - Nick Robinson 183-11 DT lone American to advance to final. WJR 217-08 by Estonia's Margus Hunt.
M-LJ - Antone Belt 25-04.5, Aaron Smith 24-11.75 look great in easily moving to finals
M-HJ - Joe Kindred advanced to finals with a personal best 2.18
M-1500 - Andrew Bumbalough 3:47.08 advances to finals.
M-100 - Willie Perry 10.64 fails to advance.
W-Steeple - Marie Lawrence 10:22.85 advances to finals. Fastest qualifier is Tadese Mekdes Bekele of Ethiopia 9:44.67.
M-800 - Karjuan Williams 1:51.58 and Brandon Jones 1:55.46 fail to advance.
W-TJ - Ke'Nyia Richardson misses finals on tie breaker; ties Yulila Semenyuk UKR at 12.97 for last qualifier, but Semenyuk has better second best jump.
W-800 - Top seeded Rebekah Noble (2:02.07) advances to semi by finishing second in heat in 2:08.97.
Men's 1500m qualifying round

- Collegian Andrew Bumbalough 3:47.08 (left) grabbed the last spot in the finals, while recent prep star A.J. Acosta (right) lost his chance when he fell on the first lap. A.J. gamely pressed on to finish in 3:50.11, which was faster than 18 runners and would have qualified in the slow first heat. Now it is on to the U. of Oregon for Acosta. -- photos by PhotoRun.net
At left,

Jessica Beard

OH wins her 400 heat Tuesday morning. Above,

Ebony Collins

CA during Monday's

press conference.

Photos Doug Speck
Day 1 - P.M. SESSION
Men
100 METERS
Semfinals - First Two in Each Heat Plus Next Two Fastest Qualify for Final
HEAT ONE—Johan Blake of Jamaica moved from third to first over the final 30 meters to win in 10.43. Justyn Warner of Canada was the second automatic qualifier just edging Wade Bennett-Jackson 11.48 to 11.49. Visa Hongisto of Finland was fourth in 10.64.
HEAT TWO—Harry Alkines-Aryeetey of Great Britain, the World Youth champion and Remaldo Rose of Jamaica were both out well but it was the muscular Brit who prevailed 10.38 to 10.45. Ahmed Akinlawon of Nigeria was third at 11.55 and Jacek Roszko of Poland fourth in 10.61.
HEAT THREE—Willie Perry of the U.S. and Florida, the World junior leader at 10.12, had a very average start, and when he found himself drifting behing, he tried to rally but failed finishing sixth in 10.64. Meanwhile Jiahond Liang of China was winning the race in 10.48 with Keston Bledman of Trinidad in second in 10.52 and Obinna Meto of Nigeria third in 10.54.
800 METERS
First Round - First Three in Each Heat Plus the Next Six Fastest Qualify for Semifinals
HEAT ONE—David Rudisha of Kenya led Robin Schembera of Germany through splits of 25.51, 53.91 and 1:49.13 before Rudisha went on to win in 1:49.13. Mark Mitchell of Great Britain passed Schembera for second, 1:50.08 to 1:50.42 and Shaka Ntsimako of Botswana was fourth at 1:51.07.
HEAT TWO—Jan Masenamela of South Africa led a pack of five through 400 in 25.91 before Belar Ali of Berundi, who two hours earlier qualified in 1,500, took the lead and went through 600 in 1:23.18 before winning in 1:49.14. Jackson Kivuna of Kenya was second in 1:50.08 and Tor Pollanen of Sweden piped Sebastian Keiner for third, 1:50.67 to 1:50.71.
HEAT THREE—James Brewer of Great Britain led a pack of five through 400 in 54.25 before Jimmy Adar of Uganda took over, going through 600 in 1:21.94 before winning in 1:49.22. Andy Gonzalez of Cuba and Brewer were the other automatic qualifiers in 12:49.63 and 1:49.90.
HEAT FOUR—Rabii Doukana of Morocco took things out at 26.02 for 200 before Karjuan Williams of the U.S. and New Bern High school in North Carolina led a pack of seven through the 400 in 54.97. Williams slipped to third at 600 in 1:23.50 and after falling back to fifth with 100 remaining he could not gather himself for a last charge and finished in fifth in 1:51.58. Nadjim Manseur of Algeria moved from third to first in the last 30 meters with Marcin Lewandowski of Poland finishing second with the time as Maseur-1:50.24. Doukana held on for third in 1:50.40.

HEAT FIVE—Abraham Chepkirwok of Uganda rattled of split of 24.68, 51.14 and 1:18.04 before going on to win in 1:45.97. Lachlan Renshaw of Australia was always close and finished in 1:47.00. Williams Rabih of Sudan held on for the final automatic qualifier in 1:47.94. Jeff Lastennet of France was fourth in 1:48.13.
HEAT SIX—Abubaker Khamis of Sudan took over after 200 and passed 400 in 51.98 and the 600 in 1:19.11 before winning easily in 1:48.08. Dmitrijs Jerkevics of Latvia was a solid second in 1:48.89 and Florian Carvalho of France moved from fifth to third in the final 80 meters to grab the final automatic spot in 1:49.25 Woldegiorgis Gebremedhin of Ethiopia and James Jamaal were fourth and fifth and advanced on time.
1,500 METERS
First Round - First Three in Each Heat Plus Next Three Fastest Qualify For Final
HEAT ONE—As usual in early heats the pace was very slow, in this case 3:11.24 at 1,200 meters. At that point Remmy Ndiwa of Kenya, who was leading, stepped on the gas and pulled away only to see Abdulla Abdelgadir of Sudan close with a rush but just falling just short, 3:50.22 to 3:50.23. Simon Ayeko of Uganda was third in 3:52. 39 and Jordan Chiopangama of Zambia was fourth in 3:51.91.
HEAT TWO—This time first Jean Claude Niyonizigiye of Berundi and then teammate Belai Ali also ensured a fast pace passing 800 in 2:00.73 before Fouad Elkaam of Morcocco briefly took the lead at the 1,200 mark reached in 3:01.49. Ali retook the lead and went on to win in 3:43.50 followed by Elkaam at 3:44.21 and Otmane Belharbazi of France at 3:45.87 as the top three did not change positions over the final 300 meters. Andrew Bumbalough of the U.S. and Georgetown was always in contention and just edged out Pascal Sarwat of Tanzania, 3:47.08 to 3:47.14, to become the final time qualifier.
HEAT THREE—Geoffrey Rono of Kenya and Alvaro Rodriguez of Spain dominated the final 300, passing 1,200 in 3:04.45 and finishing one-two in 3:44.90 and 3:45.59. Jimmy Adar of Uganda was third in 3:45.79, Tesegai Tewelde of Eretria was fourth in 3:45.81 and Abdelghani Bensaadi of Algeria was fifth in 3:45.87. All three advanced as time qualifiers. A.J. Acosta of the U.S. and El Camino High in Oceanside California fell 210 meters into the race and although never in contention, finishing eighth with a creditable 3:50.11.
Women
5,000 METERS
Final
With one lap remaining, five athletes were closely group before Florence Kiplagat of Kenya took the lead and held it until the final 20 meters when she was passed by Fei Xue of China as the host nation won its first gold medal of these championships with a final lap of 62 seconds and a time of 15:31.61. Kiplagat's time in second was 15:32.64. Mary Ngugi of Kenya was third in 15:36.82 and Zue Bai was fourth in 15:37.12. Natasha Labbeaud of the U.S. and Georgetown did not start.
100 METERS
Semifinals - First Two in Each Heat Plus Next Two Fastest Qualify For Final
HEAT ONE (wind -0.9 mps)—Gabriella Mayo of the U.S. and Southeast High School in Raleigh N.C. had an average start but the No. 3 ranked Junior in the world, soon found herself behind and was not able to get in the competitive mix. Carrie Russell of Jamaica held a slight margin over the rest of the field the entire way, winning 11.59. Lina Grincikaite of Lithuania and Asha Philip both clock 11.68 with Grincikaite getting the automatic spot in the final. Mayo was left in fourth at 11.72. Both Philip and Mayo advanced as time qualifiers.
HEAT TWO (-0.6)—Alexandria Anderson of the U.S. and Texas got out first, was never challenged and won in 11.51. Celine Distel of France was second in 11.69 and Schillonie Calvert of Jamaica, the No. 3 ranked Junior in the world was third at 11.74.
HEAT THREE (-1.8)—Tezdzhan Naimova, the Junior and Senior champion from Bulgaria, was again as she had been first round—dominate—winning in an eased up 11.53. Francieta Krasucki of Brazil was the other automatic qualifier in 11.72.
800 METERS
First Round - First Four in Each Heat Plus the Next Four Fastest Qualify for Semifinals
HEAT ONE—Rebekah Noble of was just sixth at 400, passed by the leader in 64.93 by the leader. She moved to fourth with 100 meters remaining and then finished strong to grab second behind the winner Elizet Bando of Zambia, 2:08.60 to 2:08.97. Agnieszka Sowinska of Poland was third, also in 2:08.97 and Zoe Buckman was fourth in 2:09.02.
HEAT TWO—Emma Jackson of Great Britain went through the 400 in 61.29 and the 600 at 1:35.79 before winning easily in a personal best of 2:05.68. Halima Hachlaf of Morocco, Annett Horna of Germany and Flavious Kwamboka of Kenya were the other automatic qualifiers.

HEAT THREE—Shannon Leinert of the U.S. and the University of Florida led through splits of 30.14, 63.40 and 1:34.95 before fading to fifth with a time of 2:07.34. Anzhelika Shevchenko of Ukraine and Winny Chebet of Kenya were always in close attendance and finished one two. Aicha Rezig of Algeria was third and Antonija was fourth to grab the final two automatic qualifiers. Leinert's time did make her a time qualifier.
HEAT FOUR—Aleksandra Uvarova of Russia and Ruriko Kubo of Japan were one-two at 400 in 61.01 and remained in those positions for the remainder of the race, running 2:06.19 and 2:06.84. Machgteld Mulder of Netherlands moved well over the second lap and got up for third in 2:06.91. Frida Flodstrom of Sweden held on to fourth in 2:07.12.
HEAT FIVE—Ayako Jinnouchi of Japan led at 400 in 62.87 but Nataliya Lupu of Ukraine was even with Jinnouchi at 600 meters, passed in 1:35.32. Lupu then pulled away for the win in 2:07.54. Olga Cristea of Muldova got up for second in 2:07.56 with Jinnouchi third at 2:07.71. Danielle Christmas of Great Britain was the final automatic qualifier in 2:08.63.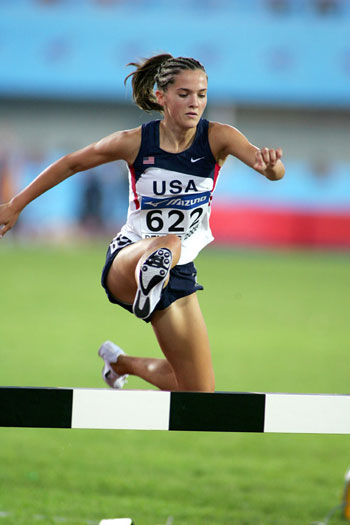 3,000-METER STEEPLECHASE
First Round - First Four in Each Heat Plus Next Four Fastest Qualify For Final
HEAT ONE—Muigong Tadese of Ethiopia, Caroline Tuigong of Kenya and Yelena Arzhakova of Russia broke away form the field but only Tadese and Tuigong were able to maintain with Tadese prevailing in 9:46.67 to 9:56.94. Polina Jelizarova of Latvia was third in 10:08.64, Ruth Senior of Great Britain Was fourth in 10:12.50 and Jilia Hiller of Germany was sixth in 10:18.16. Marie Lawrence of the U.S. and Reno High ran a very smart race staying back in the early going moving up from eight to seventh in the third lap and eventually getting as high as fifth place with two laps remaining before falling back to sixth on the final lap running 10:22.85, the second fastest time ever run by a high schooler. Both Hiller and Lawrence were time qualifiers.
HEAT TWO—Karoline Grovdal of Norway, Ancuta Bobocel of Romania, Amy Fowler of the U.S. and BYU and Beatrice Kiprop of Kenya ran in that order for much of the second half of the race before Kiprop moved from to second on the final lap to finish behind Grovdal, 10:11.96 to 10:12.89 and Flower clocked 10:18.54 to make up the automatic qualifiers.. Sabine Heitling of Brazil was fifth in 10:24 and Zsofia Erdelyi of Hungary was sixth in 10:26.82 to become time qualifiers.
left, Marie Lawrence ran the second fastest ever for a US high school runner. She will be a senior at Reno NV this fall.
photo by PhotoRun.net
World Junior Championships - Day 1, Session 1 Field Events
Discus Qualifying - Men
Nick Robinson managed a distance (non-automatic qualifier) at 183-11 but fellow California Bo Taylor was not as fortunate, managing on 173-9 for 11th in his qualifying group. Robinson was the leading "non-automatic" qualier of the four in that category.
Shot Put Qualifying - Women
It was not an especially good day for the Americans, Kamorean Hayes and Jere Summers. It took almost 50 feet to make the final, a distance certainly within the range of both but not to attained today.
Long Jump Qualifying - Men
A very good day for the Americans Antone Belt ( U. of Louisville) and Aaron Smith (South Plains JC). Belt got the lead in his qualifying group on his final jump (25-4.5). Smith got the automatic qualifier (24-11.25) with his first jump (24-11.75). They will be the 2nd and 6th ranked jumpers in the final later in the week.
World Junior Championships, Day 1, Session 2 Field Events
Triple Jump Qualifying - Women
Ke'Nyia Richardson (Holy Names, Oakland, CA) had a bit of bad luck here, missing the final by the narrowest of margins though jumping 42-6.75, her third best effort of the year. She finished 13th and 12 go to the final. She was actually tied with Yuliya Semenyuk of the Ukraine, both having attained the mark on their first attempt. Richardson's series was 42-6.75, 41-3 and 41-3.75 and Semenyuk's 42-6.75, 41-4.5 and 42-4. The leader from both groups, Li Sha of China, jumped a world leading 45-10 as eight competitors jumped 43 feet or better.
Shot Put Final - Women
The medals were determined in the first three rounds, with winner Melissa Boekelman of Netherlands getting the world junior lead on her first throw of the competition at 57-11.25. It took over 56 feet to medal.
Javelin Qualifying - Women
It took 160-4 to qualify, certainly within the range of American Bekah Stoltz (Kent State). But Bekah could only manage 137-9 on this day. Nine athletes better 170', let by Vivian Zimmer of Germay (184-2).
Hammer Qualifying - Women
It took a throw of 183-9 to even qualify for this meet and no Americans had. One can see why the rest of the world does not see this qualifying mark as especially nonattainable as 16 bettered 180 feet, 12 of whom qualified. Bianca Pene of Romania led all competitors with a big 207-3 throw.
High Jump Qualifying - Men
The Americans had their "highs and lows" in this event. Joe Kindred (St. Augustine's) was "clean" up to the auto qualifying mark of 7-1.75, a PB for him. He cleared 6-6.75, 6-8.75, 6-10.75, 7-0.25 and 7-1.75, all on his first attempt. Nine other athletes cleared 7-1.75 as well. Ryan Fritz (Penn State) did not fare as well. He was unable to clear the opening height of 6-6.75.