2006 Foot Locker Midwest region - Boys
Nov. 25, 2006 UW-Parkside, Kenosha WI
Results -
Hassan Mead Steps Through Open Door … and Colorado Boys are BACK
by Steve Underwood
There was probably no bigger individual Foot Locker Regional favorite than Algonquin Jacobs IL sr Evan Jager in the Midwest boys race, so his not qualifying – let alone not winning – had to rank as the story of the day Saturday. In the wake of what appears to be an inexplicable late-race fade, as well as an off day and DNQ by fellow Illinois star Kevin Havel, the proverbial door was left wide open to what was a wild race, with many in contention at different times to take it all.
The end result was one of the closest mass finishes at the top in FL MW history, but also a clear and powerful champ in Minneapolis South MN sr Hassan Mead, who proved in his first Foot Locker race as a senior that his unbeaten season in Minnesota was no fluke … no fluke at all. He finished in great triumph, clocking a fine 15:05.
AND … beginning with improbable runner-up Anguel Tolev, it was a monster day for the Colorado boys who, even if the Illinois breakdown hadn't happened, were ready to rumble. The state got four qualifiers, including Tolev, two sophomores in Evan Appel and Joseph Manilafasha, and solid senior Richard Medina. Second and 10th all finished between 15:10 and 15:19.
The states of Minnesota and Indiana came out well, too. From MN, Elliott Heath joined Mead as a qualifier, as well as becoming the second from his family to make it, along with big brother Garrett. From the Hoosier state, De'Sean Turner overcame illness to earn his second trip, while Bobby Moldovan had the race of his life to qualify.

Hassan and Anguel: From unlikely beginnings, come great things
The images of each of them crossing the line should remained burned in the minds of those who saw them. The tall, lanky figure of Hassan Mead raising his arms in victory after breaking the tape and proving to the nation what his fellow Minnesotans have known for weeks … and self-confessed non-kicker Anguel Tolev rambling wildly through in second, with five others zero to three seconds behind him.
They should stay in our minds not just because they went 1-2, but because they came from nowhere to go 1-2.
(continued below photo)

Hassan Mead wins - photo by Davey, runmichigan.com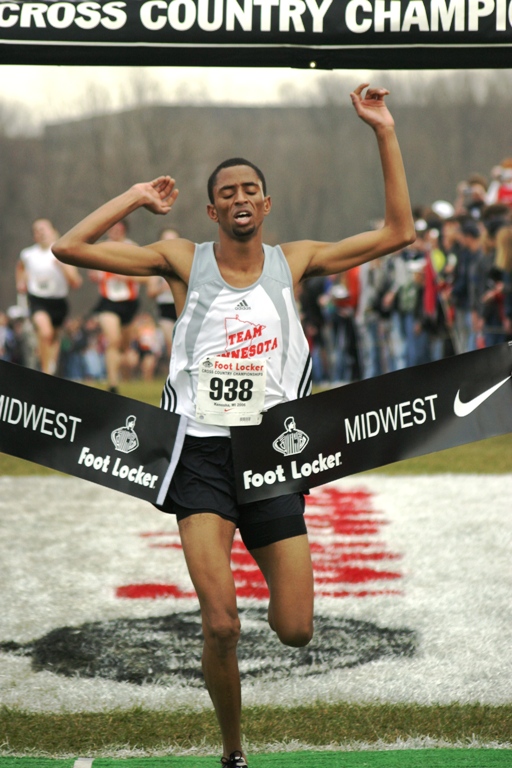 The unwritten rule on the famed Wisconsin-Parkside course in Kenosha WI is that you've got to get out. You don't have to get in the lead at the top of the opening half-mile-long hill, but you better get reasonable position because it's a royal pain trying to move up through the narrow wooded trails.
But, as Mead and Tolev proved, it's not impossible.
"It wasn't too good," said Hassan, afterward, when remembering his start. He smiled and shook his head. "I was about 40th, way back there. I went past the hill and started trying to go to the outside and pass some guys."
"I was about 70th after the hill," lamented Anguel, the Thornton CO sr, a little while after finishing but still looking a little shell-shocked. "I thought I was done for and I kind of felt like crap. But when things started leveling off after the second hill, I recovered and started passing people."
Meanwhile, the race – at least in the first mile – was going on ahead of the eventual 1-2 finishers. Some may have wondered where Mead was, but Tolev wasn't on the radar of many outside of Colorado, anyway.
Instead, Jager had moved his way to the front at the top of the hill, as expected and Havel was close by, too. The boldest move, however was by Ohio D2 champ Aaron Melhorn, a sr from Navarre Fairless, who took to the front from the get-go. However, another of the standouts of "Team Minnesota" – Elliott Heath – was also running very well and always near the lead early. So was Ohio D1 champ and Chardon sr Emil Heineking. But the pack was massive and shifting behind the leaders and people kept disappearing and reappearing.
Mead still wasn't in view of the lead cart at a mile, which went in 4:50. The leaders continued to ramble through the woods. Medina (Grand Junction CO sr.) and Moldovan (Ft. Wayne Northrup IN sr) could been seen among the leaders, as could Denver North's Manilafasha. So could Turner, the Warren Central IN sr.
But then Tolev, whose pace from 0.5 to 1.5 must have been insane, suddenly surged into the lead around 1.75 and the complexion of the race began to change. Jager didn't look like he had his usual energy and responsiveness.
Meanwhile, Mead figured he was still was barely in the top 15 by the 2M (9:40), but the leaders were well within sight. He threaded his way through them and by 2.5M, he was fighting for the lead with Manilafasha.
"I felt good, but I tried not to accelerate too fast," he said. "I wanted to keep some speed for the end. The last 800 we had separated ourselves from the others. He was ahead when we went up the last hill, but I felt good and passed him."
Manilafasha said that he felt great during the first two miles, but misjudged or mis-measured his effort somewhat, putting too much into a move on an earlier hill he thought was the final one. He couldn't respond to Mead's decisive move, then lost some spots, but held on to 6th in 15:13.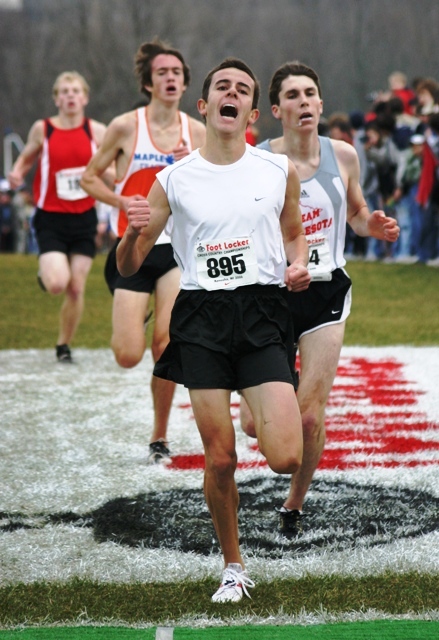 Anguel Tolev CO comes in 2nd, with Elliott Heath MN, Emil Heineking OH, and
Evan Appel CO surging in behind him. Photo by Davey, runmichigan.com
Meanwhile Tolev, who said he had never beaten Medina or Manilafasha before – and confessed lack of confidence in both his kick and race overall, used every bit of adrenaline his system could produce and got the runner-up spot. He was timed in 15:10, as was Heath and Heineking – both running superb, smart races throughout – in 3rd and 4th.
A few ticks later, Colorado had its four qualifiers, as super sophs Evan Appel (15:12) and Manilafasha (15:13) came in, with Appel also coming from well back with a great rally. Then it was Moldovan in 7th (also 15:13), and then Medina in 8th (15:18). Then the Hoosier state got its second man as Turner came in with Medina in 15:18. Then Dan Chenoweth, 4th in the IL Class AA race, became the only one from his state to make it (15:19) after four went to Balboa last year.
Melhorn was a heartbreaking 11th, but the shocker was Jager, who still looked like he had 10th with 200 to go, but then shifted to what looked like a jog coming in and took 15th in 15:32. Havel was 23rd in 15:39. Ironically, the Coloradan considered the biggest lock, Adam Lenz, also had a very disappointing finish with 35th in 15:51.
Speculation ran high that Jager had perhaps been ill during the week or something, but while Evan couldn't be reached for comment, Evan's father Joel said that the previously unbeaten IL champ and 8:50 2-miler felt fine all week and during the morning Saturday – absolutely nothing to indicate it wouldn't be a great day for him.
"It's obviously one of the bigger disappointments he's had," said Mr. Jager. "I think one of the hardest things for him is that he felt like he let down a lot of the people who have become fans."
It was one of those times (that many runners experience) when a familiar pace feels much faster than it really was, he added. After two miles when a few runners passed him, he "didn't feel like he had any gas left," and when a few more did later, "What the heck is happening?"
While it appeared to onlookers that Evan was jogging it in, it was more that he just was completely depleted. "He was just pale," said Mr. Jager. "He said he just couldn't kick at all."
He will be missed at the finals, but Team Midwest will have a tight, exciting group to carry the region into San Diego.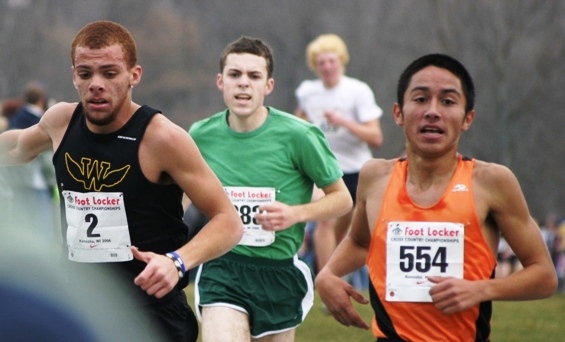 Richard Medina CO (554), De'Sean Turner IN (2), and Dan Chenoweth IL (green) take the last three spots
of qualifying. In the background, Aaron Melhorn OH can be seen coming in 11th. Photo by Davey, runmichigan.com
1. Hassan Mead MN 15:05
2. Anguel Tolev CO 15:10
3. Elliott Heath MN 15:10
4. Emil Heineking OH 15:10
5. Evan Appel CO 15:12
6. Joseph Mahilafasha CO 15:13
7. Bobby Moldolvan IN 15:13
8. Richard Medina CO 15:18
9. De'Sean Turner IN 15:18
10. Dan Chenoweth IL 15:19