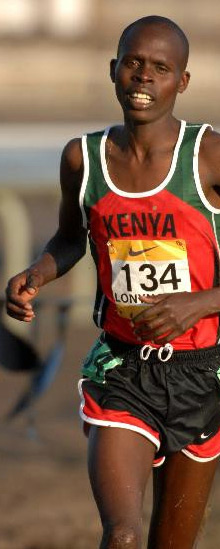 Like Colby Lowe of Texas and Ben Johnson of New Mexico, Paul Lonyangata returns to Portland Meadows for the Nike Team Nationals this year after an impressive run at last year's event. And like his fellow NTN veterans, Lonyangata faces the ardors of a long flight, high expectations and the challenge of adapting to a climate quite different than the one in which he typically races.

Unlike Lowe or Johnson, however, Lonyangata's flight includes a stopover in Paris, France. It will take him nearly 24 hours to travel to Portland, Oregon, for a fifteen-minute race. And his journey will have begun from a home without electricity or running water, six hours—on foot—from the nearest major road.

Lonyangata (right), last year's NTN Open Race winner in 15:54, is no longer even the best runner on his team, but he's coming back. And with him comes the joy, hope and excitement of a collection of Kenyan athletes who thrilled NTN spectators last year with their fluid team running and impressed NTN athletes with their shy, humble, smiling demeanors.

The Kapcherop Boys are this year's Kenyan entry in the boys' Open race, featuring Lonyangata and one other returner from 2006—Philemon Rono, second a year ago. The rest of the five-man lineup will be new to Portland, but undoubtedly talented: Philemon Yator, Justine Cheruiyot and Joshua Toroitich.



On the girl's side, a different school than last year is making the trip to Oregon. The Sing'ore Girls team is comprised entirely of runners making their initial foray to NTN. On a roster that includes Emmy Kerich, Valentine Koech, Naomi Kipkemboi and Vivian Chelagat, the breakaway star is clearly Mercy Kosgei (left)—considered by many the #2 Junior in the world after her silver medal at last year's World Junior Cross Country Championships in Mombasa, Kenya.

The presence of these talented squads would be impossible without the logistical and financial support of Nike and the tireless efforts of a young man whose surname is instantly recognizable in the world of competitive running—Martin Keino.

Son of legendary Kenyan runner Kip Keino, Martin was a highly successful harrier in his own right, winning the 1994 NCAA cross country championship while at the University of Arizona, before setting out on a post-collegiate career that eventually found him one of the most sought-after pacemakers on the European circuit.

All of that is behind him now, as Keino has moved on to become the managing director of Keino Sports Marketing, based in Nairobi, Kenya. One of his primary goals is to help identify and assist Kenyan runners like the ten he'll accompany to Portland this week.



Keino is clear about the fact that, just like the American NTN teams, the Kapcherop Boys and Sing'ore Girls are school clubs and not all-star squads.



"The teams are selected in an invitational event that my company organizes in February. Over 100 schools participate and the team that wins in the 4km event gets to go to NTN. They must qualify as a school, as there is no individual qualifying. It is the only school team championships in the country."

Once the selections have been made, the assistance of Nike becomes essential in bringing the teams to the United States.

"Nike pays for the tickets, visas, transport and accommodation for all the runners, coaches and chaperones. Nike supports the young Kenyan athletes by sponsoring a unique event that opens up opportunities for their future."

Indeed, last year's girls' Open winner, Leonida Mosop (who isn't returning in 2007), has gone on to become one of the best high school runners in Kenya, and was recently selected to appear in a Samsung commercial that's made her something of a star in her homeland.

This year's group, Keino promises, will be better prepared for the cold weather and muddy conditions last year's contingent found so challenging. He also notes that after the 2006 group surprised the audience at the pre-race team skit event with a routine which included traditional dance steps and some unexpected breakdancing, the 2007 crew has already been preparing their number.

"Yes, we have something planned for them," Keino says. "The boys are quite excited about coming back again to do it."

Keino is excited for the return as well, and growing increasingly comfortable with his shift from the competitive to the marketing side of the sport.

"It's been a fairly smooth transition from a competitive athlete to the business end of the sport. Marketing athletes and events is fairly new here in Kenya and I always wanted to do that once I retired. It is challenging, of course, but very rewarding. I feel that my efforts have made a difference for many youth here in Kenya."

With a weekend full of opportunities for some of the best cross country athletes in the United States to connect with their peers from halfway around the world—and all the education and stereotype dismantling that inevitably accompanies such interaction—the impact will surely extend well beyond Keino's ten young runners from Kenya.