53rd Bishop Loughlin Games





Saturday-Sunday, December 16-17, 2006 The New Balance Track and Field Center at The Armory -- New York, New York



Coverage and photos by John Nepolitan



Meet Page at armoryfoundation.org

Story by John Nepolitan

252 schools, 6 states, 13 hours – the first of the New York mega indoor meets, the 53rd Bishop Loughlin Games, unofficially kicked off the 2006-07 indoor track season. New meet standards by Lindsay Rowe (Benjamin Cardoza, NY) in the girl's 55m Hurdles (7.96) and Jon Bednarz of Fordham Prep with a 15'2" vault headlined a meet that produced many outstanding early season performances (continued).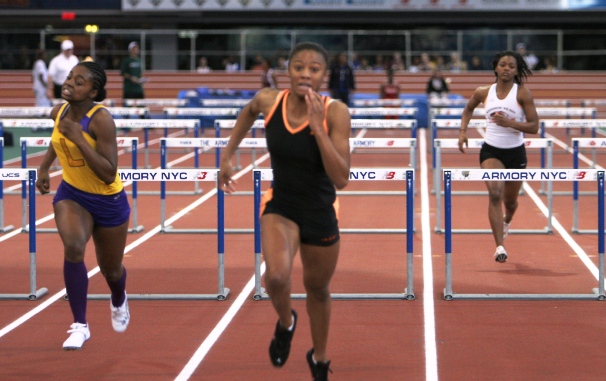 Lindsey Rowe (center) winning the 55H.
GIRL'S EVENTS ( The a.m. session of the meet is all girls events followed in the afternoon and evening by boys events)

SPRINTS

55 m - Trisha Hawthorne (Alexander Hamilton, NY) blasted from the line in the center of the track and continued to power through the finish line to record a 7.07 win over the Middle College duo of Deidra Rogers Middle College (7.12) and Analisa Austin (7.19)

55 Hurdles – Benjamin Cardoza's team title hopes got another boost when Lindsey Rowe stormed a new meet record with a 7.96 victory taking .03 off the old meet standard. For her effort would be named the meet's outstanding track performer. Her time was just .08 off last winter's national leader.

300 meters – After 60 minutes of nonstop heats, the six fastest were selected to return for a run for the medals. Running out of the preferred lane 5, Nadonnia Rodriguez (Boys & Girls, NY) got rolling early and quickly tried to make up the stagger on Leslie Njoku (Academic, NY), who had the 2nd fastest time of the trials. Flying down the backstraight, Rodriquez then flew around the final turn and powered past Njoku on her way to a 40.64 – 40.87 win.

MIDDLE DISTANCE

600 – Early in the season it can be difficult to seed out some events, especially a long sprint such as the 600. In the distances, meet officials know who the top cross country runners were from the fall. In the short sprints, you have rounds to get the top runners into the final, but in a long dash such as the 600, meet management is depending on a coach's hope for the athlete or performances from up to six months ago. The 600 was one such event where the final medal winners did not all end up in the same section. Dalilah Mohammed (Benjamin Cardoza, NY) jumped to the front of the "seeded section" at the gun and ran uncontested through splits of 29 and 61 and finished in a fast 1:32.51 to take first place honors. Shaniel Chambers (Chester, NJ) would find herself buried in the 3rd section. Chamber's would also lead wire to wire and finish in 1:33.56 to claim second; what could have been a classic battle will have to wait for another day. For Mohammed it would be the first of two wins on the day. She was also a member of the winning 4 x 400 team.

1000 meters – Two time winner of this event Brittney Sheffey (Bellport, NY) and age group star Brianna Welch (North Shore, NY) locked horns for what is sure to be the first of many battles this indoor season. Jumping to the front, Sheffey grabbed the lead with a fast 32.7 opening 200. The two New York stars distanced themselves from the field and a classic two women battle was on. Covering the next three laps in 35 seconds each brought the University of Tennessee-bound Sheffey through splits of 1:08.1, 1:43.6 and 2:18.6. A slight gap had formed between the two leaders and Sheffey looked to be heading to a comfortable 3rd straight Loughlin win, but Welsh was not yet done. Shifting through gears over the last 100 meters Welsh closed, but would come up short as Sheffey would cross the line in 2:53.23 to the freshman's near-state-class record 2:54.99.

DISTANCES

1-Mile – The Millrose chase has begun. One of the prized starting positions in the Northeast is a spot on the starting line for the Millrose Games high school Invitational mile. Caitlin Lane (Greenwich, NY) quickly threw her hat into the ring of possible qualifiers with a near-meet-record of 4:57.39. Leading wire to wire and looking strong the entire way, Lane passed through splits of 34-1:12-2:28-3:08(1000m) – 3:44 on her way to a 7-second victory. Behind Lane, a 3 women battle developed with Sarah McCurdy (Bay Shore, NY) – 5:04.27 just holding off Lauren Recchio (Academy of Holy Names, NY) 5:04.42 and Suejin Ahn Ward (Melville, NY) 5:04.82.

2-Mile – A fresh face made a slash on the NE indoor track scene as freshman Elizabeth Briasco of Queens Science HS bolted from the line to take an early lead in the first race of the day. Passing the 800 meter point in 2:34 Briasco had a 5 second lead over 2 time Footlocker finalist Shelby Greany (Suffern, NY) and 2006 Millrose Mile qualifier Kristen Reese (Carmel, NY). The lead was cut to 2 seconds as Briasco passed the mile in a fast 5:17. While Greany went after the early leader, Reese still hung back. While Greany and Briasco continued to battle over the next 800, Reese started to close in and was within 2 seconds of the lead as Greany passed 1-1/2 miles in 8:08. Hitting the backstraight with 550 meters to go Reese grabbed the lead and quickly opened a gap on the two early leaders. While Briasco started to pay for her fast start, Reese was giving a clinic in even pacing. By the finish Reese would cruise to a 4 second victory over her state and local rival Greany with a 10:49.77 to 10:53.60 win. Early leader Briasco would get caught by Meagan Gregory (Burnt Hills,NY) in the final lap for 3rd and 4th in 10:55.25 and 10:57.39 (continued)

Caitlin Lane wins the mile in 4:57 and Abby Schaffer PVs 12-0.
RELAYS

4 x 200 - For three legs Medgar Evers, NY held a slight lead over Uniondale, which had been lead off by long jump champ Ashlea Hendrix. As the two teams came into the final exchange Evers looked like it may be able to run wire to wire. Slowly over the final 200 Uniondale would close in and catch the leaders just before the line to claim a swift 1:42.18 – 1:42.50 win

4 x 400 – A win in the final event of the girl's portion of the mega 252 school event would give Cardoza the team title. The strategy was very simple – get an early lead then build on it and then hang on. The plan worked perfect as Cardoza was able to grab the early lead after a 60.0 lead off. Middle legs of 58.8 and 56.4 gave the New York school a huge cushion. The final leg of 62.6 may have been the slowest, but it more than got the job done as Cardoza ran to a 4 second victory, breaking the 4:00 barrier with a fine 3:57.83.

4 x 800 – Ursuline Coach Jan Mitchell many times wears two hats at a meet coaching at both the all-girls Ursuline and also the all-boys Iona Prep. The team of Laura Murphy (2:33.3), Meghan Brown (2:22.9), Erin Joyce (2:30.5) and Katie Sullivan (2:21.4) would combine for an 9:48.91 win, leading 7 others under 10:00. Later in the day, Iona Prep would line up and see if they could give Coach Mitchell a rare double – coaching two winning relays at the same meet for two different schools.

FIELD EVENTS

Abby Schaffer (Easton, Pa) would find herself in a 5 vaulter battle as the bar rose to 10' 6". 11' 0" would find Schafter and Samantha Brady (Jackson Memorial, NJ) over and moving on to battle for the gold medal. Brady would go out at the next height of 11' 6" while Schafter would go on to clear 12'0" and claim the meet's Outstanding Field Performer award.

Uniondale (NY) has had a long tradition of outstanding long jumpers while New Rochelle (NY), besides turning out great sprint teams, has produced a number of outstanding shot putters. Those two schools once again had athletes claim those titles here. Before she would lead off the winning 4 x 200 relay, Ashlea Hendrix would jump a solid 18' 5-3/4" for a 4" win over Bianca Fung (North Babylon, NY). Over in the shot New Rochelle would claim 3 of the top 4 places paced by the 42' 1" winning toss of Kadine Johnson.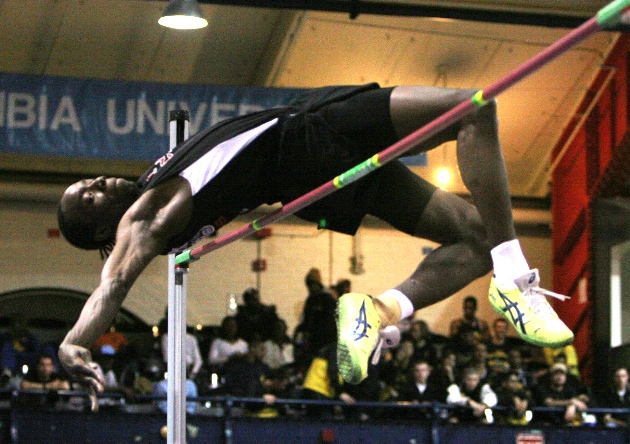 Trenton Central's Devon Bond wins the HJ

BOY'S EVENTS


SPRINTS

55 m – As in the girls dash in the morning lane 4 seemed to be the fast lane as Damien Thigpen (Stonewall Jackson, Va) grabbed an early lead and used a strong final lean to claim the title with a fine 6.48 win over Damion Willis (Campus Magnet, NY) 6.55.

55 Hurdles – Following the trail heats Kemar Clarke (South Shore, NY) would find himself in the middle of the track in lane 4 – the lane that would produce all the short dash winners on the day. Running a clean race, Clarke's 7.48 effort gave him and easy win over Jesse Fuca (Warwick Valley, NY) – 7.70 and Thomas Vakius (Valley Stream Central, NY) 7.82.

300 meters – South Shore would gather its second sprint victory of the day when Rodney Campbell ran a very strong 34.36 (31.1 300 yards split on the way) to claim top honors. Campbell would use the gentle turn of lane 5 to chase Tariq Devore (John Bowne), one lane outside, and slowly draw away from the other 5 finalists, maintaining picture-perfect form through the line.

MIDDLE DISTANCE

600 – A fast opening 24-second 200 would find Patrick Blockie (Seton Hall Prep, NJ) on the lead, with the entire field in striking distance. In the middle lap, Laurence Campbell (Peekskill, NY) would ease into the lead and take the field through the 400 mark in 52.7. Always in perfect position would be Alan Laws (Pleasantville, NJ). Moving to the outside down the backstraight with 150 meters to go, Laws would slingshot off the final turn and slow down least of the seeded section to claim a swift 1:21.76 win. A tight three-man battle for second would find Brian Schmidt (Kellenberg, NY) flying up the last 50 meters in lane 4 to grab 2nd (1:22.09) over Campbell (1:22.17) and Blockie (1:22.45).

1000 meters – In 2006, Monsignor Farrell was able to run 7:43.06 for the 4 x 800 relay. Three of those legs have moved onto college competition, but Matt Frawley remains. Splits of 28.6 – 60.2 and 1:32.1 put Frawley on top. The Staten Island senior would lose the lead for a less than a lap, but passing 800 in 2:04.6 would find Frawley back in front and charging for home. Down the final 50 meters, Frawley would start to tie up just a bit, but he would have more than enough to hold on for a 2:33.41 victory over Alex Best (Pleasantville, NJ) 2:34.02 and Brendon Pierson (CBA, NJ) 2:34.82.

DISTANCE

1 mile – Charles White (Garden City, NY) is just a junior, but is slowly closing out his New York high school running career. White's father has been transferred to a new post in Colorado and soon the Long Island runner will join the rest of his family. In the few races that White has remaining in the Armory, he hopes that he will be able to bid farewell to the Northeast indoor track wars when he lines up at the 100th Millrose Games. But for today the goal was to win. An opening pace of 65 past the 400 meter mark would slow to 68 (2:13 for 800) and White would jump to the lead. With 1:51 800 meter man Lionel Williams(St Peters, NY) lurking just behind, White did little to shake up the field and Williams would jump to the lead with 550 meters to go. A slow 3:21 1200 meter split seemed to be setting up the win for Williams, but White was not done just yet. Waiting until late to launch an attack White had hoped to catch Williams off guard and unable to respond to an attack. With just over 150 meters to go White struck for home and was able to then hold off Williams in the last 50 covering the final 400 meters in a swift 61 seconds for the 4:22.23 win over Williams (4:24.25).

2 mile – From the start Tom Poland (Delbarton, NJ) and Keith Stapleton (Curtis, NY) broke away from the field and found themselves in a two man battle. Splits of 67.5-2:17.5-3:39.0 and 4:41.3 saw little change, as Poland was on top with Stapleton right off his right shoulder. Coming up to the 1-1/2 point (7:07) Stapleton moved to the lead for the first time, but Poland would go back to the front 100 meters later where he would stay until Stapleton would move to the front for good with 450 meters to go (8:20 with 400 to go). Over the final 2 laps, Stapleton would continue to draw away to a 9:29.80 – 9:37.73 win. Behind the two leaders, Julian Sheinbaum (Scarsdale, NY) would run a controlled even paced race to claim 3rd in 9:39.92, passing many of those who had tried to chase the leading duo early.

RELAYS

4 x 200 – Through the first two legs ( 23.5 – 21.8 ) Camden would battle Hempstead (NY) but a strong 3rd leg ( 22.9 ) would take the Southern New Jersey school clear of the field as it would cruise to a nation leading 1:30.15 victory over DeMatha 1:33.22

4 x 400 – Legs of 51.1 and 50.0 would keep South Shore on the lead through the first two legs. A strong third leg of 50.2 by 300 meters winner Kemar Clarke would take the New York school clear of the field, and a final 2 laps of 51.9 would earn the purple clad runners their third win of the day in 3:23.24.

4 x 800 – An opening leg of 2:06.4 (Michael Cunnigham) would leave Iona Prep 5 seconds behind CBA (NJ) and the hopes of Coach Jan Mitchell's double distance relay victory seemed in danger. A strong 2nd leg of 1:57.5 (Blaise Rewoks) and 2:01.6 (Sean Halpin) would take the New Rochelle school clear of the field. Edward Boulat's 1:57.6 would be more than enough to get Coach Mitchell his 2nd relay win of the long day in 8:03.83 over CBA (8:11..05). Iona will be looking to earn a place in the Millrose Games CHSAA 4 x 800 relay in early January at the Millrose Trials and see if they can knock off 2 time defending champ Fordham Prep.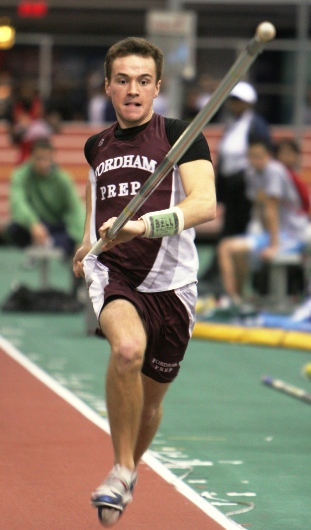 Fordham Prep's Jon Bednarz wins the PV


FIELD EVENTS

The two vertical jumps grabbed the headlines at the 53rd Loughlin Games. The only meet record of the boys events was a 15'2" vault by Jon Bednarz (Fordham Prep). For the winner it would be a 2" improvement on the meet standard, plus an 8" indoor personal best and 2" life time best. While Devon Bond (Trenton Central, NJ) did not take down the meet record, his easy clearance at 6'8" to earn him the victory let all those in attendance know that the Penn Relays champ had more in him. Upping the bar to 6' 11" Bond once again cleared with little effort, but could not negotiate 7' 1" as his work was done for the day.

Vincenzo Chiariello (Msgr. Farrell) threw a fine 54' 10" in the preliminary round to grab the lead by 7-1/4" over Kwabrna Keene (Washington Twp, NJ). None of the finalists would improve in their final three throws, although a long toss by 3rd place finisher Dennis Aliotta (Msgr. Farrell) that looked to shake things up in round 5 was negated by a toe foul.

Little change of placings in the final rounds was also the story of the triple jump as well. Rhodeni Spence (Woodrow Wilson, NJ) would be in front after 3 jumps and then closed to door to all those who thought they might have a chance to win with a 47'3" jump in round 4. Aaron King (Morris Hills, NJ) 46' 4.75 would move from 3rd to 2nd in the final three jumps, passing Jeremy White (Scarsdale, NY) 46' 0" to grab the silver medal.

Preview
Preview from Jamie De Four, The Armory Track and Field Foundation
The indoor season rolls into high gear this weekend when the 53rd annual Bishop Loughlin Games is held on Saturday and Sunday at the New Balance Track & Field Center at the Armory. The varsity events are set for Saturday.

*More than 6,000 athletes from over 250 schools in six states will be competing, with events getting under way at 9 a.m. on Saturday. The six states are New York, New Jersey, Maryland, Pennsylvania, Connecticut and Virginia.

*Among the top athletes expected are:


Senior Matt Frawley of powerhouse Msgr. Farrell, the No. 1 seed in the 1000 meters, who finished fourth in the 800 meters at the New York State outdoor meet as a junior. In the 4x800 Meter Relay at the CHSAA Relay Carnival last Saturday, Frawley ran the fastest split of the day, 1:55.9 on the third leg.
Senior Kyle Duggan of Msgr. Farrell, who won the pole vault at 15-0 at the CHSAA Relay Carnival.
Three outstanding competitors in the shot put from Msgr. Farrell, all having cleared 50 feet. They are led by senior Dennis Aliotta, who threw over 55 feet as a junior and was a national finalist. His teammates include senior Matt Jimenez and Vincenzo Chiariello, one of the top sophomores in New York State last season. Chiariello and Aliotta teamed up to earn a victory at the CHSAA Relay Carnival at 105-5 ¼. Aliotta registered 52-10 ¼ and Chiariello 51-7 ½.
Senior Lionel Williams of St. Peter's will compete in the mile on Saturday. He set the national sophomore record in the 600 meters at the Armory at 1:19.68.
Senior Saleena Abdur Rashed of Bishop Loughlin, who was clocked at 8.2 in winning the 55 meter hurdles at the CHSAA Relay Carnival.
Sophomore Ashona Gomes of Curtis, who will compete in the Two Mile Run at Loughlin. She finished second in the city cross country championships.
Senior Keith Stapleton of Curtis, the Eastern States and PSAL cross country champion, who will compete in the Two Mile Run on Saturday.