Marine Corps - Holiday Classic

The New Balance Track and Field Center at The Armory
New York NY

Wednesday, December 27, 2006

DyeStat on-site with stories and photos from John Nepolitan
Results from Armorytrack.com
Fast 800s, DMRs The Big Highlights

Lionel Williams NY 1:52.29, Shaniel Chambers PA 2:11.74 ... Chaminade NY boys 10:23.69, Colts Neck NJ girls 12:06.39

This page - Invite 800 and DMRs, 4x800 relays
Sprint/Field Page - 4x200, 4x400, SMR, SHR, Field Events
St. Peters NY's Lionel Williams and Chester PA's Shaniel Chambers were Wednesday's 800 speedsters.

Flash Highlights
Boys Invitational 800

Leading wire-to wire through 200 splits of 27-55-1:23, Lionel Williams (St Peters, NY) won in a new meet record of 1:52.29. Williams' time places him #4 all time NY State and makes him the 17th fastest performer of all time.

Girls Invitational 800

Brittney Sheffey (Bellport, NY) took the lead with 300 meters to go after following defending champ Shaniel Chambers (Chester, Pa) through splits of 31 – 65. Chambers took the lead back at the bell and pulled away for a new meet record 2:11.74 win over Sheffey, who would cross the line in 2:14.22.
| | |
| --- | --- |
| | Boys DMR winners Chaminade NY, with anchor Ryan McDermott (left) |


Boys Champ DMR

Coming into the final 1600 leg, Steve Murdock (Shenendehowa) and Ryan McDermott (Chaminade) were together. Murdock led the duo until the final 120 meters when McDermott swung wide and was able to bring the Crusaders home to a 10:23.86 – 10:25.69 meet record win.

Splits for Chaminade:
Stephen Donnelly 3:11.2
Rich Semenick :52.9
Charles Donnelly 1:59.2
Ryan McDermott 4:18.7

Murdock split 4:21 on the end for Shen
Shen(NY) Boys
Zack Predmore 3:14.1
Seth Whithaker :52.1
Zack Suriano 1:57.3
Steve Murdock 4:21.1

Bringing his St. Benedict's NJ team from back in the pack to 3rd place was another Foot Locker finalist, Brandon Jarrett, in 4:22

| | |
| --- | --- |
| | Girls DMR Winners Colts Neck NY, with anchor Ashley Higginson (left) |
Girls DMR

Just like the boys event, the girls Invitational DMR came down to a battle between two teams. Colts Neck NJ held the early lead, but a strong 800 leg from Warwick brought them to the front at the final hand off. The two anchors, Tori Pennings (Warwick) and Ashley Higginson (Colts Neck) would run together trading leads until the final 150 when the NTN individual champ Higginson would attack for home.

Final Result
1. Colts Neck (NJ) 12:06.39
2. Warwick Valley(NY) 12:08.18

Splits for Colts Neck
Bri Jackucewicz 3:43.7
Meryl Wimberly :59.5
Kristen O'Dowd 2:27.1
Ashley Higginson 4:56.1
Warwick Valley(NY) Girls
Kristen Peluso 3:48.2
Claire Pettit :58.4
Lillian Greibesland 2:20.4
Tori Pennings 5:00.6

| | |
| --- | --- |
| | Boys DMR winners Chaminade NY, with anchor Ryan McDermott (left) |
4 x 800s

A strong 2nd leg brought Warwick Valley (NY) from back in the pack to the lead of the girls 4x800, a lead that would grow right to the finish as Tori Pennings would break the tape at a meet record 9:31.10, leading the top 9 teams under the 10:00 barrier.

The boys 4 x 800 would see many of the distance medley teams return as well as Invitational winner Lionel Williams of St Peters. Fordham Prep (NY) and Monsignor Farrell (NY) were even coming into the first hand-off, but a dropped stick by Farrell would find the Staten Island school in 9th at the next hand-off. Meanwhile, four teams battling up front, including DMR champs Chaminade, were closing back on the lead. Reaching the halfway point Chaminade would be first to hand off, but there were still four other teams in striking distance. Grabbing the stick in 9th place, Bishop Loughlin Games 1000 meter champ Matt Frawley (Farrell) would take off after the lead and bring his team all the way back to the lead with the event's fastest leg of 1:56.4. Farrell would get the stick just a few steps in front of Chaminade anchor Ryan McDermott. By the 200 meters into his leg, McDermott would be on top and continue to pull away and complete the distance double crossing the line in 8:10.94.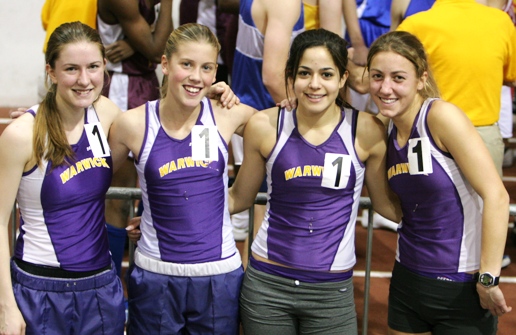 Girls 4x800 winners Warwick Valley NY. From left, are Claire Pettit, Lillian Greibesland, Kristen Peluso, and Tori Pennings.
Wednesday's Marine Corps Holiday Classic will be highlighted by four big invitational events.

The Marine Corps Holiday Classic - Men's 800m Run Invitational
Name Hip # Team

Gigi, Gibilisco 1 Notre Dame
Williams, Lionel 2 St. Peters
Laws, Jr., Alan 3 Pleasantville
Stapleton, Keith 4 Curtis
Hilario, Brian 5 Pine Bush
Mack, Duke 6 Pleasantville
Best, Alex 7 Pleasantville
Brinkley, Matthew 8 Meade
Boulat, Edouard 9 Iona Prep
Garnett, Richard 10 Roosevelt (Yonkers)
Schieck, Michael 11 Chaminade
Fischer, Luke 12 Notre Dame
Alternates
Carter, Marvin 13 Bordentown
Handler, Darell 14 North Shore


The Marine Corps Holiday Classic - Women's 800m Run Invitational
Name Hip # Team

Sheffey, Brittney 1 Bellport
Chambers, Shaniel 2 Chester
Welch, Brianna 3 North Shore
Moore, Emily 4 Pine Bush
Cheung, Donna 5 Connetquot
Greene, Laura 6 Sachem East
Garrison, Arianna 7 Newburgh
Filiberto, Amanda 8 Northport
Salcido, Veronica 9 Wootton
Griebel, Alasia 10 Bristol Central
Brown, Meghan 11 Ursuline School
Crowley, Liz 12 Bayport-Blue Point
Alternates
Lipari, Emily 13 Roslyn
Stepney, Corrine 14 St. Peters


The Marine Corps Holiday Classic - Women's Distance Medley Invitational
Team Hip #

Warwick Valley 1
Colts Neck 2
Ramapo 3
Shenendehowa 4
Shenendehowa "B" 5
Meade 6
Ursuline School 7
Ridgefield 8
Pine Bush 9
Bellport 10
Northport 11
Bethlehem 12
Hunterdon Central 13
Sachem North 14



The Marine Corps Holiday Classic - Men's Distance Medley Invitational
Team Hip #

Bladensburg "A" 1
Warwick Valley "A" 2
Seton Hall "A" 3
St. Benedicts "A" 4
St. Anthony's "A" 5
Shenendehowa "A" 6
Wootton "A" 7
Smithtown West "A" 8
Byram Hills "A" 9
Chaminade "A" 10
Ridgewood "A" 11
Curtis "A" 12
Lower Merion "A" 13
Archbishop Molloy "A" 14

Alternates
Monsignor Farrell "A" 15
Meade "A" 16
Union Catholic "A" 17