Gatorade names Chris Derrick Boys XC Runner of the Year
Company picks NTN champ from Neuqua Valley IL
January 15, 2008
Chris Derrick with his Gatorade Runner of the Year trophy and getting props from teammates and friends at the ceremony Wednesday morning. Photos Brian Kersey/Gatorade

(press release)

State Runners of the Year announced

CHICAGO (January 15, 2008) – In its third decade of honoring the nation's best high school athletes, The Gatorade Company, in partnership with RISE Magazine, today announced Chris Derrick of Neuqua Valley High School (Naperville, Ill.) as its 2007-08 Gatorade National Boys Cross Country Runner of the Year. Derrick becomes the first student-athlete to win the award, since The Gatorade Company announced the addition of boys cross country to the Player of the Year program this past October.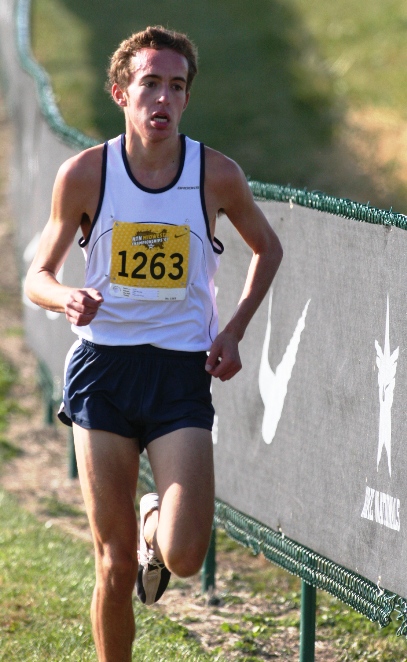 Chris Derrick leads at NTN Midwest. Photo John Nepolitan

The award, which recognizes not only athletic excellence, but also high standards of academic achievement and exemplary character demonstrated on and off the racecourse, distinguishes Derrick as the nation's best high school boys cross country runner. A national advisory board comprised of sportswriters and sport-specific experts from around the country helped select Derrick from more than 210,000 high school boys cross country runners nationwide. Derrick is now a finalist for the prestigious Gatorade Male High School Athlete of the Year Award, to be presented at a special ceremony the afternoon prior to The ESPY Awards in July.

Derrick, a senior distance runner, captured first place at the Nike Team Nationals Final with a time of 15:39.8, outracing the next-best finisher by three seconds and leading Naperville to the team national title. Derrick finished second at the national Foot Locker Cross Country Championships in 15:03. He also placed first and second at the Nike Team Nationals and Foot Locker Midwest Regionals, respectively. Derrick set nine course records this past fall and won the Class 3A individual state title, helping the Wildcats capture the state team crown.

Derrick has maintained a 4.57 GPA in the classroom and volunteers on behalf of multiple community-service initiatives, including the DuPage Public Action to Deliver Shelter for the homeless, Saint Thomas the Apostle Church food drives, the Naperville Congregations Acting in Response to Economic Stress and the American Cancer Society's Relay for Life. He also donates his time to raising funds for Gigi's Playhouse, an organization that provides support to families who have a child with Down syndrome.

"He doesn't have great leg speed, but he has incredible stamina," said Neuqua Valley Head Coach Paul Vandersteen. "He holds back and runs his race, which helps him achieve some things against runners who are overzealous, but when he knows he has to lead things, he'll take charge. He's a coach's dream, and he's been an amazing leader for this team."

Derrick has verbally committed to an athletic scholarship at Stanford University this fall.

"Without question, Chris is deserving of recognition as the nation's best high school boys cross country runner based on his accomplishments on the racecourse and the impact his running had on Neuqua Valley High School's success," said Gatorade Senior Vice President of Sports Marketing Jeff Urban. "But he is also a shining example to peers and aspiring young runners of what a leader and a student-athlete should be. He represents everything we hope for in a Gatorade Player of the Year recipient."

The Gatorade Player of the Year program annually recognizes one winner in the District of Columbia and each of the 50 states that sanction high school football, girls volleyball, boys and girls cross country, boys and girls basketball, boys and girls soccer, baseball, softball, and boys and girls track & field, and awards one National Player of the Year in each sport. The selection process is administered by RISE Magazine, which works with top sport-specific experts and a media advisory board of accomplished, veteran prep sports journalists to determine the state winners in each sport.

Former notable Gatorade National Players of the Year include:
• Reigning 200-meter world champion Allyson Felix
• 2007 Super Bowl Most Valuable Player Peyton Manning
• Two-time American League Most Valuable Player Alex Rodriguez
• NFL all-time leading rusher Emmitt Smith
• WNBA all-time leading scorer and rebounder Lisa Leslie
• Softball gold medalist Cat Osterman
• Beach volleyball gold medalist Kerri Walsh

For more on the Gatorade Player of the Year program, including nomination information and lists of past winners and future announcement dates, visit gatorade.com/playeroftheyear.