Great Girls Sprinting, Hurdling Highlights
Great Southwest Classic
Saturday Running Event Results - Saturday Field Event Results - Highlights

Photos by DulanyPhoto.com - More photos, stories coming
SteveU's COMPLETE Saturday Meet Preview - Day Two Video - Day Two Results

Day One Results - Performance List -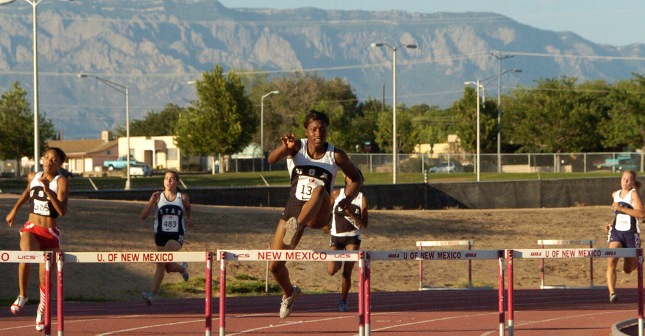 Above photo: Evanston IL sr Shalina Clarke (center) was on US record pace here before a stumble at the next to last hurdle. She still ran an auto PR and US#2 40.40, 0.42 off the USR.
Below: Ridgeland MS jr Bianca Knight motors around the curve to run 23.14 from lane 3. From left, she is challenged by Porscha Lucas TX (23.67), Victoria Jordan TX (24.14), and Brittany Jones FL (25.42), who collapsed over the finish line, apparently aggravating an injury. Kiki Wilson AZ was 3rd in 23.70.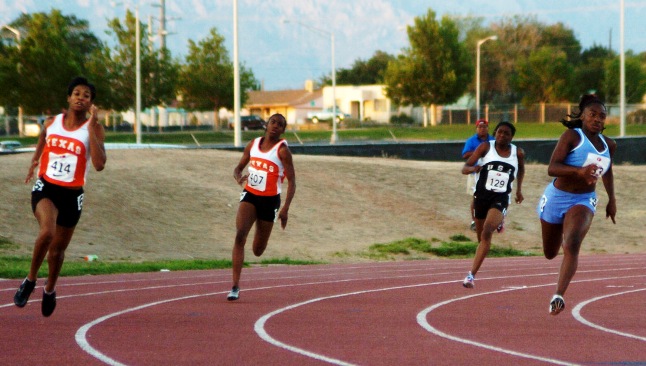 Shalina Clarke: Evanston IL sr triple victory: US#2 40.40 300H, 100H 13.56w (3.2w) and 11.51w 100 (4.1w; seeded sections).
Bianca Knight: Ridgeland MS jr gets double - US#1 23.14 Elite 200 (-0.9w), 11.28w Elite 100 (3.5w).
Washington CO sr Darius Reed wins legal US#2 13.60 110H (1.9w) over Oscar Spurlock TX US#3 13.62.
Barbe LA sr Trey Harts holds off Littleton CO sr JT Scheuerman in Elite 200, 21.00 to 21.10 (-0.8w).
Canadian Emma MacCorquodale flies down for meet record 179-11 HT, while Phoenix AZ's Meagan Berg smashes PR and MR for US#2 167-05 in 2nd.
Texas sweeps boys and girls team titles
Field Highlights:
Midlothian TX sr Nick Frawley PR and meet record 17-00.75 PV (good attempts at 17-04).
Hept winner Brittani Williams TX takes JT in 139-00.
Surprise AZ's Jacob Nicol big PR for 193-10 in HT
Super Ardmore OK soph Geoffrey Tabor 188-10 DT, with freshman cousin Cameron Tabor 4th in PR 170-09 (also 2nd 59-07.75 SP behind Jason Guillory TX 61-03)
2005 MVP Sarah Griffin Matthew CO wins LJ at 19-07
McKinney TX sr Britany Parker meet record 12-8 PV (Mansfield TX fr Shade Weygandt 2nd 12-4)
Kylie Spurgeon OK 152-01 DT to nip Paige Newby TX 151-10
More Sprints/Hurdles
Amazing Liberty SC 8th-grader Jasmine Stowers 13.82w (3.2w) 100H (2nd) and 43.00 300H (3rd)
"Kiki" Wilson represents for AZ - surprises with 11.37w PR 2nd in 100, 23.70 3rd in 200
Elite 100: Shawnbrey McNeal TX 10.47 (2.0w) over Skye Green TX 10.51
Spanish Fork UT soph twins Nachelle and Natalie Stewart set PRs 53.94 and 54.36 for 1st/3rd in 400 (Dominique Maloy NV 54.11 2nd)
Marcus Boys TX PR 47.36 400
Thomas Oatts TN surprises with 37.76 PR 300H win (Tim Sterrenberg AZ 37.79).
Relay Highlights
4x1s: Texas girls scorch 44.11 for decisive meet record win; "Elite" boys roll 40.13
4x4s: Texas girls meet record 3:43.06, with fast anchor from Sandy Wooten (Utah 3:43.70); Three 46s for "Elite" boys 3:08.53.
4x8s: New Mexico girls Meet Record 9:04.67 (Colo. 9:05.20); Colorado boys 7:48.36 (Okla. 7:48.39).
Distance Highlights
Stunning Fargo ND 8th-grader Laura Roesler easily powers to 2:13.03 800 victory
New Bern NC star Karjuan Williams, not in full health, still picks up 1:51.75 800 triumph
Kristen McGlynn CO takes distance double 4:45.33 1500 / 11:04.17 3200
Long distance ace Matt Tebo NM goes down to 1500 for 4:01.33 win; Rex Shields UT finishes strong in 3200 9:25.36
Great Girls Sprinting, Hurdling Highlight
Great Southwest Classic
By Steve Underwood
If there was any regret from this year's Great Southwest Classic in Albuquerque, it's that somehow, some way, they couldn't figure out a way for Shalina Clarke and Bianca Knight to race each other. This isn't a criticism of anyone, just some indulgent whimsy. Yes, their talents and specialties are different, but not so much so that the mind isn't compelled to try and imagine the possibilities. In any case, these queens of the oval gave the crowd probably their biggest thrills of the weekend.
Yet, amazingly, despite the way each dominated their events, each girl likely left the ABQ with a bittersweet taste in her mouth. Clarke won three times, including a US#2 40.40 in the 300 hurdles, but by hitting the 9th hurdle hard and stumbling slightly, the Evanston IL sr probably missed a fantastic chance at Lashinda Demus's US record 39.98.
Meanwhile, Knight headed up each of the Elite sprint event fields and was shooting for that atmospheric 11.1 territory in the 100. After managing "just" 11.28, despite the aide of a 3.5 wind, she was pretty glum. But she bounced back for a truly dominating US#1 legal 23.14 in the 200, against a stunning field, to give her the sweep.
As is the case every year, though, the highlights were everywhere you looked at the Great Southwest Classic, and almost too numerous to mention. On the runways, there were meet-record-setting Texas vaulters Brittany Parker and Nick Frawley, the latter delighting the crowd with a PR 17-00.75. On the expansive field next to the track, you could witness two of the top three girls hammer throwers in North America (Canadian Emma MacQuorquodale 179-11 and Meagan Berg AZ 167-05) and the second-best sophomore boys discus thrower in US prep history (Geoffrey Tabor OK).
If you were more into guys sprints and hurdles, there was Trey Harts LA pipping JT Scheuerman CO in the Elite 200, and an even closer battle in the 110H that saw Darius Reed CO edge Oscar Spurlock TX with a US#2 13.60 to 13.62.
The state vs. state relay battles were an enjoyable mix of down-to-the-wire finishes, and dominating performances with eye-popping times (TX girls 44.11 4x100; "Elite" boys 3:08.53 4x400).
And distance fans got to see arguably the country's top boys 800 runner, Karjuan Williams NC, do his thing, as well as see the possible future of the girls 2-lapper in the impressively easy win for 8th-grader Laura Roesler ND. Then there was hometown favorite Matt Tebo NM, as the nation's #2 3200 runner dipped down to 1500 for a solid victory.
A great side story was the talent displayed by the youngest runners. Besides Roesler, there was the spectacular hurdling of 8th-grader Jasmine Stowers SC, along with some youth relays with local athletes that delighted the crowd.
All of it was enough to make the 90 degree heat and relentless sun almost bearable, even to a certain web editor from the north.
Girls MVP: Shalina's Show
The Saturday that was for Shalina Clarke was truly something special. But, oh … oh, what could have been!
After she powered past an evenly matched 100 hurdles field in a windy 13.56, and won the fast seeded section of the 100 (11.51w), she took to the track for her best event, the 300 hurdles. Despite the wealth of sub-43 talent in the field, the Southern Cal signee had the best entry time by more than a second. Last year, she had recorded a hand-time of 40.1 (40.34 adjusted) that put her #5 all-time. This year, she had reached an auto 40.68 in the IL state meet, part of a spectacular quadruple. What could she do here, in the friendly altitude at the University of New Mexico?
Coming off the turn, she had a solid lead and continued to extend it down the stretch, clearly with at least a near-PR at hand. But then she simply didn't get high enough at the 9th hurdle and hit it hard with her lead leg. She stumbled, but kept her footing. The final hurdle was less than smooth as she tried to keep some momentum; she got over with something between a gasp and a shout of exertion (and maybe frustration) and made it across the line.
Now it was the crowd's turn to make some noise. The clock showed 40.40, an auto-timed PR. But the realization of what could have been swept over those in the know like a sudden chill that makes your arms get goose-pimply and the hair on the back of your neck stand up. "Shalina had the record," they said to each other. "She had it!" Wow.
Indeed, it was painfully obvious that if not for the stumble, Clarke would have replaced Demus as the US record-holder. The effort she put out and the way she expressed herself on the track made hearts go out to her. When she recovered, Clarke was able to shake her head with a rueful smile at being so close. "I'm happy, but kind of disappointed," she said. "I did everything my coach asked me to do but get that leg over the 9th hurdle."
She added something about having a problem with a lazy leg, but to this observer there was nothing lazy about it. Shalina had given everything she had in the third event on a blisteringly hot day, in an attempt to be the best ever.
Another bittersweet realization, and a surprising one to many, is not only was that probably Clarke's last 300 hurdles race ever, but she may never race this far again if she has her druthers. Shaline strongly prefers the 100 hurdles and dash, and plans to concentrate on those events for both the post-season and her collegiate career.
She certainly was impressive in the 100 hurdles, an event that also featured some hurdle bashing, but not by Clarke. Instead it was Jacquelyn Coward and Talaya Owens who had problems getting through cleanly, the former hitting just 14.24 and the latter DNF. Showing better form and winding up with what could be termed her national prep coming out party, Pendleton SC 8th-grader Jasmine Stowers claimed 2nd in an all-conditions PR 13.82. She would later add a solid 43.00 in the 300 hurdles.
Elite Sprints: Knight Time
Words of congratulations poured down from the stands to Bianca Knight as she walked back down the track after winning the 100 meters. She seemed not to hear them. Yes, she had won the race against a strong field, but equaling her PR of 11.28 – the fourth time she said she's hit that mark, windy or legal – was NOT what the Ridgeland MS jr. had in mind for this weekend.
With 5000 feet of altitude and what turned out to be an aiding wind, Bianca had every expectation of something around 11.1 to make her way up the ladder of history's all-time elite. Obviously, it didn't happen. "I slipped out of the blocks and then I didn't drive like I needed to," she said.
That Knight was willing and able to articulate her disappointment was probably due to the fact that her 2nd race over 200 meters had been certainly more satisfying. She didn't have the most ideal draw in the world, lane three, but it turned out that she had actually practiced in lane three for the previous two days on the track.
She ran a strong curve, motored solidly down the straight with a big lead, then simultaneously leaned at the line and turned her head for a quick glance at the field clock. Bianca wanted something more suitable and she got it: Her 23.14, this time into a 0.9 headwind, is the new national leader and her best time since her scintillating 23.06 as a freshman.
Did that make up for the 100? "Yeah, it kind of did," she said. "I really wanted 11.1 or better in the 100, so I told myself I was going to make up for it. I got out of the blocks a lot better."
That Knight won so easily, a margin of 0.53, was a testament to her talent and performance, but also another unfortunate big race outcome for Florida star Brittany Jones. The latter led the nation outdoors before Saturday, with her 23.31 from early in the year. She took that time into Arcadia back in early April, but caught her toe spike on the track during the 400 and collapsed in the straight.
Here, the effects of a nagging injury she hoped she could run through slowed her mid-race and brought her again to the track past the finish line as she finished 5th in over 25 seconds.
Meanwhile, Porscha Lucas won the battle of Texas behind Knight, clocking a solid 23.67 ahead of Victoria Jordan's 24.14. The top two sprinters from the Lone Star State had won 4A and 5A at the TX State Meet, but had not met outdoors all year. However, finishing 3rd in the race behind Lucas was Kenyanna "Kiki" Wilson in 23.70.
Wilson, in fact, was one of the bright stories of the meet. With all the talent from Texas and beyond brought in, she represented for her home state, Arizona, with not only her 200 PR, but her very impressive runner-up PR finish in the 100 (11.37).
=================================================================================================
The Great Southwest Classic is open to the top athletes who have completed the season with his or her high school team in good standing. Underclassmen may compete upon recommendation of state advisory chairperson and approval by state's interscholastic governing body. The Great Southwest Classic is a USAT&F sanctioned competition.
The Great Friends of UNM Track & Field Stadium extend the use of their facilities located on UNM's South Campus and welcome all 30th Great Southwest Classic athletes. The track consists of a eight lane (42") all-weather Versaturf surface. Inside the track, a natural grass surface has multiple jump and throw areas. The UNM track stadium seats 6,000 and faces the spectacular Sandia mountain range. Nearly perfect training conditions may be expected with June temperatures ranging from day highs of 80 degrees to night lows of 49 degrees. These moderate temperatures combined with a relative humidity of thirty percent, Albuquerque's mile-high elevation and abundant sunshine, create an exhilarating outdoor arena for spirited competition in UNM's world class facilities.
"The Great Southwest was a great meet. The competition was the best I had faced all year. I was very honored to receive the Male Overall Performance Award. Thank you for the opportunity to compete against the nation's top performers in the shot and disc. Sincerely, Kevin Bookout"
2005
- 6 US#1 performances with J-Mee Samuels NC and Sarah Matthews CO claiming MVP awards with all-time ranking performances - Samuels 10.07w and 20.32 (US#5 all time) - Matthews 21-2 LJ (US#7 all time) in greatest HS girls LJ competition ever, 3 girls 20-8 or better, 4 more girls 19-5 or better.
| | |
| --- | --- |
| J-Mee Samuels | Sarah Matthews |
| | |
2004
- It's fast in Albuquerque as sprinters steal the show. Doubles by Ashley Owens, Jason Richardson, Cedric Goodman, Zach Lloyd, Erica McLain. Three US#1 marks (Owens 11.20, Richardson 13.38, Shantia Moss 13.51).
| | |
| --- | --- |
| Ashley Owens | Jason Richardson |
| | |
2003
- Alief Elsik girls 44.63 4x100 - new US record! Texas hurdlers sweep MVP honors: Kerron Clement 13.61 and 35.73, and Alandra Sherman 13.30 and 42.88. More stars of the Great Southwest: Dominique Zeigler 25-10 (US#1); Earvin Parker doubles 10.31 and 20.89; Zack Lloyd 66-7.75 (US#1); Alan Thomas 1:51.19; Amber Harper doubles 1500/3200; Michelle Carter doubles 52-0.5 and 155-6; Leif Arrhenius doubles DT/HT; and Texas sweeps team titles.
16 new meet records were set!
| | |
| --- | --- |
| Alandra Sherman | Kerron Clement |
| | |
2002
- Texas boys fly high in Albuquerque - Willie Hordge 10.21 (Kellie Willie 10.24, Jonathan Wade 10.29). Texas relays 40.54 and 3:12.33. Kellie Willie 20.49. Ivie Williams 47.64. Terry Beard 37.25. Josh Jordan 24-3. Stan Montoya 200-7.25 JT. Soph Leif Arrhenius 185-8 DT and 193-4 HT. Girls aren't bad either - Peoria AZ jr Jessica Onyepanuka 11.61 (7 under 12 seconds) and 24.01. Amber Harper 4:39.28 1500m. Texas relay 45.43. Utah relay 3:49.58. Katie Morgan 12-0.25 PV. Francheska Ketchum 20-1.75. Kelli Burton 48-9 and 149-8.25.
2001
- Meet Page
2000 - Meet Page
1999 - Meet Page
1998 - Meet Page