Thursday's Stories and Pics - Thursday's Results - Friday's Stories and Pics - Friday's Results
Saturday's Stories and Pics - Saturday's Results
Saturday - It's Camperdown's turn as Jamaican school takes boys 4x1 (record 40.13) and 4x4 in 3:11.46 - Holmwood's 4x8 win makes it 6 victories with the stick for JAM teams..
Friday - Distance surprises with Matt Centrowitz MD 8:20 3k, Dominic DellaPelle DE 4:13 Mile - Holmwood (JAM) Girls Sweep 3 Relays.
Thursday - Danielle Tauro and Ashley Higginson complete New Jersey Distance Sweep - Holmwood JAM dominates relay heats - PA standouts shine in the Field - 400H Record Set.
=========================================
For 112 years the Penn Relay Carnival ...
... has offered an event for everyone! Held at renowned Franklin Fieldin America's most historic city, fans can get a chance to see the finest track and field athletes from ages eight to 80 (and often older)!
Many of the world's greatest stars compete each year at the Penn Relays in the USA vs. The World Showdown. In 2005 Americn runners included Justin Gatlin, Bernard Williams, Allyson Felix and Alan Webb. International stars such as Athens gold medalist Felix Sanchez (Dominican Republic), Usain Bolt (Jamaica) and the British 4x100 gold medal relay team tested the USA's best to the delight of the throngs of relays fans a year ago.
The goal of the Penn Relays is a simple one – to provide the best Track and Field competition for the greatest number of participants of all levels, ages, and abilities. Each spring, more than 15,000 student-athletes from high schools and colleges around the nation visit Philadelphia to compete in the Penn Relays. Even though more than 100,000 fans annually attend the action at Franklin Field, the expenses of operating a major sporting event such as the Relays are considerable. In addition to security, maintenance, cleaning, staffing, and facilities improvements, the Penn Relays also supplements the travel expenses for many of the intercollegiate teams. Those expenses have continued to rise each year while the event's revenues have remained relatively stable.
Thursday, April 27, 10 a.m. - 11:30 p.m.
High School Girls, College Women, Distance Races
Friday, April 28, 9 a.m. - 7 p.m.
High School Boys & Girls, College Men & Women, Olympic Development Events
Saturday, April 29, 9 a.m. - 6 p.m.
College Men & Women, High School Boys, USA vs. The World Events

2005 - WINNERS TABLE - event by event coverage with text and photos
Athletes of the Meet - Nicole Leach (400H record) and Carlos Mattis (TJ winner for fourth straight year)
Saturday - Syosset edges Shaker for 4x800 championship. Holmwood Tech wins 4x100. Wolmer's Boys hold off Poly Long Beach and Dematha in 4x400.
Friday - Holmwood Tech girls double 4x400 and 4x800, but St. Jago nips them in 4x100. Newton North, Andrew Jesien, Bobby Papazian win. Syosset leads boys 4x800 qualifiers, Holmwood Tech 4x100.
Thursday
- Nicole Leach and Sarah Bowman repeat. Aislinn Ryan brings home DMR title for Warwick Valley. Saratoga Springs is 1-2 in 3000m with Lindsay Ferguson and Hannah Davidson. Jamaicans dominate 4x100 qualifiers. Gwynedd Mercy PA leads 4x800 qualifiers.
photo by Donna Dye
A fabulous year for the
fabulous Syosset NY 4x800m
Syosset NY wins the 4x 800m
(from left) Adam Lampert, Dan Tully,
Chris Howell, Sean Tully and Coach Bart Sessa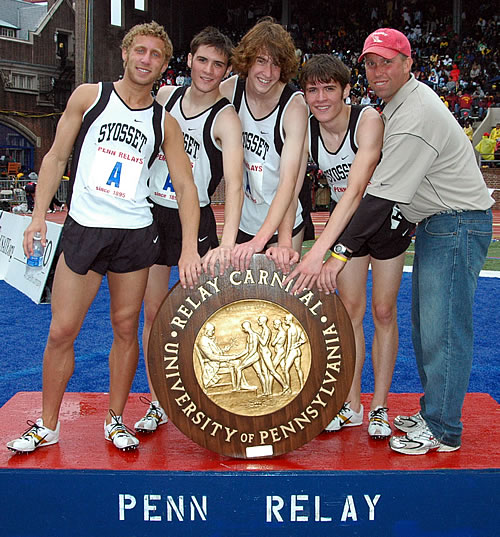 2004 - US sweeps boys relays, but Jamaican girls topple Poly Long Beach in 4x100 in meet record time, with Poly getting a US record in second place. Nicole Leach sets meet record in 400H and Kevin Craddock wins the boys 400H.

Nicole Leach sets a Penn Relays record
of 57.84 in the 400 meter hurdles.
She returns this year to defend her title.
- photo by Vic Sailer


Simone Facey (left) finishes Vere Tech's meet record 4x100 win in 44.32, with Poly's Shalonda Solomon on right setting a US record of 44.50.
- photo by John Dye


2003 - Poly Long Beach CA wins four relays -- boys 4x400 and 4x800 and girls 4x100 and 4x100
2002 - Boys & Girls girls set US record in 4x800, Holmwood Tech boys get big double
2001 - Alan Webb's South Lakes VA and Boys & Girls NY girls sweep 4x800 and DMR. Dathan Ritzenhein runs 13:51.69 5k
2000 - San Lorenzo Valley CA girls 11:41.28 DMR is US record. St. Malachy's of Ireland wins DMR for fourth straight year, despite Alan Webb 's sub-4 minute anchor
1999 - Northwestern MD boys win 4x400 in 3:10.35. Rickey Harris wins 400H in 50.63
1998 - Boys and Girls NY boys 7:41.12 4x800