March 11-12, 2006 at PG Sportsplex, Landover MD - a DyeStat Featured Meet

Donna
on the Side
at NIN

300 photos by Donna Dye as she roams the sidelines at the PG Sportsplex in Landover MD. New digital cell phone cameras got quite a workout.

Donna on the Side - NIN
SATURDAY AT NIN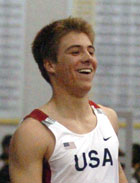 Winners Table - Saturday Results
Boys Pole Vault - Scott Roth CA wins on a rare fourth attempt at 17-4.25, setting a new NIN meet record (Tommy Skipper 17-3.75 in 2003). When Roth missed on his third attempt, Michael Morrison VA and Jordan Scott GA were preparing for a jumpoff for first. But the officials ruled that the standards were set incorrectly (different depths, making the cross bar crooked) and awarded Roth a fourth attempt. He soared over cleanly. Roth then missed three times at a national record 17-7.

Weight Throw - Walter Henning USR
St.Anthony's NY jr Walter Henning 83-0.25 broke the national record (Lief Arrhenius UT 82-10 at Simplot in 2004) on his first throw and followed with three more throws over 80 feet.
SETS - Speed Endurance Technique Summit
Friday night clinic
Mar 8 - by Elliott Denman, NSSF - " Craig Forys - An Undertrained Overachiever"
Mar. 4 - Percy Harvin - by Pete Cava, NSSF - "Are We Harvin a Good Time Yet?"
Feb. 24 - Johnny Dutch - by Pete Cava, NSSF - "Dutch Master"
Feb. 9 - Karjuan Williams - by Pete Cava, NSSF - "Getting By With A Little Help From Friends ... And A Stranger"
Jan. 25 - Eleanor Roosevelt School - by Pete Cava, NSSF - "Maryland Sprint School Becoming A Factor At Longer Distances"
The organizers of Nike Indoor Nationals invites everyone to "SETS" or Speed Endurance Technique Summit, an event which will take place the Friday night (March 10) before the meet starts, from 7 p.m. to 9 p.m. at the meet site - Prince George's Sports and Learning Complex. The Summit is free for athletes and will include sessions with Olympians Alan Webb, Joanna Hayes, Shawn Crawford, Tiombe Hurd, and coaches and officials such as Scott Raczko (Webb's coach), Andrew Blanks (Houston Westbury); NSSF Coach of the Year Carmen Jackson of Miami Northwestern, James Fichter, and James Williams of USATF. More ...
The Nike Indoor Nationals, held annually since 1999, is currently staged at Prince George's Sports Complex outside Washington, D.C. in Landover, MD. The facility has a fast, 200-meter track, where numerous records have been set. The Bill Bowerman Award, created by Nike, is presented to the coaches of the girls' and boy's mile winners. The top six finishers in each event are named to the American Track and Field Magazine All-American team.