Confessions of a Track Junkie
by John Nepolitan - January 17, 2008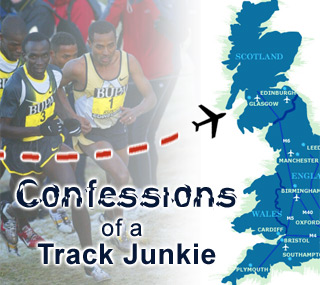 When I started working for DyeStat

2 years ago, I was able to mix two of my loves – travel and our sport (cross country/track). Coaching had stopped being fun, so I decided to get out of that avenue of sport and looked for another outlet. When the chance to work for DyeStat came up, I jumped at the opportunity. What better way to spend weekends than traveling to different parts of the country taking photos and reporting on our nation's best high school athletes? When a free weekend came up in my schedule, there was no doubt what I was going to do--find somewhere to get away to.

Recently, on my daily look at the IAAF (international governing body of Track and Field) website (www.iaaf.org), I noticed that Edinburgh, Scotland would be hosting its annual International Cross Country race. This year's event would not only feature a rematch of multi- World Cross Country champion, as well as world record holder, Kenenisa Bekele (Ethiopia) against the man who broke his string of World Championships, Zersenay Tadesse(Eritrea), but would be a dry-run for the World Championships coming up in March. A bonus was that included in the field would be Americans--and DyeStat alums--Dathan Ritzenhein and Jorge Torres.

A quick look at the airline schedule revealed it would be possible to jump a flight after school Friday (yes, my real job is a high school teacher), land in Scotland Saturday morning, pretty much go straight to the course (my hotel was less than 600 meters from the start), see the race, and jump a flight back home Sunday morning to be back in school Monday.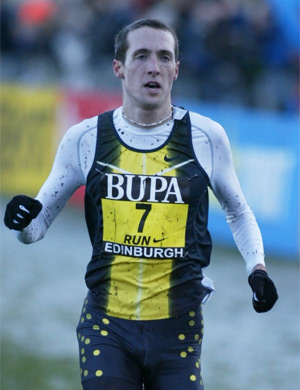 I love covering high school events, but there is nothing better than seeing the best in our sport competing live. Over the years I have had the pleasure of attending NCAA, USATF, IAAF Grand Prix, and World Championship events. While some people may travel long distances to watch the Super Bowl or World Series, I love to travel to new places, mixing travel and the adventure of discovering new locations with cross country and track. If that makes me a track geek, well then yes, I will say it loud and proud, I AM A TRACK GEEK.

So what is international cross country like, you ask? Hmmm, well not much different than NTN. No, the world did not copy the great event that is NTN; NTN pretty much copied what the rest of the world knows as cross country. The Edinburgh course was typical of cross country around the world, and in some ways unique. First of all, much like NTN, the course is multiple loops over a 1.7 mile circuit, making it very fan-friendly. When meet officials came out on Saturday morning to discover that one small section of the course (about 10 meters in length) along a lakeside was now ankle-deep in freezing water, no change was made--this is cross country. Different than many other European courses was a sharp hill, maybe 150–200 meters long, with an equally steep and icy decent towards the end of each loop.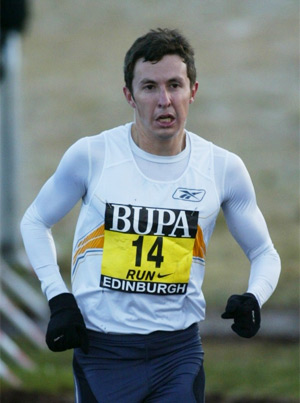 As for the featured race, Bekele would kick home in the final 200 meters to reestablish himself as the top cross country runner in the world, taking his first race as he builds toward a defense of his Olympic 10,000 meter title. The two Americans did themselves proud. "Ritz," a 2-time winner of the Foot Locker Championships, multiple-time All-American while at the University of Colorado and 2008 Olympian in the marathon, hung with the leaders throughout the 9.3 Km race. In the later stages he would lose ground going up the huge hill known as Haggis Knowe, only to catch up on the flats following. The last time up, he was gapped again and could not make up ground over the final 300 meters, finishing in 5th, just 14 seconds off the winner Bekele. Torres, himself a Foot Locker Champion and multiple All-American at the University of Colorado, would fall off the leaders by midway, but hold on to finish 6th.

After the races, I took a short walk around town to see such sights as Edinburgh Castle and the Royal Mile. I have been awake now for 20-1/2 hours and it is time to grab dinner and then pack (okay, there's not much to pack on such a short trip), and then get up early in the morning to catch a 9:00 am (3:00 am back home in the States) flight back home. Sure, I'll be dragging on Sunday when I get home, and those tests I gave to my classes won't get graded until Monday, but it was worth it. Track geek, track junkie, call me what you want-- I love our sport and am happy to bring you part of it.

Photos by John Nepolitan