Reebok Boston Indoor Games

Reggie Lewis Center

Saturday, January 28, 2007
It's Duncan Phillips, Danielle Tauro

Boys - After a fast start by Steve Murdock, then Craig Forys, Matt Centrowitz made a huge late break that looked like a winner. But Duncan Phillips had the best finish, winning in 4:09.20, with Centro 2nd in 4:10.85 - huge PRs for both. - TIM FULTON STORY


Girls - A tactical race went out in 2:32, with Danielle Tauro finishing in 2:20 for the win. Southern Regional teammate Jillian Smith was 2nd and Californian Alex Kosinski rallied smartly for 3rd. TIM FULTON STORY


Women's 60 - Gabby Mayo NC was 8th in the elite field with a 7.50.

Boys Results - Girls Results
More photos coming - NEW "4 Meets in 3 States in 12 Hours"






Duncan Phillips passing Matt Centrowitz (left) and Danielle Tauro emerging off the last turn by herself. Photos by Vic Sailer, photorun.net

American Track & Field Boys' Invitational Mile
1
Duncan Phillips
College Station, TX
4:09.20
2
Matthew Centrowitz
Arnold, MD
4:10.85
3
Mark Amirault
Walope, MA
4:11.26
4
Girma Mecheso
Lawrenceville, GA
4:11.67
5
Evan Jager
Algonquin, IL
4:12.59
6
Sintayehu Taye
Ashburnham, MA
4:13.77
7
Craig Forys
Howell, NJ
4:16.92
8
Michael Chinchar
KEN
4:17.68
9
Steve Murdock
Clifton Park, NY
4:21.06
10
Brandon Burns
North Kingstown, RI
4:21.99
11
Brian Rhodes-Devey
Slingerlands, NY
4:29.00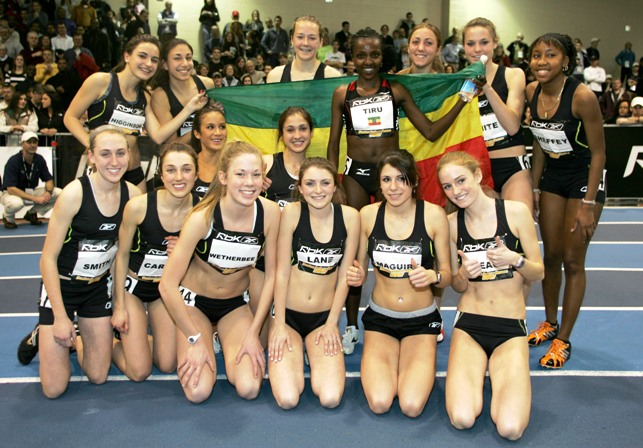 The girls junior milers pose with Tirunesh Dibaba, the Ethiopian star who just set a new 5k world record, the 2nd time she has done so in Boston. Photo Vic Sailer, photorun.net
American Track & Field Girls' Invitational Mile
1
Danielle Tauro
Manahawkin, NJ
4:52.20
2
Jillian Smith
Manahawkin, NJ
4:53.58
3
Alex Kosinski
El Dorado Hills, CA
4:54.05
4
Lindsey Carson
Ontario, Canada
4:55.00
5
Catherine White
Roanoke, VA
4:55.38
6
Brittany Sheffey
Bellport, NY
4:56.30
7
Ashley Higginson
Marlboro, NJ
4:57.77
8
Colleen Wetherbee
Yarmouth, MA
5:00.14
9
Jillian Rosen
Dallas, TX
5:00.50
10
Christine Babcock
Irvine, CA
5:01.13
11
Tori Pennings
Warwick, NY
5:01.40
12
Keely Maguire
Georgetown, MA
5:05.88
13
Siobhan Breagy
Exeter, RI
5:16.09
-
Caitlin Lane
Greenwich, NY
DNF
| | |
| --- | --- |
| | Southeast Raleigh NC sr Gabby Mayo battled the pros at the Reebok Boston Indoor Games 60 dash and wound up 8th in 7.50. Photo Vic Sailer, photorun.net |
====================================================================================
PREVIEW
Click Here - Tauro is clear favorite in junior girls mile. Boys race is full of mystery and fascination
Junior Mile Fields Set -
Boys - A stellar field that includes Colts Neck NJ sr Craig Forys, Cushing Acad. MA jr Sintayehu Taye, Shenendehowa NY sr Steve Murdock, and Algonquin Jacobs IL sr Evan Jager will be competing in the Boys Junior Mile at the Reebok Boston Indoor Games - More ...
Girls - Danielle Tauro (Manahawkin, NJ), Brittany Sheffey (Bellport, NY), Colleen Weatherbee (West Yarmouth, MA), Lindsey Carson (Ontario, CAN), and Christine Babcock (Irvine CA) highlight a field of 14 top middle-distance runners set to compete in the third-annual Girls' Junior Invitational Mile at the Reebok Boston Indoor Games on Jan. 27, organizers announced today. More ...
Gabby Mayo will challenge women's sprinters in the elite women's 60 meters