Nike Team Nationals

Dec 2, 2006 at Portland OR


a DyeStat

featured meet
CHAMPIONSHIP RACE COVERAGE
BOYS - GIRLS

CHAMPIONSHIPS SPLITS by FinishLynx timing
Boys - Girls


VIDEO
webcast re-run
the course
Open Girls
Open Boys

PHOTO ALBUMS
B-champs
G- champs
Donna on the Side:
Pre-Race Scene
Race Day


Team Notes - regional editors report on their teams at NTN

MileSplit coverage - teams from MileSplit states

PRE-RACE COVERAGE:

the teams
OPEN RACE - 63 teams from 16 states and Kenya are entered.
COURSE MAP

REGIONAL NEWS
NATIONALS
NORTHEAST
SOUTHEAST
SOUTH
MIDWEST
HEARTLAND
SOUTHWEST
NORTHWEST
CALIFORNIA

PRIOR YEARS - story and photos of the first two NTNs.

NTN III

NEW - Post meet feature: Coatesville's Men in Black by Don Rich, pa.milesplit.com


the champs!
Fayetteville-Manlius NY girls - Coatesville PA boys

Championship Girls -- 1. Manlius NY (Fayetteville-Manlius) 2. Hilton NY (Hilton) 3. Carroll TX (Southlake Carroll) - Colt's Neck's Ashley Higginson individual winner - DETAILS


Fayetteville-Manlius NY coach Bill Aris and his girls after their smashing victory, which climaxed a season-ending flourish of three straight wins -- the New York public schools state championship and the New York Federation championship prior to NTN. Aris brought his US#1 boys team to NTN the last 2 years without winning, but grabbed the title this year with a girls team that was out of the running for NTN until winning the New York championships. photo by John Dye

Championship Boys -- 1. Bridgetown PA (Coatesville) 2. Simi West CA (Royal) 3. Spokane WA (Ferris) - Clifton Park's Steve Murdock individual winner - DETAILS
Open Races

right, Future World Stars? - Kenyans Paul Lonyangata, 16,
and Leonida Mosop, 15, ran away with Open races -
Marc Bloom story. - photos by John Dye

Open Boys

--

1.

Kenya

2. El Toro CA (Lake Forest).

DETAILS

Open Girls

--

1. Kenya

2. Gig WA (Gig Harbor)

- DETAILS

Gig Harbor girls, California boys send a message to NTN selection committee

. story by Brandon Miles
"Kenya do it? Yes, they did" - story by Marc Bloom
Donna on the Side
Saving the best until last, we complete our coverage of the third Nike Team Nationals Donna Dye's unique
coverage of the sideline scenes. PRE-RACE SCENE - RACE DAY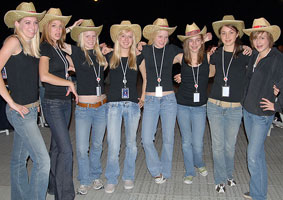 Cowgirls from Montana check in


2006 NTN Selections

Region

BOYS (Club, School)
GIRLS (Club, School)

Northeast

Coatesville XC Club PA (Coatesville)
Shen XC Club NY (Shenendehowa)
Manlius XC Club NY (Fayetteville-Manlius)
Colts Neck XC Club NJ (Colts Neck)

Southeast

Midlothian XC Club VA (Midlothian)
Chapel Hill XC Club NC (Chapel Hill)
Midlothian XC Club VA (Midlothian)
Greenbelt XC Club MD (Eleanor Roosevelt)

South

Woodlands XC Club TX (The Woodlands)
Carroll XC Club TX (Carroll Southlake)
Carroll XC Club TX (Carroll Southlake)
Tupelo XC Club MS (Tupelo)

Midwest

Dexter XC Club MI (Dexter) *
Elmhurst XC Club IL (York)
Woodridge XC Club OH (Woodridge)
Westfield XC Club IN (Westfield)
Hinsdale XC Club IL (Hinsdale Central)

Heartland

Potosi XC Club MO (Potosi)
Willmar XC Club MN (Willmar)
Yankton XC Club SD (Yankton)
Sioux Falls XC Club SD (Roosevelt)

Southwest

Academy XC Club NM (Academy)
Los Alamos XC Club NM (Los Alamos)
Phoenix XC Club AZ (O'Connor)
Albuquerque XC Club NM (Eldorado)

Northwest

Spokane XC Club WA (Ferris)
Mead XC Club WA (Mead)
Fairbanks XC Club AK (West Valley)
Billings XC Club MT (Billings Senior)

California

Hills XC Club CA (Trabuco Hills)
Simi Valley XC Club CA (Royal)
Newport XC Club CA (Corona del Mar)
Saugus XC Club CA (Saugus)

At Large

Lasalle XC Club OH (LaSalle) - MW
Cheyenne XC Club WY (Cheyenne Central) - SW
Carmichael XC Club CA (Jesui)
Danbury XC Club CT (Danbury
Tatnall XC Club DE (Tatnall) - SE
Iowa City XC Club IA (Iowa City - HL
Hilton XC Club NY (Hilton)
Concord XC Club CA (Carondelet)
* = Declined
3rd time will be a charm


This is the third running of a meet that brings together 40 of the best prep cross country teams in the country for a face to face showdown on a unique, custom course in the infield of the Portland Meadows race track. The inaugural meet 2 years ago confirmed the perennial high ranking of the Saratoga NY girls (Kinetic Running Club) and the York Elmhurst IL boys (Kroy). But last year there was a changing of the guard as the Hilton NY girls upset Saratoga, while the Saratoga boys triumphed over York and in-state rival Fayetteville-Manlius NY. See our Prior Year page for complete coverage of the first 2 years. See DyeStat Prior Year coverage. photo by Kirby Lee
the course - Could this be the year the "slop" gives way to a performance "pop"? Sunny skies predicted.

Overall - Conditions favor strength teams; can New York teams continue their domination? The Harrier editor Marc Bloom breaks down both races.

Bill Meylan - tullyrunners.com - Super stats guru picks Midlothian VA girls by a bunch and York IL boys by a hair over Ferris WA
BOX ASSIGNMENTS - how the teams will toe the line. Championship - Open
ENTRIES - individual runners by team. Championship - Open
South region - Newcomer Tupelo MS girls, media hits at home, join veterans Carroll Southlake TX and The Woodlands TX.
Northeast - NTN has been a fantabulous meet for the Northeast - more to come in 2006, says regional editor Tom Cuffe
Heartland - the "two Joshes" lead unbeaten Potosi MO boys - Willmar boys return with one of toughest teams in MN history - Yankton SD girls are 3-time NTN selection
Southwest - regional editor Sal Gonzales chronicles New Mexico's distance running culture; Cheyenne Central's roller coaster ride; and O'Connor's quick success
California - Can the cast of sunny Californians fare better along the Pacific Northwest's frigid and soggy landscape than in years past?
Southeast - Southeast is five strong this year - regional editor Brandon Miles picks MIdlothian VA and Eleanor Roosevelt MD to go 1-3 in girls race.
Midwest - "The Midwest is well represented and should perform mightily," says our regional editor Scott Bush.
Northwest - Ferris and Mead are 1-2 in Spokane, 1-2 in Washington, 1-2 in the Harrier Super 25 - can they be 1-2 at NTN? West Valley Fairbanks AK girls come down south as veterans this time. Billings Senior girls are first Montana team to make it to NTN.

11/27/06 - Open Race Entries update - 63 teams from 16 states and Kenya are entered.
11/26/06 -


NTN Selection Sunday #4

- 11/26/06 - The 20-team fields for Nike Team Nationals are complete with selection of four California automatic bids and the last four at large teams.
BOYS
GIRLS

California

Trabuco Hills
Royal Simi Valley
Corona del Mar
Saugus

At Large

Jesuit CA
Danbury CT
Hilton NY
Carondelet CA

11/19/06 -

Selection Sunday #3


Coatesville PA boys, Shenendehowa NY boys,
Fayetteville-Manlius NY girls, Colts Neck NJ girls
11/19/06 - 4 Northeast region automatic bids go out, leaving only 8 of 40 slots open for the big races Dec. 2 in Portland OR. (4 California and final 4 at large bids go out next Sunday).
11/12/06 -

Selection Sunday #2

-

13 more teams are invited to NTN


The top 2 boys and girls teams in Southeast and South and two boys and two girls at large teams from MW, SW, NW, HL, SE and SO were added to the field. In addition, MW#3 Woodridge OH boys received an automatic bid in place of MW#2 Dexter MI, which had to decline because of state association rules. With two Selection Sundays to go, 28 of the 40 teams have been invited, and the 28 teams represent 20 states.
11/5/06 -

NTN Selection Sunday 1

- First 16 invitations go out to top 2 teams in Midwest, Heartland, Southwest and Northwest regions.
10/25/06 - Coaches Clinic at NTN - Nike and Eastbay present an educational component for coaches attending NTN - topics include building a successful HS XC program, the athlete-coach relationship, and footwear - - clinic is free to the first 100 registrants.
10/24/06 - Open Race Update - 53 teams entered in Open races - Loaded boys field is complete - 7 girls spots remain -
Kenyan teams will run with Americans - real time chip scoring will be used
10/7/06 New Course Map - Changes are being made in the Portland Meadows course for NTN 3. The start and finish have moved to higher ground, and all athlete activities are consolidated in the infield.
Week 4 Regional Rankings - as of 10/6/06 - West Valley Fairbanks AK girls zoom to top of Northwest with smashing state meet victory. Radnor PA girls run close to Northeast #1 Hilton and take their place as NE#2. Twenty new teams out of 160 in the rankings this week.
9/19/06 - Kenyans are Coming! - Boys and girls teams from Kenya will come to NTN to run.
9/19/06 - Open Championships - 30-team races open to all are added to NTN weekend. Registration now open.
9/15/06 - the NTN rankings process -

Head to head competition is the most important factor.