Rocky Mountain Region

XC Championships

November 4, 2006 - Highland Golf Course, Pocatello, ID
a DyeStat featured meet with John and Donna Dye on-site
John Dye photo albums:
BOYS - GIRLS

DONNA ON THE SIDE - 145 pix of scenes on the sidelines

"I Can Do It" -- There's more than one way to show your motivational slogan.

Preview
Race Information
Meet Site
Schedule

COURSE VIDEO -
CLICK HERE

First Rocky Mountain champions are
Dakota Ridge girls, Cheyenne Central boys, Kristen McGlynn, Luke Puskedra, Utah girls, and Idaho boys

Girls

- SW#9 Dakota Ridge CO 105, NW#2 Billings Senior MT 126, SW#4 Park City UT 127. Kristen McGlynn CO (right) 18:20 ran away with individual honors, 18 seconds ahead of Utah 13-year-old Danielle Menlove. Girls Results


Boys

- SW#3 Cheyenne Central WY was a narrow winner over NW#5 Bozeman MT 124-128. Judge Memorial UT jr Luke Puskedra 15:45 (left), Evan Appel CO 15:51, Jared Ward UT 16:05, Adam Lenz CO 16:09. Puskedra broke away from Lenz in the third mile and Appel and Ward passed Lenz. Boys Results


States

- Utah girls and Idaho boys won the rotating trophies for best score by state. Utah girls broke a 33-33 tie with Colorado on the 6th runner rule. Idaho boys edged Utah, 47-48. State Results

John Dye photo albums - BOYS - GIRLS

At the mile mark, three girls led the pack -- eventual winner Kristen McGlynn CO (14), Krystal Harper of Orem UT, and eventual runner-up, Utah 7th grader Danielle Menlove (15).

Cheyenne Central WY defeats NTN Ranked teams and states to the NTN Committee, "WE WANT IN!" - Story by Rockymountaintrack editor Chris Whittington with comments by Race Director Aron Taylor on RockyMountainTrack.com - STORY
State champions abound -
20 teams and 18 individuals - Preview by John Dye and Aron Taylor.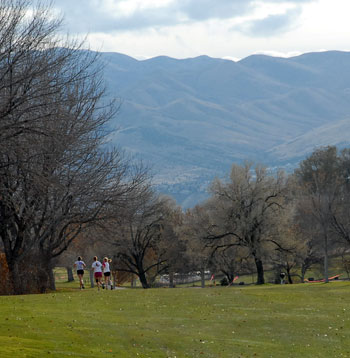 Weather was cloudy and cool, with light sprinkles.
This is a new regional championship meet for the states of Idaho, Montana, Wyoming, Colorado and Utah. Trophies will be awarded to the top three teams and the top three individuals. The champion state will get a rotating trophy.
This is Big Sky country at 4,500 feet elevation. The cross country course runs in one continuous loop over the Highland Golf Course.
Long downhill inclines are offset by long uphill climbs, with enough sharp turns, dips and sidehill lies to keep the runners honest.


photos by Donna Dye
Pocatello, Idaho and New Balance welcome cross country teams from Utah, Idaho, Montana, Colorado, and Wyoming to the Rocky Mountain Region XC Championships.

A Dyestat featured meet; The Rocky Mountain Region XC Championship invites teams to go head-to-head with the best teams in the Rocky Mountain Region for a Team Region Championship.Team Championship trophies will be awarded to the top three teams with the winning team recognized as five state Region Champions.
Individual awards will be awarded to the top three finishers with the winners recognized as Rocky Mountain Region Champions. Awards will also be presented to Junior Varsity and Middle School athletes.

This event will feature a city sponsored (FREE) spaghetti feed the night before the race at the race headquarters Red Lion Hotel. In attendance will be U.S. Olympian, World Cup Champion, and American Record Holder Doug Padilla.

The Idaho National Guard will be erecting a rock climbing wall free of charge to spectators and athletes. Contact Race Director Aron Taylor for more information at 801-585-4111.
Friday, November 3, 2006
12:00 PM: Course opened for walk throughs
5:00 PM: Course closed for pre-race preparations
5:00 PM: Coaches meeting (Highland Auditorium)
6:00-10:00 PM: City sponsored spaghetti feed at Red Lion for all athletes, parents, coaches - free of charge!
Saturday, November 4, 2006
10:00 AM: Teams assemble at Highland Stadium
11:00 AM: Opening Ceremonies at Highland Stadium
11:50 AM: Junior High boys and girls race begins
12:30 PM: Junior Varsity Boys race begins
1:10 PM: Junior Varsity Girls race begins
1:40 PM: Girls Elite Championship race begins
2:10 PM: Boys Elite Championship race begins
3:00 PM: Awards Ceremony (Highland Auditorium)
Entry Fees: $35 per varsity team, $5 per athlete for junior varsity races, middle school athletes race for free. Entry fees collected raceday. Make checks payable to: Rockymountaintrack.com