Vic's Pix - portraits by Vic Sailer of photorun.net
Part 1 - Part 2 - Part 3
Pat Davey album - action photos by our photographer from Michigan
Start Lists (updated 6/20)
Jim Spier's Junior Lists (eligibles for Beijing; updated 6/20)
Previous Years
"Team PA" - Stories on Pennsylvania Trio: Chanelle Price, Ryann Krais, and Liz Costello by Don Rich, penntrackxc.com/milesplit.com
New Stories by SteveU - Mel Makes the Biggest Splash - Barrier Booms and Busts
Preps dominate - see RESULTS marked up for HS affiliation. Preps win 11 women's and 7 men's events.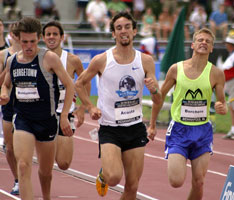 Day 4: Jessica Beard, A.J. Acosta, Danielle Tauro Take the Spotlight
Beard and Cross: USA's 1-2 400 Punch - Story by SteveU
2006 A.J. The Year of Acosta (left) - Story by SteveU
Danielle Tauro Puts the Pedal to the Metal - Story by SteveU

W-400 - Jessica Beard OH 51.89 nips Brandi Cross TX 51.94
M-1500 - AJ Acosta CA 3:45.95;
Ohio jr Sam Borchers runs a shocker in 3rd 3:46.32!
W-1500 - Danielle Tauro NJ 4:24.53 over Erin Bedell - :46 last 300!

Friday: Gabby Mayo's Double by SteveU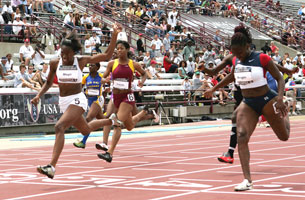 Vic's Pix part 3 - Women's 200m - Gabby Mayo NC, who beat Bianca Knight MS in the 100 at Nike Outdoor last week but lost to her in the 200, caught Knight in the 200 this week in a brilliant race 22.88 +0.9 to 22.94. Mayo broke Marion Jones' 1992 meet record and Knight tied it.

Complete Results through Saturday - Live Results event by event - Multi Events -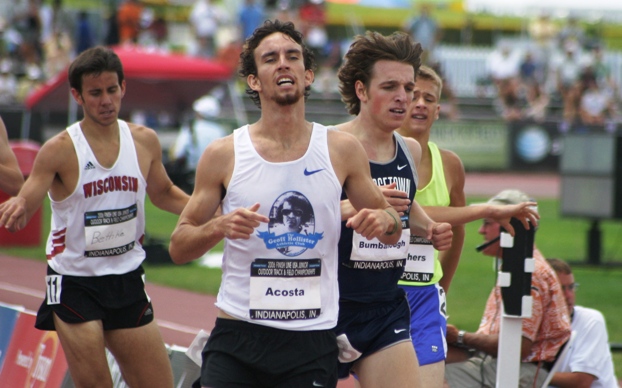 The finish of the men's 1500 (from left): Brandon Bethke 4th, AJ Acosta 1st, Andrew Bumbalough 2nd and
Sam Borchers 3rd. Photo by Davey, RunMichigan.com
Day 3 - Preps continue to star

W-3k steeple - Marie Lawrence NV 10:15.26 MR
M-hammer - Walter Henning NY 235-0 MR, breaking his own US record
W-discus - Emily Pendleton OH 170-06
M-PV - Scott Roth CA 17-00.75
W-400 Jessica Beard OH 53.05 (Sa'de Williams CA 53.09), top two in prelim
W-TJ - Ke'Nyia Richardson CA 42-2 -3.1 (Ashika Charan CA 41-10 -1.1)
M-800 - Karjuan Williams NC 1:50.26, 2nd
W-400H - Ebony Collins CA 58.31, 2nd
W-200 - Gabby Mayo NC 22.88 +0.9 (Bianca Knight MS 22.94). that's US#6t all time for Gabby to go with her US#5 all time 11.16 100m Thursday. And she's only a junior!
M-TJ - Kali Jackson IL 51-9 +0.4
W-HJ - Patience Coleman NC 5-11.25

Marie Lawrence

NV backed up her USR 2k steeple win at Nike Outdoor Nationals with a win here in the 3k steeple, despite her bath on this barrier..

photo by Kirby Lee / Image of Sport
Day 2: U.S. Records by Long Beach Poly sr Shana Woods in the Heptathlon and St. Mark's TX sr. Shawn Schmidt Highlight Storm-Plagued Session

Masters of the Multis - How Shana and Shawn Did It - By SteveU

Shana Woods in the LJ -
Vic Sailer, Photorun
Other Day 2 highlights
Cordera Jenkins TX US#1 13.44 wins 110H
Gabby Mayo NC US#1 11.16 2nd in 100M
Shalina Clarke IL 13.38 2nd in 100H, all-conditions US leader
Kamorean Hayes NC 50-08 wins SP
Jordan Hasay CA 9:50.66 wins 3k
SteveU's Wednesday's Preview - Day One Summaries - Highlights - Live Results

Day 1: Krais, Schmidt Lead Multis; Wins for Taylor, Bernhardt, Mercado

Vic's Pix - After first day of heptathlon, PA soph Ryann Krais (left) had a 37-point lead over CA superstar Shana Woods.

At right, Bo Taylor CA picked up not only a win in the discus, but led a Golden State 1-2 and qualified for worlds. At right, is Emily Bernhardt clearing her sinuses? No, it's part of her pre-throw focusing routine. It worked, as she won the hammer (she still needs just over two feet to qualify for worlds.

Photos Victah Sailer - Photorun.net
Bo Taylor CA 192-01, Nick Robinson CA 188-05 win Discus and China Trip!
Ryann Krais PA, Shana Woods CA 1-2 in Heptathlon after Day One
Shawn Schmidt TX paces Decathlon (wins SP, HJ)
Emily Bernhardt GA wins Hammer 172-02 (did not meet qualifier)
Diego Mercado CA takes 10,000 in 31:36.35 (did not meet qualifier)


Note: To compete at the 2006 Finish Line USA Junior Outdoor Track & Field Championships, athletes must be at least 14 years old on the day of competition but not turn 20 years old during 2006. The meet will serve as the selection meet for the 2006 IAAF World Junior Championships in Athletics to be held August 15-20 in Beijing, China, with the top two from each event qualifying. HOWEVER, athletes must be under the age of 20, but at least 16 years of age on December 31, 2006 (born in 1987, 1988, 1989, 1990), to compete in Beijing.
Also: Athletes must achieve qualifying standards by June 26, 2006 (see qualifying info).