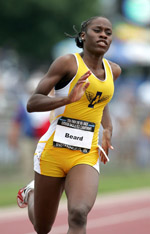 Jessica Beard, 2007, Euclid HS, OH -- As a standout small school runner in Ohio, Beard was a little under the radar nationally for much of the year, but that ended when she began a string of big 400 victories at Golden West. She steamrolled on from there, taking the NON 1-lap crown, then blazing a US#1 51.89 for the USATF Jr. title. In each case, Texan Brandi Cross pushed her to the line. In Beijing, she moved through the rounds into the final, where she was a solid 5th.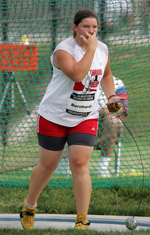 Emily Bernhardt, 2006, Lassiter HS, GA – While she didn't quite knock down the big standards, Emily Bernhardt was just about as dominant on the female side of the ball and chain as Walter Henning was on the male. First, she pulled off the NIN/NSIC double with in the weight with 54-04.75 and 52-07.50, and had the US#1 56-07.25. Outdoors, she swept NON (169-01) and USATF Jrs (172-02). She again led the USA in 180-09, but it wasn't quite far enough to make Worlds.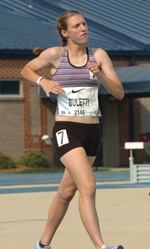 Heather Buletti, 2006, Westhampton Beach, NY – Walkers haven't gotten much recognition among their track and field peers, but when a girl outwalks her male peers, then you begin to sit up and take notice. Buletti smashed through the 7:00 barrier for the mile, hitting a USR 6:49.63 at the Eastern States meet. NON was just three days later, but she still strode to a meet record 7:00.87 in the heat, compared to 7:13 for the boys race (ok, it was a down year for the boys, but still . . . ). Earlier in the spring, Buletti had become #2 all-time at 1500 with a 6:26.79 walk, and also did a US#1 24:24 for 5k.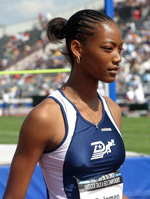 Patience Coleman, 2007, Southern Durham HS, NC – 2006's only jumper over 6-0, Coleman won the lion's share of her battles on the national stage. At NIN, she cleared 5-10.75 for the win, but at NON she had an off day and had to settle for 3rd behind Tressa Beckel and Brittany Dexter. But then in Indy, she beat the best juniors with 5-11.25 to earn her Beijing ticket (where she missed the finals, but did 5-08.50). While she didn't clear 6-0 in one of her national meets, she did it more than once in North Carolina outdoors.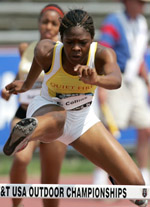 Ebony Collins, 2007, Long Beach Wilson HS, CA – Collins came into 2006 with a tough resume to live up to – her own. As a soph, she'd blazed 40.10 and 55.96 in the 300H and 400H, just missing US records, and won the World Youth Title in the latter. Battling injury problems off and on, she didn't quite match her soph times, but still hit 40.13 at CIF and made the World Jr. team by finishing 2nd at USATFs. In Beijing, she made the semis with a US#1 57.35. She also ran 52.33 over the flat, a US#3 that won USATF JOs.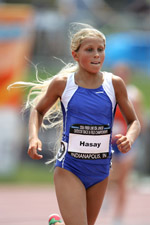 Jordan Hasay, 2009, Mission Bay Prep HS, CA – After she burned up the track in youth competition during middle school, everyone was fascinated to see how Hasay would do in the prep world. She did not disappoint. Learning pacing lessons throughout the year, she peaked with victories at FL West and FL Finals, becoming just the 2nd freshman to win a Foot Locker (or Kinney) national CC title. The success continued outdoors, with 3200 titles at Arcadia (10:07.56) and CIF, then a Golden West mile win (4:42.21). Her only loss was in the NON mile to the speed of Danielle Tauro and Annie St. Geme, but she finished on a high note with a USATF Jr. 3000 triumph.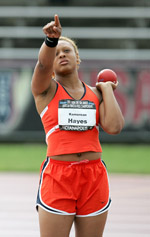 Kamorean Hayes, 2007, Charlotte Harding HS, NC – Kamorean Hayes did just about everything she could do to lead the nation in the shot put, despite strong competition from Allyn Laughlin of PA. Indoors, she defended her NIN title with a 50-08. At Greensboro, she did the same with 50-10. In between, she scored the US#1 52-02 in her home state. Finally, she easily made the World Jr. team by winning USATF Jrs. in 50-08.25.
Marie Lawrence, 2007, Reno HS, NV – After Lindsey Ferguson NY owned the steeplechase of the spring, "Mel" took it over during national championship time and carved out a great record. First, she took the NON 2kST in a USR 6:35.63. Then, despite crashing in a water jump, she claimed the USATF Jr. 3k version in a US#1 10:15.26. In Beijing, she ran solid races in both her semi and final. And all this was after a string of great, but runner-up performances in the Golden West 3200 (10:20.95), and last fall at Foot Locker Finals and Foot Locker West.
Bianca Knight, 2007, Ridgeland HS, MS – If the prep season had ended with Nike Outdoor, you would probably call Bianca Knight the AOY – and some still might.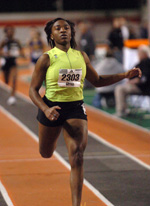 She did earn the national Gatorade honor. She had started off indoors on a roll and didn't let up, winning the 60/200 doubles at Simplot and NSIC, becoming #3 all-time in each (7.25A/23.26A). After a relatively quiet regular-season outdoor campaign, Knight began a monumental post-season push that included Great Southwest, Golden West, NON, USATF Jrs, and hoped-for World Junior team bids. She swept through the first two, though the GSW 100 was close.
Then came the upset 100 loss to Mayo at NON, but Knight routed the field in the 200 in a then-US#1 23.06. She had a wonderful 11.26/22.94 double at USATF Jrs, times that would have weeks earlier been thought good enough to win; she was 4th and 2nd. Unfortunately, her season ended when she was injured during the WJR 43.29 4x100 at the Road to Eugene meet. Like most of her fellow All-Americans, she'll be back.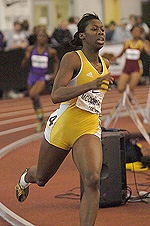 Francena McCorory, 2006, Bethel HS, VA – How do you become an All-American with a modest, abbreviated outdoor season, cut way short by injury? By running two spectacular USRs indoors, including the jaw-dropping 51.93 400 at NIN that was one of the greatest prep track performances ever in any year, any event. Earlier, she had crushed the 300 mark at Va Tech with 36.96. Was also US#1 in the 500 and #2 in the 55.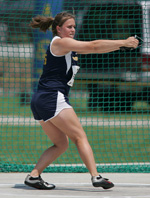 Emily Pendleton, 2007, Woodmore HS, OH – Like Beard, Pendleton did not get a lot of attention for her discus throwing, competing in D3 meets in Ohio. But then a national victory spree forced everyone to take notice. Her US#1 172-8 actually came at her district meet in OH, but she showed great consistency and dominance by ruling over the fields at NON and USATF Juniors (170-06).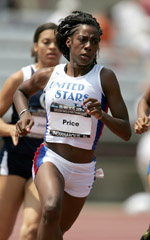 Chanelle Price, 2007, Easton HS, PA – After a spectacular 2005, the 800 seemed to be comparatively in a bit of a down year before outdoor nationals rolled around. Price was a big part of bringing excitement and quality to the event with her smart, winning 2:07.71 at NON. She missed making the Beijing team by a spot, but improved her US#1 to 2:06.23 at USATF Juniors. And she wasn't done yet, as she ran away from a good field at USATF JOs with another fast time, 2:06.64, to wrap up the season.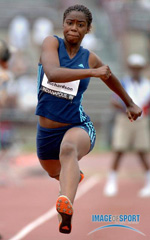 Ke'Nyia Richardson, 2007, Oakland Holy Names HS, CA – The competition was very solid around her state and the US, but Richardson rose to the top for the nation's leading jumps indoors and out. She won NSIC with a US#1 42-02.25 to cap off indoor, then outdoor won CIF, bypassed NON, then won USATF Jrs with 42-02. Earlier, she went 43-03.25 for another US#1.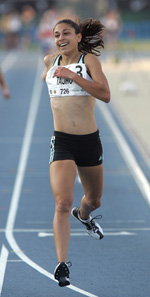 Danielle Tauro, 2007, Southern Regional HS, NJ – It was reasonable to expect great things of Danielle Tauro this spring after her 4:43 mile as a soph and her suprising 6th at Foot Locker Finals. But you can't predict drama and flair, and that's what she provided in a great miling campaign. At the Millrose Games in February, with little racing under her belt and facing a huge deficit against Aislinn Ryan and others, she produced an enormous rally to win in 4:51.89. She was even further down, and coming off a hospital stay for the flu, when she took the baton to anchor her team's DMR at NIN – but again she had a mind-boggling comeback and 4:50.1 anchor.
Her outdoor triumphs weren't as dramatic, but certainly as impressive as she dominated at Penn, NON (US#1/#5 all-time 4:39.25), and USATF Jrs. At the end of the endless spring season, she had a solid semifinal run at IAAF Worlds.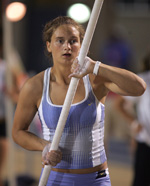 Katie Veith, 2007, Homestead HS, IN – With injuries hampering her much of the spring, pole vaulter Katie Veith didn't get those sky-high 14+ clearances she would have liked during the outdoor season, but it was still a very successful 2006 for her. After becoming the 2nd 14-footer ever indoors (US#1 14-0) at Reno, she kept it going and won NIN with a 13-05.25. She missed some outdoor meets, but again was tops when it counted at NON, hitting 13-02.50. The year ended on a downer, with a 4th at USATF Jrs., but she still claimed the US#1 13-09 outdoors.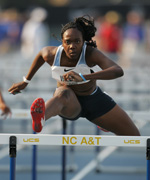 April Williams, 2007, Dallas Skyline HS, TX – When Williams failed to finish her 100H race at Texas state after some hurdle crashing, could anyone have imagined the honors that awaited her? After she got in some solid club training during May and June, her season exploded; she first won the NON 100H race in 13.52. She improved to a windy 13.47 at USATF Jrs., but missed Beijing by a spot. The best was yet to come, though, as she traveled to USATF JOs and burned a US#1/ US#10 all-time 13.35 in her semi. The final was wind-aided, but her incredible 13.07 was #4 all-time/all-conditions. She wrapped it up at AAU JOs, going sub-13.40 again with 13.38 legal.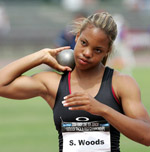 Shana Woods, 2006, Long Beach Poly HS, CA – Shana was definitely the all-around superwoman this spring, as she's been most of her career. If there was a Jackie Joyner Award, she would win it. The peak was her great USR 5533 at USATF Jrs, which earned her Worlds ticket. Most of the year, she did a little bit of everything for Poly, but at Arcadia, she really laid it on the line, including a sweet hurdles double. Indoors, she took the NSIC pentathlon.
Tori Anthony, CA, 2007 – Everything Veith didn't win in the PV went to her: 1st USATF Jrs. (made worlds final), 1st NSIC, 1st Arcadia, 1st GW, 1st CIF, US#2 13-6.
Shalina Clarke, IL, 2006 – Almost broke USR in 300H at GSW (US#2 40.40A while almost falling) and made US World Jr. team in 100H with 13.38w (US#2 13.51 for season).
Brandi Cross, TX, 2006 – Great trio of runner-ups for NSIC champ in 400 behind Jessica Beard at GW, NON, and USATF Jrs. (made World team).
Anne St. Geme, CA, 2006 – Great all-around year that included 2:10-10:15 range, an Arcadia mile win, anchoring winning NON DMR, and taking 2nd at NTN.
Arantxa King, MA, 2007 – Bermuda native was 1st in NON LJ with US#1 20-01.75, then made worlds final for her country w/=US#1 20-01.75. Also 42-0 TJ US#2
Ryann Krais, PA, 2008 – Great soph year as primo jumper/hurdler and all-around: 1st NIN Pentathlon, 1st AAU JO heptathlon, 5th USATF Jr Hept, US#4 41.46 300H, all-conditions US#3 20-03.50 LJ
Karlee McQuillan, PA, 2007 – Fine year in the Jav: 1st NON, 5th USATF Jrs. (1st prep), US#1 162-04
Megan O'Reilly, WA, 2006 – After 4th at FL Finals, she bypassed the major track championships, but ran the fast times: US#1 10:05.81 3200, US#2 9:29.18 3k, US#1 16:10.05 5k, and USR 16:26.37i.
Sarah Robles, CA, 2006 – Took major titles that Pendleton did not: 1st Arcadia, 1st GW, US#2 168-05
Nyeisha Wright, CO, 2006 – Great weekend at NON, winning TJ in 41-08 and leading LJ with 19-10.75 until Arantxa King's final winning jump.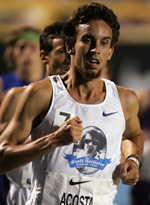 A.J. Acosta, 2006, El Camino HS, CA – Acosta came very close to winning the AOY with his Foot Locker Finals and NON 2-mile wins. His FLCC win in San Diego wrapped up a season that saw a loss at Mt. SAC and close call at CIF, but wins at FL West and the big one at Balboa. In the spring, he racked up US#1s at 1500/mile/3k/2M and won the biggest 8-lappers of the year at Arcadia and NON. If that wasn't enough, he also made USATF World Teams in XC and track, with the latter berth having been earned with a victory in the USATF Jr 1500. Although he only ran one race indoors (no championships), it would be hard to rack up more honors than Acosta did in his well-publicized senior year.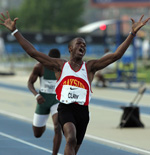 Charles Clark, 2006, Bayside HS, VA – In a year where there were really no male sprinters that could be called dominant on a national level, Clark was the only athlete to win more than one "major" title. One of the most consistent sprinters out there, Clark was at a high level when it counted most, winning the NIN and NON 200 titles in 21.69 and 20.92, respectively. He was also 2nd in the 60 at NIN in US#2 6.75 and 3rd in the 100 at NON. The 20.92 ranked #3 for the year outdoors and he beat the #2, Trey Harts LA, at NON.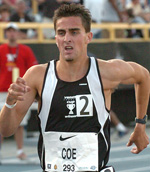 Michael Coe, 2006, Cabrillo HS, CA – The harrier campaign of Michael Coe quietly built to a rising crescendo as he won his division at CIF, made FL Finals, then almost ran down AJ Acosta in a fine runner-up performance. But he was only getting started. A blistering US#1 4:07.30y win at Boston Indoor showed he would have to be reckoned with on the oval and a surprising move to the 2M at NIN proved fruitful with his first national title in US#1 8:56.57y. Outdoors, he won the Arcadia mile, but then battled an illness that hampered his training mid-spring. He lost a controversial 1600 to Acosta at CIF, but bounced back to win the NON mile to wrap up a great year.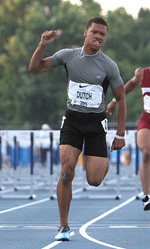 Johnny Dutch, 2007, Clayton HS, NC – Dutch was the best of a tight, competitive group of high hurdlers. Indoors, he ranked first at 55H in 7.13, but was edged out at NIN. Outdoors, he managed to win with the fastest time (to that point) at NON, a 13.54 into a 1.6 headwind. He also had a 13.55 and those stood up until USATF Jrs. He missed an NON double when he finished first in the 400H but was DQ'd for hooking a hurdle. He'll have another year to improve.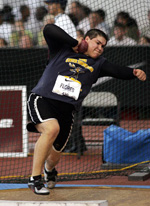 Eric Flores, 2006, Custer HS, SD – Although he didn't get the NON title, Flores earns this honor for what he did the rest of the year in the shot. He had the three longest throws in prep competition outdoors, including his US#1 67-04.50. Indoors he really dominated, with his 65-02.75 winning NIN. He also took the Simplot title with a 62-08.50 that was still longer than anyone else put undercover. He was also 2nd in the weight at NIN behind Walter Henning with the #2 whirl of the year.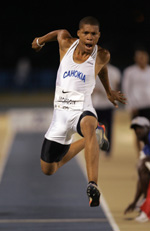 Kali Jackson, 2006, Cahokia HS, IL – Kali Jackson's best triple jump mark of the year, a 52-05.75, never got recognized by some of the sport's authorities. But there was no question about his championships. In Greensboro, he won a tough battle with Gary Jones with a 50-06.75. Then the next week at Indy, he earned his ticket to Beijing with a 51-09. He was also 5th in the LJ at NON and, indoors, he ranked #2 with 49-05.50.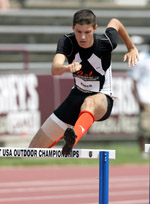 David Klech, 2006, California HS, CA – 2006 wasn't all that David Klech would have liked it to be, but it was still pretty darn good. The highlight no doubt was when he absolutely flew over the 300H barriers to a US#12006 and #4 all-time 35.32 as part of an Arcadia hurdle double. After winning the CIF 300H, graduation ceremonies kept him out of NON (he did win the pentathlon at NIN). He was also developing injury problems, which hampered him somewhat at USATF Jrs, where he was 3rd in the 400H in 50.70 (early in the spring he hit US#1 50.35). Finally, he closed out the year with a 400H win at USATF JOs.
Michael Morrison

, 2006, Great Bridge HS, VA –


Scott Roth

, 2006, Granite Bay HS, CA

Morrison

Roth


In a magnificent year for the pole vault, Morrison and Roth were the two who notched the most honors. It makes the most sense to talk about their accomplishments together. Although Spencer McCorkel AR was the first to go over 17 in 2006, Roth won the first big battle at PV Summit in Reno, clearing 16-6. Morrison went just 15-10. At the huge showdown at NIN, Roth again triumphed with the best indoor vault of the year, 17-04.25, with Morrison tying for 2nd. Morrison bounced back the next day at NSIC and beat his California rival. The Virginian also had a 17-00.50 in his state meet.
Outdoors, Roth had an early 17-04, losing to teammate Ryan Shuler (!), then went 17-05 at Modesto. At his region meet, Morrison skied over 17-06.50, which would hold up as the best mark of the year. After winning state at 16-11, Roth was off his mark at both Golden West (3rd) and NON (8th). Morrison, meanwhile, was on-target at NON and claimed the championship with 17-03. The following week, Roth bounced back for 17-00.75 to win USATF Jrs. and make Beijing, while Morrison finished his season in 6th.
Final score? Two national titles for each, with Roth winning three of five meetings. Morrison had the best vault overall, while Roth was over 17-4 three times.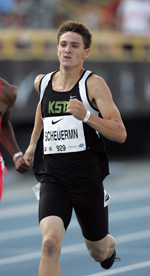 J.T. Scheuerman, 2006, Littleton HS, CO – Scheuerman had his ups and downs, but managed to put together a pretty good record overall. His big win was the NON 400 in 46.40, beating most of the nation's best. Two who didn't come to NC to race him, Bryshon Nellums CA and Calvin Smith FL, were ahead of him on the watch. Scheuerman was nipped by Nellums at Arcadia, but he also ran 46.23A and US#1 20.74A. He was off form at NSIC, but ran 47.18A earlier.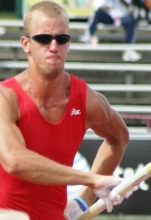 Shawn Schmidt, 2006, St. Marks TX – Schmidt had both the best marks with HS implements (7197) and International Jr. implements (7264). The latter score won him the USATF Jr. meet and got him his ticket to China for the Worlds.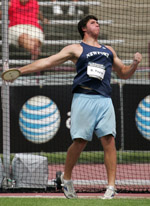 Bo Taylor, 2006, Newport Harbor HS, CA – Aside from Walter Henning, Taylor was clearly the most dominant thrower in the country this year. One of the discus leader's few disappointments was losing the CIF disc and shot titles to Darius Savage, especially after hitting a US#1 213-07 in qualifying. But he came back for a post-season sweep, taking titles at Golden West (205-01), NON (200-01), and USATF Juniors (192-01 for jr. implement). He was also 3rd in the NON shot put.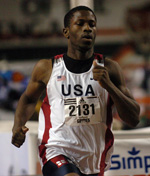 Karjuan Williams, 2006, New Bern HS, NC – Williams and his family lost their home during Hurricane Katrina, but the assist from famous author and former track great Nick Sparks in relocating the family set the stage for a great senior year for the talented sprinter/middle-distance star. Williams' most impressive win was his Simplot 800, with the US#1 1:50.74 hitting #2 all-time; he also hit 1:50.68 on an oversized track at Notre Dame. He struggled with injury the rest of the year, which quashed any chance of more record-chasing. Still, he won NIN, Great Southwest, and NON, the latter with the only sub-1:50 of the year (1:49.97). He then made the US junior team for Beijing with a runner-up finish at USATF Jrs.
Jack Bolas, 2006, NC – Bolas bypassed individual races in the post-season, but still thrilled with a 4:03 1600 DMR leg. In the regular season, he ran 4:04.38 and 4:05.8 after a CC season where he was 2nd at NTN and 6th at FL Finals.
Will Coppage, 2006, LA – Coppage did his damage indoors, where he had four of the six 24-foot long jumps, including a US#1 24-11 to win NSIC. That was the longest legal leap of the year, in or out.
Trey Harts, 2006, LA – Harts had his ups and downs, with the highlights being victories in the NSIC (US#1 21.09) and Great Southwest 200s. Was US#2 20.82 outdoors and 3rd at NON.
Cordera Jenkins, 2006, TX – US#1 13.44 in 110H and Beijing bid were nixed by drug DQ, but also was 2nd at NON and won the 60H at NIN with US#1 7.73.
Gary Jones, 2006, NY – After disappointing TJ loss at NIN, came back next day with US#1 50-01.25 to win NSIC. Second at NON to Jackson in TJ and wound up with US#3 51-05.25.
Bryshon Nellums, 2006, CA – Could make his argument as best US 400 runner with 3rd at USATF Jrs (1st prep) and Arcadia win in US#2 46.20. Beat Scheuerman twice, but didn't run NON.
Darius Reed, 2006, CO – 3rd at USATF Juniors 110H at 13.47 and 2nd at NIN 60H. Was also 1st at Great SW.
Calvin Smith, 2006, FL – Good season in Fla. and swept Golden West 100-200. Still no one was ready for his US#1 46.17 in 400m at USATF Jrs. In finals wound up 3rd in 200 (1st prep) and 4th 400 (2nd prep).
Nick Robinson, 2006, CA – Just 4th in tough CIF meet discus, so was a bit of a surprise when he was 2nd at NON DT, then 2nd at USATF Jrs. To top it off, made Worlds Final.
Ayalew Taye, 2007, MA/ME – Was the Foot Locker NE champ in CC, then the NIN mile victor and a narrow NON mile runner-up. Has used up prep eligibility.
Matt Tebo, 2006, NM – Made it to 5th on all-time junior class 2M list with 8:47.29 runner-up at NON. Also 2nd Arcadia 3200 and 3rd NIN 2M.
Eric Werskey IN 06 – After a 3rd at NON discus and no mark in the shot, surprised with 2nd at USATF Jrs. to make Worlds Team.