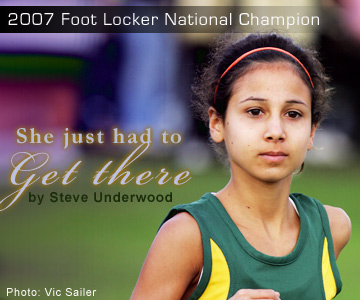 If you were to set out to write a book or make a movie about Ashley Brasovan's running career, with its ending in San Diego last weekend as the diminutive Floridian shared the podium with 6-foot-plus Michael Fout, each holding their Foot Locker National Championship trophies high aloft, then you would have two good starting points to consider:
The first would be the 2004 USATF Junior Olympics in Eugene OR, where after Ashley's 7th-grade year, she got her first taste of national-level competition. The second would be the 2006 Foot Locker South race in Charlotte NC, where as a Wellington FL soph, she placed 19th in the seeded affair. Both had a special link to what happened at Balboa Park, as she used a terrific surge over and down the final hill, with about 800 to go, to become the event's 29th champion.

Louis Brasovan remembers Eugene. His daughter was in the Youth 3000 meters. "I remember watching her win there," he said. "It was the slow heat, but it seems like she won by about half a lap."

He watched the fast heat, which also featured a dominant winning performance, the meet's champion taking the event by nearly 30 seconds. "Afterward, I told her, 'If you'd been in the faster heat, you might have beaten everyone but that little blonde-headed girl."

That "little blonde-headed girl," of course, was another soon-to-be 8th grader, hailing from California, name of Jordan Hasay. Jordan set a national Youth record in that meet. Ashley's time was more than 50 seconds slower. Maybe she would be closer next time, if she could get another chance.

Doug Butler remembers the 2006 Foot Locker South race. He is the head coach at Holy Trinity HS (Melbourne FL), but has also developed something of a long-distance coaching relationship with Ashley. On that course, the McAlpine Greenway – or Speedway, really – you have to get out. If you're a contender and not in or very close to the lead group going into the woods, you're in trouble. In 2005, Ashley didn't know she had to have that kind of a fast start. She knew in 2006, but couldn't do it. "When I saw her afterward, she and her mother were in tears," said Butler. He didn't really coach Ashley yet, but as she had developed a friendship with his top athlete, Kayla Hale (who qualified in 2006 and 2007), he felt a sense of empathy as if she was one of his own.

It was definitely the low point of the young athlete's running career, and she had to wonder if she'd ever make it to the Foot Locker Finals, if she'd ever race that "little blonde-haired girl" again. Hasay was then the defending national champ and has really been the measuring stick for anyone else the last 3 years. Ashley Brasovan was plenty talented, too. But would she ever find her way to San Diego?

Obviously, she did. The package may be small, but the individualistic drive and resourcefulness is not. "You could put Ashley in the middle of the desert and she would find her way out," said her mother, Donna. She would need, however, to fine tune her game. So this is that story, what happened in the last year to get Ashley faster, stronger, and more confident.
She just had to get there.
First, though, she had to find the sport. Ashley was part of a family of athletes, but she was probably never going to be a big tennis player (her mom's side), a sprinter/hurdler (her dad), or a lacrosse player (her sister, eventually). She started out as a swimmer, but when she had to run the mile as a 6th-grader in gym class, she got noticed.

"I was like, I'll give this a try, it couldn't hurt, and I was getting kind of bored with swimming. I ran a 5:48 mile my 6th grade year."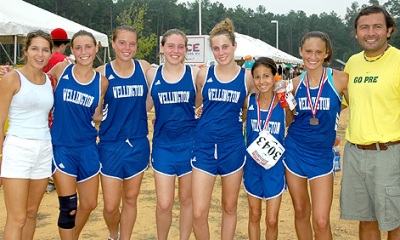 She got better, got involved in the summer circuit, and found her way to Eugene, as mentioned earlier. She was good, but middle-of-the-pack in the national 3k final. But Ashley hadn't discovered cross-country yet.

"The summer before freshman year, I went to the Appalachian State running camp and … that's when I discovered I really liked this (longer distance running). When I'd do longer workouts, my times would be better. It was more motivating and made me feel better then when I was doing 200s and 400s … and my 200 and 400 times were the same as my other teammates who were running a 7-minute mile."

By the time she was lacing them up for the Wellington XC team as a freshman, she was unbeatable in Florida. Add in a 17:33 triumph in the seeded race at Great American (only Aislinn Ryan's 17:05 in the Nike ROC was faster), and Ashley was ranked #1 in the region. But the gravity of what it meant hadn't sunk in yet.

"I think I was just having fun and really had no idea what I was going on. When I won state, I was just like, 'Oh. I won state.' I really didn't know that much."

So Ashley arrived at McAlpine in 2005 as a wide-eyed freshman, a neophyte in a major qualifying race like this. She was 16th – disappointing, but not something she lost a lot of sleep over.

"I wanted to qualify, but I thought it'd be real easy. And I figured I could just work my way up, because I wasn't aware at that time that I had to get out fast. I was probably 40th at the first mile, and anyone who runs at McAlpine knows that if you get out 40th, you're not going to place top ten. I got boxed in and couldn't make it up.

"(Later), I realized I could have done something there … I just wasn't used to all these big races and I think that was the first time I actually realized that maybe I could work harder, and I can be up there and be a good runner."

Ashley had a relatively quiet freshman track season, hitting 10:36 for 3200 at an invitational and 10:44 at her state meet, where she took home another title. She didn't attempt to race the post-season.

By the fall of 2006, however, she certainly had more resolve. She swept through the season again, winning everything in Florida and hitting times 20-50 seconds faster on most courses. Her only loss at all was to eventual national champ Kathy Kroeger at Great American. After her mighty 17:01 triumph at state, 46 seconds better than the last year, Ashley was a clear favorite for a top three finish at Foot Locker South.

But McAlpine was a nightmare that wouldn't stop. She knew what she had to do, but she couldn't do it.
"I went out and got boxed in a little bit, but not as much as the first year. But after seeing how many people were in front of me after the mile, I think I was just mentally and physically distraught. And when I hit the hill I was just like ready to quit."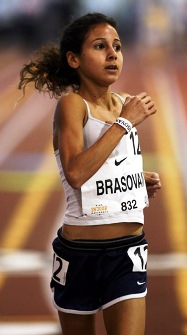 There was indeed distress. But there was support, from her family and Coach Butler, and there was Ashley, realizing she was going to have to do something different. Was that a turning point for her?

"I think it was. I was just at the point where I said I just need to forget about this race, just throw away everything that I'd done so far and start new … just work hard, and I can do it and get back. It gave me more motivation, like I had to go through bad races … it was really a learning experience, those first two times at Foot Locker South. I think it helped me more than anything, like I'm going to have to work for things and it's not going to just come to me."

Coach Butler had a remedy in mind. Would she consider running the Nike Indoor 2-mile? The idea was proposed, but Ashley didn't make a decision right away. Butler recalls a phone conversation before she had to enter.

"I said, 'Are you going to Nike Indoor with us?' And she said no, she wasn't. But then she called back an hour later. She said, 'Can I still come with you?' She changed her mind. That race, that track, was tailor-made for her."

As most who saw it will vividly remember, Ashley took the modestly-paced affair by the scruff of the neck halfway through and shook it until it said "uncle." Her second mile was about 5:00-flat, better than her PR at the time, and her 10:25.41 left eight – eight! – Foot Locker Finalists seven seconds and more in arrears.

The rest of the spring went, well, rather swimmingly. Ashley cruised through most of her meets, but when it came time to put the hammer down, she ripped an eye-popping 10:13.45 state record for 3200, putting her #2 in the nation. Still hardly a "miler," she just barely got outkicked by Emilie Amaro, cutting seven seconds off her PR for a 4:55.97.

Ashley went to NON. Again, the pace was slow, but not so slow that she felt confident trying to beat it into submission in the second mile. And, unfortunately, she had battled illness two weeks before NON. "I had a fever and was in bed for four days," she recalled. "Going into the race, I thought the pace would be a little faster. I felt like I was forced to take the lead and I slowed down as much as I could, but no one would pass me until the 800 to go. They'd all drafted off of me so much and I had nothing left."

She was 4th in 10:27.09. Another lesson learned – not as harsh, but revelatory, just the same.
"At nationals … you can't really lead (that much). It's just not going to work."

Figuratively, Ashley had gotten part of the way to San Diego, but going into this fall, she knew she needed more. Coaching-wise, she'd pretty much been on her own since her freshman year, due to not really seeing eye-to-eye with the second of three coaches she's had during her career, and the fact that there was no one she could really train with.

So she called Coach Butler. "I said, 'You've already broken 10:20 for 3200, why do you need me?' Butler says. "But she wanted to do some of the same things Kayla did … and so I started emailing her workouts every weekend."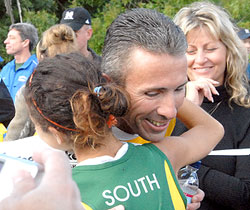 Ashley increased her mileage to the 55-60 range and got a lot of energy from the Nike Camp that she attended with Kayla. She started working in tempo runs at the end of the summer. But there were two things she did this fall that were different than before.

"We went to Clermont a couple times," said Coach Butler, referring to a training center in Central Florida that is one of the few places in the state that isn't flat. "There's a grassy hill there that's close to the one in Balboa Park in terms of size. I'm 44 years old and I ran a 16:20 5k this year. We ran 1/2 –mile repeats on that hill and Ashley was beating me by eight seconds. The second time we went there, she was hitting 2:40s."

Then they got on the track a few times this fall. "Ashley doesn't have a lot of leg speed, and that hurt her at McAlpline," said Butler. "We did 200s and 400s and she dropped her times. She got to where she could do 32s for 200s."

Then there was the mental game, which the athlete and her coach both agree is huge in the sport. "I think for girls, building their self-esteem is 90 percent of it," said Butler. "We talked a lot about this during the year. And like I tell my guys, you learn more from losing than you do from winning."

Ashley was gangbusters from the start of the fall, as has been well-documented. She had crushing early season record victories over her state's best at the Mountain Dew and Southern Star invites, then capped off her invitational season with the mind-boggling Great American triumph in 17:05. She left a field of Kroeger and four other Foot Locker Finalists far behind.

She was better than ever. The pieces were coming together. But the tests she had passed paled compared to the one ahead of her. Ashley's 3rd state meet victory was a solid one, but the spectre of McAlpine loomed above her like a haunted house on a hill. This time, she had the weapons to kill the evil monster, but she still had to actually do it.

On top of everything else, race day at Foot Locker South dawned unseasonably cold. But Ashley went to the lead as she knew she had to do. She did most of the work through two miles. A pack of six formed and in the last 300, everyone kicked, but figuring she'd accomplished her goal, Ashley held back and saved something.
"I was just so happy I'd made it … as long as I was in the top ten."

The 800-pound gorilla was off of Ashley's back. The relief of pressure was enormous. She was going there. To San Diego. To the Foot Locker Finals.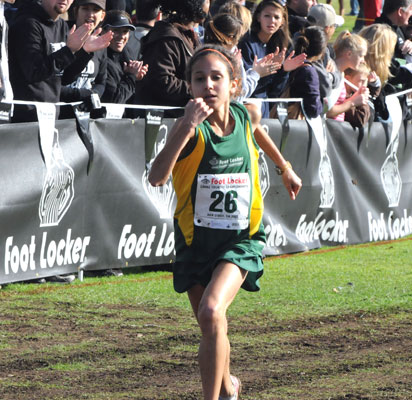 But was she going with a great expectation of winning? No.

"My goal was top 5. I looked at the other region results. I saw how Claire Durkin won by 40 seconds (at Foot Locker Midwest) and set a course record, and I was like, oh man, she's going to be fast. (There was) Jordan, obviously, and Kathy was strong, and I knew it was going to be a really tough field."

That's the thing you finally understand about Ashley. There are races she wants to win, sure, but at the higher levels, it's about running the race – her race – and creating the opportunity.

Ashley had refocused after Foot Locker South last fall. She had proven herself on the track. She had trained harder during the summer. She had gotten coaching she felt good about. She had done hill work and speed work. She had done everything to get to December 8 with the best possible chance to run well.

And … she did the same during the race. When Hasay rocketed out from the gate, Ashley ran her own way. There were no narrow trails to get in position for. There was no cold weather to tighten her up. But most of all, she ran freely and with confidence, the same way she did at Nike Indoor.

"By the end of the second mile I knew I had a lot left in me … Kathy and I kind of broke away from the larger pack a little bit and formed our own pack … then I went from there and caught Jordan by the hill."

Ashley would say later that on the plane home she had planned to do her homework, but the race kept playing over and over in her mind. Surely, the highlights were what followed in those final minutes starting with that final ascent.

"I kind of eased up the uphill, then I took the flat part at the top really hard and the downhill I hit really hard, too."

Suddenly, Ashley had a lead that was 30 meters and growing. All that was left was a mental test, a small one, really. Small compared to the work she had already done.

"I was kind of in shock … A lot of it was mental for me … running is really mental. I knew if I could stay strong the last three minutes of the season, it would all pay off in the end."

She stayed strong and it paid off. She hit the massive Foot Locker tape, not quite adjusted for her 4'11" frame, almost with her neck – and could joke about it later.
"They could have lowered it a little bit … Girls are pretty short, maybe not as short as me, but we're all kind of low-5's."

Ashley also had the presence of mind to remind her father that she had done something she couldn't do 3-1/2 years ago. "She said, 'Hey, Dad, I beat that little blonde-headed girl,'" said a proud Louis Brasovan.

But it wasn't really about beating Jordan Hasay, and Ashley knew it. It was about overcoming her own demons; it was mental, and it was about getting here and being here. Then Ashley could just be Ashley – and on December 8th at Balboa Park in San Diego, that meant being The Best.

Foot Locker Finals index