Results & Pix
John Dye album
Marc Davis video
Donna on the Side

HS Highlights
Suffern NY girls 9:03.36 is US#3 all time 4x800.
Dematha MD boys 3:16.39 is US#4 all time 4x400
US#1 times by Nicole Blood NY 4:46.82, Latavia Thomas NY 2:51.48, and Shaker NY boys 7:52.63.
Girls 4x200 - Uniondale NY 1:39.88 US#2, with US#1 Eleanor Roosevelt MD finishing first but disqualified for veering out in the stretch and interfering with Uniondale's stretch run.
Boys 4x200 - Camden NJ 1:30.43, Newburgh NY 1:30.75
Girls 4x800 - Suffern NY 9:03.36 US#3 all time (Boys and Girls NY 2002 8:53.67, A.P. Randolph NY 2002 8:59.82), Eleanor Roosevelt MD 9:11.53, Bay Shore NY 9:12.14
Junior Women's 1000m - Latavia Thomas PA 2:51.48, blowing away a close race on the last lap.
Women's Open Mile - Nicole Blood NY 4:46.82, improving on her own US#1 time for the season. Blood confirmed afterward that she is indeed moving to California, confirming rumors on TrackTalk. Her step father is transferring to a new job later this month in the Simi Valley area.
Men's Open Mile - Craig Forys NJ 4:09.77 US#2 in the men's open mile.
Girls 4x400 - Eleanor Roosevelt MD breezes in 3:48.46, just off their US#1 time of 3:48.04.
Boys 4x400 - Dematha MD 3:16.39 running all alone is US#4 all time (John Muir CA 1996 3:13.34, John Muir CA 1997 3:13.68, and Camden NJ 2001 3:15.78)
Boys 4x800 - Shaker NY 7:52.63 US#1 (Msgr Farrell 7:52.91)
Boys Weight Throw - Walter Henning NY 80-7.
Boys 4x800 - It was a fight to the finish between Shaker and Farrell, with only 0.28 second
separating the new US#1 and US#2 teams.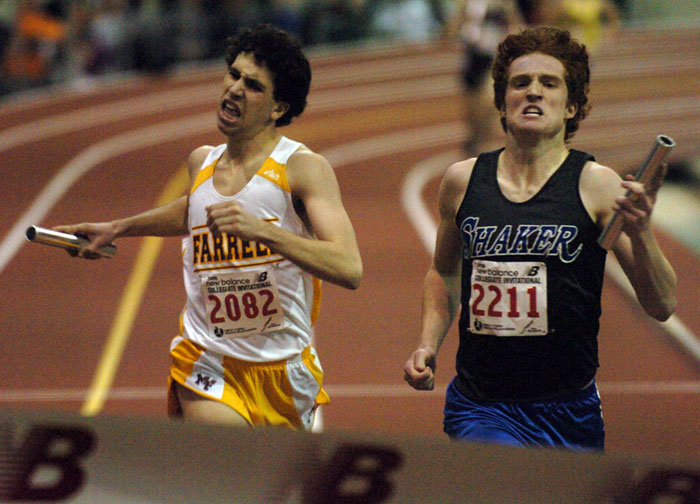 The biggest indoor meet of the college season also hosts some elite high school events. Finals of college 60m dash and 60m hurdles will be part of Millrose Games Friday night at Madison Square Garden.
High school events include 4x200, 4x400, 4x800, a junior women's 1000m, and boys weight throw.
Nationally Ranked High School teams entered -
Eleanor Roosevelt MD girls and Dematha MD boys are top favorites in 3 relay events: 4x200, 4x400 and 4x800.
Complete college entries and heat sheets
Last year . . . HS runners hit the record books
Syosset NY boys break 4x800 record -
Katie Doswell runs US#2 all time 1000m -
Newburgh boys, B&G girls post US#1s - girls 4x800 has 4 of 6 fastest times ever.
X-man Xavier Carter is MVP of college meet.
Photo Sequences from the big New York weekend
the stories in photos and text by John Dye
| | |
| --- | --- |
| Junior Girls 1000 at Armory Collegiate Games. Newcomer Katie Doswell wins with US#2 all time performance. | |
| | |
| --- | --- |
| | Boys & Girls NY girls win torrid 4x800 at Armory Collegiate Games. Race has 4 of 6 fastest times ever in US. |
| | |
| --- | --- |
| Syosset NY boys set national record in 4x800 at Armory Collegiate Games. Runner-up Shaker NY is US#3 all time. | |