2006 Foot Locker Midwest region - Girls
Nov. 25, 2006 UW-Parkside, Kenosha WI
Results -
Not to be forgotten:
Sisson runs a race to remember
By Steve Underwood
The Foot Locker Midwest girls race went pretty much according to predictions Saturday. Ralston Valley CO soph Katie Vanatta gapped the field – check. South Dakota standouts Allison Eckert and Betsy Bies held back in the pack somewhat – check. Most of those expected to qualify did so – check.
Except that Vanatta didn't gap the field alone. She had company in the hard-driving dynamo that is Omaha Marion NE fr Emily Sisson. And in the final strides, it was Sisson who was alone – three seconds clear of Vanatta, thanks to her kick.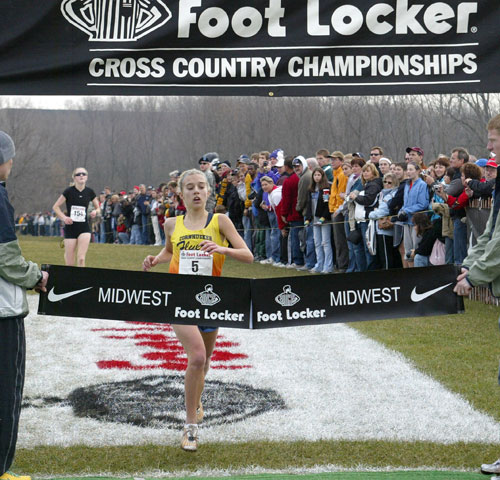 Emily Sisson wins - photo by PhotoRun
Sisson made eyes bug out last spring when she ran in a "college/open" 3k race at the Kansas Relays and ripped a 9:44 – as an 8th-grader. As a freshman at Omaha Marian, she quickly began dominating 4k races in her home state this fall, then earned major props by defeating Bies in one invite. At the Roy Griak Invite a few weeks later, she was a strong second to Eckert.
But then headlines started going to other freshmen, like Iowa's Katie Flood (who did not run here), and other top girls in general, like Tennessee's Kathy Kroeger. Sisson quietly won the rest of her races and her state title. She was a bit forgotten on the national scene, but it still stood to reason that she could finish at least in the middle of the top ten here at the Wisconsin-Parkside course in Kenosha.
Saturday's victory, however, put the unassuming Sisson smack in the middle of the national championship picture. Her 17:13 and Vanatta's 17:16 were the second- and third-fastest ever on the course in this race. They were achieved on a stunningly mild late November day, but on a layout still marred by long stretches of thick mud in a few places
"I guess I wanted to go out there and hang with whoever went out there … and then see at the end if I had anything left," she said while sitting with teammates from Marian and her Cornhuskers Flyers club at the awards.
Well, there was no doubt from the beginning that Sisson was going to go out there, indeed. She powered up the first long hill on the famed course in Kenosha, her path joining Vanatta's at the top. It was clear she planned to run at the front and go for the win.
The two kept hammering away and only Carthage IL sr Katelyn Bastert really made any attempt to go with them. The lead pair was 5:35 at the mile, with a lead of 3 sec. over Bastert and 8 sec. over a pack of about 8, then 11:00 at 2M.
"With about 1k to go," Sisson continued, "I made a move, but she came up and passed me and got ahead of me. "I was really tired. But with about 100 to go, I decided to kick and see what I had."
Whether she grasped the gravity of what she had done was hard to tell. Sisson didn't recall specific workouts, or if there was something between her state meet and today that had gotten her to the place to produce the career-defining race. But a teammate recalled a 9x1000 meter workout recently. "I didn't have to do it, though," she said with a giggle. Sisson's modest reaction, though, was simply to acknowledge the support of the four girls around her. "They're so nice," she said.
If being outkicked at the end bothered her much, Vanatta didn't show it. Instead, her expectations were in balance with the fact that although she has to her credit that sparkling 10:16 3200 from Golden West last spring, this was still her first national- or regional-level cross-country race. Last fall, the plug was pulled on her outstanding freshman campaign before Foot Locker. She wanted to come here and make it to San Diego, and she did so with flying colors.
"The plan was just to come in and try my best," she said, "to come out and have fun."
She admitted having company out on the course was a new experience after rolling through the Colorado season unbeaten. "Emily's a great runner and it was fun to race with her. Getting 2nd place was awesome."

Returning to Balboa
By the time they return from San Diego in two weeks, Allison Eckert, Betsy Bies, and Alex Banfich will have seven Foot Locker Finals appearances between them. It is a testament to careers in which they are becoming, or have become, legends in their own states.
South Dakota has become a place where some of the best girls cross-country in the country lives and thrives – certainly in terms of elite teams and given the modest population. The Yankton and Sioux Falls Roosevelt programs are at the forefront of that, with five combined NTN berths now in three years.
Eckert and Bies, the senior leaders for SFR and Yankton, respectively, entered the race knowing that if they made it, two weeks of titanic energy expenditures awaited. Both would have liked to cruise through this qualifying, but while neither ever pushed for the lead, neither really looked afterward like it had been a walk in the park.
And, as it turned out, these intense rivals pushed each other together for part of the race.
"After I caught Betsy, she helped me," said Eckert. "We got to this one hill, and she was like, 'Let's push it.'"
She didn't mind the help. From the start, she didn't feel too great, having battled a recent cold and "my arms just felt stiff, like they had lactic acid in them or something. I definitely felt better last year here."
While the goal certainly was to qualify more than anything, Eckert probably would have pushed harder from the start if she'd felt better. "It got better as the race went on," she said after finishing 6th in 17:56. Next week, she'll be racing with her SFR mates again in Portland. "I definitely like it better with the team."
Said Bies, whose squad is ranked best in the country going into NTN, "The goal was just to make it to San Diego, so I took it out conservatively. But I also didn't want to go out too fast and falter. Emily and Katie ran great up front."
Banfich, the Culver Academy IN jr, had a tough time, battling a cramp the whole way. "I guess I drank way too much water before the race," she said. "It was kind of a bad day." Nonetheless, the talent that has enabled her to rule Indiana the past two years prevailed, earning her the second of what could be three Balboa bids.

Sweet Senior Years – Three make it for the first time on their last try
It's not unusual among the ranks of elite girls to see those out there who ascend to the top group as freshmen or sophomores, and then struggle to stay there or get back. It's hard to imagine a deeper appreciation for qualifying for Foot Locker Finals than when you push for four years and finally make it.
Take Marissa Treece, the Maple City Glen Lake MI senior. She was 33rd last year, but probably would have been higher if she hadn't rocketed through the first half mile as if the race ended at the top of the hill. "Last year, I took off really fast," she said with a shy, rueful smile.
Those kind of starts have been Marissa's passion … and her bane. Even as recently as her last race, the Michigan D4 state meet, she blasted out in 2:24. Thus, instead of the final results showing her improvement from her junior year, she just barely cracked 18 again. Of course, she still won by almost a minute. Such has been her row to hoe in the state's smallest class.
"I know I could beat those girls," she says regarding the D1 runners who posted faster times at state. She does this without boastfulness or malice, just a sincere passion. "I really wanted the Miss Michigan Cross-Country award, but you can only push yourself so hard by yourself."
Flash forward to today. Treece went out with authority, but not insanity. "I surged toward the front, but it was not real fast." She didn't try to go with Sisson and Vanatta, but got herself solidly in the pack of runners between 4th and 14th. "I was 9th for a while, then 10th for awhile, then 11th for a long time. Then I was like, I can't be 11th. So (in the last 400) I took off and let it all out."
She moved into 10th and then caught Alex Banfich IN before the line for 9th in 18:03. "I'm so excited!" she said.
Katelyn Bastert and Kristen McGlynn had similar stories to tell of senior success. Bastert, the Carthage IL sr, was 75th last year as a junior here, despite having won the third of her four straight Class A state titles. This year, knowing that getting some experience outside of her class and outside of Illinois would be pretty beneficial, she ran on her own at Great American ROC, finishing a respectable 6th.
Bastert was then chosen for the IL team to compete at Mideast Meet of Champs and she earned a sweet victory over Ohio champ Amanda Burger. "That really boosted my confidence," she said. Still, she was going to going to end her season there, despite the efforts of Foot Locker personnel to woo her into the field. A busy, well-balanced person who also plays fall volleyball, she had schedule conflicts. But finally she worked around them.
Although mid- and late-race fatigue cost her some spots, she held on to 7th in 17:59. "I was really feeling it toward the end," she said.
McGlynn, on the other hand, was zeroed in on making it to San Diego all fall long. In addition to winning her class in Colorado with the 2nd best time in the state behind Vanatta, she got great experience during the season with a strong 4th at Griak and then with her title three weeks ago at the Rocky Mountain Champs – a course which she really "loved."
"It was kind of the perfect senior season," she said with a big smile.
Saturday went pretty according to plan, too. She got out and wound up running much of the second half of the race in 3rd/4th with Alex Gits MN. She was outkicked by Gits and Emily Infeld OH, but held on for 5th in 17:50.
Gits, too, is a senior. But the 2A state champ from Edina isn't among those who have toiled for years to get here. She's a track standout who is running CC for the first time this fall after playing soccer previous years. It was a good choice as she ruled her class all fall in MN and made it to San Diego today with her 4th-place 17:44.
It's rare, however, to come to FL Midwest the first time and do so well … and also being someone who runs 4k normally instead of 5k. "It wasn't that different," she said. "I've been training for this and I ran with the guys a lot during the season."
Gits definitely likes the team aspect of the sport – and if she couldn't be here with her team, she would create a teammate. That's kind of what McGlynn became to her later in the race. "I worked with her and we kept pushing each other," she said. "We battled it out the whole race. We could hear each other's breathing."
She also really liked being part of Team Minnesota, an effort to bring the top MN boys and girls together at Foot Locker. She had met Hassan Mead, the MN 2A champ and today's boys champ, at the state meet course the Tuesday before that meet – ironically after a large newspaper article featuring the two, they happened to show up there the same time four days before the race. "It was really great to be comrades with him here," she said.
The other first-time FL qualifier is Cleveland Heights Beaumont OH jr Emily Infeld, whose 800 meter speed and "adrenaline" carried her past McGlynn and Gits in the final half mile. She succeeded not just with her kick, but also by not going out too fast early. As accomplished as she is as an 800 (2:09) and 1600 (4:51) runner, Infeld is increasingly identifying with her inner harrier. "I'm leaning more to cross country."
For the next two weeks, at least, they'll all be leaning toward cross-country. The time of their lives, even if for the 2nd or 3rd time or with NTN trips prior, is ahead.
Complete Midwest Girls Results
1. Emily Sisson NE 17:13
2. Kate Vanatta CO 17:16
3. Emily Infeld OH 17:43
4. Alex Gits MN 17:44
5. Kristen McGlynn CO 17:50
6. Allison Eckert SD 17:56
7. Katelyn Bastert IL 17:59
8. Betsy Bies SD 18:01
9. Marissa Treece MI 18:03
10. Alex Banfich IN 18:04