Californians Jordan Hasay, Christine Babcock, and Alex Kosinski all joined the all-time top ten this year in the mile, but Jordan's USATF 1500 mark wound up the best. Photos Kirby Lee, Image of Sport, and John Dye



All-Time Lists Get a Workout




Girls Analysis



by Steve Underwood

Boys Analysis by Dave Devine

She would hit 27-mid, then 57-high. By 200 meters, she would gap the field, unheard of in any serious prep 800 race. You knew it was too fast, you knew she was going to fade somewhat and run several seconds slower in the second lap, but somehow with her it was OK. It was Chanelle Price's tapestry. Who were we to tell her how to paint it?



The Easton PA jr was one of numerous athletes who set or threatened all-time records in spring 2007. This story is about those who made their mark this year and will show up on the all-time top tens when Jack Shepard's High School Track comes out next year. Price didn't break a national record this year, but her "assault" on history was as memorable as any this year.

If you were in Pennsylvania, you probably saw the above scenario happen numerous times; those of us watching Chanelle on the national stage saw it just a few times, though it seemed like a lot more … watching her blast into the stratosphere where no other prep dared to run, seeing if another tremendous solo effort could put her another notch closer to one of the most immortal of high school records, that 2:00.07 of Kim Gallagher's.

Speaking of Gallagher – 2:00.07 – did that even happen in our lifetime? That mind-boggling record, and the next two entries on the list, the 2:02.29 of the legendary Mary Decker and 2:02.40 of the prodigal Robin Campbell, all from 25 years ago or more, did those happen in a parallel universe or something? We've watched super talents like Sarah Bowman and Bekah Noble take it down under 2:05. But there's a huge difference between 2:03 and 2:00.

Yet, Chanelle inched ever closer to Gallagher, her late fellow Pennsylvanian, throughout the winter and spring. We saw the 2:04.96 indoors, there was the 2:05.85 at her outdoor state meet, then the 2:02.76 at NON and the almost-overlooked 2:04.24 at the Island Games.

Then she made the bold decision to go for the USATF Senior 800. After a nervous first-round race, she looked like a pro in hitting 2:03.29 in her semi, then her new PR of 2:02.38 in the final. No. 3 performer, #5 performance all-time.

Chanelle's season was not perfect, however, with her 6th at World Youth leaving a sour aftertaste. Moderating her first lap slightly, she dropped no one. Then came a push for the lead in the final stretch from Winny Chebet of Kenya, where she appeared to bump Chanelle. Chebet would be DQ'd, and Price would fade to 2:06.55.

Lessons to learn, and time to learn them – this was only Price's JUNIOR year. Two more seasons of track to watch this amazing athlete make more runs at history. And speaking of history, it shows that it ain't easy to be this great as a junior and keep improving as a senior. Both Decker and Campbell PR'd before their senior years. But Gallagher went 2:01.82 as a junior, then took another step as a senior. She would eventually become one of the USA's all-time 800 greats.

As we said above, Price wasn't the only one to make an impact on the all-time lists this year. Here's an event-by-event breakdown of the new entries into the all-time top ten, by event:




Photos by Kirby Lee, John Dye & John Sullivan



100-200




100 New additions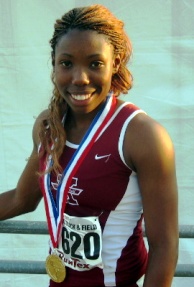 Tiffany Townsend



8. Tiffany Townsend TX – 11.21

200 New additions

5. Tiffany Townsend TX – 22.84

Wind-aided

7. Bianca Knight MS – 22.93
9. Brittany Long GA – 23.02

In one big meet, the Texas State Meet, Townsend joined the all-time top ten. She was just a tenth off the 100 record (11.11), but Allyson Felix in the furlong (22.11A) was a ways off. With the great returnees from 2006 in these events, like Gabby Mayo (11.16/22.88 in 06) and Bianca Knight (11.26/22.94 and 22.97A indoors last winter), one might have hoped for more. But that just goes to show how hard it is to keep improving once you're an all-time great.

Townsend herself didn't have the finish she wanted, as soph Chalonda Goodman GA won both NON dashes. Knight eventually got a wind-aided PR at USATF Jrs.



400



New Additions

8. Jessica Beard OH – 51.63

Beard moved up a spot from last year; in 2006 her 51.89 from USATF Jrs. was #9 all-time. Her ascension into top form this year was quick and dramatic. She popped a sudden 53.03 at her regional meet, after struggling a bit with injury and lack of fast time opportunities early, then skipped the 52s completely as she exploded to a devastating 51.63 at her state meet. To her considerable disappointment, however, she couldn't improve on that mark at Golden West or NON. She ran a fine 51.91 at Pan Am Jrs, her 3rd best time ever, but was third against a great field in one of the best races of the meet..





800



New additions

3. Chanelle Price PA – 2:02.38

Although Price was the only runner to make the top ten this year, it was a good year in the event, with 11 athletes beating 2:08 outdoors, up from 3 the year before. Also worth noting is the number of fast times Price put up all year – 2:02.38, 2:02.76, 2:03.29, 2:04.24, 2:04.34, 2:05.85 … and the 2:04.96 indoors, which was #3 all-time.




1500/1600/mile



1500 New Additions

4. Jordan Hasay CA 4:16.98

Mile New Additions (includes converted 1600s)

7. Alex Kosinski CA 4:39.77
8. Christine Babcock CA 4:40.57
10. Jordan Hasay CA 4:40.75

Imagine this: Jordan Hasay, Danielle Tauro, Alex Kosinski, Christine Babcock, all lined up for the NON Mile. All in great shape, a fast pace … and, boom, 4 girls under 4:40. The greatest distance race of all time, right?

It could have happened, but many things conspired to keep it from coming true, as is often the case. Hasay, 3rd in the great NON mile last year and having run 4:39.13 1600 early in the spring, skipped NON to concentrate on USATF Jrs. and World Youth. Tauro, not quite at her '06 level anyway (when she won almost everything), ran just the relays in Greensboro. Alex Kosinski, during a great breakout year where she won NIN and Arcadia, then hit 4:38.15 at Sacramento MOC to beat Hasay, was injured before her state meet and had to miss the rest of the year. And Babcock, the CIF repeat champ in 4:38.85, skipped the postseason again. Kosinski, Babcock, and Hasay – all California girls – had become the No. 7, 8, and 10 performers during the spring, but only Kosinski and Hasay ever met. Never in a single year had three girls run as fast.

So NONE of this big four competed at NON, as Stephanie Morgan OH took the win. But prep girls miling fans would still have a few more treats, big ones. At USATF Juniors, Hasay raced to a stunning 4:16.98, No. 4 all-time and a sophomore record, and then followed with a 4:17.24 (#4 performance ever) at World Youths for the silver. All in all, a great year for these events on the watch, if not in competition.




3000/3200/2-Mile



3200 New Additions (including 2M en route or conversions)

8. Jordan Hasay CA – 10:04.07

Jordan Hasay, Jordan Hasay, Jordan Hasay. Oh, and did I say Jordan Hasay? The CA soph dominated the performance list in 2007 again, with her 10:04.07 at the Camarillo (CA) Distance Classic moving her up to #8. She also ran 10:04.27 (en route to 10:07.65 2M at Arcadia), 10:04.52 (in an earlier March 3200), 10:06.76 (to repeat at CIF), and that widely-reported 10:02 time trial. No one else entered the all-time top 20 this year, though there were other outstanding runners who were reasonably close.




5000



New Additions

None. With her winning 16:36.34 at NON, Marissa Treece MI hit #11 on the all-time list.




100 Hurdles (33", 30")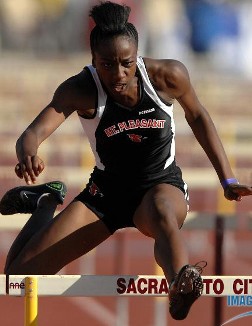 Vashti Thomas


33" New Additions

2. Vashti Thomas CA – 13.03
=4. Jackie Coward TN – 13.21

33" Wind-aided

5. Jackie Coward TN – 13.17

30" New Additions

=7. Julian Purvis CA - 13.41

One of those big explosions you heard from Sacramento that first Saturday in June was the huge 13.03 Vashti Thomas dropped for #2 all-time. It was a big 0.42 drop over her previous PR and with the max allowable wind of 2.0 mps. Julian Purvis, who would later win World Youths, and Ke'Nyia Richardson each ran 13.32 in the same race, just outside the top ten.

Competitively, it was Jackie Coward's year, however, as she beat Thomas twice. She also dominated the performance lists, with the USATF Juniors being her best meet. She ripped a legal 13.21 in her semi and then a windy 13.17 in the final, taking 3rd to two Virginia Tech standouts. That moved her well up into the top 5 in both categories, and she has another year left (as do Purvis and Thomas).

While she didn't quite match her 33" PR of 13.32, Julian Purvis hit 13.41 at World Youth for the 30" barriers, good for =7 all-time.




300/400 Hurdles



Despite the absence most of the year of the best active hurdler in these events, the already legendary Ebony Collins CA (40.10/55.96, #2/#3 all-time as a soph), these were superior events this year. They really deserve, and will get, separate sections here.

400H New Additions

7. Dalilah Muhammad NY – 57.09
8. Ryann Krais PA – 57.20
9. Jackie Coward TN – 57.21

The action really got hot here, as it usually does, in the post-season. The deep NON race saw four at 58.23 or better, with Muhammad getting her PR, followed by Krais (#9 a-t 57.26), Takecia Jameson MD 57.93, and Coward 58.23. Then at USATF Juniors, with Muhammad not competing, Krais was 2nd to collegian Queen Harrison, moving up a spot all-time with her PR. Behind them, Coward improved to 57.89.

At Pan-Am Juniors, Coward improved again, also passing Nicole Leach into 9th with her 57.21. At World Youths, Muhammad and Krais would take 1-3, but with slightly slower times.

300H New Additions

8. Jackie Coward TN – 40.83A

A very solid year with 10 sub-42 performers, even if just one all-time top ten – Coward's win at Great Southwest..




4x100



New additions

None – Cali schools ruled the list at the top, with the top four places, but Long Beach Poly's 45.58 is outside the all-time top 20. Poly holds the national record with its 44.50 from 2004.




4x200



New Additions

None – Texas schools accounted for the four sub-1:37s this year, but Timberview's 1:36.37 is short of the top ten. Timberview does become the 9th-fastest school, however.




4x400



New Additions

The teams from Eleanor Roosevelt MD 3:39.44 and Miami Northwestern FL 3:39.89 joined the sub-3:40 club this year, with Roosevelt actually tying its school record from 2006. But it takes 3:37.69 for the all-time top ten. On the other hand, since Long Beach Poly and Long Beach Wilson have teams from multiple years dominating the list – the top 9 teams, actually – Roosevelt and Northwestern come closer in the list of top schools, #12 and #14 to be exact.




4x800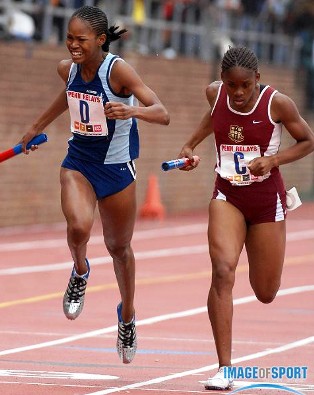 Eleanor Roosevelt 4x800



New Additions

3. Eleanor Roosevelt MD 8:51.19

Roosevelt's 8:51.19 to nip the Jamaicans at Penn may have been the single most exciting girls race of the year. It also elevated them to No. 3 all-time, their team moving up a spot even though their school was already No. 3 ever.

Teams ran sub-9s in two other races, the first being the Warwick (NY) Fast Times meet, with the home team beating Pope Paul XXIII NJ, 8:57.4-8:57.7. Roosevelt 8:55.50, Pope John XXIII 8:56.45, Xavier AZ 8:57.81, and Warwick 8:58.36 all broke 9:00 at NON, but Pope John's time is just outside the top 10 in #11.




4xMile



New Additions

6. Corona Del Mar CA 20:23.43

This event was a bit of a disappointment, as Corona Del Mar had the deepest group of milers ever, 4 well under 5:00, but didn't have competition – and either didn't have it or chose not to push it, period – at NON. Their 20:23.43 was still #6 all-time, but short of their own school mark from two years ago and far short of the 19:40s clocking they were capable of.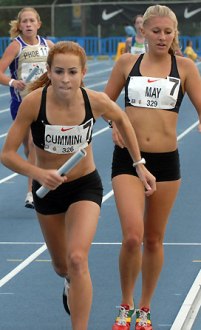 Corona Del Mar 4xMile






800 Medley



New Additions

None - In this relatively rarely-contested event, Oak Ridge FL hit #11 with its NON win in 1:42.79.




1600 Medley



New Additions

1. Eleanor Roosevelt MD – 3:51.90
3. Chester PA – 3:53.1
8. Southern Regional NJ – 3:54.37

Eleanor Roosevelt's sterling 3:51.90 at NON was the only new US outdoor record to be set in running events this year. With Marika Walker's 2:06 anchor, they held off Danielle Tauro and Southern Regional, and beat their NON-winning 3:52.38 from the previous year, which had been #2 all-time. The other revision went almost unnoticed as Chester PA ran an unlooked-for 3:53.1 at the late March Chichester Relays.




Distance Medley



New Additions

6. Southern Regional NJ – 11:40.81

With their 11:40.81 NON victory, Southern Regional moved into #6 all-time. Not as much so as the 4xMile, but the race was a bit of a disappointment with all the record potential in the field between the NJ team, Corona Del Mar CA, and Eleanor Roosevelt MD. Southern Regional clearly had 11:33 potential or better, but the pace lagged in the middle of the 1600 and it just wasn't to be. Warwick Valley NY was 2nd in 11:44.20, Roosevelt 3rd in 11:46.75, and Corona 4th in 11:48.67.

Southern Regional moved ahead of a Corona effort from earlier in the year, an 11:41.28 at Arcadia that had tied San Lorenzo Valley CA from 2000. Corona teams from each of the past 3 years have combined to give the school 3 of the top 10 performances of all time. Roosevelt had earlier become the #10 school with its 11:43.59 at the MileStat meet..




High Jump



New Additions

None - Victoria Lucas TX led the US with her Texas State win at 6-1. Although that ties her for just #21 all-time, she is one of only six that have cleared that height or better this decade.




Pole Vault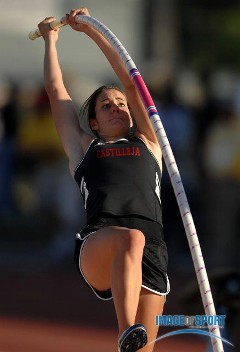 Tori Anthony



New Additions

1. Tori Anthony CA – 14-01.25
(tie) 7. Allison Stokke CA – 13-07
(tie) 7. Shade Weygandt TX – 13-07

Tori Anthony twice broke the US record in this still-new event, hitting 14-01 at CIF, and 14-01.25 at Golden West. Anthony didn't vault at NON, but led the best field of the year at USATF Juniors. Stokke's mark came early in the year in a dual meet, which Weygandt matched at Texas State with her national sophomore record.




Long Jump



New Additions

None - It seems like the legends in this event will last forever. Kathy McMillian set the mark at 22-3 in 1976 and only Marion Jones has also been over 22. She is also the only one since 1990 that has come within a foot of the record. The best mark this decade is Sarah Griffin Matthew's 21-2A two years ago. Jamesha Youngblood CA joined the 21-foot club with her 21-00 at Pan Am Juniors, becoming #12 all-time.




Triple Jump



New Additions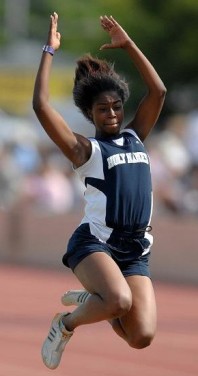 Ke'Nyia Richardson


2. Ke'Nyia Richardson CA – 44-05.50

Wind-aided

2. Ke'Nyia Richardson CA – 45-04.25
6. Vashti Thomas CA – 43-01.25

Ke'Nyia Richardson has had an amazing year worth of AOY consideration. Indoors, she had arguably the performance of the season with her 44-06.25 HSR bomb at NSIC. Outdoors, she was unbeaten against the best competition in the country during the regular season (California had the next two best jumpers and six over 40') and hit her wind-aided PR at CIF State to become 2nd only to Brittany Daniels all-time in that department. Vashti Thomas had her mark there as well.

In the USATF seniors competition, she moved to #2 all-time legal, also behind Daniels, with her 44-04 for 6th place, part of a series that saw 4 jumps at 43-09 or better (2 legal). In the junior competition the next day, she dominated with 4 more legal jumps at 43-04 or better, including 44-02.50. Finally, at Pan Am Juniors, she hit her new legal PR of 44-05.50 for the Gold.
.



Shot Put



New Additions

None - Kamorean Hayes NC moved to #10 all-time as a junior with her 52-02 in 2006, then indoors this past winter hit 52-06.50 for #3. But outdoors, she couldn't improve, struggling with an hand injury, and with a best of 51-03.50.




Discus



New Additions

6. Emily Pendleton OH – 183-03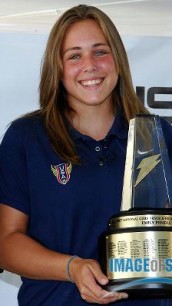 Emily Pendleton



Emily Pendleton OH improved from #23 on the all time to #6, achieving her PR at a mid-season meet in Ohio. Unbeaten through the post-season, she chased Suzy Powell's USR in her last several meets and while she was consistent, she couldn't get back over 180.




Javelin



New Additions

5. Chrissi Grizzel OR – 161-07
8. Courtney Kirkwood WA – 160-10
9. Heather Bergman KS – 160-02
10. Roxie Grizzle KS – 160-02

The 160 club with the new javelin, in place since 2000, grew from six members to 10 this spring. The all-time list doesn't have quite the notoriety that it does for other events; the top six with the old jav were all over 180. Karlee McQuillen PA hit #4 all-time 162-04 as a junior, but didn't get back over 160 this year, though she repeated her NON title.




Hammer



New Additions

None - With her 177-09 best, the year's dominant thrower Allison Horner GA landed just outside the all-time top ten (179-00 is 10th). But she'll have another year to get into that vaulted territory.





Heptathlon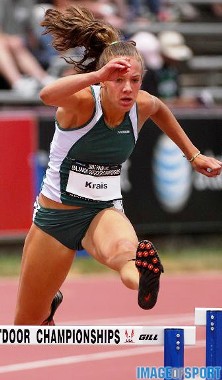 Ryann Krais



New additions

4. Ryann Krais PA 5377

Competing in the USATF hept "just to get a mark for the year," Ryann Krais PA not only did that, but she improved more than 200 points from the previous year and picked up a junior class record to go with her soph class mark. Oh, and she moved up 12 spots on the all-time list to #4. In 2008, Krais – who also is now on the 400H all-time list – can shoot for a World Juniors bid and the HSR of the woman who beat her in 2006, Shana Woods.


US News Homepage