Long Beach Wilson CA jr. Ebony Collins smiles at Monday's press conference. Photo Doug Speck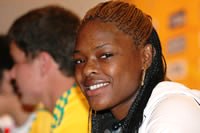 The Pre-Meet "kick-off" press conference featuring everyone from IAAF President Lamine Diack to a group of six top athletes in the competition, including Long Beach Wilson CA's Ebony Collins, took place August 14th at the IAAF Meet headquarters, the Kunlun Hotel. Introductory remarks were made by the IAAF staff and Local Organizing Committee, followed by questions, with a group of six top athletes from the competition next, with questions allowed to both groups, some of an interesting and probing nature.
IAAF presiding President Liame Diack from Senegal had a nice introductory speech in which he initially indicated something that had not occurred to most in attendance, that the first of these World Junior Championships, from 1986 was before the birth of any of the athletes who will compete in this year's "under-age-20" affair this week. The World Junior Championships are an important part of the IAAF development program. From the 1986 title meet, where 48 nations put athletes in the finals, and 27 provided meet medalists, the 2004 had witnessed the development of the sport worldwide such that the competition had 84 nation provide finalist athletes, with 39 nations taking home medals. 1451 athletes are entered in the competition this week, with 806 males and 645 females representing over 180 nations. He indicated that he hoped the Chinese would continue to develop some local heroes from the competition, with current World Record Holder in the 110 Meter Highs Xiang Liu a fourth place finisher in the 2000 World Junior Meet in Chile. Diack stated that the 1992 World Junior Championships eventually produced 51 World and Olympic Champions and was felt to be a competitive highlight of the series so far. With one important aim of the IAAF to produce more young individual stars in the sport, the World Junior Championships is obviously an important link.
Diack brought up the Justin Gatlin case specifically, even though he states that it is not totally legally resolved, as an example of the emphasis the IAAF takes on its goal of enforcing doping regulations. At this competition there is an anti-doping "outreach" for the Junior athletes in attendance, with the US's Mike Conley among the presenters here.
From the local organizing committee, Zhang Jiandong, Lao Chaoyi, and Li Jin Kang also spoke about the details of preparation for this affair. IAAF General Secretary Pierre Weiss and World Record Holder in the Pole Vault Sergey Bubka also sat at the podium and later answered some questions.
Questions and answers of the IAAF and Local Organizing Committee Panel:
1) --A question was asked about the change in weights of implements and hurdle heights at the Junior competition as of late.
--(Pierre Weiss answered this questions) The answer was that it was felt that there should be a smooth transition form the lighter implements used at the Youth level worldwide through the junior, and then on to the senior division in the sport. It was felt that the jump from the Youth all the way to the senior weights and hurdle heights was too big a one, and, for instance here, the 39" hurdles are used for the male High Hurdlers, with the Youth using 36" and the Senior age athletes 42".
2)--A couple of questions were asked about the controversy over concerns of over-age athletes making their way into this competition, and how the IAAF insured the integrity of the competitors here and would go after people caught from the past in this situation.
--(Diack spoke on this subject) There are severe penalties for anyone who is caught breaking the age-rules for involvement in this meet, with the IAAF attempting to deal with this subject. This question was brought up three times by different people with one specific charge that the Jamaican team included four athletes who were "over-age." Again, Diack replied that if anyone is caught who is overage in the competition their medals and results will be eliminated. A third question had to do with this subject again, specifically with Sammy Matete of Zambia, and what would happen with his results and medals from these championships. Diack here indicated that we were dealing with this week's competition at this press conference and if we can prove anyone is overage they will be penalized.
3)--A question was asked about the exclusion of 14 year old competitors from this competition, with early in the series a Jamaican female athlete (the questioner was from that nation) winning in this competition and becoming a two-time World Junior Champ.
--(Weiss from IAAF spoke to this question) The goal of the IAAF is to protect the development of young athletes and there is now a Youth division at the World Championship level for those younger athletes, and there is a limit on the number of events for the youngest in that group. The goal of the IAAF is to protect the young athletes and it was felt the change needed to be made in who could participate at the Junior meet.
4)--A question was asked of Sergey Bubka on what his impressions were of Beijing and its preparation to host the 2008 games.
--Bubka stated that he had been here on many trips as a part of IAAF committees looking to the 2008 Olympics, and he thought that preparation was going very good. The hotels and tourism can be handled very easily. He stated that he felt the city and country was doing all that was right in preparation, and the games will be good for tourists and the athletes.
5)--Question was about the fact that some federations were not here because of money problems or the size of some squads was down because of the inability of the federations to fund all that qualify.
--Diack indicated that there are 212 federations within the IAAF and each is provided enough money to bring at least one athlete and one official. Some countries make the choice to not bring anyone.
6)--Someone indicated that Cuba's delegation was cut down quite a bit because of finances.
--Diack answered that developing nations can ask for help. Ethiopia indicated to the IAAF that they could send 36 to 40 athletes to the meet there is an application process where nations can ask for help and some is available from the IAAF.
Athlete Quotes at Press Conference
There were six Junior age athletes who were competitors in the meet who were then placed at the podium and asked some questions by the moderator. After that time individuals from the audience were invited to ask questions.
Transcript courtesy of IAAF
Athletes ready to compete in Beijing
Monday 14 August 2006
Athletes' quotes at the IAAF Press Conference
Ebony Collins (USA)
400m Hurdles
Reigning World Youth champion, 2005 USATF Youth Athlete of the Year
You have dominated your event as a youth athlete but as a 17-year-old you are one of the youngest junior athletes here in Beijing. So will this championship be more about gaining experience and getting to the final or do you believe you have real hopes of a medal?
I am confident I can do well at these championships. I will do my very best and I hope I'll improve my personal best. I don't know what it will take to win gold here but I'll certainly give all my best.
You are best known as a 400m Hurdler and will compete at this event here but what is your favourite event?
I think I have more ability at 400m Hurdles but I also like running at 400m open because I don't have to worry about the hurdles!
You have been running since you were four years old, what do you like about being an athlete?
I like travelling the world, I like the competition and I like being successful at something! I also appreciate the long standing relationships that we make.

Hao Shuai (CHN)
Hammer Throw
Third in the World Junior lists
I understand that you have been training in Russia for the last 6 months, and you also stayed there last year, and won their junior championship in Tula. Has that period of training helped your development as a thrower?
Regarding this matter, I would like to take this opportunity to really thank the Chinese authorities who have made it possible for me to go to Russia. It was a very valuable experience, I have learnt new techniques and made a lot of new friends. I am now looking forward to showing everyone the skills that I've learnt in China.
Your personal best is 65.72m, a performance which makes you the third best junior athlete in the world. Do you hope to win a medal here?
My dream is obviously to win a medal but it will all depend on the level of the competition. I will do my very best but again, winning a medal will depend on many factors.


Huang Haiqiang (CHN)
High Jump
Reigning World Youth champion, second in the World Junior lists

Are you looking forward to competing in front of Chinese spectators?
I believe that there will be so many spectators at the stadium that it will be a special occasion. I am very excited but I have also a lot of pressure, more pressure than I would have if I was competing in other countries. I will hope I can do the best in front of my own people and I hope I can be a very hospitable host for all my competitors.
You have competed in Europe this year, and last year, as well as your World Youth title became champion at the East Asian Games you were third at the prestigious Chinese National Games. By contrast most of your opponents at this week's World Junior championships will have had little or no international or senior competition experience. Does this give you an advantage?
Yes, I do believe this gives me an advantage however I also feel that it gives me more pressure. I will try and keep calm, concentrate on myself instead of on other athletes. I know that if I don't keep calm and if I don't handle the pressure I will not compete well.
You jumped 2.27m to take the World Youth title last year, and this season you have improved to 2.28m. How high do you think you can jump at these championships?
Personally, for 2006 my goal is to jump 2.30 metres. This is my motivation, my driving engine but again, it will depend on the situation. If one puts too much pressure on oneself, one might get injured. I will keep my calm and try and improve my result.
Tonight at the IAAF Dinner we will honour the three-time World record breaker in the High Jump Jianhua Zhu. Do you know or have you ever met this great Chinese athlete?
I have never met him personally. He is my idol and I admire what he has achieved. I don't think I can never achieve his heights but I will try and do my best based on his very good example especially at the Olympic Games in Beijing 2008. He jumped 2.39 if I can achieve 2.34 I would be satisfied.
German Chiaraviglio (ARG)
Pole Vault
2003 World Youth champion, 2004 World Junior silver medallist, Current World leader
You are a very experienced competitor. In fact you were silver medallist in these championships two years ago in Grosseto. Are you looking forward to these championships and are you confident that you can win gold this time?
Yes I have the experience of Sherbrooke 2003 and Grosseto 2005 where I won silver but Pole Vault is always a very difficult event. Anything can happen in a Pole Vault contest and usually finals are very hard fought. I will do my best to try and get a medal.
You are a pupil of the great Ukrainian coach Vitaliy Petrov and you train for some of the year in Formia, Italy. So my question is perhaps obvious, do you hope to be as great an athlete in your career as Sergey Bubka, Yelena Isinbayeva, Monika Pyrek, and Guiseppe Gibilisco to name just a few of Petrov's star athletes?
I would like to make it clear that I also train with my father who is my main coach but since 2003 I have been also advised by Vitaly Petrov in Formia, Italy. It is a very good experience. I have learnt a lot by training with the likes of Gibilisco, Isinbayeva and Pyrek and it is always a pleasure to go to training.
I hope one day I will have the same career as them. I am improving step by step and I hope I will increase my personal best slowly but steadily.
I have been a good youth and a good junior athlete; I hope I will be a good senior athlete as well.
You vaulted a national record and Area Junior record by clearing 5.70m when winning the IberoAmerican championships in May but since then you have jumped at a much lower level. Are you in good shape? Have you been concentrating your season on these championships?
After the Ibero-American championships I have been training in Formia and also taken part in a few competitions but I wasn't in the best conditions yet. Now I feel good and ready for the challenge. My first big competition at the Golden League meeting in Rome was a very valuable experience and I now have a lot of hopes. I just want to jump!
John Robert Oosthuizen (RSA)
Javelin Throw
2003 World Youth silver medallist, Second in the World Junior lists
Do you enjoy the travelling, the experience of different cultures, is this one of the aspects of being an athlete which interests you, or is your motivation just about competition for you?
My main focus is the competition but I also enjoy meeting other people and learning about other cultures.
As a South African you are following a fine Javelin Throwing tradition at these championships. Marius Corbett won this title in 1994 and went straight on to take the World senior title in 1997, while in 2000 Hardus Pienaar also took the junior crown, and he has also twice gone on to be African senior champion. Are these men an inspiration to you as an athlete?
I have actually had the privilege of meeting both of them and they have given me extra motivation.
You are competing against Finland's Ari Mannio who leads the world junior list for this season. At your best you are both approximately 4 metres ahead of your nearest opponents, so do you consider the champs a two-way duel?
No, I think that on the day everyone is equal. The guy who has the guts, the one who throws further will take it on the day! Training is going well so I hope I can throw a PB at these championships.