35th IAAF World Cross Country Championships

Mombasa, Kenya
March 24, 2007

Blazing Heat Thwarts US Efforts - Klotz Leads, but 3 DNFs

Junior Men -- University of Oregon freshman Kenny Klotz, a 2006 Central Catholic OR grad, led the Team USA with a 56th-place finish in a field of 128 at the 35th IAAF World Cross Country Championships junior men's race Saturday in Mombasa, Kenya. But with 2 DNFs among the five who made the trip, Team USA failed to register a team score. (continued)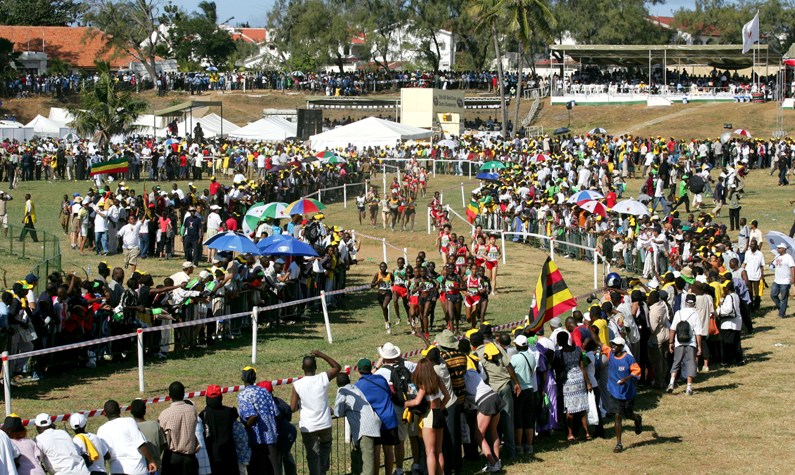 The incredible scene from Mombasa - this from the junior women's race. Crowds at the Worlds were estimated at 30,000 in the sweltering conditions. Photo by Vic Sailer, photorun.net
Klotz ran 27:11 on the tight, uneven 8k layout in sunny, humid conditions where the temperatures hovered around 90 degrees. The winner was Kenya's Asbel Kiprop in 24:07, leading his country to a sweep of the top 4 places and an easy team title with a perfect score of 10 (four score).

Adams State U. fr Ryan McNiff (former Los Alamos NM prep) was 2nd American in 86th with a 28:28, and Eldorado NM sr Matt Tebo was 100th in 30:56. Liberty U. fr Joshua Edmonds (Cooperstown NY) and Iona College fr Noel Bateman (Aquinas NY) did not finish. Winona MN sr Elliott Heath did not make the trip. (continued)

At left, Matt Tebo, Eldorado NM sr; at right, Team USA's top finisher, Kenny Klotz (56th). Photos by Vic Sailer, photorun.net

A bevy of concerns about safety and security in Kenya, fueled by an announcement of a potential terrorist threat, was a prime factor leading to massive defections for all four squads. The expected (and realized) oppressive heat of Mombasa and the difficulties in gaining entry into Kenya (along with things like malaria shots) were factors in early senior team decisions not to compete. No junior women made the trip, while both senior teams had to go deep into the USATF finishers lists to field teams. With five of six qualifiers making the trip, the junior men actually had the best team on paper.

The Team USA senior women were 8th of 12 teams, while the senior men were 11th of 13. With 8th, 11th, DNF, and DNC, there has probably never been a collective lower finish by American teams at the World XC Championships.

Senior Men – The huge news in the senior men's race was the DNF of Ethiopian megastar Kenenisa Bekele, who was shooting for his record sixth straight title. His shocking, sudden departure 800 meters before the finish – reportedly due to heat-induced cramps – opened the door for Enitrea's Zersenay Tadese to take the title. While four other Ethiopians would drop out, the host Kenyans swept spots 2 through 6 to easily win the team title. The depleted Team USA was 11th, led by Michael Spence's 55th-place finish.

Senior Women – A woman of Kenyan descent won, but she wasn't a Kenyan. Lornah Kiplagat, who became a citizen of Holland by marriage in 2003 and has a long list of accomplishments on the track, road, and XC course alike, dominated the field. But by taking the next three spots, led by Tirunesh Dibaba, Ethiopia won its only title of the day. The USA women were 8th, with Oregon's Cack Ferrell leading the way in 30th (best USA individual finish of the day).

Junior Women – The first race of the day, in the hottest conditions, saw Kenya dominate with a 1-2-3 finish led by Linet Chepkwemoi Barasa. Twenty of the 87 starters didn't finish.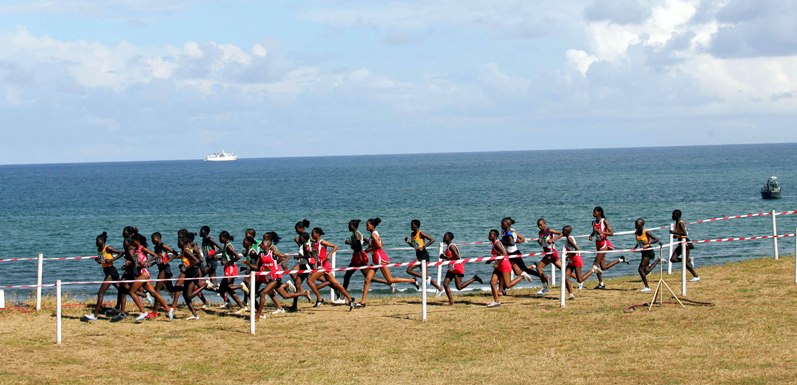 Yes, this course was right on the ocean . Photo by Vic Sailer, photorun.net