Pacifico aiming for much bigger throws





US#1 putter knocking on door of 70 feet





Wednesday, April 18, 2007



by Jeff Hollobaugh, Midwest Regional Editor



For two meets, Nike Indoor champion Jimmie Pacifico had been bedeviled by rain. In his outdoor opener, he had thrown 62-06. In the next meet, again on a slick surface, he managed only 61-04.25. The fact that most other prep throwers would be thrilled to throw that far didn't matter. "I was just hoping for a good day," he says.

Then, at Wayne High School's Warrior Relays, the clouds looked threatening. When the Vandalia Butler senior stepped into the ring for his fourth throw, the surface was still dry. He blasted a PR 69-08.5 to become =14 all-time among U.S. prep throwers. "It was funny," he says, "because right after that throw, the rain started coming down hard." Eventually the rest of the meet was postponed.

For Pacifico, being 5-8 and nearly 240 pounds means that he has to rely on speed and explosive strength to shoot the 12-lb ball that far. Dry, sure footing helps.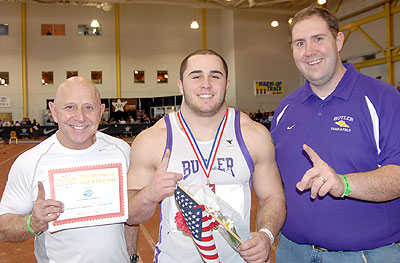 Jimmie Pacifico with his dad Larry (l), and Coach Tregoning, after winning the 2007 NIN shot. Photo by Donna Dye
Now, he says, "I'm right where I want to be, right on track for my goals." He makes no secret of those: 73-feet, though he won't be upset if it goes farther. In the discus, he'd like to see the platter go 200. The same for the hammer. He's also hoping to get into a meet where he can throw the 16-lb shot. A 62-footer would suit him fine there; he's been ranging from 59 to 61 in practice.
Pacifico's favorite event, understandably, is the shot. "I'm not blessed with height. In the discus, it helps to have those long arms." In the shot, that goal of 73-0 means the world to him. On the one hand, it's a nice, round number. On the other hand, it's four inches farther than the mark that Pacifico has been hearing about for years.
The all-time Ohio record is 72-8, set in 1987 by Charles Moye of Akron's Ellet High School. It's a mark that still ranks Moye No. 4 all-time nationally. These days, Moye works for Pacifico's father. "He's always telling me to break his record," says Pacifico. "It's a small world."
Pacifico does his technique work with Rusty Smith, who once helped coach Randy Barnes. He has devoted himself year-round to his throwing ever since he walked off the football team after his second game as a junior. He admits the decision to leave the gridiron didn't go over so well in football-mad Ohio. "At first it was hard," he says. "They all thought I was a quitter."
However, Pacifico was thinking long-term, and made what appears to be the sound decision that his best college and professional prospects lay in being a thrower instead of a running back. The risk of injury began to look more problematic than ever.
Eventually, his buddies accepted his decision. "They understood I wanted to go to the Olympic Games."
Pacifico never saw himself going that far when, as a boy of 10, he threw a shot for the first time on his front lawn. "My dad saw it, I think," he says.
Now he has a shot and discus ring in his backyard, and his sights are solidly set not only on the Ohio record but also on winning the Nike Outdoor meet. After that, he'll pass on the USATF Juniors so he can head to college early. "I want to get into off-season throwing right away," he says.
He will be attending California's Moorpark Community College—now legendary in throwing circles—before he transfers to another throwing mecca, the University of Georgia.
Pacifico already knows what he has to work on. "For me, if I can get up on my left foot in front, that's what it takes to pop a good throw. That's a difference of about five feet. That 69-08.5 came off my back foot. I didn't want to fault with the rain coming."
The hint is clear. Stay tuned. Pacifico has a bit more in him.
Midwest Region Index Page