For decades, Spokane, Washington has been known as a hotbed of American distance running. From Olympic-level competitors to high school cross country dynasties, Spokane has produced a steady stream of top-shelf talent since the days of Gerry Lindgren. So strong have the boys teams, in particular, been over the years, that Spokane has earned the nickname of "American Rift Valley" in certain circles. How to explain the persistent, deep, constantly replenishing pool of talent from this one mid-sized city, tucked away in a corner of the country?

Dave Devine--after speaking with numerous coaches, athletes and local legends--takes a shot at it.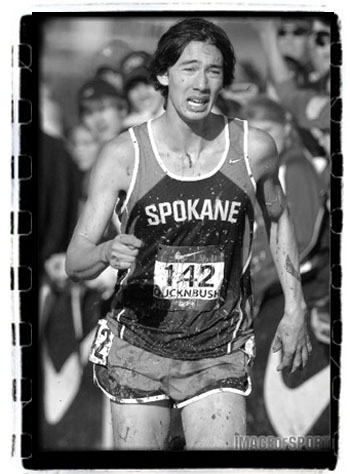 Lloyd Brewer works on the 2nd floor of Spokane City Hall. His office is buried in a maze of gray cubicles, identifiable only by the nameplate affixed to his pale fabric sectional and the clutter of paperwork creeping inexorably closer to his computer. He is, by his own admission, neither a runner nor a coach of runners, but he's still the best place to begin. Why? Because we need to start crossing things off the list.

A serious, soft-spoken man, Brewer is the environmental programs manager for the city of Spokane. He tosses off phrases like "wide-ranging topography" and "sole-source aquifer" with considerable ease. After a few minutes of this, he slides a dense, 45-page document across the desk, suggesting it might be of some assistance. The packet, entitled Report on Spokane Drinking Water for 2006, explains how the region is fed by something called the Spokane-Rathdrum Prairie Aquifer, an underground water source stretching from northern Idaho into northeastern Washington.

"Probably way more than you need," Brewer says, "but there it is." Asked to summarize the document's contents, as well as his own professional experience, he barely hesitates before concluding, "Basically, I don't think Spokane's water is unique. As far as water sources go, it's probably pretty typical."

Pretty typical.

So much for the number one theory on why so many outstanding high school runners come from this one mid-sized city in northeastern Washington: There must be something in the water up there.

Ditto for There must be something in the air. Brewer says the air quality in Spokane is "actually pretty good." The city, he asserts, "hasn't had any pollution violations in quite some time. Air's pretty normal."

What about altitude?

Topographic maps suggest that the elevation in Spokane varies between 1879 and 2372 feet above sea level, hardly high enough to convey the advantages of high-altitude training to it's wealth of distance runners.
Ferris' Cameron Quackenbush at NTN - Photo by Kirby Lee

A quick check with the Spokane Public School District reveals that the district's bus service transports nearly 7,000 K-12 students to school, traveling almost 9,000 miles daily. The nearby Central Valley district offers more than 60 routes, serving any student outside a one-mile radius of the district's 22 schools. Apparently there are few, if any, students forced to run a great distance to school. No seven year-olds piling up a natural base by setting off at four in the morning with textbooks tucked under their arms.

What could it be then?

How to explain all the state cross country state titles won by Spokane high schools over the years? All the times the Mead High boys were ranked in the top two or three in the nation by Harrier Magazine in the years before Nike Team Nationals provided a meet to ostensibly settle the question? What about the three straight trips to that Nike national meet for Spokane powers Mead and Ferris, with top-five finishes every year for Mead, and a 3rd -5th combo led by Ferris in 2006? How about the general sense that one of the deserving teams left home from NTN in 2006 was yet another squad from the Greater Spokane League—rising power Central Valley? Or the belief that in 2007, none of these boys teams may be tops, only to be replaced by new-kid-on-the-block North Central, ranked NW#1 and US#2 heading into the season?

What about all the Spokane runners who've ranked among the nation's best on the yearly distance lists? The Foot Locker finalists? The Kinney finalists before that? What about the parade of elite females to emerge from this city, a list more celebrated for individual accomplishments than team laurels, but no less substantial—girls like Annette (Hand) Peters, Sarah Schwald, Jessica Fry, Megan O'Reilly and Rebecca Noble?

How to explain the persistent, deep, constantly replenishing pool of talent from this one city tucked away in a corner of the country?

Dylan Hatcher, recent Mead High graduate and soon-to-be Arizona State Sun Devil, has given plenty of consideration to the question. As the top runner for the Panthers last year (with a 9:10 3200), and a bridge between the tenure of legendary Mead coach Pat Tyson—who moved on for good before the 2006 cross country season—and new coach Steve Kiesel, Hatcher is both thoughtful and eloquent about the roots of the Spokane running scene. On a sun-splashed Monday morning alongside Mead's recently-resurfaced track, he stretches after a run with his former teammates and offers a list of reasons for the steady stream of talent emanating from his hometown.

"First," he says, indicating the hills just beyond the bright blue track, "it's all about location. Location, location, location—and Spokane's got it. We've got the best trails around. If you want to run on a mountain, you can. If you want to run around a lake, you can. There's just great trails everywhere."

Another influence, he says, is the deep sense of tradition, passed from one generation of runners to the next. "Gerry Lindgren was out here, and Rick Riley and guys like that, and everyone's just tried to follow in their footsteps." Illustrating his point, Hatcher conjures a mental list of prominent Spokane runners, a thread that, for him, stretches from Lindgren and Riley in the '60s, to Mead stars like Chris Lewis and Matt Davis in the '80s and '90s, to more recent Mead standouts like Evan Garber and Laef Barnes. "I'd be training with Garber and Barnes—guys who were 8:58, 8:59-types—and I wanted to follow in their footsteps. I saw those guys doing so well and I was, like, 'Man, I want that.'"

Wrapped around that imbedded tradition is a fierce competitiveness between boys' teams within the Greater Spokane League, much of it attributed--at least in its most recent incarnation--to Pat Tyson. "A lot of it was Tyson," Hatcher says of his former coach. "He was such a good motivator." Hatcher notes that Tyson passed along this enthusiasm for the sport, not just to his athletes, but to fellow coaches and rival teams as well. "For a while Mead was the single powerhouse, then we started going to camps and people would talk to Tyson, and Tyson being the guy he is, he would spill his guts and tell everyone what we were doing. Everyone just started stepping up. Now we have Ferris, who's won state four times in a row, not because [Mead] is doing badly, but because Ferris is so good."

One secret Tyson was incapable of spilling—because it's available to anyone who bothers to poke around—is the running culture that's taken root in Spokane in a way that rarely occurs in other locales. "In Spokane," Hatcher concludes, "running's a lot more socially acceptable than it is in big cities. In other places, you don't see kids running around in short shorts out on the highway. There's a lot more things to do in bigger cities; out here it's just running and going to school." A prime indication of that running culture, he says, is the city's allegiance to the Bloomsday Run, an annual 12k road race with massive local participation. "I don't care who you are in Spokane, you've done Bloomsday before. It's because Spokane's such a running town."

Tradition...landscape...the Tyson influence...the fraternity of coaches...the culture of running—start with Dylan Hatcher and then speak with a dozen other Spokanites, and the same five factors come up again and again. They inevitably overlap and intertwine, but if there's any hope of explaining the phenomenon that is high school running in Spokane, the fabric must be tugged tight until the seams show. You could begin anywhere, start with the coaches and get to the culture, or focus on the culture and circle back to the landscape, but perhaps it's best to explore the tradition first, tease out that thread weaving from Lindgren to Lewis to kids like Leon Dean, one of the top runners at upstart North Central.

There are countless ways to access that tradition, people will tell you, but there's only one entrée point that takes you all the way back—back before Tyson and Mead and Nike Team Nationals and Harrier Magazine rankings, back to the skinny kid with the squeaky voice and the astonishing capacity for pain, the first runner to put this working class city on the map, way back in 1963.

Have you spoken with Tracy yet? everyone asks. You have to go see Tracy Walters.

The Tradition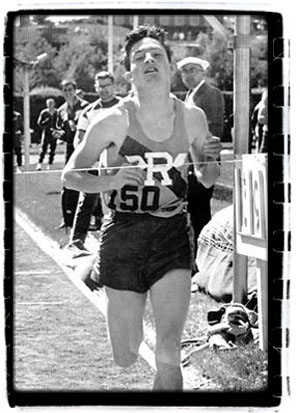 The house isn't easy to find. You have to travel a winding road along a ridge high above Spokane, taking several poorly-marked turns before eventually arriving at the residence of Tracy Walters—the man who coached Gerry Lindgren at Rogers High School more than forty years ago. A long-time farmer, Walters recently downsized to this more modern home where he lives with Leta, his wife of more than 56 years. He's 77 years-old himself, a vibrant septuagenarian with a leathery tan and a warm, ready laugh. When Leta brings out a pitcher of sun tea and suggests a move to the back deck, Tracy passes on the sugar—and the deck, until the day cools off—but insists you help yourself to at least two spoonfuls. Later, he says, there will be ice cream with fresh strawberries. For now, there are plenty of other things to chew on.

"Spokane kids have always done well," he says, settling into a deep leather couch. "The first Washington state champion in 1959 was a guy from Mead. And it's gone forward from there." Over the years, Walters says, beginning with his protégé Lindgren in the early 1960s, the bar was gradually raised. "Success breeds success, greatness breeds greatness. The bar gets raised, and then people think that's what you have to do."

Walters was a product of Spokane schools himself, a basketball player at North Central who was coaxed into running. Like many coaches in his day, he was initially a generalist, taking the reigns for multiple sports when he began at Rogers High. But he was also a diligent student of running and the various track and field events. He sought out the information he needed to coach the kids he received. It's an attribute he identifies in the long line of successful Spokane coaches.

"We've been really fortunate with the quality and knowledge of coaches," he says, "competent people who have an understanding of the sport."

At an age where he is well past being self-conscious about much of anything, Walters speaks without embarrassment or hesitation to a virtue which has largely disappeared from modern discussions of coach-athlete relationships.
Gerry Lindgren of Rogers HS in 1964 - AP Photo

"Kids need to have a love for their coaches, and the coaches have to love the kids." Here he leans forward, peers over the top of his tinted glasses with watery eyes and jabs a slightly crooked index finger. "Anybody can give a workout, but for kids to respond to coaching there has to be love. Some kind of chemistry that's part of the arduousness of what you do."

It's clear as he continues speaking, that Walters had that sort of chemistry with Gerry Lindgren—that he loved him and was loved back.

The facts surrounding Gerry Lindgren's astonishing career are well-documented, but Walters can ably fill an evening with the kinds of anecdotes and details that don't appear in record books. How Lindgren and teammate Len Long (now an assistant coach at North Central) loved to fish, so Walters would haul their gear out to Eloika Lake, 30 miles away, and Lindgren and Long would run there. Or how the two established a wide-ranging loop of Spokane homes at which they could count on receiving fresh-baked cookies, including Leta's handiwork at their coach's own house. Or how those "cookie routes" remarkably mirrored a collection of girls' houses Lindgren and Long liked to visit.

Walters distances himself from more recent claims that have surfaced regarding the weekly mileage Lindgren is said to have run. He admits there is undoubtedly some exaggeration, but refuses to disparage or question a former athlete he still considers a good friend.

"The reality is they ran a lot of miles. Two or three hundred a week? I don't know. I only know what I saw him run, but Gerry would also do a lot of running on his own. Sometimes I think he'd run to get away."

He recounts one story from the days immediately preceding Lindgren's legendary 10k showdown with Russians Leonid Ivanov and Anatoly Dutov at the 1964 US-USSR track meet, soon after Lindgren graduated high school. The young runner was sitting on the trackside grass after a workout when he turned to Walters and said, "You know coach, wouldn't it be cool—" and then proceeded to lay out a race strategy of surging and settling that he speculated might defeat the Russians. Both laughed at the idea that afternoon, but a few days later Lindgren executed the plan with stunning precision, even winking at Walters midway through one of the laps to let his coach know the gambit was still on.

Asked if Lindgren's return to Spokane after that meet inspired others in town to attack the sport with new ferocity, Walters bolts up from the depths of the couch.

"There's the bar raising again!" he says. "The Spokane tradition." Then he pauses to remove his glasses, dragging his fingers across the corners of his eyes. "If this wimpy little high school kid could beat those Russians..."

He wants to say more, but he's unable. Instead, he trails off, wiping fresh tears from his eyes and suggesting that now might be a good time to head out to the back porch.

The Landscape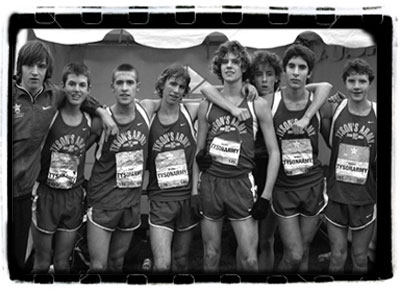 Steve Kiesel, on the cusp of his second year as head boys' coach at Mead High, is waiting for his charges to return. It's a beautiful morning, a cloudless blue-skied day that's just starting to warm up. Kiesel, sporting a weathered Footlocker ballcap and a pair of sunglasses perched on the brim, turns a full circle as he points out the training options available to him and his team.

"I'm telling you, it's running heaven out here. Run ten minutes in any direction and you'll find a trail."

Like his predecessor, and friend, Pat Tyson—as well as other Spokane luminaries like Ferris coach Mike Hadway and Olympic marathoner and Bloomsday race director Don Kardong—Kiesel is a transplant from western Washington, a running enthusiast who came here and never left. Before moving to Mead he spent 15 years at Rogers, where his most recent accomplishment was mentoring 2:03 800-runner, and current Oregon Duck, Rebekah Noble. When the position at Mead became available, despite the obvious challenge of succeeding a local legend, it was an opportunity he couldn't pass up. Now, with one year and a 5th-place NTN finish under his belt, he stands in that brilliant sunshine, waiting for fifteen shirtless kids to come straggling in.
Mead High School WA -- "Tyson's Army" -- at NTN - Photo by John Dye

He talks about the nearby mountains, the endless trails that criss-cross the countryside, and the refreshing river that runs through it all. There's a Mead tradition, he says, that involves running through the Spokane River as a reward at the end of a hard week of training.

"Sometimes it's up to your ankles, sometimes over your head," he says. "It's called the River Run. The kids love it."

Spokane, not far from the high desert plain of southeastern Washington, gets plenty warm in the summer. And awfully cold in the winter.

"Winters here are hard," Kiesel acknowledges, "but it makes our kids tough. We train through the winter. It's part of that tradition at Mead that goes back to guys like Matt Davis. That level of toughness, which I think is one of the characteristics that distinguish runners from Spokane."

A dozen miles away and a day later, North Central coach Jon Knight is watching twenty more of those Spokane runners stretch on his front lawn. His house, isolated up a winding gravel road, is situated at the edge of Riverside State Park. It's another warm morning, but here you can smell the pine needles on the wind and feel the cool offered by the surrounding forest. Knight's team has just returned from a long run on the park's wooded trails. Fourteen miles on the legs and barely a single stride on the concrete.

Knight, a Ferris High School star and state champion himself, considers this access to soft-surface training one of the essential ingredients to the turnaround he's helped orchestrate at the inner city school which has long played second fiddle to Mead and Ferris in the Greater Spokane League. Now the defending 3A state cross country champions (Mead and Ferris are 4A schools, but all three race in the same city league), North Central is poised to make an historic leap to a stratosphere previously occupied by its more renowned competitors. With four returners at 4:21 in the 1600, they are pre-season #1 in the Northwest and US#2 in the national Harrier Magazine poll.

Reclining loosely on the front porch of their coach's house, North Central's top six seem both invigorated and slightly awed by the season that awaits them. They are both hungry and young, a devastating combination if cultivated correctly. They are also humble, equally committed to their team's ethic of community service as they are to hitting the hills and backing up their national ranking. Mostly though, they're jacked about the distance run they've just completed.

"Look at all this," Leon Dean says, indicating the hills, the pines, the shaded bark paths, the shimmering river somewhere past the treeline. "We just ran fourteen miles and it was all on trails. This landscape is definitely part of what makes Spokane so good."