2006 Foot Locker Northeast region - Girls
Nov. 25, 2006 Van Cortlandt Park, New York City
PA juniors Neely Spence and Carly Seymour 'relax' their way to 1st & 3rd. Hannah Davidson extends FL Finals streak to three. Shelby Greany, Elizabeth Deir and (by a fingernail) Danielle Tauro repeat. Two stars to stay home.
by Don Rich
penntrackxc.com
Ommmmmmm. Breathe. Relax. Ommmmmm. Breathe. Just relax. Ommmmm... I think I better move up if I want to make the finals. Ommmmm... there, that's better. I'm in first. Ommmmm....
The common strength shared by the two Pennsylvania juniors who took 1st and 3rd in the Northeast Region is that these girls have learned how to control their emotions, how to quickly assess a situation, but more importantly, not to over-react. They are confident in their abilities. Confident in their training. And confident they can meet their goals. Even if they're not feeling great. Even if they're a bit back in the pack.
Neely Spence of Shippensburg, and Carly Seymour of Central Cambria near Altoona, are both going to the west coast for the first time. Both used a strong mental approach and preparation for the race to deal with different problems each faced early. And both were thrilled with the results.
Neely Spence crosses the finish line. photo by PhotoRun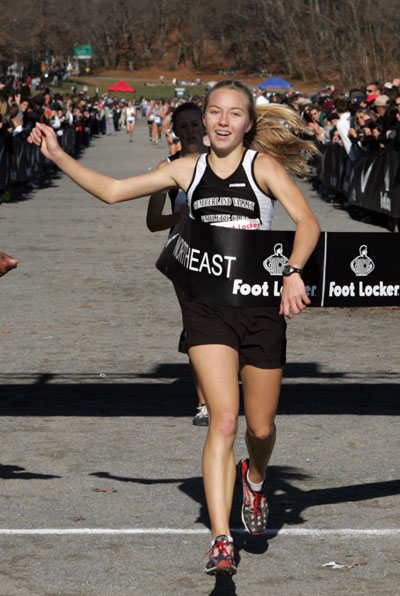 Neely Spence was in position to earn a spot in 2005. But a then-undiagnosed iron deficiency conspired to sap her strength over the final 1000 meters, when she would slip from the top ten to 19th. Problem corrected. But Neely is not just a year older and smarter. There have been other big changes, as well. It's a year in which the homeschooled daughter of 1991 Marathon World Championship medalist Steve Spence became a member of a high school team for the first time. PA Governor Ed Rendell had signed the legislation in January 2006, and by November 4th, Neely was a state champion... running for her local high school, Shippensburg.
Neely knew the plan. Get out fast, be comfortably in the front pack entering the woods, keep contact on the hills and then to go to her strength – downhill with speed – to get a top ten position and a trip to San Diego. It was the getting out fast part that presented a problem very early. The 5:20 mile pace would chew through the pack as the race wound through the hills. Spence said that because of the fast start, she never really felt that great throughout the race. "I didn't know whether I just wasn't having a good day, or if I was actually running pretty fast." Because she didn't panic, it actually turned out to be the latter one.
Faced with the prospect of an off day, Spence started to focus on her breathing, rhythm and form. "My breathing helped me to be focused and stay relaxed."
She also relied on newfound confidence from the 17:38 she had run 13 days prior to win the women's division of the New York Roadrunners Club XC Championships at Vanny. And she relied on her training. "I knew that I could handle just about anything. My training has been going really well."
Spence was in the top ten at the top of Freshman Hill, and stayed in the 6-10 group through the woods, with the lead group just ahead. At the top of the last big hill, Spence made her move. "I really rolled on that downhill and just kept working my way up to see how many people I could pass." She rolled pretty well, because by the approach to the bridge, she was in 2nd. Crossing the bridge there was another downhill, and guess what happened... "I took the lead down that hill and headed for the finish."
But (now three-time) Foot Locker Finalist Hannah Davidson, the Saratoga Springs NY junior, and Carly Seymour had other plans. The three battled, with Seymour briefly in front. Spence says she had no idea she had it won before she crossed the line. "I was running scared."

Spence's winning time of 17:41.1 was three seconds off her NYRRC time. It was that race that had given her the extra confidence to push through what she knew would be a tough race. Her 17:38 goes on the all-time Vanny list, and was faster than the 2005 winning FL NE time. "That was totally shocking. I had no idea I was capable of doing that."
Now she does.
It was only the second race of the season where Spence ran her own race. All the races prior to the NYRRC race had been strategic – gauging the competition at the two mile and then doing what was necessary for the win. Her district race had been delayed to just five days prior to states, so she ran that race to qualify. "Every race this year has turned out perfect. But this one was better than I imagined."
Wonder what Spence is imagining heading to San Deigo? She didn't have an answer. "I take one meet at a time and haven't even thought about the national meet. I'm just looking to get my cool-down" (Hint to interviewer, gotta go).
While Spence is in the lead pack, Seymour is taking a different approach. From 35th!
Carly Seymour came to the Manhattan Invitational in October to get acquainted with the course, but more importantly, to learn how it feels to race in a group of talented runners. And notice we say 'group.' She is used to having a challenger or two in the small schools division in PA, but in her local races, she is always alone. Well, at Manhattan, she learned quickly, finishing 6th in the elite Girls' Eastern States race and gaining the confidence she needed.
What she didn't expect to happen as the Northeast Regional race unfolded was exactly what happened. She got boxed in, and found herself in 35th entering the woods. Whoops.
But no worries. Seymour has a hobby. It's, ummm, yoga. And she was prepared for anything.
"It's a mental race, so I spent a lot of time mentally preparing myself through Yoga. Just relaxing. Breathing."
While the lead group with Spence and Davidson was through in 5:20, Seymour was 'in the 5:30's". She was concerned.
"I have never been that far back." By the mile, she had moved up in the teens. Then, in the hills, she really started to roll. "I kept passing so many people. I guess I saved a lot of energy."
Soon, she heard someone yell she was in 13th. "I heard the girls around me breathing real heavy and they were tired, and I felt great, so I thought I had better kick it in." Kick she did. With about 1000 meters to go, she had moved into 5th, within 25 meters of Spence and Davidson. By the time Spence and Davidson had crossed the bridge, Seymour was right with them. Coming out of the woods, she heard someone else yell she was 3rd. "I got an energy burst and I was suddenly in first. But then they (Spence and Davidson) passed me, and I didn't care. It's still the top ten. But I was thinking, '35th to 1st' wow. I was in shock."
Her 17:44 was within three seconds of Spence and two seconds of Davidson.
Reflecting on the race, Seymour was pleased with the unusual way it had unfolded. "I could have handled the 5:20 start, but then like States, my third mile I would have hit a brick wall." She was the runner-up in AA this year to Neshannock junior Kacey Gibson, who was in the top ten for a time, but finished in 18:18, less than four seconds out of the last spot.
Hilton senior Ashley Higginson leads three final three first-time qualifiers. Shelby Greany and Elisabeth Deir earn return trips. Danielle Tauro survives to race another day.
First time finalist Ashley Higginson, the recent two-time runner-up in NJ to returning Finalist Danielle Tauro of Southern Regional, spent much of the race in 4th, and that is where she finished, running 17:52.
Higginson knew the importance of getting out fast. All she wanted to do was just give herself a chance. "You just have to deal with how fast it goes out here. I knew if I could get to the hills, I knew I could be in it." Approaching the two mile mark, she passed a struggling Tauro, but was quickly passed by Spence. "So I was still in 4th."
She says that Spence, Davidson and Seymour separated heading down the hill, fighting each other off heading for the finish.
Higginson will be making her first west coast trip(s) starting with the Nike Team Nationals next week with her Colts Neck NJ team, and will return home before heading to southern California for Foot Lockers. "I really have to get home for my calculus AP class. I have to take that class." But she also prefers the comfort of home and being around her support group. "The travel doesn't affect me that much."
For 2007, she hopes to be joining the nationally ranked Princeton squad. "That's where I'm going."
Joining Higginson for the first time in San Diego will be Alison Smith, a senior from Atholton, Maryland, 5th in 17:55.9; Allison Sawyer, a senior from Hilton HS in New York; and Massachusetts sophomore Emily Jones, 9th in 18:03.9.
The three additional returning finalists include Suffern sophomore Shelby Greany, 6th in 17:58.8; Elisabeth Deir of Honeoye Falls-Lima, NY, 7th in 18:00.6; and Danielle Tauro, Southern Regional NJ senior, 10th in 18:14.5.
Despite the torrid first mile (2:32 800, 5:20 mile), Greany feels her 2005 race was tougher because she basically had to sprint the last mile to even qualify. She was 5th at the mile, but then says she looked down for a second, and when she looked up, "everyone was gone." She spent much of the race in 10th and noticed that the blistering opening pace had 'killed everyone."
Greany got some extra motivation exiting the woods when she heard that the 11th place girl was right behind here. "I know her (Caroline Schultz, Hilton senior), and she has a fast kick, so I had to start moving. I knew she would be coming after me." Greany found her kick and moved up to 6th. Greany hopes to improve on her finish in 2005 at Nationals. "The recent warmth may be less of a shock. Last year we went from 30 degrees to 70."
One of the girls she passed was fellow-returnee Elisabeth Deir, who also enjoyed passing those who were not able to handle the fast early pace. She says she just fed off the energy of the people at virtually every turn in the race. "Even though you're running your guts out on the course, you don't notice as much because there are other people to distract you. You have momentary goals of passing people and not letting up."
Deir is aiming for top ten at Nationals. She'll make a college decision by mid-December, concentrating her final choices in the Northeast.
Tauro, who was 6th in the finals in 2006, was in 3rd with 1000 meters to go, but had been in trouble since the two-mile point and nearly didn't finish. According to Dyestat reporter John Nepolitan, Tauro started to stumble with 70 meters to go, and went down twice in the final 20 meters, before crossing the line in 10th, less than a half second in front of Hilton NY's Caroline Schultz. "My eyes rolled in the back of my head with a mile to go. I don't know, maybe I was overhydrated."
Not making the return trip to the Finals will be Colts Neck's Briana Jackucewicz, a sophomore, who was 19th, and junior Caitlin Lane, Greenwich NY, who stopped shortly after 4000 meters, in obvious distress.

Danielle Tauro falls a second time just short
of the finish line. photo by John Nepolitan

Still dazed, Tauro crosses the finish line. - photo by PhotoRun

Place Name                       Grade City                 St Gseeded 
        ===== ========================== ===== ==================== == ======= 
            1 Spence, Neely                 11 Shippensburg         PA 17:41.1 
            2 Davidson, Hannah              11 SARATOGA SPRINGS     NY 17:42.1 
            3 Seymour, Carly                11 EBENSBURG            PA 17:44.0 
            4 Higginson, Ashley             12 MARLBORO             NJ 17:52.0 
            5 Smith, Alison                 12 COLUMBIA             MD 17:55.9 
            6 Greany, Shelby                10 Suffern              NY 17:58.8 
            7 Deir, Elisabeth               12 Lima                 NY 18:00.6 
            8 Sawyer, Allison               12 MILTON               NY 18:01.7 
            9 Jones, Emily                  10 Harvard              MA 18:03.9 
           10 Tauro, Danielle               12 Manahawkin           NJ 18:14.5 
           11 Schultz, Caroline             12 HILTON               NY 18:15.0 
           12 Gibson, Kacey                 11 New Castle           PA 18:18.8 
           13 Thompson, Melanie             10 High Bridge          NJ 18:20.8 
           14 Crofford, Lara                12 Newville             PA 18:21.5 
           15 Champagne, Mary Kate          11 PLATTSBURGH          NY 18:23.9 
           16 Heigis, Lara                  12 WALPACK              NJ 18:26.8 
           17 Olson, Jamie                  12 GLASTONBURY          CT 18:27.3 
           18 Sikora, Allison               12 Newtown              PA 18:27.9 
           19 Jackucewicz, Briana           10 Farmingdale          NJ 18:34.2 
           20 Bottorff, Juliet              10 NEWARK               DE 18:37.6 
           21 Barton, Jessica               12 NEWTON               MA 18:40.3 
           22 Maguire, Keely                11 GEORGETOWN           MA 18:40.9 
           23 Cattuna, Theresa              12 CHERRY HILL          NJ 18:42.5 
           24 Lusardi, Catherine            11 SOUTH WALES          NY 18:44.7 
           25 Hulton, Jenna                 11 EAST AURORA          NY 18:45.9 
           26 Griffin, Georgia              11 Norwich              VT 18:46.2 
           27 Sinclair, Halsey              12 SILVER SPRING        MD 18:48.2 
           28 Marino, Amanda                12 JACKSON              NJ 18:48.4 
           29 Gregory, Meaghan              10 SCOTIA               NY 18:48.8 
           30 Gallo, Laura                  12 CRAWFORD             NJ 18:49.0 
           31 Walker, Marika                12 BOWIE                MD 18:49.4 
           32 Harrison, Cara                12 GAITHERSBURG         MD 18:50.1 
           33 Roecher, Samantha             10 CHARLTON             NY 18:50.3 
           34 Ivs, Eliza                    12 HARVARD              MA 18:51.6 
           35 Spratford, Katrina            11 Califon              NJ 18:56.2 
           36 Schuman, Amy                  11 LEE                  NH 18:59.3 
           37 Walsh, Marie                  10 Aberdeen             NJ 18:59.8 
           38 Meholick, Kassandra           12 New Cumberland       PA 19:00.0 
           39 Pennings, Tori                11 WARWICK              NY 19:00.6 
           40 Hartung, Genna                10 Morrisville          NY 19:01.2 
           41 MacK, Jeanne                  11 BRISTOL              RI 19:01.7 
           42 Shertzer, Lindsey             12 Washington Boro      PA 19:02.1 
           43 Kligman, Hannah               12 Radnor               PA 19:02.6 
           44 Black, Bridgette              11 Hanover              NH 19:02.9 
           45 Lanois, Emily                 10 HAMILTON             MA 19:03.2 
           46 Woodruff, Alycia              12 WESTCHESTER          PA 19:03.8 
           47 Kinney, Dale                   9 MORRISTOWN           NJ 19:04.8 
           48 Wallace, Jaime                 9 ALDEN                NY 19:05.4 
           49 Hursey, Katie                 12 Hampstead            MD 19:06.0 
           50 Gilmartin Donohue, Kaylin     11 WHITE PLAINS         NY 19:06.5 
           51 Zarger, Lauren                10 ERIE                 PA 19:06.7 
           52 Dinnan, Courtney              11 Hamden               CT 19:07.9 
           53 Ross, Kathryn                 11 Doylestown           PA 19:08.3 
           54 Goutos, Cassandra              9 SARATOGA SPRINGS     NY 19:09.1 
           55 Jenkins, Jordan               10 McSherrystown        PA 19:11.4 
           56 Kellner, Katie                10 West Windsor         NJ 19:13.5 
           57 Stephens, Heather             11 RIDGEFIELD           CT 19:14.3 
           58 Malloy, Kristen               10 Phoenix              MD 19:15.0 
           59 McCarter, Elizabeth           12 Ellicott City        MD 19:16.1 
           60 Cannon, Caitlin               12 WEST HARTFORD        CT 19:16.7 
           61 Vogel, Christine              11 GLASTONBURY          CT 19:17.3 
           62 Hogan, Callie                 12 BAYSHORE             NY 19:17.4 
           63 Cawley, Erin                  10 Newark Valley        NY 19:17.6 
           64 Gay, Morgane                  11 Bethesda             MD 19:19.2 
           65 Berard, Tori                  10 DENVILLE             NJ 19:19.7 
           66 Chodoff, Alaina               12 CHERRY HILL          NJ 19:20.2 
           67 Stasakova, Erika              11 BELAIR               MD 19:20.3 
           68 MacKay, Rebekah               12 WHITINSVILLE         MA 19:21.2 
           69 Millhouse, Karaleigh          11 Boiling Springs      PA 19:22.1 
           70 Rosettie, Kate                10 Corning              NY 19:22.6 
           71 Hinds, Abby                   12 Moutain Lakes        NJ 19:23.0 
           72 Kubala, Kristina              12 COATESVILLE          PA 19:23.3 
           73 Seguine, Brina                12 Rensselaer           NY 19:24.8 
           74 Van Houten, Meghan            11 LIMA                 NY 19:27.1 
           75 Morrison, Sarah               12 CHAMBERSBURG         PA 19:28.4 
           76 Hines, Erica                  10 ENFIELD              CT 19:29.7 
           77 Redman, Jennifer              12 NEW CARROLLTON       MD 19:30.2 
           78 Ramsey, Kesley                12 Franklin Lakes       NJ 19:32.8 
           79 Standridge, Kimberly          12 RANDOLPH             NJ 19:33.3 
           80 Davies, Kathleen              12 Huntington Valley    PA 19:33.5 
           81 Clark, Sydney                 11 LANCASTER            PA 19:33.9 
           82 Spratt, Lilly                 12 OLD LYMC             CT 19:34.4 
           83 Busby, Natalie                11 New Paltz            NY 19:35.2 
           84 Jamieson, Dana                11 BOSTON               MA 19:36.5 
           85 Downing, Jennifer             11 Stow                 MA 19:36.9 
           86 Sinclair, Ashlyn              12 SILVER SPRING        MD 19:37.6 
           87 Lamparter, Marie              12 Carlisle             PA 19:38.3 
           88 Troy, Dana                    12 LEBANON              CT 19:38.9 
           89 Horton, Ashley                12 Candor               NY 19:39.7 
           90 Goetschius, Amanda            12 FRANKLINVILLE        NJ 19:41.5 
           91 Bower, Natalie                10 Pleasant Unity       PA 19:43.3 
           92 Thomas, Keara                 12 HAVERHILL            MA 19:43.5 
           93 Boland, Colleen               12 Drexel Hill          PA 19:43.9 
           94 Mullins, Paige                11 Binghamton           NY 19:44.4 
           95 Schneider, Rachel             10 SANFORD              ME 19:45.5 
           96 Simonetti, Sarah              11 PERKASIE             PA 19:46.4 
           97 Altland, Christine            12 Hazlet               NJ 19:47.9 
           98 Hefferan, Amanda              12 Parsippany           NJ 19:48.9 
           99 Cronin, Jennifer              12 KINGS PARK           NY 19:49.8 
          100 Webber, Eliza                 11 STODDARD             NH 19:51.0 
          101 Davis Hayes, Cecilia          12 PHILADELPHIA         PA 19:51.3 
          102 Bascelli, Amanda               9 FOLSOM               PA 19:51.6 
          103 Provost, Rachel               12 MILLSTONE TOWNSHIP   NJ 19:52.3 
          104 Perron, Emma                  12 WEST HARTFORD        CT 19:52.7 
          105 McCartan, Jenna               12 NEWARK               DE 19:53.6 
          106 Bellon, Brianne                9 Greenfield           NY 19:54.4 
          107 Locke, Ali                    10 BOONTON              NJ 19:55.2 
          108 Dewdney, Berol                10 Putney               VT 19:55.7 
          109 Kershner, Katie               11 TATNAIL                 19:56.8 
          110 Mitchell, Kristin             11 GLASTONBURY          CT 19:57.4 
          111 Ballantyne, Emily             10 YORK                 PA 19:58.3 
          112 Diacont, Margaret             10 NAZARETH             PA 19:58.7 
          113 Weberg, Kristen               10 EAST AURORA          NY 19:59.2 
          114 Hays, Erin                    12 WADING RIVER         NY 20:00.1 
          115 Kelly, Courtney               11 NORTH BELLMORE       NY 20:02.1 
          116 Bossardet, Katherine          12 Gales Ferry          CT 20:05.0 
          117 Crawford, Erin                10 EAST AURORA          NY 20:07.0 
          118 Lewis, Shatievah              11 PHILADELPHIA         PA 20:07.3 
          119 D'Orazio, Kaitlyn             10 York                 ME 20:09.3 
          120 Peverda, Molly                12 Hampden              ME 20:12.0 
          121 Crocetti, Lindsay             10 ROCHESTER            NY 20:12.5 
          122 Stocker, Lauren               12 WESTFIELD            MA 20:12.8 
          123 Ritchie, Sarah                10 HILTON               NY 20:13.0 
          124 Madden, Kimberly              10 HOCKESSIN            DE 20:13.9 
          125 Dubin Rhodin, Abbie           12 EASTON               PA 20:14.3 
          126 Christensen, Jean             10 RUMFORD              RI 20:14.5 
          127 Kerr, Grace                   12 SOUTH HAMILTON       MA 20:15.8 
          128 Gallagher, Kerri              12 Belle Harbor         NY 20:16.6 
          129 Smith, Alyssa                 11 ROCHESTER            NY 20:19.9 
          130 Moynihan, Kate                10 STORRS               CT 20:20.4 
          131 Andrianos, Leah               12 EAST SYRACUSE        NY 20:21.4 
          132 Clarke, Emma                  11 Bronxville           NY 20:22.3 
          133 Jeltes, Lindsey               12 OAKLAND              NJ 20:25.3 
          134 Werley, Danielle              12 OREFIELD             PA 20:26.2 
          135 Corley, Jillian               12 NEW LONDON           NH 20:30.9 
          136 Reese, Kristin                11 Holmes               NY 20:33.7 
          137 Solly, Amanda                 11 West Seneca          NY 20:37.3 
          138 Griffith, Erika               11 MOUNT LAUREL         NJ 20:39.7 
          139 Moniz, Kellyann               12 SOUTH HAMILTON       MA 20:40.6 
          140 Castagno, Joan                12 NEWCASTLE            DE 20:41.0 
          141 Fuller, Hannah                 9 NAZARETH             PA 20:41.7 
          142 Clarke, Nicole                11 ABINDON              MD 20:42.2 
          143 McCary, Laura                 12 GAITHERSBURG         MD 20:42.9 
          144 Marshall, Katie               11 KINGS PARK           NY 20:44.8 
          145 Lierandi, Ashlyn              12 RIDGEWOOD            NJ 20:45.0 
          146 Ferrarini, Maura              11 Springfield          MA 20:46.4 
          147 Troy, Samantha                12 LEBANON              CT 20:47.9 
          148 Robbins, Mary Rachel          11 LOCKPORT             NY 20:49.8 
          149 Wells, Christina              12 WASHINGTON           CT 20:50.6 
          150 Woodward, Tait                12 Annapolis            MD 20:51.4 
          151 Lewis, Brett                  10 Scituate             MA 20:52.0 
          152 Pearce, Nicole                12 SOUTH WEYMOUTH       MA 20:55.2 
          153 Avilleira, Ashley             12 JACKSON              NJ 20:58.6 
          154 Weismiller, Hilary            11 McKean               PA 20:59.0 
          155 Mehlman, Nicole               10 PERKASIE             PA 20:59.5 
          156 Horgan, Erin                  11 Southboro            MA 21:02.6 
          157 Saldanha, Kaitlynn            12 SCARBOROUGH          ME 21:14.3 
          158 Wadlow, Lauryn                12 CARVER               MA 21:21.3 
          159 Slonski, Stephanie            11 Griswold             CT 21:23.3 
          160 Torres, Jessica               12 Clifton              NJ 21:26.9 
          161 Fraser, Kelsey                11 Lockport             NY 21:30.5 
          162 Castagno, Annie               12 NEW CASTLE           DE 21:43.7 
          163 Kasala Hallinan, Caitlin      12 WORCESTER            MA 21:49.2 
          164 Hamill, Carly                 12 ANNAPOLIS            MD 21:53.4 
          165 Mendoza, Sarah                11 Clifton              NJ 22:00.6 
          166 McKenna, Marie                10 PERKASIE             PA 22:17.6 
          167 Merzbach, Debbie              12 ROCHESTER            NY 22:33.6 
          168 Dodd, Martina                 12 SEVERN               MD 22:36.4 
          169 Stanton, Jessica              12 ELMIRA HEIGHTS       NY 22:39.2 
          170 Weglinska, Sabina             11 Clifton              NJ 22:40.2 
          171 Martinez, Susan               11 Clifton              NJ 22:58.5 
          172 Senor, Maggie                 11 Teaneck              NJ 23:00.3 
          173 Doyle, Sarah                  12 WORCESTER            MA 23:01.5 
          174 Pelak, Leanne                 12 West Milford         NJ 23:14.5 
          175 Myers, Lauren                 12 Dover                NH 23:29.9 
          176 Palmer, Caitlin               12 ELMIRA HEIGHTS       NY 26:32.2