Team USA's 43.29 4x100 Women's World Jr. Record and
Walter Henning's American Junior Record Hammer Throws Lead the Way
Team of Bianca Knight MS, Jeneba Tarmoh CA, Elizabeth Olear CA, and Gabby Mayo NC combine to lower 1999 4x1 WJR of 43.38 - Knight, unfortunately, pulled her hamstring and will miss Beijing
Walter Henning NY hits 237-02 on first throw, 238-02 on final throw, both exceeding his own 235-00 mark from USATF Jrs. this year
Quick Junior-Only 300s - Sa'de Williams CA 37.13 (over Brandi Cross TX and Jessica Beard OH) and Bryshon Nellum CA 33.19 (over Calvin Smith FL and Karjuan Williams NC) in rarely-run event.
After losing to her at USATF JOs, Mayo nips Kenyanna Wilson AZ in 100, 11.42-11.43.
The pros: LaShawn Merritt's 31.31 300 is #2 all-time and Matt Tegankamp PRs with 3:36.07 1500

World Record Women - by Dave Devine
You could tell it would be a good night for US Junior athletes when the press box officials were scrambling to pull up a webpage labeled IAAF Application for World Junior Record before the National Anthem had even been sung.
The two 4x100 meter races—assembled to prepare the Junior squads for stick-carrying duties in Beijing—were so low-key that they were relegated to a pre-meet timeslot and never announced to the media. Arriving fans were still settling into their seats and enjoying the late afternoon sun when first the Junior men, and then the Junior women, ran Red vs. Blue races with the available relay pools.
Willie Perry drew some attention anchoring the Men's USA Red team (Dennis Martin, Gordon McKenzie, Chris Dykes, Willie Perry ) to an impressive 39.43 win over a Blue team consisting of Evander Wells, Odell Harris, Arthur Wims and Brandon Myers (40.29), but nothing prepared the crowd for what came next.


Bianca Knight led off a Women's Blue team that included Jeneba Tarmoh on the second leg, Elizabeth Olear on third, and emerging superstar Gabby Mayo (right) on anchor. Knight injured her hamstring on the leadoff, but still managed a clean exchange to Tarmoh, who ripped down the backstretch past a grandstand still unaware of what it was witnessing. By the time Olear got a crisp exchange to Mayo at the top of the homestretch, Mayo was clear of Red team anchor Alexandria Anderson and ready to power home. Power she did, to a new World Junior Record of 43.29, taking down the seven year-old mark of 43.38 set by the USA in 1999.

Knight, scheduled to return for a face-off with Olympians in the Women's 200m, was finished for the night. (In fact, it appears she is finished for the season. The hamstring pull will prevent her from traveling to Beijing and sideline her for up to six weeks.) Her relay mate Mayo, however, was just getting started. Mayo returned roughly an hour later to take down a loaded Junior-only 100m field that included Tarmoh, Olear, and US Junior National champion Alexandria Anderson. She crossed the line in a wind-legal 11.42, with a fast-starting Kenyanna Wilson slipping to 2nd (11.43) and Anderson relegated to 3rd in 11.46.

Impressed with the sizable Tuesday-night crowd and supportive atmosphere at Hayward field, Mayo is looking forward to a return trip. "It was great. I can't wait to come back in '08," she said with a knowing smile.


-----------------------------------------------------------------------------------------------------------------------------------------------------------

Henning Hammers Another Record - by Dave Devine
When St. Anthony's, NY senior-to-be Walter Henning (below left) stepped into the Hayward Field hammer ring for his final throw of the evening—distinctive red-and-white-striped socks hiked to his knees—he was working at a slight disadvantage. His own hammer had been mangled in a cage collision on his errant second toss, which left him swinging borrowed equipment for his last attempt. It didn't matter. Henning settled into the ring, began a tight rotation, let out a primordial yell and unfurled the hammer into the descending twilight.

"I didn't think it was going to be a record throw," he said later, "but I thought it would be close."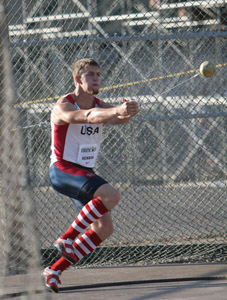 Henning had already laid waste to the US Junior record he'd set only weeks ago at the Junior National meet. His first throw in Eugene traveled 237-1, a two foot improvement on his previous record of 235-0. By the time this one fell out of the sky it had traveled 238 feet 2 inches, dislodging a massive divot from the sector and tacking another foot onto the Junior record.

Afterwards, an excited Henning commented on the enthusiastic support at Hayward Field. "To have a crowd like this, especially to have a crowd out at the hammer area, that's special." He also mentioned the lift he received from competing with post-collegiate throwers. "I threw with some of these guys up at the Penn Relays, but it's my first time throwing with AG [Kruger] and Kibwe Johnson. It's a real honor to be throwing with these guys."

Kruger, the 2006 US National champion and 2004 Olympian, returned the admiration. "This is great. I didn't start throwing until I was 21, so it's nice to see [Walter] get development and start to throw far when he's young."

Another elite in the field was former prep stud Jacob Freeman, the 2004 NCAA champion and 2006 US Nationals runner-up. Freeman still holds the national high school record of 253-3 with the 12 pound implement, but Henning's best is only nine inches shy. According to Henning, Freeman corralled his young pursuer before the competition and passed along a friendly request. "He asked me not to throw the 12 pound hammer next year," Henning said, laughing, "so I guess I got him a little scared."

Pressed on whether Freeman's record is an actual goal for his senior year, Henning turned a bit more serious. "You can't go for distance," he said. "You go for winning big meets. That's what you go for."

-----------------------------------------------------------------------------------------------------------------------------------------------------------
Lessons in the Long Shadows - by Dave Devine
AJ Acosta (right) knew he was in over his head. He'd heard discussions leading up to Tuesday's 1500m that the pace would go out in 1:54 for the first 800. The previous night, he'd let it be known that if the leaders hit that mark, he'd be nowhere near the front.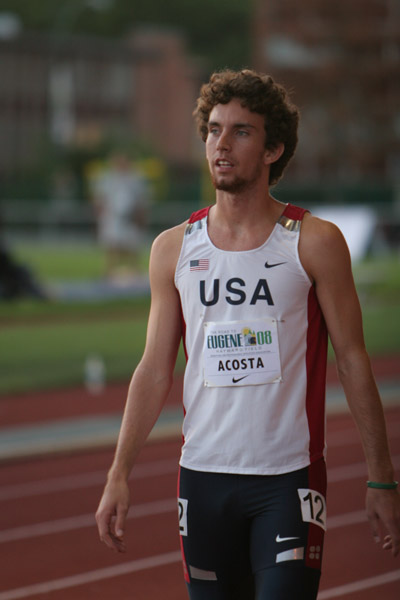 When the gun went off, former US champion Jason Lunn shot to the lead, stringing out the field and dragging it through splits of 56.3 and 1:54.5. Acosta's fellow Junior team member Andrew Bumbalough—apparently either pacing or running a workout—tucked in gamely behind, followed by Matt Tegenkamp, Said Ahmed and Anthony Famiglietti. The pack split in two, with Acosta near the back of the second grouping. "I was hanging off the back end on purpose," he said, "I knew it was going to go out fast."

Bumbalough dropped out with 500 to go, and Lunn stepped off the track at the bell. As the pace ratcheted up and the second pack splintered, Acosta was left in a gap with no one to pursue. "My splits were pretty much spot-on," he said. "I was just out in no man's land. With people there, I think I could have gone a bit faster."

Up front, Matt Tegenkamp was demonstrating why he's one of the hottest American distance runners of the summer. With his 13:04 5k fitness on full display, he waged a grinding battle with the current US 1500 list-leader, Said Ahmed, before dropping a gear no one else in the field possessed. Acosta could only watch from the long shadows of the grandstand on the far turn.

After the race, he was more buoyant than disappointed. "I just didn't have anyone to reel in at the end," he said. "I'm a little bummed, but these guys are awesome." Nodding at the elites pulling on sweats after the race, he added, "This is where I want to be in five years."

One post-collegian in particular drew Acosta's respect. "I'm a huge Gabe Jennings fan. To see him come back and running this well is exciting because he's a big personality who brings a lot to track and field. I really respect that. He's such an eccentric. In a lot of ways I see myself in him."

The similarities are not unfounded. Both runners emerged from high school with mile PRs hovering near 4:03. Both joined college programs in the midst of rebuilding projects, authored by the highly-respected Vin Lananna. And both possess a certain charisma paired with a precocious talent.

"I don't want to be the next Gabe Jennings though," Acosta was quick to add, "I want to make my own name." When asked if that meant he'd be leaving the conga drums at home when he packs for college, he laughed and shook his head. "I'm not going to bring any conga drums with me, but hopefully we can get the Nation out."

-----------------------------------------------------------------------------------------------------------------------------------------------------------
Dealing with an Unfamiliar Distance - by Dave Devine
Running 300 meters on an outdoor track in the middle of the summer was a curveball for almost everybody in the field. Karjuan Williams, normally a half miler, but known to drop a fast relay split from time to time, was certainly out of his element. "I don't run sprints a lot," he said, "and I've never run a 300 before."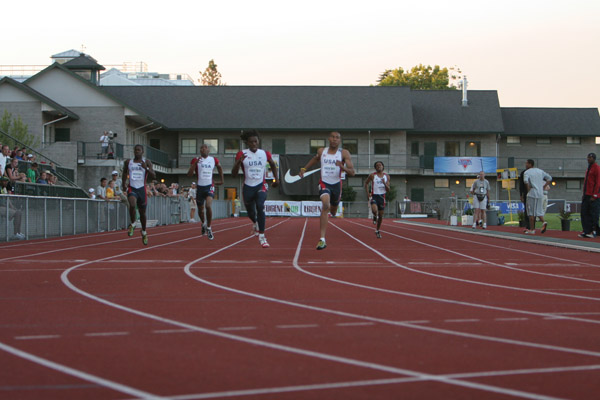 400 meter specialist Bryshon Nellum was in a similar boat. "This was my first time running the 300 outdoors," he said. "It's different coming off the straight. I'm used to coming out the curve in the 400 or the 200.

Without a 400 or an 800 on the meet schedule, both men folded into the blocks near the top of the backstretch for the Juniors-only section of the 300 meters. Colorado star JT Scheurman was out fastest, charging up the straight in lane 3 and making up the stagger on the field. His lead was short-lived, however, as his form disintegrated and he clutched at his hamstring heading into the curve.

"I didn't see him," Nellum said, "I was just trying to make sure I got out." Running one lane over from the hobbled Scheurman, in lane 4, Nellum was trying to break the unfamiliar race into parts. "I ran the straight as a 100, and then, when I hit the curve, I looked at it as a 200."

Out in lane 7, Williams was just trying to close the gap. "I popped up out of the blocks at the start, and I was all by myself. You don't come out of blocks in the 800 too much."

With 120 meters to go, US #1 quarter miler Calvin Smith held a narrow lead over Nellum in the middle of the track. He maintained the advantage until 50 meters to go, when Nellum slipped by to win in 33.19. Smith was 2nd in 33.27, and Williams got up for an unlikely third, charging home on the outside in 34.08.

After the race, asked about returning from the hamstring injury that severely delayed the start of his outdoor season, Williams offered some advice that may be helpful to his now-injured teammate, JT Scheurman. The key, he said, was believing he could come back. "More people need to do that, believe in yourself. You can accomplish more than you think."
More stories to come throughout the day!


Team USA Mens
Sprint Squad

USA Womens
Sprint Sensations

*Photos by Open Photo
-----------------------------------------------------------------------------------------------------------------------------------------------------------
"We want to pack Hayward Field with fans to give the U.S. Junior Team a proper sendoff to Beijing and support the exciting elite athletes who always compete so well in Eugene," says Vin Lananna, co-chairman of the Eugene Local Organizing Committee and University of Oregon associate athletic director/director of track and field. "This meet represents the local organizing committee's commitment to its partnership with USA Track and Field and the Athletes Advisory Committee to provide high-performance meets in the U.S. during the summertime."
The meet will benefit the Professional Athletics Association (PAA), which was established to ensure that the rights of its professional athletes are protected and that everything possible is being done to help athletes maximize their opportunities and achieve their goals on and off the track. This inaugural Mid-Summer Classic will feature many of America's top track and field athletes who will be competing for $200,000 in prize money.
Elite athletes already committed to compete in the meet include Allen Johnson, Olympic 110-meter hurdles gold medalist; two-time Olympic silver medalist, in the 110-meter hurdles, Terrance Trammell, will run the 100-meter dash; 2005 World Outdoor 400-meter hurdle champion Bershawn Jackson; 2006 world shot put leader Christian Cantwell and 2005 World Outdoor shot put champion and two-time Olympic silver medalist Adam Nelson; and 2005 discus national champion Ian Waltz.
In addition to the elite athletes, the U.S. Junior National Team will be competing in the meet, marking the end of their training camp in Eugene before leaving for the 2006 IAAF World Junior Championships August 15 through 20 in Beijing, China. The Junior team features the nation's best up and coming athletes, including the University of Oregon's Rebekah Noble in the 800 meters and future Duck distance runner A.J. Acosta of Oceanside, Calif.
The two hour meet is expected to be televised nationally and will feature 20 events. There will be many opportunities for young fans to participate and meet athletes, get autographs, run a half-lap race and much more.
The meet is sponsored by Nike and the Eugene Local Organizing Committee for the 2008 U. S. Olympic Track & Field Trials, in partnership with the Professional Athletics Association (PAA), USA Track & Field (USATF) and its Athletes Advisory and High Performance Committees, the University of Oregon, and the Oregon Track Club. The Olympic Trials will be held in Eugene at Hayward Field, June 27 through July 6, 2008.
6:25 p.m. Women's Pole Vault
6:27 p.m. Men's Hammer
6:30 p.m. Men's Discus
6:33 p.m. Women's 100 Meter Hurdles
6:37 p.m. Women's High Jump
6:40 p.m. Women's Long Jump
6:43 p.m. Men's 110 Meter Hurdles
6:50 p.m. Junior Men's 100 Meters
6:57 p.m. Junior Women's 100 Meters
7:00 p.m. Men's Long Jump
7:05 p.m. Men's 300 Meters
7:10 p.m. Men's Pole Vault
7:15 p.m. Women's 200 Meters
7:20 p.m. Kid's Half-Lapper
7:32 p.m. Men's 100 Meters
7:37 p.m. Women's Hammer
7:40 p.m. Women's Discus
7:42 p.m. Women's 400 Meter Hurdles
7:45 p.m. Men's Shot Put
7:50 p.m. Men's 400 Meter Hurdles
8:00 p.m. Junior Men's 300 Meters
8:07 p.m. Junior Women's 300 Meters
8:15 p.m. Women's 800 Meters
8:22 p.m. Men's 1500 Meters
8:30 p.m. The Road To Eugene Distance Race