Southeast Region
Veterans Park at Valleydale Rd, Hoover AL
November 24, 2007



Girls Championship




Results | story by Arthur Mack and photos by John Dye

Suwanee XC (Collins Hill GA) 68, Tatnall RC (Wilmington DE) 79.
Madeline Morgan, Caution TC (Mountain Brook AL) 18:26.2

Suwanee GA (Collins Hill) placed four runners in the top 15, shading Tatnall at each of these positions. SE#1 Caution TC (Mountain Brook AL) was third with 88 points, led by individual winner Madeline Morgan 18:26.2. Southeast ranked teams took the next two places: SE#7 Episcopal FL 100, SE#9 Greenbelt MD (Eleanor Roosevelt) 107.



Long-Shot Suwanee GA bests Tatnall DE and No. 1 ranked Caution TC (Mountain Brook AL)





By ARTHUR L. MACK, DyeStat correspondent



HOOVER, AL, September 24--Everyone at Hoover's Veterans Park--the site of the Nike Team Nationals
Southeastern Regionals--was sure that Caution TC (better known as the Mountain Brook girls cross-
country team) would walk away with the girls' title. After all, it was the top-ranked team in the region, and
ranked fifth in the country.

Apparently, the Suwanee XC Club, better known as the Collins Hill cross-country team, didn't read the
memo.

A strong second-place by Amanda Winslow in 18 minutes, 35.7 seconds, along with a sixth-place finish
by Nicky Akande (19:06.9), 10th by Allyson McGinty (19:28.) and 15th by Briana Crawford (19:37.3) was
more that enough to overcome Caution TC's Madeline Morgan's winning run of 18:26.2 as Suwanee XC
defeated Tatnall RC (Tatnall High of Wilmington, Delaware) 69-79.

Tatnall RC was led by Juliet Bottorff (third in 18:40.3), Molly Parsons and Kallie Fehr. Parsons and Fehr
were 13th and 14th repectively in 19:36.9

Both Suwanee XC and Tatnall RC received automatic bids to the Nike Team National Championships in
Portland, Oregon on December 1.


| | | |
| --- | --- | --- |
| | | |
| 1st, Madeline Morgan, leading Caution TC (Mountain Brook) to 3rd place. | 2nd, Amanda Winslow, leading Suwanee GA (Collins Hill) to the team title. | 3rd, Juliet Bottorff, leading Tatnall DE to 2nd place and a return trip to Portland. |

"It's amazing, and it feels so good I don't know how to describe it," said Winslow, who was one of only
three runners to break 19 minutes on a cold windy day running on a course--complete with a gravel
surface and haybales--that could best be described as challenging.

"I thought we had a really good chance of doing well," and I'm really happy because we were not
expecting to win," said Akande.

Tatnall made it to last year's NTN National Championships as an at-large team
and finished 12th running as the Wilmington XC Club. Despite being ranked
second in the Southeast this year, Bottorff, Parsons, and Fehr felt that anything could happen,
especially on a course such as the one at Veterans Park.

"We we're still really nervous the whole time (coming into the meet) Bottorff said. "But we are surprised
and very, very excited (to automatically qualify)."

"Everyone was really nervous, because there was a lot of good competition," said Parsons.
"This course was different than other courses we ran, with the gravel and haybales," Fehr added. "We
never had anything like that in Delaware."

Caution TC, which finshed third with 88 points, and No. 7 ranked Episcopal RC (Episcopal of
Jacksonville), fourth with 100 points, had to settle for hopes to be selected as one of four at-large teams
for the NTN Championships, while Greenbelt XC (Eleanor Roosevelt of Greenbelt, Md) rounded out the
top five with 108 points.

Suwanee/Collins Hill, the 2007 Georgia 5A girls' cross-country champions, was considered a longshot at
best to even challenge for the title, considering the talent Caution TC had with Morgan, Marie Demedicis,
and Catherine Diethelm. But past experience with the course, combined with a sub-par race by Diethelm,
worked in Suwanee's favor despite the cold, windy weather.

"We ran Great American here, and I ran on this course last year," said McGinty. "Teamwise, it was great."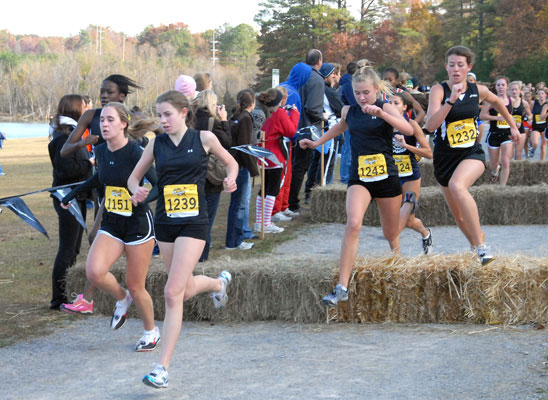 These girls in black are actually from three teams -- Leslie Boozer of Caution-Mtn Brook AL (1151),
Kallie Fehr of Tatnall DE (1239), Molly Parsons of Tatnall (1243), and Allyson McGinty of Suwanee GA-Collins Hill (1232).


It was hard to tell the difference between Suwanee XC and Caution TC, because both had similar
black uniforms. However, there was no mistaking the front runners, as Morgan, Winslow, Bottorff, and
Greenbelt's Dominique Lockhart led the 95 runners after the first mile.

Morgan broke away from the pack soon after, while Winslow was trying to maintain contact.

"I knew I needed to stay in that front pack, and Morgan took a pretty big lead when we went into the
woods," said Winslow. "At one point I thought she was just gone, and I was just settling for third. But
then I caught the Tatnall girl (Bottorff) and actually got pretty close to Morgan at the finish."

Though Morgan's team had to settle for hopes of an at-large selection, the individual win was a
vindication of sorts for Morgan, who had to drop out of her state meet race earlier in the month because
of dizziness.

"We didn't know what to expect, because our coach wasn't even allowed to talk to us because of all the
rules and stuff," Morgan said. "But it turned out pretty well. The competition was good. I felt I had the race
under control at about a mile and a half."

-30-




Results



Individual


results by Best Times www.besttimescct.com

                    GIRLS CHAMPIONSHIP TEAM RESULTS 5K 
        2007 Nike Southeastern Regional Crosscountry Championship  
                       Meet Director: Steve Bledsole
Veterans Park, Hoover,AL                Saturday November 24, 2007 

             School/              Individual AVG Time  Total Time
Place  PTS   Finisher                 Time    of Top 5  of Top 5 

  1.    68  Suwanee XC Club                  (19:24.7  97:03.1)
===============================================
  1      2  Amanda Winslow               18:35.7
  2      6  Nicky Akande                 19:06.9
  3     10  Allyson McGinty              19:28.0
  4     15  Briana Crawford              19:37.3
  5     35  Sydney Williams              20:15.2
  6   ( 45) Alexa Maring                 20:43.6
  7   ( 54) Katie Gezon                  21:21.3

  2.    79  Tatnall RC                       (19:32.0  97:39.6)
===============================================
  1      3  Juliet Bottorff              18:40.3
  2     13  Molly Parsons                19:36.9
  3     14  Kallie Fehr                  19:36.9
  4     24  Katie Buenaga                19:51.8
  5     25  Katie Kershner               19:53.7
  6   ( 27) Katie Oldham                 19:55.2
  7   ( 37) Lauren Blackwell             20:24.1

  3.    88  Caution TC                       (19:31.3  97:36.4)
===============================================
  1      1  Madeline Morgan              18:26.2
  2      7  Marie Demedicis              19:11.1
  3     18  Brigid Carey                 19:43.5
  4     28  Leslie Boozer                20:03.9
  5     34  Catherine Diethelm           20:11.7
  6   ( 38) Mary Catherine Farrar        20:25.1
  7   ( 41) Reed Ellis                   20:31.3

  4.   100  Episcopal RC                     (19:48.0  98:59.7)
===============================================
  1     12  Kathleen Traylor             19:35.4
  2     16  Laura Steel                  19:42.2
  3     17  Leslie Blackshear            19:42.8
  4     26  Margaret Traylor             19:54.3
  5     29  Mariah Loop                  20:05.0
  6   ( 47) Brooke Hardington            20:52.4
  7   ( 59) Katie Ladd                   21:41.3

  5.   108  Greenbelt XC Club                (19:51.2  99:15.8)
===============================================
  1      8  Teshika Rivers               19:15.1
  2     11  Dominique Lockhart           19:31.6
  3     19  Amirah Johnson               19:44.9
  4     22  Tasha Stanley                19:49.0
  5     48  Brittany View                20:55.2
  6   ( 53) Elysha Valera                21:18.8
  7   ( 58) Brittany Ogun-Mokun          21:40.0


  6.   113  Lady Dawgs                       (19:46.8  98:53.7)
===============================================
  1      4  Louise Hannallah             19:01.7
  2      5  Erin McManus                 19:04.9
  3     32  Alex Giedd                   20:09.9
  4     33  Maryam Fikri                 20:11.7
  5     39  Owoade Ayorinde              20:25.5
  6   ( 52) Vera Johne                   21:16.3
  7   ( 56) Sophie Jacobson              21:22.4

  7.   164  Blacksburg XC Club               (20:11.9  100:59.3)
===============================================
  1      9  Laurel MacMillan             19:16.8
  2     30  Joanna Stevens               20:06.0
  3     40  Leah Fitchett                20:26.3
  4     42  Trinity Foreman              20:34.9
  5     43  Kathleen Stevens             20:35.3
  6   ( 44) Avery Mattingly              20:38.7
  7   ( 57) Sarah Dorrell                21:33.6

  8.   174  Derby City AC                    (20:18.2  101:30.7)
===============================================
  1     20  Adrienne Curtis              19:45.1
  2     23  Allison Riedling             19:49.3
  3     36  Sara Davis                   20:15.4
  4     46  Ellen Daly                   20:44.2
  5     49  Hillary Raidt                20:56.7
  6   ( 50) Amanda Day                   20:58.2
  7   ( 60) Amanda Perkins               21:48.0

  9.   219  Birmingham XC Club               (20:55.7  104:38.4)
===============================================
  1     21  Kimberly Muldowney           19:48.5
  2     31  Nicole Muldowney             20:07.6
  3     51  Katelyn George               21:09.7
  4     55  Jill Cowart                  21:21.7
  5     61  Laura Smith                  22:10.9
  6   ( 63) Hannah Sharrow               22:42.0
  7   ( 65) Ragan Cox                    23:23.0

 10.   327  Luella RC                        (23:42.2  118:31.0)
===============================================
  1     62  Kayla Millholland            22:15.3
  2     64  Marlene Escobar              23:19.3
  3     66  Ashley Sisco                 23:46.0
  4     67  Katie Holcomb                24:10.3
  5     68  Maribel Escobar              25:00.1



                         GIRLS JV TEAM RESULTS 5K 
        2007 Nike Southeastern Regional Crosscountry Championship  
                       Meet Director: Steve Bledsole
Veterans Park, Hoover,AL                Saturday November 24, 2007 

             School/              Individual AVG Time  Total Time
Place  PTS   Finisher                 Time    of Top 5  of Top 5 

  1.    15  Derby City AC                    (21:56.7  109:43.4)
===============================================
  1      1  Amy Stamon                   21:11.9
  2      2  Olivia Harlow                21:17.8
  3      3  Kelly Dermody                22:00.3
  4      4  Taylor Dadds                 22:17.4
  5      5  Ashley El Rady               22:56.0
  6   (  6) Johnnie-Elyse Haley          23:02.9
  7   (  7) Sarah Doerr                  24:20.6



Individual
                                                                      Page 1
                   Girls Championship 5K - ALL FINISHERS
        2007 Nike Southeastern Regional Crosscountry Championship  
                       Meet Director: Steve Bledsole
Veterans Park, Hoover,AL                Saturday November 24, 2007 
Place No.   Name                         Team                             Time    Pace  Division                 Ind 
===== ===== ============================ ================================ ======= ===== ======================== === 
    1  1157 Madeline Morgan              Caution TC                       18:26.2  5:57 Championship                 
    2  1234 Amanda Winslow               Suwanee XC Club                  18:35.7  6:00 Championship                 
    3  1237 Juliet Bottorff              Tatnall RC                       18:40.3  6:02 Championship                 
    4  1126 Louise Hannallah             Lady Dawgs                       19:01.7  6:09 Championship                 
    5  1129 Erin McManus                 Lady Dawgs                       19:04.9  6:10 Championship                 
    6  1228 Nicky Akande                 Suwanee XC Club                  19:06.9  6:10 Championship                 
    7  1154 Marie Demedicis              Caution TC                       19:11.1  6:12 Championship                 
    8  1111 Teshika Rivers               Greenbelt XC Club                19:15.1  6:13 Championship                 
    9  1031 Laurel MacMillan             Blacksburg XC Club               19:16.8  6:14 Championship                 
   10  1232 Allyson McGinty              Suwanee XC Club                  19:28.0  6:17 Championship                 
   11  1109 Dominique Lockhart           Greenbelt XC Club                19:31.6  6:18 Championship                 
   12  1092 Kathleen Traylor             Episcopal RC                     19:35.4  6:20 Championship                 
   13  1243 Molly Parsons                Tatnall RC                       19:36.9  6:20 Championship                 
   14  1239 Kallie Fehr                  Tatnall RC                       19:36.9  6:20 Championship                 
   15  1229 Briana Crawford              Suwanee XC Club                  19:37.3  6:20 Championship                 
   16  1091 Laura Steel                  Episcopal RC                     19:42.2  6:22 Championship                 
   17  1087 Leslie Blackshear            Episcopal RC                     19:42.8  6:22 Championship                 
   18  1152 Brigid Carey                 Caution TC                       19:43.5  6:22 Championship                 
   19  1108 Amirah Johnson               Greenbelt XC Club                19:44.9  6:23 Championship                 
   20  1072 Adrienne Curtis              Derby City AC                    19:45.1  6:23 Championship                 
   21  1024 Kimberly Muldowney           Birmingham XC Club               19:48.5  6:24 Championship                 
   22  1112 Tasha Stanley                Greenbelt XC Club                19:49.0  6:24 Championship                 
   23  1085 Allison Riedling             Derby City AC                    19:49.3  6:24 Championship                 
   24  1238 Katie Buenaga                Tatnall RC                       19:51.8  6:25 Championship                 
   25  1240 Katie Kershner               Tatnall RC                       19:53.7  6:26 Championship                 
   26  1093 Margaret Traylor             Episcopal RC                     19:54.3  6:26 Championship                 
   27  1242 Katie Oldham                 Tatnall RC                       19:55.2  6:26 Championship                 
   28  1244 Haley Pierce                 Tatnall RC                       19:56.1  6:26 Freshman                 Y   
   29  1151 Leslie Boozer                Caution TC                       20:03.9  6:29 Championship                 
   30  1090 Mariah Loop                  Episcopal RC                     20:05.0  6:29 Championship                 
   31  1033 Joanna Stevens               Blacksburg XC Club               20:06.0  6:30 Championship                 
   32  1025 Nicole Muldowney             Birmingham XC Club               20:07.6  6:30 Championship                 
   33  1125 Alex Giedd                   Lady Dawgs                       20:09.9  6:31 Championship                 
   34  1124 Maryam Fikri                 Lady Dawgs                       20:11.7  6:31 Championship                 
   35  1155 Catherine Diethelm           Caution TC                       20:11.7  6:31 Championship                 
   36  1233 Sydney Williams              Suwanee XC Club                  20:15.2  6:32 Championship                 
   37  1075 Sara Davis                   Derby City AC                    20:15.4  6:33 Championship                 
   38  1266 Elise Medley                 Unat-KY-Louisville               20:15.8  6:33 Championship             Y   
   39  1235 Lauren Blackwell             Tatnall RC                       20:24.1  6:35 Championship                 
   40  1257 Catherine Adams              Unat-AL-Birmingh                 20:24.8  6:36 Championship             Y   
   41  1158 Mary Catherine Farrar        Caution TC                       20:25.1  6:36 Championship             Y   
   42  1121 Owoade Ayorinde              Lady Dawgs                       20:25.5  6:36 Championship                 
   43  1029 Leah Fitchett                Blacksburg XC Club               20:26.3  6:36 Championship                 
   44  1156 Reed Ellis                   Caution TC                       20:31.3  6:38 Championship                 
   45  1030 Trinity Foreman              Blacksburg XC Club               20:34.9  6:39 Championship                 
   46  1034 Kathleen Stevens             Blacksburg XC Club               20:35.3  6:39 Championship                 
   47  1032 Avery Mattingly              Blacksburg XC Club               20:38.7  6:40 Championship                 
   48  1231 Alexa Maring                 Suwanee XC Club                  20:43.6  6:42 Championship                 
   49  1074 Ellen Daly                   Derby City AC                    20:44.2  6:42 Championship                 
   50  1088 Brooke Hardington            Episcopal RC                     20:52.4  6:44 Championship                 
   51  1113 Brittany View                Greenbelt XC Club                20:55.2  6:45 Championship                 
   52  1084 Hillary Raidt                Derby City AC                    20:56.7  6:46 Championship                 
   53  1105 Iolani Scanlan               Fort Walton Beach                20:57.9  6:46 Championship             Y   
   54  1076 Amanda Day                   Derby City AC                    20:58.2  6:46 Championship                 
   55  1153 Sasha Corcoran               Caution TC                       21:01.5  6:47 Championship                 
   56  1245 Carly Simmons                Tatnall RC                       21:04.6  6:48 Championship                 
   57  1023 Katelyn George               Birmingham XC Club               21:09.7  6:50 Championship                 
   58  1086 Amy Stamon                   Derby City AC                    21:11.9  6:51 JV                           
   59  1128 Vera Johne                   Lady Dawgs                       21:16.3  6:52 Championship                 
   60  1081 Olivia Harlow                Derby City AC                    21:17.8  6:53 JV                           
   61  1301 Elysha Valera                Greenbelt XC Club                21:18.8  6:53 Championship                 
   62  1230 Katie Gezon                  Suwanee XC Club                  21:21.3  6:54 Championship                 
   63  1021 Jill Cowart                  Birmingham XC Club               21:21.7  6:54 Championship                 
   64  1127 Sophie Jacobson              Lady Dawgs                       21:22.4  6:54 Championship                 
   65  1123 Caroline Chevat              Lady Dawgs                       21:31.4  6:57 Championship             Y   
   66  1028 Sarah Dorrell                Blacksburg XC Club               21:33.6  6:58 Championship                 
   67  1110 Brittany Ogun-Mokun          Greenbelt XC Club                21:40.0  7:00 Championship                 
   68  1089 Katie Ladd                   Episcopal RC                     21:41.3  7:00 Championship                 
   69  1083 Amanda Perkins               Derby City AC                    21:48.0  7:02 Championship                 
   70  1241 Lissie Laird                 Tatnall RC                       21:51.1  7:03 JV                       Y   
   71  1077 Kelly Dermody                Derby City AC                    22:00.3  7:06 JV                           
   72  1107 Erin Gallagher               Fort Walton Beach                22:01.0  7:07 Championship             Y   
   73  1027 Laura Smith                  Birmingham XC Club               22:10.9  7:10 Championship                 
   74  1141 Kayla Millholland            Luella RC                        22:15.3  7:11 Championship                 
   75  1073 Taylor Dadds                 Derby City AC                    22:17.4  7:12 JV                           
   76  1207 Alicia Daniel                Smiths XC Club                   22:38.4  7:19 Freshman                 Y   
   77  1026 Hannah Sharrow               Birmingham XC Club               22:42.0  7:20 Championship                 
   78  1130 Hannah Suttora               Lady Dawgs                       22:42.4  7:20 Championship             Y   
   79  1122 Josephine Bouquet            Lady Dawgs                       22:46.5  7:21 Championship             Y   
   80  1079 Ashley El Rady               Derby City AC                    22:56.0  7:24 JV                           
   81  1208 Anje Kidd                    Smiths XC Club                   22:57.2  7:25 Freshman                 Y   
   82  1303 Zawadi Rowe                  Greenbelt XC Club                23:01.4  7:26 Championship             Y   
   83  1080 Johnnie-Elyse Haley          Derby City AC                    23:02.9  7:27 JV                       Y   
   84  1140 Emily Holmes                 Luella RC                        23:06.6  7:28 JV                       Y   
   85  1246 Chrissy Vinton               Tatnall RC                       23:10.4  7:29 JV                       Y   
   86  1236 Cara Bottorff                Tatnall RC                       23:14.3  7:30 Freshman                 Y   
   87  1189 Alice Boyd                   Panthers XC                      23:15.4  7:31 Championship                 
   88  1102 Krystal Gibbs                Falkville RC                     23:17.0  7:31 Small School             Y   
   89  1138 Marlene Escobar              Luella RC                        23:19.3  7:32 Championship                 
   90  1022 Ragan Cox                    Birmingham XC Club               23:23.0  7:33 Championship                 
   91  1103 Emily Robbins                Falkville RC                     23:25.3  7:34 Small School             Y   
   92  1142 Ashley Sisco                 Luella RC                        23:46.0  7:40 Championship                 
   93  1139 Katie Holcomb                Luella RC                        24:10.3  7:48 Championship                 
   94  1078 Sarah Doerr                  Derby City AC                    24:20.6  7:52 JV                           
   95  1137 Maribel Escobar              Luella RC                        25:00.1  8:04 Championship                 
   96  1136 Taylor Bays                  Luella RC                        25:35.5  8:16 JV                       Y   
   97  1001 Kelly McCahill               American Heritage                25:53.4  8:22 Freshman                 Y   
   98  1104 Lizzy Gallagher              Fort Walton Beach                26:01.8  8:24 Championship             Y   
   99  1002 Carmel Ray                   American Heritage                32:12.5 10:24 Freshman                 Y   


NTN Southeast DyeStat News index