World Cross Country Championships
April 1-2, 2006 at Fukuoka Japan - USATF site - IAAF site - webcast - Schedule - Team USA Roster - Pre-Meet Pix -
Team USA Junior Men Take 9th
Team USA 9th of 15 teams with 178 points
Collegian Kiel Uhl is first from Team USA in 36th (25:31) out of 98 starters.
KY prep Michael Eaton is 60th (26:39). Other team finishers include Andrew Bumbalough 41st (25:41), Scott MacPherson 49th (26:13), Jordan McDougal 52nd (26:26). Chris Barnicle did not finish.
With the 1-2 finish of Mangata Kimai Ndiwa (23:53) and Leonard Patrick Komon (23:54) , coming from behind to beat Tariku Bekele (23:56; Kenenisa's brother), KEN edges ETH, 16-24 for team title.
Link to Complete Results as they happen.
Team USA Junior Women Finish 8th - Go to Women's Page
Team USA 8th of 12 teams with 146 points
In a field of 78, collegians McKayla Plank (32nd-21:15) and Erin Bedell (35th-21:20) lead the way, followed by preps Kauren Tarver CA (39th-21:26), Nicole Blood CA (40th-21:28), and Marie Lawrence NV (53rd-22:05), and collegian Madeline McKeever (68th-22:52).
Kenya goes 1-2-3-4 to win with 10 points, followed by Ethiopia (29) and Japan (58).
Pauline Chemning Korikwiang of Kenya wins in 19:27 for 6k.
Feature by Paul Merca on Team USA Preps
US Senior Men 4k Flash Report
Team USA 5th of 21 teams (first non-African team), led by Adam Goucher 6th 11:02.
More Team USA: Ryan Hall 19th 11:18, Jorge Torres 27th 11:21, Dan Lincoln 28th 11:21, Ian Dobson 33rd 11:25, Luke Watson 57th 11:35 in field of 130.
Kenenisa Bekele ETH wins again 10:54 to Issac Songok KEN 10:55, but Kenya wins team title, 21-48 over ETH.
US Senior Women 8k Flash Report
Team USA 5th of 15 teams (first non-African team), led by Blake Russell 11th 26:23.
More Team USA: Katie McGregor 21st 26:46, Sara Slattery 26th 26:51, Colleen DeReuck 33rd 27:07, Renee Metivier 49th 27:37, Sharon Dickie-Thompson 59th 27:54.
Favorite Tirunesh Dibaba ETH overcomes a side-stitch and comes from behind to top Lornah Kiplagat NED, 25:21-25:26. ETH easily wins team title with 16 points to KEN's 39.
4 high school runners are on Team USA
Nicole Blood, who won the US Nationals in New York (right), leads the US junior women, along with two other high school runners, Marie Lawrence of Nevada and Kauren Tarver of California.

The lone high school runner on the US junior men's team is Michael Eaton.

photo by Vic Sailer / PhotoRun
Marie Lawrence, Nicole Blood and Kauren Tarver work out in Fukuoka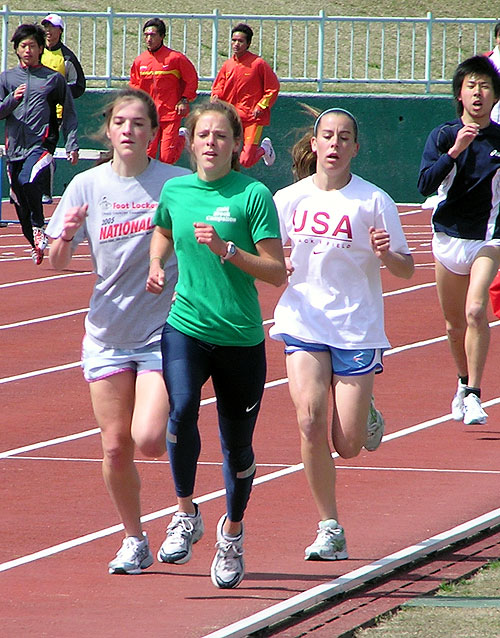 photo by Mike Scott
Fukuoka is +9 hours GMT
Saturday, April 1, 2006
Junior Women's 6km
Senior Men's 4 km
Senior Women's 8 km


Fukuoka time
Sat 1:30pm
Sat 2:20pm
Sat 3:00pm
EST
Fri 11:30pm
Sat 12:20am
Sat 1:00am

PST
Fri 8:30pm
Fri 9:20pm
Sat 10:00pm

Sunday, April 2, 2006
Junior Men's 8km
Senior Women's 4km
Senior Men's 12km


Fukuoka time
Sun 1:00pm
Sun 1:50pm
Sun 2:30pm
EST
Sat 11:00pm
Sat 11:50am
Sun 12:30am

PST
Sat 8:00pm
Sat 8:50pm
Sat 9:30pm
Senior Men's 4 km
Adam Goucher
Daniel Lincoln
Ryan Hall
Jorge Torres
Ian Dobson
Luke Watson

Open Men's 12 km
Ryan Hall
Max King
Jason Hartmann
Matt Gabrielson
Brandon Leslie
Patrick Gildea

Junior Men's 8 km
Kiel Uhl
Scott Macpherson
Chris Barnicle
Andrew Bumbalough
Jordan McDougal
Michael Eaton

Senior Women's 4 km
Carrie Tollefson
Kara Goucher
Blake Russell
Amy Mortimer
Sarah Schwald
Sara Hall

Senior Women's 8 km
Blake Russell
Colleen De Reuck
Renee Metivier
Sara Slattery
Katie McGregor
Sharon Thompson

Junior Women's 6 km
Nicole Blood
Mckayla Plank
Kauren Tarver
Marie Lawrence
Erin Bedell
Madeline McKeever