Pendleton's Longest Throws To Come





But the Woodmore OH sr and soph sister Erin are already smashing PRs in 2007





May 1, 2007



by Jeff Hollobaugh, MW Region Editor

When Emily Pendleton unleashed her Ohio state record in the discus on Saturday, April 28, she probably figured it wouldn't last long. The season is still young, and the Woodmore High senior hasn't begun to peak yet. Her 174-11 is probably already in jeopardy.

What's more, Emily is throwing this year with the knowledge that any records she sets may tumble anyway in a year or two. Coming up fast behind her is her sophomore sister, Erin, who has already thrown 153-7.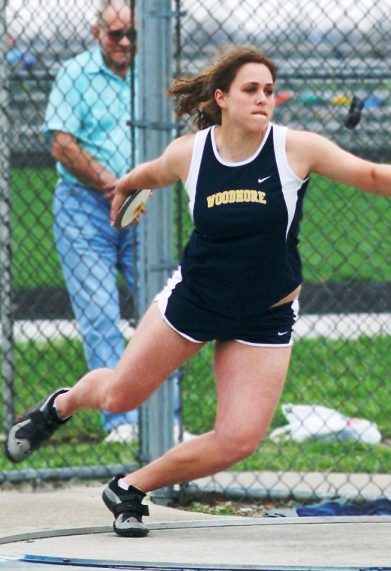 Emily Pendleton in a meet against Elmwood prior to her record. Photo Dean Utendorf, Woodmorephotos.com


The two Pendletons were natural recruits to the Woodmore throwing program thanks to the coach, their dad, Mike. Says Emily, "I started throwing in seventh grade when my dad got out his old discus from high school and asked me if I wanted to try to throw. I said yes and he has been coaching me ever since."

They have also been fantastic training partners, says Mike. "They are pretty close and tight knit. As for being competitive against each other, they are at different stages in their career and they both help each other by breaking down each other's throws. They both look for what is good in each other's throws, and what's wrong with each other's throws. They both have a good understanding of technique and the positions that they need to hit each time in order to get a good throw in."

Mike adds, "I feel that Emily is definitely the leader in the ring, but I also feel that Erin will step up and become a leader once she's not playing second fiddle to Emily all the time. It's really hard to throw well and come in second all the time."

At the meet where the state record fell, the girls combined their PRs with teammate Krista Hellwig (79-10) for a 15-foot plus improvement on the state record for the three-girl relay, now 408-04.

Emily feels there is more to come. "My training is working on getting me to peak for the state meet and beyond. I'm happy with how the season started. I would love to get my fourth and final state title. I would also like to be able to go to the national meets I went to last year (Nike Outdoor Nationals in North Carolina and Junior Nationals in Indianapolis) and place as well as I did last year."

Then comes the next big step. Says dad, "As for how they get along as sisters, Erin has said many times that when Emily leaves for college she's going to miss having her around to train with."

No doubt Erin will still flourish, while Emily steps up to Big 10 competition at Michigan. She is excited about the prospect of working with coach Anne Takacs-Grieb as part of a powerful frosh throwing class. "I can't wait to get to Michigan and be part of the team, it is going to be an awesome experience. I love the girls there. They are awesome and the coaches are amazing."

Joining Emily in Ann Arbor will be Iowa's Danica Haight (48-7.5, 147-05 DT) and Michigan prep Allison Liske (47-08, 153-03 DT).

Meanwhile, the elder Pendleton girl will have to hold off her sister for the rest of this season. Says Mike, "Erin's goal that she has said to us is that she would like to beat Emily in discus just once in high school. I believe that if Emily has an 'off' day and Erin has a great day it could happen.

"Emily's goal, of course, is never to let Erin beat her. So I guess they are competitive with each other, but all in fun."


Midwest Region Index Page