Meet's own site

Schedule

Elite Event Fields

PHOTOS
Girls - Boys

RESULTS
from Armorytrack.com,
a Milesplit.us affiliate

Prior Years


Easton PA sr Chanelle Price wins showdown over Dalilah
Muhammad NY (1:13.20), breaks Devon Williams' 2004 mark of 1:11.44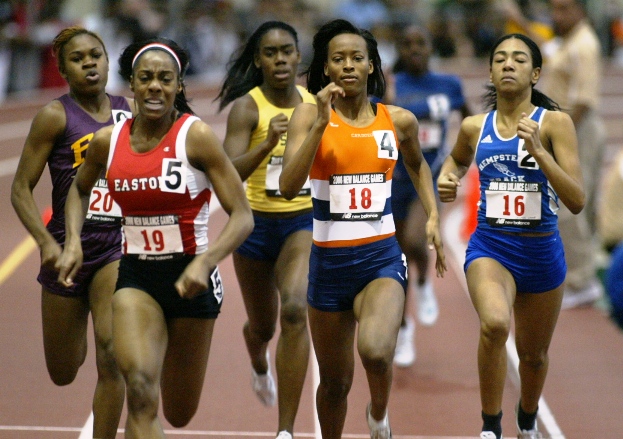 John Nepolitan's Highlights - 6 US#1s
Chanelle Price

(Easton, Pa) goes out in a swift 40.0 through 300 meters, and 54.7 at 400 meters, to cross the finish line in 1:10.30 in the Invitational 500 meters to smash the US Record and defeat Dalilah Muhammad. Price's time is = #10 (among all levels of runners) in the history of the USA.

Kristin Reese

(Carmel, NY) goes to the lead at the 400 meter point of the girls mile and grinds out a US#1 4:52.65 win over Melanie Thompson (Voorhees, NJ) 4:53.58.

Robby Andrews

(Manalapan, NJ) blazes a 27.5 final 200 to take the boys mile in US#1 4:12.48 over Doug Smith (Gill St Bernard, NJ) 4:15.95 and Willie Ahearn (Danbury, Ct) 4:16.90 as a total of 6 runners under 4:20.

Washington Township

(NJ) takes the boys 4 x 800 in a swift US#1 7:55.40 over Morris Hills(NJ) 7:56.11 as 4 teams break 8:00.

Cardozo

(NY) takes the girls Sprint Medley Relay going wire to wire to win in US#1 4:04.14

Conestoga

PA blistered a US#1 9:11.48 4x800, nipping Garden City NY 9:11.51.
Boys and Girls (NY) takes the girls 4 x 200 in US#2 1:40.68, then comes back to take the 4 x 400 in 3:55.78
2 girls clear 12' 0" in the vault with Nicole Pompei (Hanover Park, NJ) having the best jump of the day clearing 12' 3" while Tory Worthen (Council Rock South, Pa) has the 2nd best jump of the day 12' 0"
St Benedict's (Newark, NJ) take the boys 4 x 200 final in 1:29.51
Best marks in the field events 15' 6" by Tony Shirk (Pheonixville, Pa) in the pole vault and Andy Kahl (Cicero North Syracuse, NY) 6' 8" in the high jump.
Last Year: US#1s - 4:46.13 mile by Tauro, 54.28 400 by Muhammad