| | | | | |
| --- | --- | --- | --- | --- |
| | | | | |
| Jeshua Anderson CA | William Wynne GA | Robert Griffin TX | Reggie Wyatt CA | Johnny Dutch NC |



All-Time List in the Crosshairs




Boys Analysis



by Dave Devine

Girls Analysis by Steve Underwood



This isn't how our world usually works.

We live in a time of athletic circumspection, an era of managed matchups and prize fighters with prepared excuses. Competitors who lick a finger and consider the wind before ever plowing into the brink. How refreshing then, to witness two young distance runners at the height of their abilities step to the track without hesitation or guile, each seeking only the best the other might provide. Each looking for a challenge, a serious gut check, somewhere to prove their mettle.

Matt Centrowitz, the #1-ranked high school miler at the time, and Craig Forys, the #1-ranked high school two-miler at the time, found just that at the 2007 Nike Outdoor Nationals. Both could have been elsewhere, competing in other events they'd likely win or shutting it down to get ready for college. But both also knew that this race was the hot ticket— the biggest game in town—and they'd best grab a lane. Because how often does a chance like this come along? How often are you young and fit and fast and ready?

The outcome of that meeting was a race which made a serious impact on the all-time high school two-mile list. In one devastating move, Matt Centrowitz sailed home to an 8:41.55 and went from a prep runner who'd never been sub-9 in the two mile to a shared spot alongside Steve Prefontaine as the #3 US high school performer in history (#4, if you count Gerry Lindgren's mind-boggling 8:40.0 indoor time, which many will). Forys, broken but still battling, inserted himself as the #8 all-time performer with his 8:44.53. Elliot Heath, one of the most criminally overlooked runners this year, stamped his name at #15, ahead of Chris Solinsky and A.J. Acosta, with his 8:46.12 third place run.

That memorable boys' two-mile race was one of many efforts this spring requiring high school list-keeper Jack Shepard to uncap the White-out in the off-season, but if you think there's anything ordinary about the best lining up against the best on a single day and having the outcome be both close and historic, consider the events which were undoubtedly the most competitive and scintillating in boys' track this season—the hurdles. National records...World Youth records...class records...all-time performances—the boys' 110-, 300- and 400 meter hurdles were astonishingly deep this spring, but for a variety of reasons the highest-ranked never settled into the blocks side-by-side in a single, winner-take-all race.

If there was an evening for hurdlers that approached the drama of the two-mile under the lights at Nike Outdoors, it was Friday June 2nd, when Robert Griffin of Texas was competing in the 300 hurdles at the Great Southwest meet and Jeshua Anderson was racing the finals of the same event at the California state meet. Both had a legitimate shot at George Porter's 1985 national record of 35.32. Griffin had hit a tantalizingly-close 35.33 (#2 all-time when he ran it) at the Texas state meet in early May, while Anderson had served notice with a 35.34 only the day before in his state meet prelim.

Griffin's race at Great Southwest came first. While his 35.47 toppled Kerron Clement's meet record, it missed the national mark. A short time later, and hundreds of miles away, Anderson ripped a 35.28 that laid waste to Porter's record and established the California senior as the #1 all-time US high school 300 hurdler.

Waiting in the wings after that cross-country showdown was Georgia junior William Wynne, whose 35.68 at his own state meet would find him #10 all-time performer by season's end. It appeared a clash of the titans was looming in Greensboro, NC (Nike Outdoor Nationals) or Indianapolis, IN (USATF Junior Nationals), but it never happened. Griffin, a junior, turned to football soon after the Great Southwest meet. Anderson was expected to run but didn't appear at either meet. Wynne went on to become the #2 performer ever for 400 hurdles with his 49.70 at USATF Junior Nationals, while Johnny Dutch and super-soph Reggie Wyatt CA laid claim to their own places in the all-time top 10. All of which left track observers astonished, but wondering what might have been.

The two-mile and the hurdles weren't the only events to see a shake-up in the all-time lists this spring. Here's an event-by-event breakdown of the new entries into the boys' all-time top ten, by event:




Photos by Kirby Lee, Vic Sailer, John Dye & Bert Richardson



100



New additions

=10. Rynell Parson TX – 10.23

Parson, the precocious Texas sophomore, displayed his chops early on with a 10.32 back in March, but then he flipped those last two digits late in the season when he stormed out of lane 6 in the USATF Junior Nationals 100 final for a wind-legal US#1 10.23 that left him tied with two others for #10 high school performer of all-time. Expected to compete at the Pan Am Junior Championships in Brazil, Parson was a late scratch and ended his season on the high note of his Junior Nationals triumph, with two full years remaining to climb the list.


200-400

200 new additions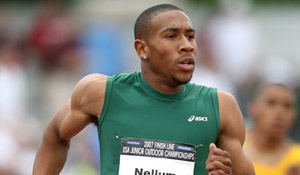 8. Bryshon Nellum CA – 20.43

400 new additions

10. Bryshon Nellum CA – 45.38

Already acclaimed in prep sprinting circles, Bryshon Nellum sealed his status as a California legend with two transcendent performances this spring: his winning anchor leg for Poly in the 4x400 at the Penn Relays and his 4-gold romp at the California state meet. It was the 20.43 200 victory at that state meet which cemented Nellum as the #8 all-time performer in the furlong, while his 45.38 win at the USATF Junior Nationals made him the #10 all-time performer in the 400. Nellum's senior campaign ended at the Pan Am Juniors, where he blitzed two more sub-46 400's, including a 45.40, only .02 off his seasonal best.





800



New additions

None – In 2006 Karjuan Williams NC was the only high school runner to slip under 1:50. In 2007 there were 5, including a mid-summer flurry of attempts by Abdi Hassan WA which brought him all the way down to 1:49.5. No one was better than Cory Primm, however, who combined big meet wins with the US#1 list leader of 1:48.63 at NON, a mark that still finds him well down on the all-time list.



1500/1600/Mile



New additions

None – For about three and a half laps at Nike Outdoor Nationals, it appeared as if the fans on hand might be treated to the first high school-only sub-4 race since the days of Jim Ryun, but then reality and lactic acid set in for Sam Borchers and Ben Hubers. They still cruised home to a stunning 4:03.33 and 4:04.98. Great times, but not enough to crack the all-time top 10 on a list that's awfully crowded between 4:00 and 4:05. Borchers' effort settles him as #15 all-time performer, while Matt Centrowitz's 4:03.40 at the Reebok Grand Prix meet installs him at #16.



3000/3200/2 Mile



3000 new additions (both times en route)

9. Craig Forys NJ – 8:09.9
10. Matt Centrowitz MD – 8:10.3

2 Mile new additions

=3. Matt Centrowitz MD – 8:41.55
8. Craig Forys NJ – 8:44.53

The Nike Outdoor National 2 mile was an instant classic. Matt Centrowitz, untested at this distance, rode Craig Forys' shoulder into the final lap before shifting to an untouchable gear that found him soaring home in a time track experts agree is essentially equal to Steve Prefontaine's 1969 hand-timed 8:41.5. That ties Centrowitz as #3 all-time outdoors, well up on a heady list of high school legends. Trailing Centro to the line was Forys in 8:44.53, also cracking the top-10 performer list at #8.



Steeplechase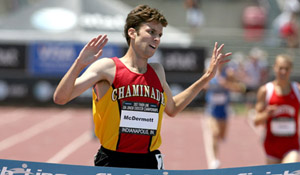 2k Steeple new additions

9. Ryan McDermott NY – 5:52.63

3k Steeple new additions

10. Ryan McDermott NY – 9:08.11

The senior from Chaminade NY was preeminent over the barriers this year, even though he lost his own New York state meet with an under-the-weather performance. McDermott bounced back from that disappointment with his 5:52.63 Nike Outdoor Nationals win that planted him as #9 all-time performer over the 2k barriers. He'd already ascended to #10 all-time at the 3k distance with a 9:08.11 effort at a CHSAA meet in May. His final two shots at the longer barriers (9:08.47 for the win at USATF Junior Nationals and 9:22.65 for 5th at Pan Am Juniors) served to secure his status as the year's top steepler, if not elevate him higher on the all-time list.



110 Hurdles (39")



Wind-aided new additions

1. Brendan Ames WY – 13.15
=9. Johnny Dutch NC – 13.36

Ames, "just" a 13.72 performer entering the USATF Junior Nationals, ripped a jaw-dropping 13.15 in the wake of a 2.7 mps wind. The wind was over the allowable limit, but the mark still goes down as the fastest fully automatic high school time ever recorded, and only the immortal Renaldo "Skeets" Nehemiah has run faster under any conditions. On an all-time list that features some hand-times and converted marks for 120 yards, Ames is the best in the 110m era's all-conditions, auto-timed list. Trailing Ames in that Indianapolis race was Johnny Dutch, whose 13.36 was the #2 US all-conditions time this year, and places him as #9 performer on the wind-aided list.



300 Hurdles



New additions

1. Jeshua Anderson CA – 35.28
3. Robert Griffin TX – 35.33
10. William Wynne GA – 35.68

No all-time list on the boys' side took a greater beating than the 300 hurdles, yet these three athletes never met one another in head-to-head competition. Anderson served notice at the Arcadia Invitational that this might be a special year for the long hurdles with his 35.75 clocking, then Griffin ran his 35.33 at the Texas state meet, raising serious eyebrows. Despite an astonishing 4 sub-36 efforts by Griffin on the season, it was Anderson who ended up with the national record on June 2nd. Griffin and Wynne are both juniors, so the year ahead looks bright, and both will need to be wary of sophomore stud Reggie Wyatt, whose 35.90 came in pursuit of Anderson at the California state meet.



400 Hurdles



New additions

2. William Wynne GA – 49.70
=8. Johnny Dutch NC – 50.07
10. Reggie Wyatt CA – 50.10

Absent Anderson and Griffin in the 400 meter version of the long hurdles, William Wynne asserted his dominance with a tremendous late-season run, taking the Nike Outdoor Nationals (50.09, #8 all-time performer at the time), USATF Junior Nationals (49.70 for #2 all-time performer) and World Youth Championships (49.01 WY record over the shorter barriers). Johnny Dutch, seeking redemption for his NON disappointments, trailed Wynne at USATF to equal #8 all-time performer, and Reggie Wyatt was present for all three, with his 50.10 lean at NON good for #10 all-time performer.



4x100



New additions

None – Texas schools occupied the top three slots on the yearly list (led by Klein Forest's 40.56), which is appropriate because the all-time list is littered with Lonestar squads. None of this year's teams, however, made the top-ten (or even top-20) cutoff.



4x200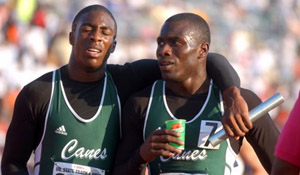 New additions

3. Hightower TX – 1:23.92
5. Garland TX – 1:24.03
6. Klein Forest TX – 1:24.08

One outrageously competitive Texas state meet final saw the 4x200 all-time list left in tatters. The same three teams which led the nation in the 4x100, but failed to penetrate the all-time list for the shorter relay, absolutely rewrote this one. Hightower TX led the way with their 1:23.92, the fourth fastest high school time ever recorded, and the third fastest squad (Wyatt TX's 1998 team has the top two marks). Close behind and in a diving finish were Garland and Klein Forest. Just outside the all-time top 10 is yet another Texas squad: Lewisville's 1:24.50 from their Regional meet.



4x400



New additions

None – Long Beach Poly's 3:09.89 Penn Relay's win was the yearly leader and an epic race for all those present, but failed to place them among the top 10 squads of all time.



4x800



New additions

None – Collegiate NY's 7:39.50 at the Fast Times Invitational on May 29th was the only sub-7:40 time of the season, and then Collegiate opted to focus on the 4xMile and DMR at Nike Outdoor Nationals. The 4x800 at NON was indeed a barn-burner, but saw a host of teams between 7:40 and 7:43, a ways off the 7:36.24 needed to crack the all-time top-10.



4xMile



New additions

10. Collegiate NY – 17:19.42

Collegiate, anchored by Villanova-bound senior Chris Williams, entered Nike Outdoor Nationals with hopes of a meet record (17:18.33 by Fayetteville Manlius NY) or, if the stars aligned, a shot at a sub 17:15 time. They had to settle for the win and the #10 all-time mark on a humid early morning in Greensboro, NC.



800 Medley



New additions

1. Long Beach Poly CA – 1:28.43

On an electric Friday night at the Arcadia Invitational, Long Beach Poly, capped by Bryshon Nellum's 45.6 anchor, took more than half a second off the previous 1:28.95 US record owned by Glenville OH.



Sprint Medley



New additions

None – The best time of the season was turned in by New Bern NC at 3:24.5, a fast mark that nonetheless fails to place them among the top 30 on the list for this relay.



Distance Medley



New additions

None – Bookmarked by the talented Knight twins, La Sierra entered the Nike Outdoor Nationals hoping to slip under the magic 10-minute barrier in the DMR, a breakthrough which would have placed them among the top 10 squads of all-time. As it was, their 10:01.79 was good enough for the win and an entry at #12.



High Jump



New additions

None – With his impressive 7-04.00 at the Nebraska state meet, Randal Carter was the yearly list-leader, but his leap finds him outside the top 10 in an event filled with place holders at each fractional increment.



Pole Vault



New Additions

8. Spencer McCorkel AR – 17-09.00

There were multiple 17-footers this spring, including California German exchange student Nico Weiler (17-06.25), but McCorkel was the only one to crack the all-time top ten performer list with his 17-09.00. Subsequent appearances at NON and USATF Junior Nationals saw him score gold and bronze, but unable to improve on the earlier mark.



Long Jump



New additions

None – Marquise Goodwin TX (25-00.00) had the only wind-legal 25-foot jump of the season, a distance still well outside the top-10 high school marks of all-time. Derrick Locke OK, had the farthest recorded jump of the spring, a 25-04.75 at the Oklahoma state meet. However, there was no wind information available; hence the mark is presumed wind-aided for record purposes.



Triple Jump



New additions

None – Although '07 saw nothing like the post-season monsters which all-time leader Kenny Hall LA dropped in 2004, Christian Taylor GA was a late riser on the yearly list, recording his US#1 (and huge PR) 52-05.25 just a week ago at the World Youth Games. Only a junior, he stamps himself as one to watch in 2008.



Shot Put



New Additions

7. Jimmie Pacifico OH – 71-06.25

Pacifico flat-out dominated this event, racking up 10 of the top 11 throws of the season. It is a tribute to the sort of year hammer thrower Walter Henning (68-11.75) had that he was the one athlete capable of breaking up Pacifico's stranglehold. The distance truly separating Pacifico from the rest of the country was the 71-foot mark, and he surpassed it twice, reaching 71-06.25 in his Ohio district meet, good for #7 performer all-time.



Discus



New additions

None – Oklahoma junior Geoffrey Tabor led the yearly list at 209-05, but Kansas senior Luke Bryant (US#2 205-10) took most of the late season hardware, including Golden West, Nike Outdoor Nationals, and a silver at USATF Junior Nationals.



Javelin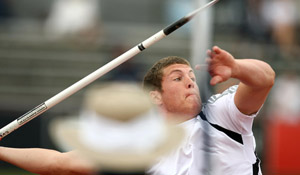 New additions

5. Iain Trimble KS – 229-07

In the same manner that Pacifico owned the shot this year and Henning ruled the hammer, the javelin in 2007 was all Iain Trimble of Kansas. Trimble was the only thrower over 220 feet this season, and he did it multiple times. He won Nike Outdoors with his 222-02, but it was the 229-07 at his Centennial league meet that moved him way up the all-time list to #5. Trimble graduates this year, passing the mantle to rising junior Justin Shirk, already the holder of the freshman and sophomore class records, and just outside the all-time top 10 with his 219-04 effort this season.



Hammer Throw

12lb new additions

1. Walter Henning NY – 255-11
3. Conor McCullough CA – 243-11

6k (Junior hammer) new additions

1. Walter Henning NY – 241-05

For all of Walter Henning's big meet triumphs, his ultimate ascension to the top of the high school all-time list came in the relatively low-key setting of his own backyard. He threw 255-11 in a special hammer competition on the Sunday after the main St. Anthony's Invitational on May 5th, finally surpassing Jacob Freeman's 1999 253-03. Henning added another laurel by beating his own US Junior record with a 241-05 toss at the USATF Junior Nationals. In typical fashion, he dominated all yearly lists, but a rising star from the West threatens to claim all of his records, one year at a time. Sophomore Conor McCullough already has Henning's freshman and sophomore records, and his 243-11 is the best US high school performance ever by someone not named Henning or Freeman.



Decathlon



New additions

4. Curtis Beach NM – 7185A

Somewhat overlooked this season due to his excellence in multiple events but lack of dominance in any one particular specialty, Curtis Beach will almost surely be known in the coming years. Just a sophomore, Beach climbed way up the all-time multi list with his 7185 triumph at Great Southwest, seizing the title with a wire-to-wire 4:14.08 victory in the closing 1500. Beach went on to place 4th in the octathlon at the World Youth Champs, again taking the closing distance race (1000m) to secure his final placing.
US News Homepage