NJ Shore Conference
New Jersey shot putters continued to shine as two more topped 60 feet to give the Garden State all three 60-footers for the season. Monmouth Regional sr Adam Kuehl 61-6.25 and Matawan sr Uzoma Orji 60-11.75 joined US#1 Glenn DiGiorgio (63-8.75 in Group 4 championships 1/26). Also of note: Toms River East jr Ron Jules 7.64 55H (CBA sr Devin Barry 7.67). Red Bank juniors Kathleen Trotter 2:18.41 and Amanda Trotter 5:09.24 1600m. Jackson Memorial sr Lisa Schenck 8.38 55H and 5-4. Jocelyn Kearney, Lakewood 40-1.5 SP.

MD Prince George's County Championships
55 DyeStat Elite performances in a county meet!

MD Howard County Championships
River Hill sr Shane Stroup had a 500/800/1600 triple in 1:05.9 US#6, 2:00.9, and 4:18.8. He was pushed in the 1600 by Oakland Mills sr Izudin Mehmedovic 4:19.4.

Newspaper says Rockford MI coach dispensed pills. Story


DyeStat Elite rankings 1/29
1,714 marks - 9 new US#1
Seventh list of 2002 indoor season has performances from 251 meets, including Virginia Tech, Kansas State, West Point, McIntyre, Colgate, New Hampshire IMS state meet, NY CHSAA, Brooklyn PSAL, and PA weekend. There were 9 new US#1 performances this week:
Boys
Event Mark By Meet
B-500 1:04.42 Bowen, Quentin, 2002, Heritage N-News VA
B-600 1:21.46 Dalton, Conrad, , Fordham NY
B-1000 2:28.18 Smith, Richard, 2002, South Lakes VA
B-SP 63' 8.75 DiGiorgio, Glenn, 2002, Bayonne NJ
B-4x400 3:19.95 MR Boys Relay, , Mumford Det MI
B-4x800 7:57.95 Boys Relay, , Mumford Det MI
Girls
G-500 1:13.5 Ponteen, Tiandra, 2003, E. Roosevelt MD
G-HJ 5' 10 Meekins, Bonnie, 2002, Oakton VA (tie with Sheena Gordon)
G-SP 48' 4.75 Neuberger, Lindsay, 2002, Frank Cox VA
How to Get Ranked - Cutoffs and Event Statistics

Gourley's List - weight throw rankings as of 1/28
Roth's Race Walk - race walk rankings as of 1/28

VA Virginia Tech HS Meet
Complete Results - 165 DyeStat Elite performances!!!
6 US#1 winners in deepest meet of season - Mumford MI boys take two - 3:19.95 MR 4x400 and 7:57.95 4x800, first under 8 minutes this season. South Lakes VA sr Richard Smith, already US#1 at 1000 meters, lowered his season best to 2:28.18 and needed it to beat Thomas Dale VA jr Alex Tatu 2:28.88, new US#2. Millrose mile entry Andrew Keino was 3rd in 2:31.70 US#5. Heritage VA sr Quentin Bowen 1:04.42 500m US#1 and 2nd in 300m at 34.52 US#7. US#1 shot putter Lindsay Neuberger, Frank Cox VA sr, raised her season best to 48-4.75. Oakton VA sr Bonnie Meekins 5-10 (ties Sheena Gordon PA). .
Other Highlights
Girls: . Salem VA jr Amy Seward 39-10.75 TJ US#2 (4 girls over 37') and 18-11 US#3. Bethel VA sr Jessica Cassell 1:17.62 500m US#2. Carolina Day NC sr Laura Stanley 4:56.35 1600 MR US#4 (3 more also broke old record). Jefferson Forest sr Shannon Saunders trounced the 3200 field in 10:56.84 MR US#4. Robinson VA 9:29.09 US#6 (W. Springfield VA 9:29.30 US#7). Centreville VA sr Alicia Laroche 11-7.75 PV. Bethel VA soph Brittni Spruill 7.21 55m and 39.97 300m US#9. Menchville VA jr Ja'Lyn Quick 8.25 55H US#5. Menchville VA jr Megan Isaacs 3:00.04 1000m US#6 (Marion VA jr Shelley Slemp 3:00.41 US#9). Gar-Field VA 1:42.91 US#7 (Salem VA 1:43.21 US#8)
Boys: Mt. Tabor NC sr Mike Loyd 34.26 300m US#3. Ocean Lakes VA sr Matt Keally 9:06.91 3200 US#3 (John Crews VA 9:11.03, John Pierson VA 9:14.02). Mumford Detroit MI sr Kenneth Ferguson 7.42 55H US#3. Deep Creek VA 1:29.34 4x200 MR US#3t. Centreville VA sr David Sullivan 15-9 PV US#3t. Sr Michael Johnson VA 6.41p 55m US#5.

NJ Group 1 and 4 championships
Group 1 - Group 4 - Top 100 in groups - Meet of Champs qualifiers -
69 DyeStat Elite performances in group championships -
US#1 Glenn DiGiorgio, Bayonne NJ sr, raises season best shot put to 63-8.75
Group 4 boys: Vineland 35, Eastern 34, Old Bridge 26. Eastern jr Dan Deichert 4:25.30 and 9:31.58 1600/3200 double.
Group 4 girls: Trenton Central 43. JFK Paterson NJ sr Tawana Watkins 56.79 US#10.
Group 1: Haddonfield Memorial sweeps.
Fairport Central NY jr

Andrew Park

wins pole vault

Photo by Garret Meade,

Trak Shots

NY West Point Inv
Bronxville NY girls DMR 12:08.67 US#2 edge Saratoga NY 12:09.32 US#3, with Catha Mullen holding off hard charging Nicole Blood. Complete Results with 47 DyeStat Elite performances
Boys: Washingtonville NY sr Will Nunez 21-11.75. Monmouth NJ sr Adam Kuehl 59-2.25. Girls: Kellenberg NY sr Shanae Henry 7.17. A.P. Randolph NY so Natasha Hastings 56.14 (4th fastest this season; she is US#1 at 55.35). New Rochelle jr Nana Hanson-Hall 2:15.42 US#3. Warwick Valley NY jr Nicole Whalen 4:49.09 1500m US#7. Webster NY sr Kristen Coon 10:08.72 3000m US#5. Soph Marie Swieta 5-7 HJ US#6t.
KS Wildcat Invitational
Kansas State U., Manhattan KS - Complete Results - Riley Co KS sr Erin Mortimer, who will be attending Kansas State next year, found the track to her liking in winning the 800 in 2:20.34 MR. Harrisonville MO sr Jenny Woodward 8.45 55H won her second straight invitational. Wichita South sr Brian Baker 58-8.75 SP US#4.
MA McIntyre Relays
Scituate MA sr Aquila Judge raises US#1 long jump to 19-4.25. Manchester Central girls win DMR in 12:16.16 MR US#4 with 4:54.7 split by Liz Gesel. Four boys SMR teams under 3:37, led by Wayland MA 3:35.42 US#4 and Dartmouth MA 3:35.46 US#5. Highlights
NY 45th NYCHSAA Boys Championships
Fordham Prep rolls with 77.5 points (Mt. St. Michael's 50.5)
Complete Results - Conrad Dalton 1:21.46 600m US#1. MVP is Gary Peters for 44-10.5 TJ / 20-10.25 LJ double.
NY Colgate Games - Semis
Complete Results - Winners of semi-final round:
G-55 7.16 Francis, Karina, 2003, Wm Penn PA
G-200 25.3 Poussot, Juillet, 2002, Agnes Irwin PA
G-400 56.85 Abney, Tiffany, 2003, Merion Acad PA
G-800 2:17.22 Francis, Meisue, 2002, Boys & Girls NY
G-55H 8.46 Fofanah, Fatmata, 2003, Bronx Science NY
G-SP 41' 5.75 Liander, Marina, 2002, Notre Dame Acad NY
OR Great Northwest Indoor Classic
Two huge pole vaults - Sandy OR jr Tommy Skipper 16-0 PV US#2t and Kentlake WA jr Stevie Marshalek 12-6 US#4. Vancouver WA 8th grader Katherine Ellis wins 3000m in 10:44.47. Details
CA First outdoor meet of the year!
Southern California prep athletes stretched their legs at the Association of Black Track and Field Coaches meet in Los Angeles Sunday 1/27. LA Baptist jr Allyson Felix, expected to be one of the new US sprint leaders in 2002, doubled in the 200/400 in 24.5 and 56.3. Also represented were J.W. North Riverside, Tee-Kay (Wilson Long Beach), and age group power LA Jets. Results
NH I-M-S State Meet
Russell Brown 1:22.02 600m US#2 on 160y track
Complete Results - Boys: Hanover 93. Girls: Hollis-Brookline 113.33. Hanover jr Catherine Bryson double in 5:04.85 and 10:25.48 1500/3000.
PA Weekend
Broaddus 6.8h and 56.6h on fast new Ursinus track
Don Rich report - William Penn PA jr Juanita Broaddus edges Jakki Bailey in same time in 55m. Julia Pudlin runs first solo race since injury (broken ankle last year) and is second to Villa Marie sr Kim Malcolm 10:26.80 3000m, who pulled away in second mile to win by 20 seconds. Pudlin has been running again for 4 weeks now.

fast 55 meters
on new Ursinus U. track -
Juanita Broaddus 6.8h (left)
beats Jakki Bailey 6.8 and
Chioma Nuaneshuida 7.0

photo by Don Rich
NC UNC Blue Heaven college meet - 2 US#3 HS marks
N. Durham NC sr A.J. Davis long jumps to US#3 with a 23-5.25. Cummings Burlington NC jr Chandra Pulliam got 8.82 US#3 in 60H.
NY PSAL Brooklyn Championships
16 DyeStat Elite marks
Thomas Jefferson boys 126 (Midwood 101)
Clara Barton girls 71 (South Shore 61)
Roth's Race Walk - 2002 Indoor Rankings
Race Walk Rankings - US leaders are Adam Staier, ME & Maria Michta,
NY.

Gourley's List - 2002 Indoor Weight Throw
Index to Gourley's List - US leaders are Bishop Hendricken RI sr Scott Vernon 70-9 and W. Warwick RI sr Kristen Michalski 58-8.5
Pole Vault Summit - HS results - at last !!!
36 DyeStat Elite performances

MITC: Packet pickup
will be star-studded event
LINCOLN NE 1/25/02 -- Meet director Chris Lester announced that six World-class athletes will be present for the Friday night packet pickup. Six elite athletes will sign autographs and pose for pictures with the MITC athletes: hurdler Allen Johnson, pole vaulter Lawrence Johnson, hurdler and long jumper Jenny Adams, distance runner Sarah Schwald, hurdler and sports agent Renaldo Nehemiah, and decathlete Dan O'Brien. The elites will be on hand from 6 to 7:30 p.m. Friday February 8 at the Cornhusker Hotel in Lincoln.. Details on MITC page
455 entries representing 39 states are now posted on the MITC Entry page.
Rockford MI reloads for new era - Graduation losses (e.g., Dathan Ritzenhein) decimated the Rockford MI boys team, but the girls team is simply reloading. Sophomore Nikki Bohnsack leads a deep distance squad to Nebraska. story by steveu
USA XC Winter Nationals
Vancouver WA, February 9-10 - Winter Nationals page - Early entry list includes Foot Locker national champion Tim Moore MI, Yong-Sung Leal CA, Erik Grumstrup SD, and Valerie Lauver TX. This meet is a springboard for many high school runners to try the world stage because it qualifies US teams for the IAAF World Cross Country Championships. Last year, Dathan Ritzenhein stunned everyone by placing 3rd at world's, and Laura Zeigle was the US junior champion as a HS junior. Email information on high school entries to [email protected].
Millrose Games High School Mile
NEW YORK 1/20/02 - Yesterday was the last day to run a qualifier for the high school miles at the Millrose Games February 1, and the fields have been announced. BOYS - GIRLS - Millrose Games page
College Choices
College Choices 2002 now 276 names as of 1/18
Josh Hannum, PA football-track star who announced for Notre Dame earlier, has decided to stay home and go to Penn State instead after all the coaching shuffle under the Golden Dome. A trip to Happy Valley cinched it.
DaBryan Blanton, US#1 at both 100 and 200 meters last year, has orally committed to Oklahoma for both track and football. As a gridder, Blanton rushed for 6,265 yards and 94 touchdowns and was the Dallas area offensive player of the year in 2001. The Dallas Morning News reported that Blanton chose Oklahoma over Texas Tech, Tennessee, LSU, Miami and Texas A&M.
Other new choices:
Dan Harding NJ - Princeton
Lauren Graff MD - Georgia Tech
Kevin Bookout OK - Oklahoma (US#1 shot putter 2001)
Michelle Rorke NY - Williams College
One-week early signing period ended Nov 21, and Ivy League early decisions are also being announced. Send information on college choices to John Dye at [email protected] with your name, your relationship to the information, and a way to verify the information.

High School relays added to
USA Indoor Championships
NEW YORK 1/12/02 -- Six high school relay events have been added to the USA Indoor Track and Field Championships to be held at the New York Armory March 1-2. Story
major meet pages for 2002
INDOOR: Nike Indoor Classic - Holiday Classic - Brown Inv - Seton Hall Games - Hispanic Games - New Balance Games - MITC - Simplot Games - Millrose Games - Colgate Women's Games - NSIC - Los Angeles Inv - USA Nationals - Montgomery Inv
OUTDOOR: Sugar Bowl Classic - Mobile Meet of Champions - Arcadia Inv - Mt. SAC Relays - Penn Relays - Dayton Roosevelt Memorial - Texas State Meet - Great Southwest Classic - California State Meet - Golden West - adidas Outdoor Championships - US Junior Nationals -
Molly Huddle out of Millrose
Officials and coaches debate the reasons after New York association ruling. She should live in New Jersey, says Ed Grant. - Story
Shenae Dawkins


Brian
Dalpiaz


Another blizzard of great performances around the US
2002 Indoor
State Leaders
Select a state from the menu
to get the current state leaders
for each event based on the
DyeStat Elite database
Wanted: HS Coach
2002 in Maryland
44th edition of Jack Shepard's indispensable reference for high school track in the US - now available at ShopDyeStat --
incredible bargain at $10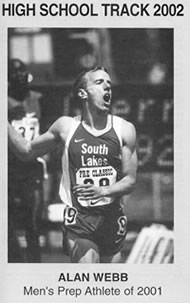 John Dye says: "I never leave home without it ! " More . .
New Orleans
March 22-23

Entries Due March 14
Mobile Meet of Champions
April 5-6
Entries due March 30
DONNA ON THE SIDE
Hundreds of pictures of athletes, coaches, parents, and fans at the big meets.