Baton Rouge LA girls, Hoover AL boys win team titles

Scott Fuqua 3200

Mandeville 4x200

Baton Rouge
girls
relay sweep

Marcus
Dillon
400

Dana Rosenbladt
Pole Vault
Scott Fuqua 8:59.50; Edra Finley triple; Julia Cathcart distance double, both meet records. Baton Rouge LA girls sweep relays; Janice Davis double; Kendrick Gibbons double; McComb MS boys double - dozens of pictures coming. Rummel boys 8:00.65 and Baton Rouge girls 9:39.44 set new meet records in 4x800.

Most Outstanding Athlete Awards:
Scott Fuqua - 8:59.50 3200m meet record
Julia Cathcart - distance double 5:09.51 and 11:03.15, both meet records
Edra Finley - triple in 17-5.75 LJ, 37-0.75 TJ and 46.54 300H.
Eli Bergerin - 21-7 LJ, 44-0.5 TJ
Warm welcome on a cold Friday night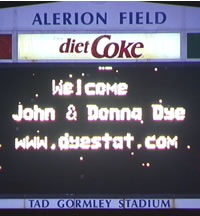 Preview
by John Dye
Fourteen hundred athletes will vie on the historic grounds of Tad Gormley Stadium, home of Olympic trials and many other major meets over the years.
Natchez MS jr Janice Davis, who has had a fine indoor season, (sprint winner at LSU, MITC Nebraska, and Arkansas HS Invitational and 3rd in Sanya Richards' national record 200 at the National Scholastic Indoor in New York) goes in the 100, 200 and 400.
McKay OR sends a big delegation from the Pacific Northwest
There are interesting distance matchups in both genders. Girls 1600 and 3200 will match Foot Locker cross country national finalist Julia Cathcart, Starkville MS, and Dawn Morgan, McKay OR. Boys 3200 features Hurley MS sr Jake Raines and Oak Mountain AL sr Scott Fuqua, winner of the 5000 at NSI in New York 2 weeks ago. Raines will double in the 1600. Also in the boys 3200 are Kevin Jeffers, McKay OR, and Michael Brown, Hoover AL.
Baton Rouge LA girls have a very strong team, including top seeded teams in all four relays.
Some other strong seeds:
Boys 100:
1 Rawls, J.W. Picayune 10.50
2 Hurst, Adam Fontaineblea 10.60
3 Turner, Albert Southern Lab 10.60
4 Green, Skyler Higgins 10.70
Boys 200:
1 Curry, Randy Hewitt-Truss 21.32
2 Turner, Albert Southern Lab 21.40
3 Rawls, J.W. Picayune 21.50
4 Bass, Anthony Fortier 21.70
5 Green, Skyler Higgins 21.70
Boys 400:
1 Dillon, Marcus Abramson 49.00
2 Harris, Malcolm W Feliciana 49.30
3 Horton, Chris DeLaSalle 49.50
4 Braimah, Elijeh Baton Rouge 49.80
Boys 800:
1 Moore, Phillip Hoover 1:54.00
2 Benton, Austin University 1:55.00
3 McMullin, Ryan Rummel 1:55.00
Boys 110H:
1 Woods, Wendell Baton Rouge 14.50
2 Bonham, Gevar Hoover 14.64
Boys 4x400:
McKay OR 3:22
Girls 800:
1 Wancowicz, Elizabeth McGillToolen 2:15.80
Boys Javelin: Conrad Chanoue, Fontainebleau 206-4
Girls PV: Three 11 footers - Jill Ahrens, St. John's; Rhiannon Jett, McGill Toolen; and Dana Rosenbladt, Fontainebleau
Boys PV: two 15-footers - Tom Fowlkes, McGill Toolen, and Michael Hogue, Houston.
Boys TJ: three 45-footers - Tristan Dumones, Sumner; Kyle Butler, Bourgeois; Eli Bergerin, McKay OR