Shenae Dawkins
New Rochelle NY sr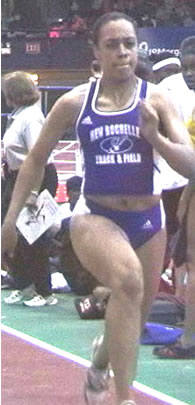 Photo by DyeStat
Dawkins' 40-9.75 triple jump at the New Balance Games makes her the first over 40 feet this year. It would make her 17th best prep girl indoors ever, except for the fact that she already ranks 7th best with her 41-8.5 mark last year.
Dawkins now has the best two triple jumps and the best two 55 meter hurdle times (8.07 twice) of the season. She also takes her turn on relays for New Rochelle, one of the top girls teams in the nation.
A senior, she has not made a college choice yet.
Brian Dalpiaz
Sayville NY jr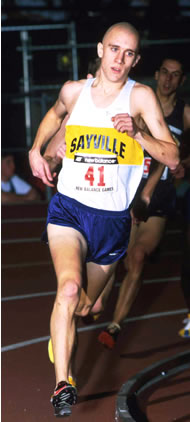 Photo by Brian J. Myers, PhotoRun
Dalpiaz dominated a good field in the New Balance Games mile, ending a 3-week streak that stamped him the hottest distance runner in the country.
Jan 5 - Hispanic Games - 4:16.71 mile, US#2
Jan 12 - Stanner Games - 9:00.25 3200m, US#1
Jan 19 - New Balance Games - 4:17.03 mile, 3rd fastest of the season
Brian has made it look easy, and he keeps saying he hasn't run his best race. So, keep an eye on him February 1 at the Millrose Games, when he heads a field of 9 standouts in the high school boys mile.
GIRLS
Marnyka Honeycutt CO jr - 7.04 55m US#3
Janice Davis MS jr - 7.06 55m and 55.59 400m US#2 at Arkansas, second straight major meet double
Tiandra Ponteen MD jr - 1:13.5h 500m US#1
Rachel Umberger NH jr - 1:34.50 600m US#4
Liz Gesel NH sr - 2:57.80 1000m US#2
Meghan Owen CT jr - 4:57.04 mile US#2
Melissa Donais MA sr - 4:58.44 mile US#5
Michelle Rorke NY sr - 4:58.74 mile US#6
Nicole Blood NY 8th - 10:01.43 3000m, 3rd best time this season (she is #1 at 9:59.00)
Liz Maloy NY jr - 10:01.74 3000m, 4th best time this season (she is #2 at 9:59.84)
Laura Cummings NY fr - 10:12.05 3000m US#3
Diana Pickler TX sr - 8.15 55H US#4
Sheena Gordon PA sr - 5-10 US#1 & 18-8.5 LJ US#4
Tiffany Colvin OH sr - 5-8 US#4.
Shauna Lee Williams NY - 19-3.5 LJ US#2
Toni Smith CO jr - 39-7 TJ US#2
Erica McLain TX so - 39-3 TJ US#3 & 18-5.75 LJ

BOYS
Richard Crawford TX so - 55-200 double at Arkansas in 6.45 US#6t and 21.97 US#3.
Darryl Anglin MI sr - 6.47 55m and 6392 60m US#3.
Darren Woods WA jr - 48.42 US#1 and 22.24 US#6
Courtney Jaworski WA sr - 1:54.31 US#1

Todd Raymond NY sr - 8:51.65 3000m US#4
Jason Hodges OH sr - 7.43 55H US#3
Kenneth Ferguson MI sr - 7.44 55H US#4
Jarrell Anderson TX jr - 7.47 US#5
Brandon Woodson OH sr - 7-2 US#1t
Nehemiah Leary PA - 23-7.25 US#2
Brent Little MO sr - 22-10.5 US#5
Chaime Breaux TX jr - 48-0.5 US#1, new US season best for second straight week.
Chip Heuser KY jr - 16-0 US#2
Adam Kuehl NJ sr - 59-5 SP US#2
Uzoma Orji NJ sr - 58-4.25 SP US#3