States competing: CT, DE, ME, MA, MD, NH, NJ, NY, PA, RI, VT, WASH D.C.

Photos by Cheryl Treworgy - in the hills
Photos by John Nepolitan - in the woods

Benchmarks - Key times last year:
Seeded Boys: 1st 15:33.3, 8th 15:49.5, 20th 16:03.2
Seeded Girls: 1st 17:58.2, 8th 18:31.6, 20th 18:57.6
Returning Runners - ranked lists of undergrads who made the DyeStat cross country Leader List in 2000 and the DyeStat Elite rankings in mile or 2-mile in 2001 outdoor, plus top undergrads in the 2000 Foot Locker regional
Natasha Roetter MA repeats


Peter Meindl NY wins boys race


photos by John Dye
Take the #1 subway train to end of the line, 242nd and Broadway, and you are at Van Cortlandt Park

Meet director Phil Zodda (L) and Elite Racing Systems' Fred Torres
conferred constantly to keep things running smoothly.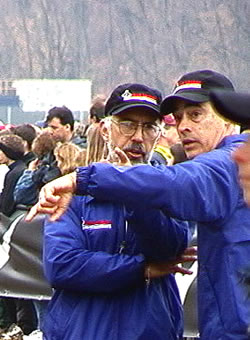 PA Preview
GIRLS: Madia - Cickay - Saterstad want to go to Disney
(with a side-trip to the Foot Locker Championships).
by Don Rich, publisher of PennTrackXC

The PA girls competing at the Northeast Foot Locker Championships 11/24 in New York are one of the best groups to contend for the eight coveted places for the national meet. (It could be stronger. Below is a list of the probable contenders not making the trip.) The greatest absence is the loss of Julia Pudlin to injury this season. As a junior, she took 3rd in the Northeast and 8th at Nationals. Healthy, she would have been a near-lock. She'll be at the race cheering on Baldwin School teammates and other PA runners she says "...have taken PA running up a notch."
But Pudlin is being ably replaced this year by experience and talent that could see as many as two PA athletes hit the top eight. The top returnee is junior Angie Saterstad of Hershey. She was 10th in the Northeast as a sophomore and knows what it takes on race day. She is stronger this year, and even though she is coming off a disappointing race at States, this is the race she has been aiming for. Our State Champ, Stephanie Madia of North Allegheny, has never run Foot Lockers. But since winning her second state championship (she was AAA 1600 champ this year), she has shown the mental toughness and focus necessary to race well at Van Cortlandt. She reinforced that view with a 4th place finish at the Mid-East Regional Championships in Ohio this past Saturday, just 12 seconds off the winning time against tough competition.
The pleasant surprise of the year was the emergence of sophomore Jessica Cickay of Council Rock as a nationally elite runner. She nearly won her first championship despite suffering from the heat at States, and in the cooler weather of late November, should contend.
AA State Champ Jesi Christiansen is a wild card in the race. She just runs until they tell her to stop, and if she passes two miles in contention, she will be hard for anyone to shake. She was within 13 seconds of Madia and Cickay in their earlier race. Another experienced Foot Locker athlete is Valley View's Stacey Muchel. She was 4th in AA just 17 seconds back of the day's fastest time. Just as importantly, she was 19th in 2000 at Northeast Foot Lockers. That experience counts. And out of God's Country in north central PA comes Charity Learn. She was 3rd in AA, within 16 seconds of the Madia/Cickay times. She gained valuable experience this past weekend in Ohio, where she ran 3rd for PA. Others to watch include XC newcomer Kim Malcolm, Villa Maria (Mid-East team); Katie Ewart, Upper Dublin, the 2000 District 1 champ, who was running well this fall until a sinus infection stopped her. She was listed on the Mid-East roster, but did not run; sophomore Paula Giguere, Parkland, the two-time District 11 champ who was 29th in the Championship race at Northeast Foot Lockers in 2000; XC convert, junior Jessie Yester of Downingtown; and Wyomissing junior Amy Huss, who was 8th in the Northeast Foot Lockers sophomore race last year. Twin sister Debbie is injured.
Not running at Northeast Foot Lockers: We're missing Amy Kelly of St. Hubert's, a sophomore, who this season became only the 6th girl ever to break 19:00 at Belmont Plateau. Three of those athletes went on to become Foot Locker Finalists, and one of the others is a contender to make the trip this year. Others not running: Katie O'Connell, Coatesville (3rd in States, 8 seconds off Madia/Cickay; 11th in Ohio-2nd on PA); Leanna Nastase, Forest Hill (15 seconds off at States); Jessica Perry, Peters Township (17 seconds off); Lauren Bricker, Hempfield (7) (19 seconds off); and Erin Franklin, Wissahickon (20 seconds off). Thanks for the great season.

BOYS: Mazzocco - Weilacher - Robertson best PA class in four years.
From a contender viewpoint, the boys representing PA this year don't bring the depth of the girl's squad. But the three or four guys at the front of the pack have the potential to crack the top eight. All are running well at the end of the season, and have been aiming for this race. The only way to rate them at this point is on Foot Locker experience.
Heading that list is Baldwin's Dan Mazzocco, the AAA State Champ. who was 35th at Van Cortlandt in last year's race as a junior. He knows the atmosphere and the course. Mazzocco was the 2nd PA finisher at last Saturday's Mid-East Regional Champs in Ohio, 20 seconds off the pace. His year is geared for 11/24. The top PA finisher in Ohio was Coatesville's Rob Robertson, who was 3rd overall, and seven seconds up on Mazzocco. Robertson was 3rd at States. He dominated the District 1 race, and looks to be peaking at the right time for this race. He ran Foot Lockers last year, and if he makes the jump to top eight, he'll be making a climb similar to the one Mazzocco made at States this year from his 2000 States performance. Joining Mazzocco and Robertson at the head of the PA guys' class is AA Champ Andy Weilacher of Eisenhower. Weilacher, who is headed to a strong program at Northern Arizona, took a bye on the Ohio trip to train. He was unchallenged at States, and only a few seconds off Mazzocco's time in the other race. Look for these three in the lead pack as they enter the woods before the mile.
Other top PA runners challenging for spots will be Liberty senior Dorian McDonald, who was 2nd to Mazzocco at States, 23 seconds back, and made the trip to Ohio; sophomore Ian Gottesfeld of Henderson, who was 4th at States; Pottsgrove's Corey Rogers, who was 6th in Hershey and ran in Ohio; Council Rock's Mike DiDio, who was a DNF at States after suffering heat exhaustion, but was the 3rd PA finisher in Ohio; and Joel Thomas of Emmaus, 10th at States, who also ran in Ohio. Neither Rogers or Thomas ran Foot Lockers in 2000. DiDio and McDonald have the experience of racing the course.
Not running at Northeast Foot Lockers: Former State Champion Shawn Cavanaugh, Mount Lebanon; Pat Philbin, Cedar Cliff; Bobby Boston, Altoona; Brian and Eric Soder, Harbor Creek; Ben Weaver, North Clarion.

NJ Preview
The Northeast Footlocker trials at Van Cortlandt park this Saturday
look like one of the toughest ever for both boys and girls, but New Jersey
may be able to place at least one qualifier in each race off the results of
its AG meet at Holmdel last Saturday.
The boys; race was the fastest mass finish in some years with six
boys under the 16:00 mark, three of them from a Haddonfield team which came
within 15 seconds of the team course record (Had John Bernetich been healthy
this fall, they surely would have broken it).
Dan Deichert of Eastern pressed the pace, but faded in the last
mile and it was favorite Marc Pelerin who came over the line first in 15:43.
Junior Chris Platt of Haddonfield was next in 15:48 and Jim Flannery of St.
Joseph (Metuchen) 3rd in 15:51, just nipping another junior, Peter Hess of
Toms River North. It was quite a comeback for Flannery, who was the best
frosh in the state three years ago, but dropped out halfway through last
fall with a collapsed lung.
Pelerin and Platt could both make the Footlocker finals and you
can't count out the four boys behind them. Platt had the fastest NJ time on
the VCP 2.5M course this fall with teammate Skip Stiles next best, followed
by Pelerin.
The girls' AG race provided the biggest upset since Jodie Bilotta,
as a soph, defeated NJ VCP 2.5M record-holder Karen Ahearn of Bernards in
1985. (Alearn finished 3rd that day behind future Olympian Anne Marie
Letko).
Junior Lindsay VanAlstine of Hawthorne Christian improved her
Holmdel time by about 40 seconds to reverse earlier losses to Jesse Mizzone
of Passaic Valley. Van Alstine took the lead from the gun and finished 50
yards ahead in 18:43. She is a one-girl team who plays basketball in the
winter and softball in the spring, though that could change after this
success. Both girls have a shot at Orlando in a very tough and deep field.
The team titles went to the favorites by large margins, neighbors
Haddonfield and Moorestown---both Gr. II schools (the second smallest group
in our state). The Haddonfield win ended a six-year string for Christian
Brothers (which finished 8th with two regulars on the sidelines who might
have got them up to 6th,m but no higher). It was an even longer time since a
public school (Gr. I Bernards) had last won the boys' title in 1985.