Nike athletes Regina Jacobs (left) and Bernard Lagat (right) presented special awards to race winners Jessie McLaughlin and Chris Lukezic; The Mile 1 markers were autographed by the four elite athletes who attended the event: Jacobs, Lagat, Bob Kennedy, and Alberto Salazar.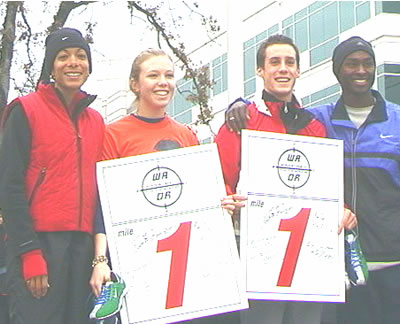 photo by John Dye
---

Unique end of season 2-state contest for Pacific Northwest bragging rights - run on the campus of Nike World Headquarters - medieval jousting style start with teams running toward each other from opposite ends of a large field before turning into a road that starts the course around lakes, through the Japanese Gardens, and back to the original field - top runners in state meets the week before are brought to Beaverton for the weekend - 3rd year of meet, with each state sweeping once before.
---
Schedule
Saturday, November 10, 2001
2:00 - 3:30 Registration
3:30 - 5:00 Course Run-through
5:00 - 6:00 Team Activity
6:30 - 8:00 Dinner / Presentation
Sunday, November 11, 2001
10:30 Girls' race
11:15 Boys' race
12:00 Awards presentation
(the top 10 individuals in each race and top combined State team will receive special awards)

Marion Jones contest
Olympic and world champion Marion Jones will visit some high school in Oregon or Washington after the BorderClash. The high school with the most student spectators at BorderClash III will win the visit from Marion. Students can register at the meet by showing their ID, and they will get an autographed picture of Marion Jones on the spot. Details on BorderClash web site.

First Border Clash (1999) meet poster shows an
original "border clash" between Steve Prefontaine
of Oregon (left) and Gerry Lindgren of Washington
in a fight to the finish.
Nike Press Release 11/2
The Top 40 Boys and 40 Girls from Each State Battle November 11th at
Nike's World Headquarters with the N.W. States Tied at One Clash Victory
Each; The High School with Most Student Spectators Wins Visit from
Olympic Superstar Marion Jones
Beaverton, Oregon - November 2, 2001 - In it's third year in the running, the Nike BorderClash takes place Sunday, November 11th at Nike's World Headquarters in Beaverton, Oregon. Last year Washington took home the title to tie Oregon at one BorderClash victory apiece. This year, the winner breaks the tie and has Northwest bragging rights.
A scholastic cross-country showdown, the event features the elite high school runners from Oregon and Washington in a dual meet format. Forty girls and forty boys from each state, who were fierce competitors during the race season, have been selected to rally as one team under their respective state's flag. The runners will race along a 4.2KM course, through Nike's Campus, to determine which state truly rules the border.
"Nike knows that the future of distance running is dependant on the young runners. We support cross-country events all season and have gotten to know these athletes. They've really enjoyed this event for the past two years,"
said John Truax, a Nike Running Footwear Developer who manages this endeavor out of his love for the sport. "Some of America's greatest distance runners have come from Oregon and Washington. It started with northwest greats Steve Prefontaine and Gerry Lindgren back in the late 60's. Today's runners want to prove to the rest of the country that the Northwest is still the place for running."
The selection process for the teams was based on the student athletes' finishes at their respective State Cross Country Championship meets on November 3rd. The top finishers from each athletic class (the number of runners varies for each class) are invited to participate in this unique event.

Favorites for this year's girls race include:
* Enumclaw, Washington's Allison Tubbs (#1 ranked prep in the U.S.)
* Jamie Geissler of Spokane, Washington
* Christy Paul of Hood River, Oregon
* Emily McMahon of Bend, Oregon
Boys favorites include:
* Nationally ranked teammates Lauren Jasperson and Jacob Gomez of Klamath Falls, Oregon
* Alex Wall of Portland, Oregon
* Nationally ranked Chris Lukezic of Auburn, Washington
* Jesse Fayant of Spokane, Washington
The Nike BorderClash will feature two separate races, one for the girls and one for the boys. The girls and boys will then combine their scores to determine which state is crowned the "Champion of the Border."
"This event is about supporting the sport at all levels," said Josh Rowe, a Nike Running Manager and co-director of the event. " We want to inspire and excite kids in both states about running. One of the greatest things about the BorderClash is that we are creating an exciting post-season, inter-state event in a sport that is not typically in the spotlight."
Along with an overall grand trophy to the champion State, trophies will be awarded to the All-Bowerman Team, the top 10 finishers in each gender. The championship trophy will reside in either the Niketown Portland or Niketown
Seattle.
In addition to the incentive to win BorderClash for the race participants, the runners' high school classmates will be competing for a visit from Olympic superstar Marion Jones later this year. The high school with the most student spectators at the race will win a personal visit from the only female track star to ever win 5 medals in a single Olympics.
Students simply register with their student ID at BorderClash. All registered spectators from the winning school will receive an autographed picture of Marion Jones, in addition to the school visit.
BorderClash III will be televised on Action Sports Cable Network as part of their "Prep Zone" series. ASCN is a regional sports network owned and operated by the Portland Trail Blazers. In addition to broadcasting 29 Blazer cable games, ASCN also airs Seahawks preseason and Portland Fire games. ASCN is affiliated with ESPN and ESPNews.
Nike, Inc., headquartered in Beaverton, OR, is the world's leading sports and fitness company. Founded in 1972 as a running company, Nike has remained committed to helping all runners achieve their personal best through
innovative footwear, apparel and equipment.