by Donna Dye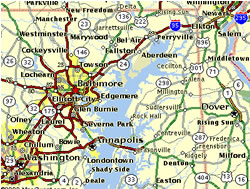 This is a story about our day on the I-95 corridor between Newark, Delaware and Landover MD. Our Saturdays are usually filled with cross country or track and field, and this was no exception.
We left home in Baltimore for a college meet at the University of Delaware in Newark DE to watch our daughter, Natalie, pole vault for the University of Maryland. The event was scheduled to start at 11:00 am. We left in plenty of time heading straight up I-95, using MTag to easily get us through the toll gates. We stopped for breakfast at the #1 rated Diner just off I-95. There, we ran into Duke men's coach Norm Ogilvie. We chatted a bit and then headed over to the meet.

At the field house,we stopped to say hello to the Maryland coaches and our daughter Natalie and her boyfriend, Brendan. Around 11:00, we went up into the stands to wait for the pole vault start. It was a long wait. First, they got off to a late start, but worse yet, they started at 7'10." At a college meet yet! They'd be better off dividing the group into sections and putting those just learning into their own section. After all, the provisional qualifier for the indoor NCAA championship is 12'5"!
Brendan Hoffman and Natalie Dye,
Maryland's 12'6" Pole Vaulter! Fear the Turtle!

Maryland pole vault
coach Robert Allen
with DyeStat publisher John Dye

Maryland recruiter/coach
Donald Thomas
Anyway, while milling about waiting for the start of things, we ran into a bunch of DyeStat Elite alumni wearing Duke uniforms. Overcoming the natural rivalry between Terps and Blue Devils (their first basketball showdown this year is next Thursday), we thought we'd do a pictorial, "Where Are They Now!" Five Duke freshmen come from five states from coast to coast, showing Duke's national reach in recruiting these days.

5 Duke freshmen from around the country

Phoebe Ko

UT, former Utah state champion at 3200 meters; won the 5000 meters easily today in 18:31.82

Paris Edwards

OR, Oregon and Oregon-Washington 3000 meter champion in 2001; second in the mile today behind teammate Sheila Agrawal

Nick Schneider

MN, 2001 HS mile champion at the Millrose Games and the adidas Outdoor Championships in Raleigh. Nick won the 800 today in 1:55.42

Laura Chen

CA, a 12'6.25"

pole vaulter in high school; 3rd today.

Paige Miller

PA, 2001 Penn Relays 3000 meter champion;

winner of the 3000 meters today in 9:58.60

Ahem! Despite all these Blue Devil heroics,
Maryland won both men's and women's team titles today.
Leaving Delaware just after 2 pm, a lot later than we expected, we sped down I-95 to the Washington DC beltway and Landover MD for the Prince George's Sports Complex, right next to the Washington Redskins playpen, FedEx Field. There, the new Montgomery County Invitational was running. We wanted to get there in time for the Millrose mile qualifiers. It was a close call, so I pulled up to the front door and let John jump out; he made it to the starting line just in time to start his camera as the gun went off.

I parked the car. Once inside, I looked around for old friends. Here are some that I found:
Mervo Tech (Mergenthaler Vocational High School, Baltimore)
looking ready to return to power in Maryland

Head coach

Freddie Hendricks

and assistant coach

William Vaughn

. Hendricks has coached Mervo for more than 30 years without a track to call his own, and he went to the 2000 Olympics at Sydney, Australia to watch one of his athletes, James Carter, perform (4th in 400 meter hurdles). Another Mervo alum, Eric Newby, is a 53' triple jumper at U. of Florida this year. Vaughn is also a computer whiz and partner with DyeStat on various ventures.

Frankie Wright

, Long Jumper

Kelley Jackson

, Shot Put

More Mervo athletes: (Front Row) Chris Lee, Jabari Bush, Glenn Love (Second Row) Anthony Green Jr. Ronald Wright Jr. Damon Watson (Top) Frank Wright.

(In case you're wondering, Ronald and Frank Wright are cousins.)
The Selmers: Dad-Mike, Carrie and Mom-Kathleen.
Carrie was third in a very controversial mile race. Carrie kicked a lap early when a lap count error caused the bell to ring after 6 laps. Still, she got a new PR that can help her go farther, faster. Dad is the owner and editor of TrackFirst.com, the Maryland website for high school track and field.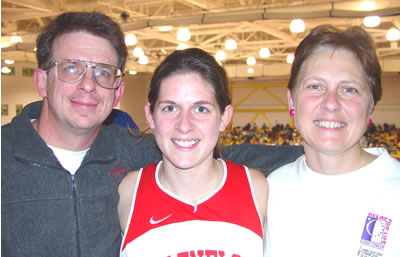 We were in Maryland now, but we found yet another Dukee:

Carl Myers
is the father of Christine, a Dulaney MD senior who was second in the mile.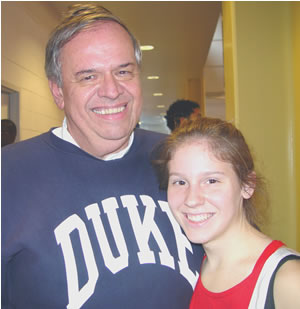 And so, having started the day on a blue (devil) note, we end it the same way.
But we're still rooting for the Terps next Thursday!