Julene Bailey soars 12-6.5 for Simplot pole vault record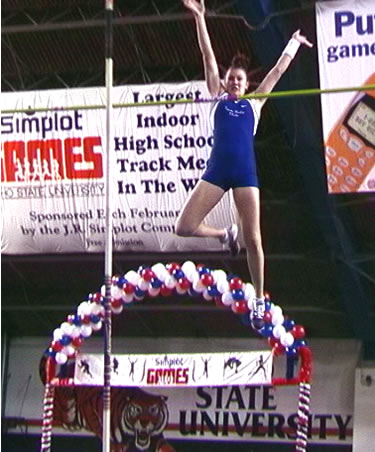 SATURDAY HIGHLIGHTS
POCATELLO ID 2/16/02 -- A bunch of doubles were featured, with plenty of national ranking marks. Impressive sprint doubles were collected by Valley Christian CA sr Rubin Williams ( CA 6.72 60m US#2 and 21.74) and Baptist Los Angeles CA jr Allyson Felix (7.45 60m US#2 and 24.11). Curtis Tacoma WA sr Courtney Jaworski improved his US#1 800m to 1:53.92, rejecting the challenge of Ogden UT jr Steven Shepherd 1:54.81 on the last lap. Eagle ID jr Donovan Kilmartin high jumped 6-7 and pole vaulted 15-9. The Zeigle twins of Utah doubled in the 1600 (Jackie Zeigle 5:07.88) and 3200 (Laura Zeigle 10:32.42 US#3, missing the meet record by 0.01), with freshman sister Kip Zeigle finishing second in the 3200. Transit Tech NY boys were strong with a double in the 4x400 3:22.87 and SMR 3:30.91 US#1. Nampa ID jr Julene Bailey broke the meet record with a 12-6.5 PV. Montbello Denver CO jr Vicki Howard won the 60m hurdles 8.51, fastest in the country this year, in an unusual finish that saw her chief two competitors (Danielle Stokes and Fatmata Fofanah) hit the last hurdle and fall on either side of her in front of the finish line. Mountain View UT soph Heidi Magill won a strong 800 meters of underclassmen in 2:10.05 US#2 over A.P. Randolph NY soph Selena Sappleton 2:10.27, with Mountain View teammate Heidi Houle, a freshman, third in 2:13.29.
FRIDAY HIGHLIGHTS
POCATELLO ID 2/15/02 -- A full day of prelims qualifying for Saturday's 3-section finals mostly followed form. There were some surprises though: Previously unranked Diane Anderson, Denver East CO jr, popped a 56.73 to lead the girls 400 meter qualifiers; Mountain View UT freshman Heidi Houle got a 4-second PR at 2:13.30 US#4 to lead an experienced gang of 800 meter runners into the finals; James McSwain of Nevada ran 7.00 to edge Rubin Williams CA (7.03 and 22.54) for fastest boys 60 meter qualifier, and Ogden UT jr Steven Shepherd's 1:57.85 to lead US#1 Courtney Jaworski WA 1:59.71 into the 800 meter finals.
Expected girls relay showdowns between United Stars PA and Wilson Long Beach CA (aka Teekay Track Club) fizzled when Teekay was a no-show. Self Esteem Through Athletics, of Seattle WA, scratched from the relays due to star 400m man Darren Woods' sore ankle, leaving the field open to Transit Tech NY, US#3 4x400 squad.
SCHEDULE
Thursday: 1600 qualifiers led by Amber Harper UT 5:10.11 and David Sheeran 4:29.73. Weight throw won by Jim Steacy, Alberta 71-1 and Katy Eisbury ID 49-9.75
Friday: all prelims except 3200 meter slow sections
Saturday: all finals; 3-section finals on time for running events.
Some top qualifiers (no spikes in prelims):
Boys: Rubin Williams CA 22.54 and 7.03 60m, James McSwain NV 7.00 60m, Steven Shepherd CO 1:57.85, Transit Tech NY 3:29.07.
Girls: Heidi Houle UT 2:13.30 US#4, Diane Anderson CO 56.73, Allyson Felix CA 24.91 and 7.74 60m, Vicki Howard CO 8.76 60H, Karina Francis PA 7.67 60m
PREVIEW
POCATELLO ID 2/14/02 -- Most of the 2,000 athletes in the Simplot Games come from the surrounding mountain states. But each year, a significant sample of prep elites from the rest of the country and Canada join the fray. This year's top invaders come from New York, Pennsylvania, Texas, California, and Washington. . . . Preview by John Dye
Overview of Simplot from the meet management
Each year, on the third weekend in February, the Simplot Games offers athletes the opportunity to go head-to-head against the finest high school competitors in the U.S and Canada.
Held in Pocatello, Idaho, Simplot Games is the nation's premier indoor track and field event for high school athletes, and is featured annually on national sports networks.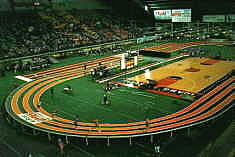 Located in the Holt Arena on the campus of Idaho State University, the Games' unique 200 meter banked-board track is one of the fastest in the nation. Records are broken each year at this one-of-a-kind indoor facility.
Athletes may compete either as members of a high school track club, or as unattached competitors, depending on their state activity association's eligibility rules. The Games are sanctioned by USA Track and Field (formerly TAC), and governed by that organization's rules pertaining to track meets.
Some of the 2000 young athletes who take part in the Simplot Games each year will go on to find glory in their college careers. Others may even go on to the Olympics. But for everyone who competes, the Simplot Games provides a unique and rewarding experience.
The J.R Simplot Company, sponsor of the Games since 1979, is dedicated to providing a positive experience for all participants, and prides itself in putting on a meet that is well organized and officiated by a qualified, professional staff.